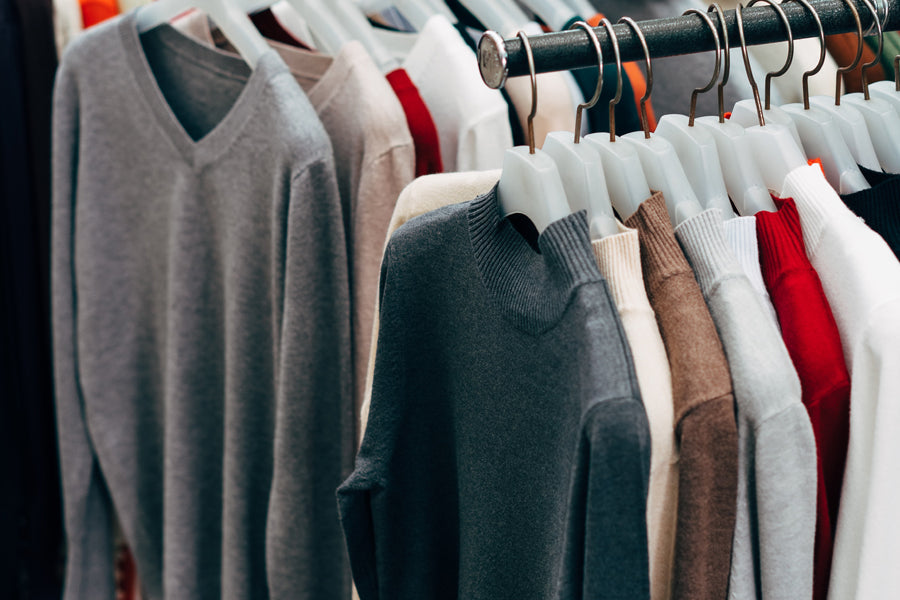 When we talk about clothing and styling, one of the best parts of that is, winter clothing! As at any point in time, there are always some nations which are having winter or cold season and people who belong there will do styling with suitable clothes. 
Dealing into sweaters business will give an upper hand to the business person in the coming years, as the global climate changes. Getting the right sweater manufacturer is as important for a business person as getting a cute sweater for a newborn for a mother. Selecting and dealing with the right manufacturer can give a cutting-edge advantage in this competitive market.
4 Different Styles on Sewing Sweaters
Before we jump on to the discussion about how to find custom sweaters manufacturers, let's talk about the types of sewing a sweater.
1. Cut & Sew
As the name suggests, in the cut and sew method, yards and yards of fabric are cut according to the requirement and assembled afterward in perfect size and shapes. This is one of the most used methods for manufacturing sweaters across the globe.
2. Panel Knitting
Panels are the specific parts or segments of the sweater. This is also one of the commonly-used methods, in which components are divided into panels and are divided by a small thread to make sure of the predefined measurements of the panel. These panels are assembled as per the requirements
3. Full Fashion
This method is a bit complex and it completely works without cutting and sewing of the fabric. Several needles are used for knitting as the basis of shaping the sweater in the desired way. The number can be adjusted to finalize the width of the fabric. This method is followed by panel knitting as well. Final output remains different from panel knitting though.
4. Knit-to-wear Garment
The method also known as whole-garment knitting works without any cut, sew, or linking. Parts of sweaters like body and sleeves are knit in a tubular form and are attached through the machine. This is the least used style but is known to produce top-notch quality design knitted sweaters.
The Difference between Different Manufacturers
Now when we have understood the types of sewing sweaters, understanding the difference between domestic and overseas manufacturers can help select the best worthy sweater manufacturer.
In situations like this, when transportation and commutation are hampered due to the global crisis, domestic manufacturers come handy! These sweater manufacturers are highly preferred when the quality is higher preference. But they come with a cost, which is being expensive. Although, these manufacturers save the time of shipping which rounds off in actual saving compared to overseas manufacturers. They would not be able to provide a variety of choices as compared to overseas manufacturers.
Overseas manufacturers also have their pros and cons likewise. They provide the ocean of choices and belong from different countries like China, Taiwan, India, and other Asian countries. China is one of the biggest manufacturers of clothing. These sweater manufacturers may provide the material at cheaper rates than the domestic suppliers, but the shipping time may be longer. We also have to keep in mind that the production can be unregulated and working conditions may be different than those of our domestic ones.
To find any of these kinds of manufacturers, there is a number of ways.
1. Industry Meetups
Attending the events happening in your industry can connect you with the potential manufacturer of your sweater business and can help you find your niche, be it a custom Christmas sweater or be it corporate sweaters! These meetups are not only fruitful to find the right manufacturers but to find potentials customers as well.
2. Directories
There are offline and online both types of directories available which can give us an ocean of information. Searching from the manufacturer's name or business name can you find the right person to do business with.
3. Search Engines
They come really convenient when we have a working internet connection and a device to browse on. Just put any keyword and bam! There you go with the best results on the search engine. Be it a search for the best custom embroidered sweaters manufacturer or, search engines never let you leave empty-handed.
4. Facebook Groups
Facebook has become a new way to connect with the world nowadays and has become an equivalent source to do business, too. Facebook groups are supportive when it comes to promoting domestic businesses especially when the product quality is apt. Start finding and adding yourself to these groups and network with the people of the same industry. Make sure you follow the guidelines of the groups.
5. Old-Fashioned Research
Networking and asking for advice from the experienced ones will never go off-fashion! Every country has some implied rules for each industry and business people are meant to abide by them respecting their source of income. Getting to meet and network with people who have done deals with different people in their past will add up to your own experience.
Choosing the Right Clothing Manufacturer
After considering everything and sorting down your list of sweater manufacturer is going to be one of the most important steps. At this point, the following 3 things will help you make it through the bull's eye.
1. Price and Quality
Prefer a manufacturer who values quality but will give you the quality at rational rates. When quality and price intersect at the right point, making a choice becomes very easy.
2. Shipping Times
Considering your own sales cycles, find a manufacturer who can ship your order at the soonest possible time. Getting new stocks now and then will be helpful in boosting the sales at the end.
3. Experience
Be a wise one and find someone who is well experienced in the market you are dealing with. Reading between the lines becomes easier when the other person has the experience and knows the market trends.
When one knows the types of manufacturing of sweaters, types of manufacturers, and the factors to consider while selecting the right wingman for their business, they become the next copybook for other people in the industry. Start your research and make a wise choice. Connect with us in the comment section for the queries, we are happy to help!
For more info, please visit our website www.everlighten.com.