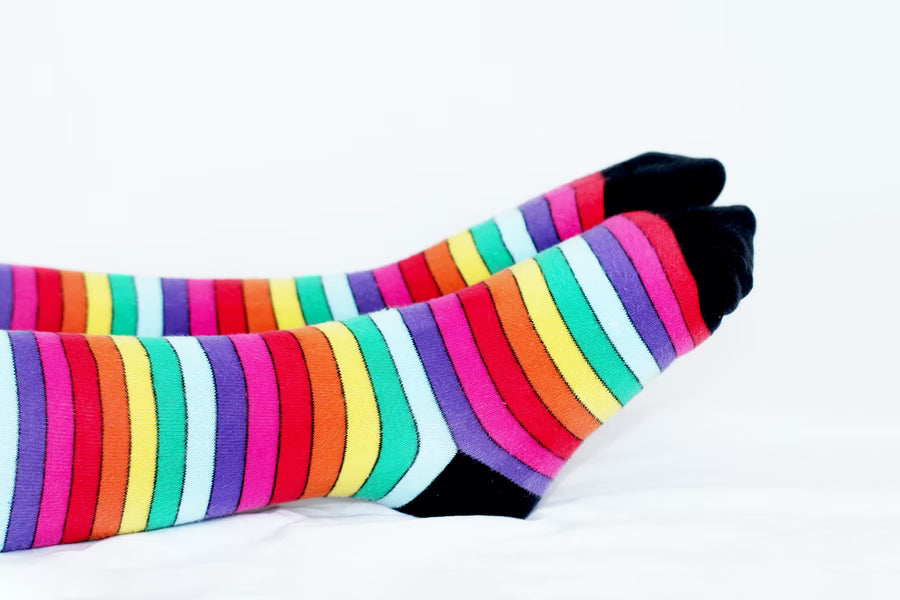 How to Design Perfect Pair of Custom Socks?
Custom socks are perfect for wedding parties, gift on father's day, graduation, stocking staff, and pet lovers.
Wedding parties: Custom socks are cheerful endowments your groomsmen or bridesmaids will cherish. Include their name, wedding role, or the date to make them excellent celebratory.
Gift on father's day: Surprise your father with a pleasant pair of "World's Best Dad" socks or gift of socks covered with photographs of Mom's face.
Graduation: Give your grad a gift they can utilize and grin about with customized socks that have smart photographs or saying that help them to remember the house.
Stocking staff: Your little ones will be so glad to discover charming custom socks in their stocking on Christmas morning.
Pet Lovers: design a personalized gift for pet lover friends with their little pet's photograph or paw-feet on them.
How to Design Perfect Pair of Custom Socks?
If you want to design a pair of custom socks, it may confuse you how to start with. When creating them, here are some key points that you should know as below.
▸ Events
Most people looking to buy custom socks want them because they're unable to locate the proper range that is suited for the event they will be carrying them at. Think deeply about the requirements of the event and the attire you are planning to put together for it. You may additionally also keep in mind for what event you need those socks: sporting, cocktail, labor shoes? Comfort in addition to fashion is important factor here.
▸ Types of Socks
According to your needs, there are various types of custom socks for your selection, respectively custom casual knit socks, custom printed socks, custom athletic socks, custom logo socks, custom baseball socks, and custom dress socks. You can create your own custom socks for every season and every occasion to show your personality.
Custom casual knit socks are made by the finest material. These comfortable, soft, and durable socks are perfect for daily wear or any kind of special activities.
Custom printed socks look virtually identical to your original design. These socks are perfect if you are looking for higher color fidelity.
Custom athletic socks are built for high performance, durability, and comfort. Variety of options to help meet your team's specific needs.
Custom logo socks are a great publicity opportunity, and you only need the cost of socks. They are a smarter way than other ads.
Custom baseball socks are made by durable materials for top-notch performance. You can choose any style, depending on your team's preference.
Custom dress socks have become a novelty fashion for anyone looking to add personality to their dressed up look. From simple looks to crazy patterns, we can make your design a reality.
▸ Style
When you design the socks, the second important thing you should consider is style, which is the basis of your socks. Generally, there are 4 styles of socks, respectively no show, quarter, crew, and knee-high. No show socks are invisible and match well with low top shoes. Quarter socks are ideal for mid or high top shoes to protect your ankle. Crew socks are the most popular socks to show your personality. Knee-high socks which cannot fall down your calf over time are great for athletes.
▸ Colors
Color accuracy is one of the most important factors. It varies from different techniques of socks. Knit socks are made by yarn, which are limited in colors. But printed socks can print any colors, which can clearly show the pattern. When designing your own custom knit socks, you'd better use no more than 8 colors (including the background, heel, toe, and top color).
The other general rule of colors is to use no more than 5 colors through one horizontal line of the sock. Every time color changes, the yarn of this color is cut and tied in the sock. The less you cut, the better socks you will get. If you change the color more frequently, the risk of knitting errors will grow.
As an upgraded dye sublimation, 360-degree printing has higher color fidelity and printing precision. 360 digital printing can remove any white gaps from the printing of graphic images and fulfill the whole socks with any images you like. The custom design will help you print your custom graphic or image on your custom socks. Generally, it makes ideal socks for wild designs with lots of colors.
▸ Size
Generally, there are three sizes of socks, respectively youth (US 11-14), women (US 5-7.5) and men (US 6-9). If you are running a fashion brand, you may need various socks in multiple sizes for youth, men, and women. If you are preparing for a men's football team, you should make a large size or even a little larger. The size of socks depends on the target people.
▸ Materials
When you customize socks online, you should communicate with a custom designer deeply and give them what you want, which makes your order easier. And it is also very easy for you to choose from a variety of fabrics such as standard casual in a blend of poly-cotton, polyester, spandex, or nylon. If you want to customize dress or casual clothing, a premium blend of fabrics is a perfect choice.
▸ Manufacture
If you are considering custom socks, EverLighten is a perfect choice for you. At EverLighten, we are offering trusted and reliable services. Here you can get a wide range of designs and styles of custom socks. EverLighten is offering the best and easiest way to create custom socks. Send your ideas and we will demonstrate our art proof.
We have a team of professional and experienced designers. They are dedicated to offering the best quality work. Our group of capable designers works with you to make custom socks that represent your personality.
It is easy to customize your socks! Design your own socks without actually designing it. Choose your socks type, customize them and get them printed! We have an in-house team of designers who will do it for you. Send us your design with photos, artwork, logos or text and our custom socks designers will make mock-ups for you to show what your design will look like in real life.
EverLighten specializes in creating quality, personally branded socks that are both practical and unique. What is the point of spending money on boring socks that you are going to throw away? Our high-quality custom socks are stylish enough to be worn again and again.
For more info, please visit our website www.everlighten.com.