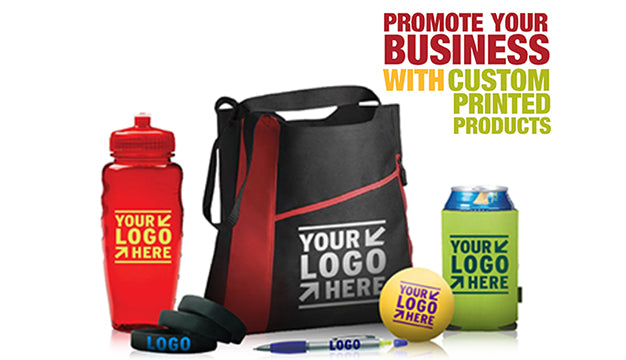 How to Package your Products?
Although it is a slow process to market your business by custom products, promotional marketing is profitable. When you use custom products to grow business, the goal is to boost outreach and create a long-term source of new business.
About eight in ten people own one to ten custom promotional products in America. Among these people, roughly 53% use these products every week. Every time they use it, they will become familiar with your business. However, one in five people will throw away the custom promotional items they don't want.
Promotional items are valuable to you only when they can bring a return on investment. Therefore, you have to pay more attention to your custom promotional products and choose items that are useful to customers. When these custom products are kept for a long time, they can expose your brand to many other potential customers.
How to Choose Custom Products?
When you choose custom products for your business, you should firstly aim for quality, creativity, and practicality. The difference between successful promotional items and the ones that have been thrown away or stored in the trash drawer is quality, creativity, and practicality.
From all custom promotional products you have received, you must prefer some custom products such as sunglasses, notebooks, mugs, tote bags, or other practical items. If the design is nice, it can be used for several years.
The success of promotional products also depends on the target customers of your brand. An embroidered apron may be a good idea for recipe bloggers, but it is a little strange for tech companies.
Therefore, when you choose custom products, you should not only focus on the effectiveness of the product but also the target customers of your brand. Besides, the product story is another important factor. You should keep your core values and identity consistent. For example, if the products you sell are environmentally friendly, the custom products should definitely reflect that.
5 Custom Products to Grow Your Business
Here are 5 custom products for your reference to growing your business.
Custom drinkware is the most popular promotional product owned by American consumers. More than 70% of American consumers own some types of promotional drinkware. You can use custom drinkware to introduce a new product, make your brand popular, appreciate your loyal clients, boost brand awareness, and spread your message. When you choose custom drinkware, there are 5 types for your reference – custom koozie, custom water bottles, custom tumble, custom sports bottles, and custom coffee mugs.
As the little darlings of business, custom T-shirts are a formidable weapon in the marketing world. Custom T-shirts can be worn for a long time - 63% of consumers keep them for an average of 14 months. This small wardrobe item can express the spirit of your company, enhance your brand awareness, and more. Besides, T-shirts have the most impressions because they are worn in public. (The average number of impressions from each promotional product is calculated by multiplying how long a recipient has owned the product and how many people come into contact with it each month while using it.) When you make custom T-shirts, you have to take your customers' needs into account.
Custom tote bags are a very prevalent marketing tool, especially at trade shows. It is not difficult to understand why promotional tote bags are very useful for consumers. Whether they are a trade giveaway or custom reusable shopping bags, tote bags are very popular promotional items among customers. As custom T-shirts, custom tote bags can be last for a long time with various usages. Also, they have a high impression because they are worn in public.
Custom USB flash drives are one of the most popular promotional products in 2019, which reflects the trend that "usefulness is key." Someone who receives custom USB flash drives said that they kept this promotional USB flash drive because they are really practical. When you choose custom USB flash drives, there is various styles for your options. You can customize your USB flash drives with various colors, materials, and sizes for your company. But most importantly, you should create designs that appeal to your target customers and represent your brand's identity.
Apart from T-shirts, custom apparels are a great way to promote your business and attract new customers. There is a wide variety for your choice, including custom jersey, custom flannel shirts, custom hoodies, custom sweaters, custom gloves, custom scarves, custom neck gaiters, custom blankets, custom jogger suits, custom socks, etc. Anyone wearing your custom apparel with the company's logo or other useful information on a hoodie or jacket is a walking billboard for your brand. Generally, 70% of consumers keep their outerwear for a year or longer, and 65% own custom polo shirts.
You can add your company's logo on a jacket or a creative design that reflects your company's message on a pair of socks. The options are endless to find what best matches your company and what your customers want to wear.
It is not easy to find a reliable company to make high-quality custom products. However, EverLighten is offering creative and innovative solutions for your requirement.
EverLighten has a professional group of experienced experts. Our experts are always ready to assist you. They will help you to save time, effort, and money. Customer satisfaction is our main priority and we can do anything to fulfill the customer requirements.
Besides, our group will guarantee that you can get a top-notch item. Our groups are additionally prepared enough to give a better solution for your business necessity and offer you a genuine solution to your question. We are very expert, dedicated, and results situated. We are known for our sticker and name printing and have had the chance of conveying extraordinary quality items to a wide number of little and big organizations.
For more info, please visit our website www.everlighten.com.