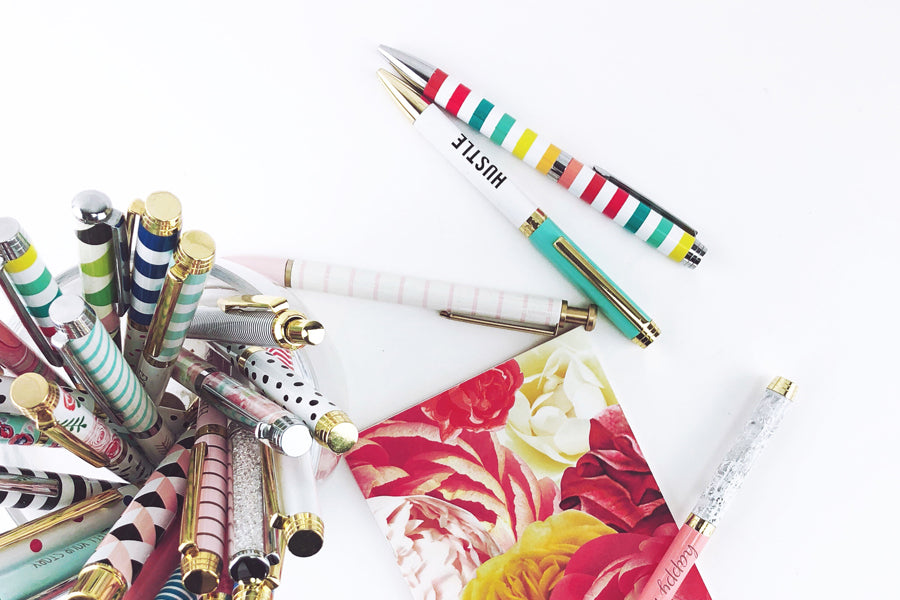 How to Choose the Best Custom Pens?
There is a reason why custom pens have been one of the best-selling promotional products every year. Custom pens are an inexpensive way to give the name of your company, school or organization to the hands of clients and prospects, which can promote a message or brand. However, most people feel confused about how to choose the best custom pens which look great and write smoothly. This blog will help you to find a style of custom pens that makes you look good and delivers the benefits for you.
From ink to color deposit, there are various kinds of custom pens for your selection.
Gel Pen
Originating from Japan, gel pens are a novel-writing tool popular in East Asia, which can be divided into different types according to the type of tip, the color of ink, and structure. This kind of pens has the advantages of both fountain pens and ballpoint pens. Gel pens are smooth and often used for many types of writing and illustration. The size of nib ranges from 0.18 millimeters (0.0071 in) to 1.5 millimeters (0.059 in).
Ballpoint Pen
Ballpoint pens are the most popular type of pens, which dispense ink over a metal ball at its point. The metal is usually made by steel, brass, or tungsten carbide. Ballpoint pens are initially designed as a cleaner and more reliable alternative to replacing pens and fountain pens, and they are the world's best-selling pens. Generally, ballpoint pens can be divided into oil-based ballpoint pens, rollerball pens, and gel ballpoint pen.
Marker Pen
A marker pen is a pen which has its own ink source and a tip made of porous, pressed fibers such as felt. Marker pens can be divided into permanent markers, highlighters, whiteboard markers, security markers, election markers, and porous point pens. Because they are volatile, marker pens are often used in designing objects, advertising slogans, poster drawing, or other artistic creations.
Fountain Pen
Unlike dip pens, fountain pens are nib pens that contain an internal reservoir of liquid ink. Although fountain pens are no longer the main modern writing tool, it is still used in important official occasions, such as signing valuable documents. Nowadays, fountain pens are often regarded as luxury items and sometimes as status symbols. It can also be used as a daily writing tool, just like a ballpoint pen. Great for client gifts, fountain pens make a statement as great as your brand.
Rubber Grip Pen
Many writers and university professors who tend to write many things prefer using rubber grip pens. The reason is that the rubber grips make writing more comfortable and you can use it for a longer time to complete more work. With their modern appearance, rubber grip pens will definitely become a hot spot for any promotion.
Things to Consider When Customizing Pens
Here are some key tips for customizing pens that you should keep in mind.
Intended Use
Custom pens are used on countless occasions, such as tradeshows, schools and universities, banks, offices, and other events.
Tradeshows: Providing attendees with a custom pen instead of business cards can help you observe potential customers.
Schools and universities: Whether you are customizing pens for students or teachers, personalized pens are the best choice for you. Everyone in schools must have a pen, and the custom pen with a school logo is definitely meaningful for them.
Banking: You can place a cup full of custom pens with your bank logo to encourage new account sign-ups to use it immediately after opening an account at your institution. Customers will not only appreciate these small items but also take them home.
Office: Custom pens can help you enhance the immoral of your employees.
When you customize pens, you have to think about some questions like where they are used for or will it be a gift for customers. After considering all the questions, you can make your own custom pens.
Ink Color
Generally, ink color is personalized according to customers' needs. If you are doctors, real estate companies, or other businesses, blue and red ink pens are popular. If you customize fountain pens, blue, black or red ink is available for you.
Ink Point
Medium, fine, and very fine are three types of ink points. If you have special needs for ink point, it can be personalized according to your needs to help you make the best pen.
Mechanism
Custom pens have a variety of mechanisms to meet your needs. Generally, there are two types of retractable mechanisms: twist and click. Twist pens retract the point with a twist of the cap. Click pens rely on pressure to a button or plunger on the top of the barrel. Most imprinted pens are twist or click action pens. The feature of the cap-off pen is that it is covered on the nib. When it is used to write, the cap must be removed. The cap-off mechanism is most common in executive pens and fountain pens.
Minimum Quantity
As custom pens are small and affordable, the minimum quantity is usually much higher than other products. However, the good news is that each style of pens will have the least quantity at EverLighten.
Budget
The budget of custom pens varies from the quantity and type. Custom pens have a wide variety of prices that can fit any budget. EverLighten offers you a factory-directing price for whatever you need.
Accessories
Accessories can help custom pens to complement additional functionality. For example, a rope or lanyard in fountain pens can go around the next one to carry out more easily.
Production Time
At EverLighten, the production time of custom pens often within 7-5 business days. If your design is simple, it will be shorter. And you will receive your custom pens within 7-12 days.
If you have trouble finding a reliable manufacturing, EverLighten is a perfect choice for you. At EverLighten, we are offering trusted and high-quality custom pens at an affordable price. Here you can get a wide range of designs and styles. EverLighten is offering the best and easiest way to create custom pens online.
For more info, please visit our website www.everlighten.com.