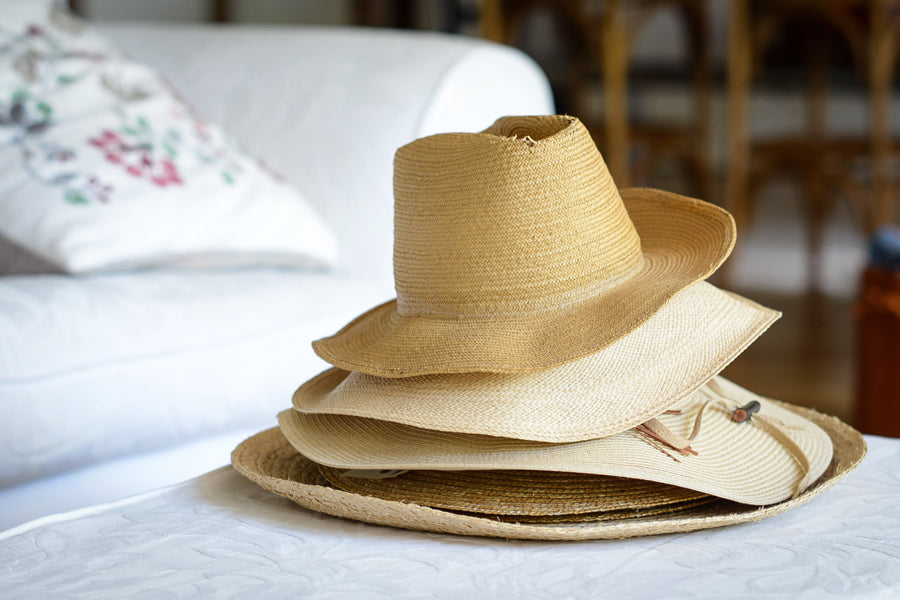 When you travel in summer, a hat is a must for your hair and skin protection. In the past, people regard hats as part of our overall outfit and personality. But in summer, hats play a more important role, which can not only protect your face but also your neck and shoulders. In addition, you can wear a hat when your hair is terrible, or your hair becomes curly in a humid environment to help you save more time.
Besides, a hat can make your face to be clearly visible so that you don't have to worry about your hairstyle. There is no attire that a hat cannot compliment. Do you want to stand out in the summer days? Go for a hat now!
Here are many factors you should consider when choosing a custom hat.
1. Color
Light colors are easier to reflect ultraviolet rays, while dark colors absorb more which will make your head feel hot quickly. Therefore, it is a great idea to choose a pretty white, cream, or beige hat. Or you can choose other light natural tones such as light olive, grey or tan. Light colors provide you the best protection. Of course, you can customize your style by adding some bright colors on the strap or rim, but the main color should be light.
2. Tightness of Weave
The tighter you hats are, the more comfortable you feel. Although those soft straw hats with big holes look good, the ability of protection is not effective because a lot of suns penetrate from the holes. In a harsh sunny summer, a tight weave hat with an appropriate UPF rating (96% and up) is a good choice for ultimate protection. Most hats include the UPF rating in it.
3. Material
The best hat for summer is breathable with tightly woven. Materials like cotton, cotton blends and polyester are breathable enough. When you wearing hats made by these materials, you will feel comfortable all day. They are lightweight, foldable or crushed, making them easy to pack.
4. Straps
Adjustable straps or draw cords that can be pulled to tighten your head and chin straps can help your hat stay by your side and not fly off the side of a boat or the cliff when wind gusts. Nowadays, most good sun protection hats have straps and a great number of people wear it so that you won't look dorky when tying these straps. If you don't need it, you can stuff the strap inside.
5. Coverage
According to the Skin Cancer Foundation of Australia, the sun hat must have at least a 3-inch wide brim, which can effectively protect your ears, face and neck. But you have to consider other personal factors such as perspiration and cost.
6. Moisture Wicking
Many good sun protection hats will have a moisture-wicking lining, which can draw sweat from your head so that you won't get a rash or feel too uncomfortable. If you have been swimming, putting your hat on over wet hair will help you draw the water away.
Although hats are very important, there are some disadvantages. Wearing a hat on a hot summer day will make you sweat more. Moisture-wicking is an important feature, which will keep you comfortable.
7. Packing Ability
During summer vacation, a foldable or compressible sun protection hat is what you want because it does not take up too much space in your luggage. And the hat won't change the shape and look like a wrapped newspaper when comes out of your luggage.
8. Intended Use
The types of sun protection hats depend on the activities you take part in. If you go hiking, play baseball or other sports events, baseball hats are a good choice.
5 Best Sun Protection Hats: Men, Women, and Kids
There are countless styles of hats in various shapes and sizes. Here are some best custom sun protection hats for men, women, and kids.
Custom baseball caps are suitable for everyone when they travel in summer. These custom baseball caps have a medium-sized curved bill, protecting your face from sun burning with sweat effectiveness. There is a huge space for you to embroidery what you want on the front of the cap.
Custom snapback hats are one of the most popular styles, which are very trendy and easy-taking. Besides, they are easily adjustable using two plastic pieces that snap together to form a perfect size hat for anyone.
The trucker hat is another typical American style. Trucker hats are extremely breathable because most of them are made by 100% polyester mesh back. This most common structured hat can be fitted with snapback adjustment.
Custom Cotton Hats
Cotton hats might be more of a material than a style, but it has some unique benefits. For example, custom cotton hats are more breathable, versatile, cheaper, durable, and softer than other hats. Custom cotton caps are usually the choice for summer vacation.
Custom Bucket Hats
Custom bucket hats are the ultimate choice in casual headwear for summer vocation. The custom bucket hat has a wide brim around the perimeter, which can keep the sun off your face and keep you cool. 
Customize Your Hats for Summer Travel
At EverLighten, we offer you the opportunity to design your own hats. You can choose from several different types of hats, which differ in size and color. Delivery time is as fast as other hats within 7-12 days. The material of our caps is premier with ultra-modern equipment, ensuring your hat is the highest standard.
When you design your own cap at EverLighten, you can choose from different colors and fonts. The content you choose depends entirely on your imagination and resourcefulness. Our custom designs include on the front, back and sides. You can also add text on two lines. Our professional teams must help you make your own perfect custom hats. Here are three easy steps for you to make custom hats.
Step 1: Pick Your Hat
You should choose the style, color, size, and material of your hat. If you want to make custom hats for summer, you can choose some light colors to keep your head cool.
Step 2: Upload Your Design
You can send us your logo or pattern you want to add into your hat. But we also offer you free design about your hat within one working day.
Step 3: Receive Your Order
What you need to do is to offer us your postal address and payment information. After you complete the order and approve the certificate, we will put the order into production within one working day. The products are customized and printed on demand, usually 1-2 weeks. Wear a hat that no one else will ever have. Enjoy the compliments!
For more info, please visit our website www.everlighten.com.