Best Custom Socks, Brand, Custom Design Socks, custom logo socks, Custom Made Socks, custom printed socks, Custom Sock, Custom Socks, Custom Socks Bulk, Custom Socks Wholesale, Customized Socks, Design Your Own Socks
How to Boost Your Sales with Custom Socks on Black Friday
|
Nov, 17 , 23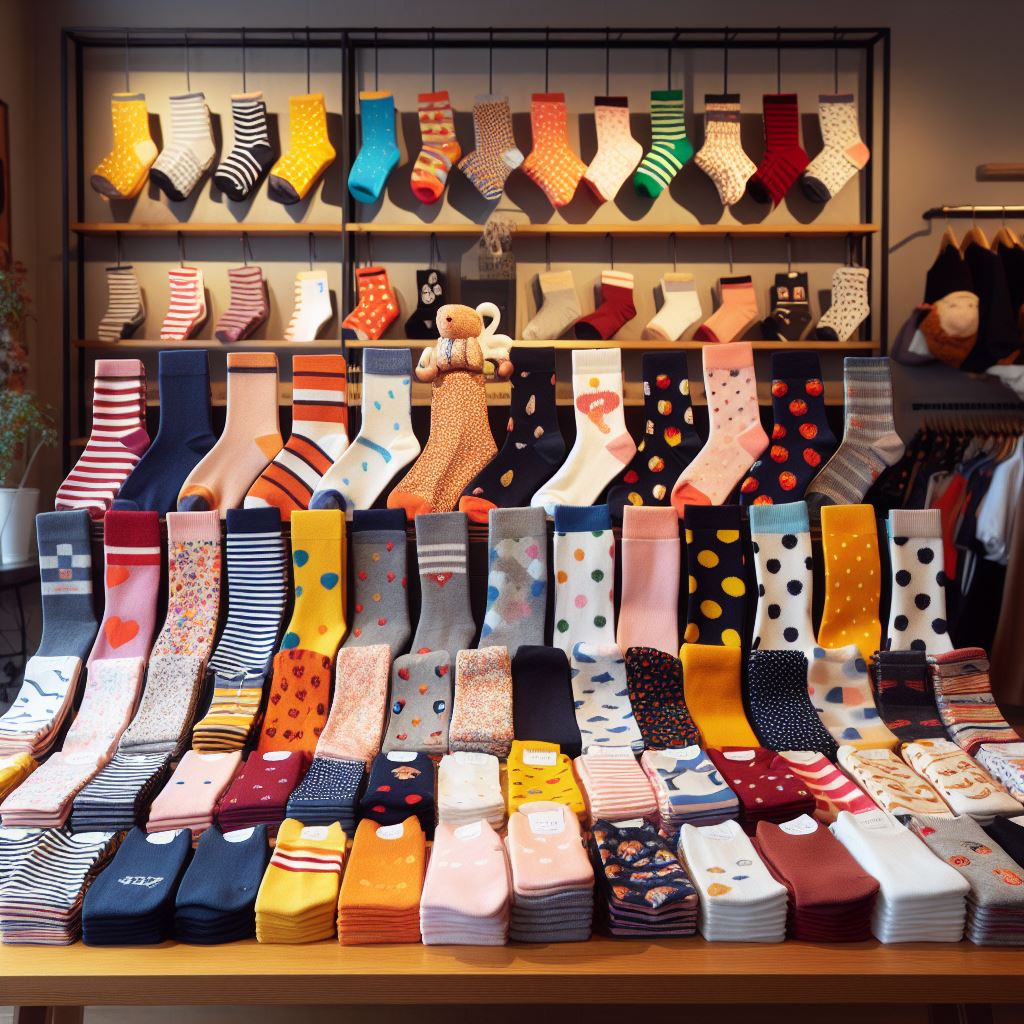 Unlocking the Secrets to Successful Black Friday Sales for Retailers
.
In accessories, custom socks have evolved into more than just a practical garment for our feet. They've become a dynamic form of self-expression, an emblem of individuality, and a potent tool for marketing. As we approach the pinnacle of retail excitement—Black Friday—custom socks stand poised to take center stage.
Picture this: amidst a sea of indistinguishable socks, a shopper stumbles upon a pair that perfectly mirrors their personality, for example, socks with their favorite sports team's logo, a beloved pet, or a humorous catchphrase. The allure of customized socks lies in the instant connection they forge, sparking joy and encapsulating the magic of self-expression.
On Black Friday, when the retail world transforms into a whirlwind of consumer activity, custom-made socks provide fresh air. Amid the chaos of mass-produced goods, they emerge as symbols of creativity, personalization, and thoughtfulness. They transform into statement pieces, conversation starters, and cherished gifts that transcend functionality.
However, the appeal of custom socks extends beyond aesthetics. They serve as a potent tool for businesses to connect with their customers. Whether used to promote brands, commemorate events, or express appreciation for loyal customers, customized socks metamorphose into walking advertisements, subtly reinforcing brand identity and leaving a lasting impression.
As Black Friday looms, retailers heed the escalating popularity of personalized socks and seize the opportunity to boost sales and fortify customer relationships. By offering diverse designs, facilitating easy customization options, and strategically promoting their sock offerings, retailers can harness the power of personalization, ensuring this Black Friday becomes a sock-tacular success.
And here's a compelling backdrop: According to Adobe Analytics, Black Friday 2022 marked a historic milestone, generating a record-breaking $9.12 billion in online sales in the United States. Socks are among the top-selling items that saw an 11% increase in sales from the previous year. A 2023 survey by NPD Group revealed that socks rank as the most requested Christmas gift item, with 57% of respondents planning to give or receive them. Furthermore, 64% of respondents plan to include socks as stocking stuffers. According to Statista, the global socks market will reach $41.62 billion by 2027. These statistics underscore the popularity of socks as a holiday gift, especially during Black Friday, making it a pivotal moment for retailers to showcase their customized sock designs and entice customers with attractive discounts. The stage is ready for retailers to make their mark in the booming world of custom-made socks this Black Friday.
Why custom socks?
The Popularity of Socks as a Customizable Item:
Canvas for Creativity:

Socks provide a unique and often underutilized canvas for creative expression. Unlike conventional accessories, socks offer a compact yet visible space for intricate designs and personalized touches.

Everyday Statement Pieces:

Socks, as everyday essentials, present a subtle yet impactful way for individuals to make a statement about their personality, interests, or affiliations. From bold patterns to personalized graphics, socks allow wearers to showcase their uniqueness effortlessly.
Comfort and Versatility of Socks as Gift Items:
Universal Appeal:

Socks transcend age, gender, and style preferences, making them universally appreciated gifts. Whether you're shopping for a family member, friend, or colleague, a thoughtfully designed pair of socks can cater to diverse tastes and preferences.

Practicality Meets Thoughtfulness:

The thoughtfulness of customization enhances the inherent practicality of socks as a gift. Custom socks strike a perfect balance, transforming a simple wardrobe staple into a cherished and memorable present.
Market Demand for Unique and Personalized Sock Designs:
Consumer Desire for Individuality:

In an era of mass production, consumers increasingly seek products that reflect their individuality. Customized sock designs cater to this demand. It offers a way for individuals to stand out in a crowd and express their unique identity through a commonly overlooked accessory.

Social Media Influence:

The rise of social media has fueled the demand for visually appealing and shareable content. Unique sock designs not only serve as a fashion statement but also become shareable moments, driving demand for personalized creations that are Instagram-worthy and shareable across various platforms.
How to Implement Custom Socks in Your Black Friday Strategy
Finding the Right Supplier for Custom Sock Manufacturing:
Research and Vet Potential Suppliers:

Begin by researching reputable custom sock manufacturers. Look for suppliers with a proven track record, positive reviews, and a portfolio that aligns with your brand aesthetic.

Request Samples:

Before committing to a substantial purchase, obtain samples from potential suppliers to assess product quality and suitability. It allows you to check the quality of materials, printing, and overall craftsmanship.

Evaluate Production Capacity:

Ensure the supplier can meet your Black Friday demand. Check production timelines, order fulfillment capabilities, and any additional services offered.
Design Options and Considerations for Personalized Socks:
Understand Your Audience:

Develop designs that resonate with unique tastes and sensibilities. Consider age, interests, and current fashion trends to create designs that appeal to your customer base.

Versatility in Design:

Offer design options to cater to diverse preferences. Include classic patterns, trendy graphics, and customizable elements like initials, names, or symbols.

Quality Control:

Implement a robust process to ensure the final product accurately reflects the intended design. Consider incorporating customer feedback or beta testing to refine your designs.
Setting Competitive Pricing Strategies for Black Friday Promotions:
Cost Analysis:

Calculate the production costs, including manufacturing, customization, and additional services. Add in shipping costs, packaging, and potential discounts for bulk orders.

Determine Profit Margins:

Establish clear profit margins while remaining competitive. Consider the perceived value of customized socks and how pricing aligns with customer expectations.

Create Attractive Bundles or Discounts:

Leverage the Black Friday craze by offering exclusive bundles or discounts for custom-made sock purchases. Consider 'buy one, get one' promotions, tiered discounts based on order quantity, or free customization for early bird shoppers. 
Additional Tips:
Limited Edition or Exclusive Designs:

Create a sense of urgency and exclusivity by introducing limited edition or exclusive Black Friday designs. It can drive demand and encourage early purchases.

Promote Early:

Start promoting your personalized sock offerings for Black Friday. Tease exclusive designs, highlight customization options, and emphasize the limited-time nature of your promotions.
Marketing Your Custom Socks
Creating a Compelling Black Friday Marketing Campaign:
Define Your Unique Selling Proposition (USP):

Clearly articulate what sets your custom socks apart. Whether it's exclusive designs, high-quality materials, or a customization feature, your USP should be the focal point of your campaign.

Craft Engaging Visuals:

Design eye-catching visuals that showcase your customized sock offerings. Utilize high-quality images and graphics that communicate the essence of your brand and the uniqueness of your Black Friday promotions.

Develop a Catchy Tagline:

Create a memorable and concise tagline that encapsulates the essence of your Black Friday campaign. A catchy tagline can leave a lasting impression and resonate with potential customers.
Leveraging Social Media for Maximum Visibility:
Create Teasers and Countdowns:

Build anticipation by sharing teaser images and countdowns on your social media platforms. Create a sense of excitement and exclusivity around your custom sock offerings.

Utilize Hashtags Strategically:

Develop and promote a branded hashtag for your Black Friday campaign. Encourage customers to use the hashtag when sharing their purchases, creating a community around your brand.

Run Contests and Giveaways:

Boost engagement by hosting contests or giveaways on social media. Encourage followers to share your Black Friday posts, tag friends, or submit user-generated content related to your custom socks for a chance to win.
Collaborations and Partnerships to Amplify Reach:
Identify Potential Collaborators:

Seek out influencers, bloggers, or complementary brands that align with your target audience. Collaborate on customized sock designs or co-host Black Friday promotions to tap into each other's audiences.

Influencer Marketing:

Leverage influencers to showcase your custom socks. Provide exclusive designs or personalized socks and encourage them to share their experiences on social media. Authentic endorsements can significantly boost credibility and reach.

Cross-Promotions:

Partner with other businesses for cross-promotions. Offer exclusive discounts or bundled deals when customers purchase products from both brands. It can expand your reach to a broad audience.
Additional Tips:
Email Marketing Campaigns:

Develop targeted email campaigns leading up to Black Friday. Send sneak peeks, exclusive offers, and reminders, creating a sense of urgency.

Engage with Your Audience:

Respond to comments, messages, and user-generated content on social media. Actively engage with your audience to build community and loyalty around your brand.
Elevate Your Black Friday Sales with EverLighten's Unrivaled Custom Socks
As the anticipation for Black Friday builds, the key to a triumphant retail season lies in your ability to offer something extraordinary. Custom-made socks, with their potential for individual expression and brand promotion, present a unique opportunity to stand out. To transform this opportunity into success, we invite you to explore the unparalleled advantages of partnering with EverLighten.
Why choose EverLighten?
At EverLighten, we redefine the custom sock experience, ensuring your Black Friday offerings leave a lasting impression. 
100% Customization:

Tailor your designs with our comprehensive customization options, ensuring your socks align seamlessly with your brand vision.

100% Quality Check:

Our commitment to excellence extends to a rigorous quality check process, guaranteeing that every pair of custom socks meets the highest standards.

Free Design Help:

Not sure where to start with your designs? Benefit from our expertise with free design assistance, guiding you through the creative process to bring your vision to life.

Worldwide Delivery:

Reach customers with our efficient worldwide delivery services, ensuring your custom socks reach eager shoppers.

24*7 Support:

Enjoy peace of mind with our round-the-clock customer support. Our dedicated team assists you at any hour, ensuring a smooth and stress-free Black Friday experience.

Unlimited Revisions:

Your satisfaction is our priority. We offer unlimited revisions to fine-tune your designs until they perfectly capture the essence of your brand.

Low MOQ (Minimum Order Quantity):

Whether you're a large retailer or a boutique shop, our low MOQ ensures that you can embark on your custom sock journey without the constraints of excessive order quantities.
Ready to Elevate Your Black Friday? Connect with EverLighten today. 
FAQs: 
What are the benefits of selling custom socks on Black Friday?
Custom socks offer several advantages for retailers during Black Friday:
Increased sales:

Custom socks are a popular gift item, and Black Friday is a prime opportunity to capitalize on this demand.

Enhanced customer satisfaction:

Custom socks allow one to express individuality. It makes them a more personalized and memorable gift.

Strengthened brand recognition:

Custom socks can promote your brand and create a lasting impression on customers.
How can I create eye-catching custom sock designs for Black Friday?
There are several ways to create eye-catching customized sock designs for Black Friday:
Use popular trends and themes:

Incorporate current trends and themes into your sock designs to appeal to a broad audience.

Collaborate with artists or designers:

Partner with local artists or designers to create unique and memorable sock designs.

Offer limited-edition designs:

Create limited-edition sock designs to generate excitement and scarcity.
What are some effective marketing strategies for selling custom socks on Black Friday?
Here are some effective marketing strategies for selling custom-made socks on Black Friday:
Promote your Black Friday deals early:

Start promoting your Black Friday deals well in advance to generate interest and anticipation.

Utilize social media:

Use social media platforms to showcase your custom sock designs and promote your Black Friday deals.

Run targeted ads:

Run targeted ads on social media and search engines to reach your ideal customer base.

Offer email discounts:

Email subscribers with exclusive Black Friday discounts on custom socks.
How can I ensure timely delivery of custom socks during the Black Friday rush?
To ensure timely delivery of custom socks during the Black Friday rush: 
Plan your production schedule carefully:

Plan your production schedule to accommodate the increased demand during Black Friday.

Communicate clearly with customers:

Communicate expected delivery times to customers and manage their expectations.

Partner with reliable fulfillment partners:

Partner with reliable fulfillment partners who can handle the increased volume of orders during Black Friday.
What are some tips for providing excellent customer service during Black Friday?
Here are some tips for providing excellent customer service during Black Friday:
Respond promptly to inquiries:

Respond promptly to customer inquiries via email, phone, or social media.

Handle complaints effectively:

Address customer complaints in a professional and empathetic manner.

Go the extra mile:

Surprise your customers with unexpected gestures, such as personalized thank-you notes or gifts.
Tags:
Best Custom Socks
,
Brand
,
Custom Design Socks
,
custom logo socks
,
Custom Made Socks
,
custom printed socks
,
Custom Sock
,
Custom Socks
,
Custom Socks Bulk
,
Custom Socks Wholesale
,
Customized Socks
,
Design Your Own Socks