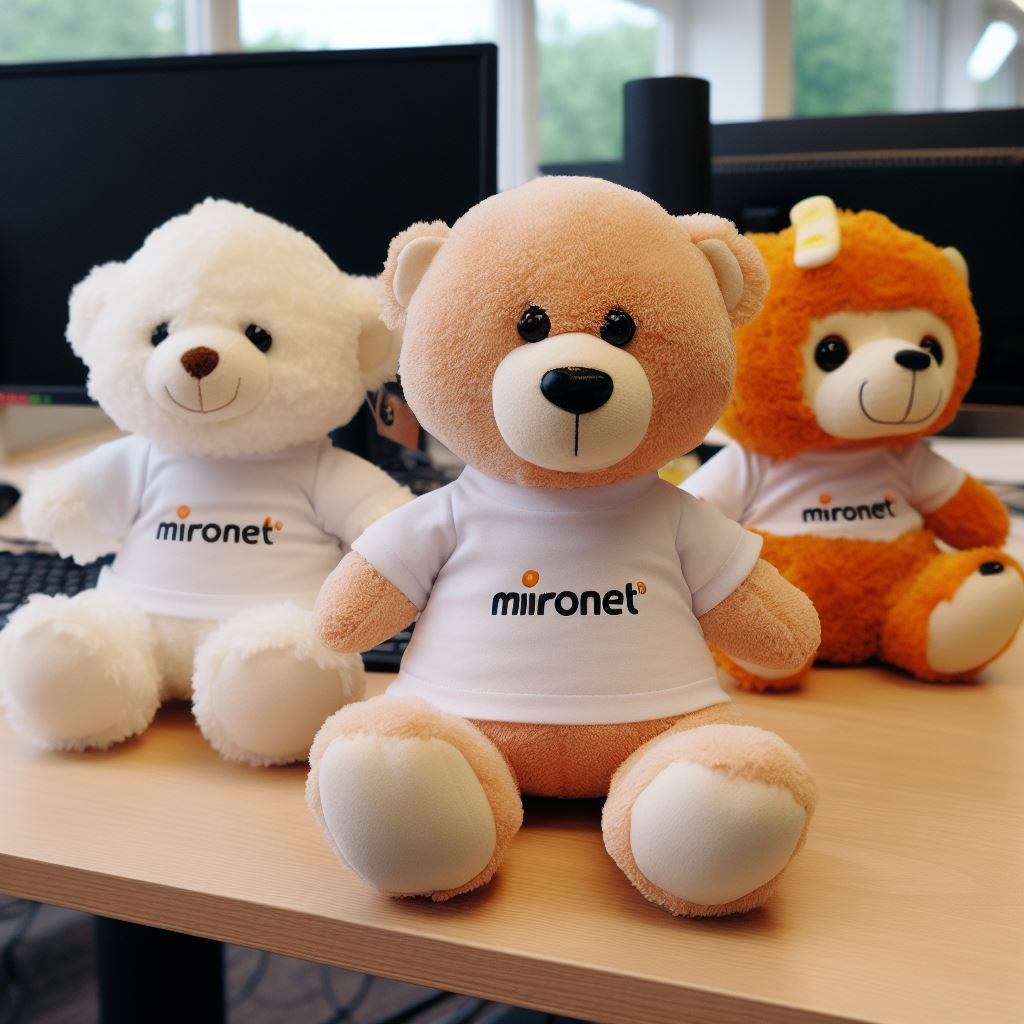 Learn all the tips and tricks when ordering a small number of custom plushies from a manufacturer without spending much. 
Embarking on the enchanting journey of bringing your custom plush toy or stuffed animal to life is a dream for many. However, this dream can become a challenging quest for those with small order quantities. Plush toy manufacturing is often dominated by large-scale productions, making it a daunting task for individuals, small businesses, or event organizers to find manufacturers willing to accommodate their modest orders.
In a market where quantity often dictates the terms, the quest for a reliable manufacturer for small order quantities resembles a treasure hunt through uncharted territory. But fear not! This guide is here to illuminate the path and unravel the mysteries of small-quantity custom plush toy creation. So, let the adventure begin!
When do you need small order quantities for customized plush toys? 
Small order quantities for customized plush toys are ideal in many circumstances, offering flexibility and advantages for specific scenarios. 
Market Testing:
If you are introducing a new plush toy design or concept, starting with a small order allows you to test the market without committing to a large production run. This approach helps gauge customer interest and preferences before scaling up.
Special Events and Occasions:

When needing

memorable tokens of appreciation suitable for giveaways, birthday surprises, wedding celebrations,

corporate branding

, or promotional initiatives.
Limited Budgets:
Small businesses or individuals with budget constraints may find it more feasible to invest in a smaller order initially. It minimizes financial risk while allowing them custom plush toys that align with their branding or vision.
Seasonal or Limited-Time Promotions:
When planning short-term promotions or seasonal offerings, ordering a small quantity of customized plush toys enables businesses to create exclusive items without over-committing resources.
Unique Designs or Prototypes:
If you have a unique or experimental plush toy design, ordering a small quantity allows you to test its feasibility and customer response before committing to a large production.
Diverse Product Range:
Businesses that offer a diverse range of plush toys may prefer smaller quantities for each design, allowing them to cater to various preferences without a massive inventory.
Custom Gifts and Personalization:
Individuals or businesses looking to create personalized gifts or unique, one-of-a-kind plush toys for specific recipients may opt for small quantities to maintain the exclusivity of the items.
Startups and Emerging Brands:
Emerging brands or startups entering the plush toy market may find it more manageable to start with small quantities. It allows them to establish their brand identity, build a customer base, and gradually scale up based on demand.
Limited Storage Space:
For those with limited storage space, it ensures they can manage the inventory more efficiently without extensive storage solutions.
Customization Testing:
If you are experimenting with different customization options, such as materials, colors, or features, starting with a small order allows you to assess the success of these customizations before committing to larger quantities.
Differences Between Ordering Small and Large Quantities of Customized Plush Toys
The scale of your order can significantly impact various aspects of the manufacturing process, pricing, and overall experience. 
Cost Considerations:
Small Quantities:

Ordering a limited number of plush toys incurs higher per-unit costs. Manufacturers may allocate fixed costs over a smaller production run, increasing the cost per item.

Large Quantities:

Bulk orders generally result in lower per-unit costs. Manufacturers can benefit from economies of scale, spreading fixed costs across a larger production volume.
Production Time:
Small Quantities:

Manufacturing a small batch of custom plush toys might have a quicker turnaround time, as the production process is less complex and requires less time and resources.

Large Quantities:

Larger orders may take longer due to the increased volume and intricacies. Coordination, quality control, and shipping logistics are more elaborate.
Customization Options:
Small Quantities:

Limited orders may have more flexibility in terms of customization. Manufacturers may be more willing to accommodate unique designs and features for smaller batches.

Large Quantities:

It can sometimes restrict the customization options for large orders. Streamlined processes may be necessary to maintain efficiency, limiting the range of design modifications.
Minimum Order Quantities (MOQ):
Small Quantities:

Some manufacturers set lower minimum order quantities for small-scale productions, making them more accessible for individuals and small businesses.

Large Quantities:

Many manufacturers impose higher minimum order quantities for large-scale productions, which can be a barrier for those with smaller projects or limited budgets.
Communication and Flexibility:
Small Quantities:

Working closely with manufacturers on a small order allows for more personalized communication. There may be greater flexibility in making adjustments to the design or addressing specific preferences.

Large Quantities:

Communication in large-scale productions can be more formalized and less flexible. Manufacturers often follow standardized procedures to maintain efficiency.
Market Testing and Risk:
Small Quantities:

Ordering a small quantity is ideal for market testing, allowing businesses to gauge product demand and reception without committing to a large inventory.

Large Quantities:

Bulk orders involve a higher financial risk, as significant investments upfront. If the market response is unfavorable, there may be challenges in managing excess inventory.
| | | |
| --- | --- | --- |
| Aspect | Small Quantities | Large Quantities |
| Cost Considerations | Higher per-unit costs due to spreading fixed costs | Lower per-unit costs due to economies of scale |
| Production Time | Quicker turnaround time | Longer production time due to increased volume |
| Customization Options | More flexibility in customization | Restricted customization options |
| Minimum Order Quantities | Lower minimum order quantities | Higher minimum order quantities |
| Communication & Flexibility | Personalized communication and flexibility | Formalized communication and limited flexibility |
| Market Testing and Risk | Ideal for market testing and low financial risk | Higher financial risk due to bulk ordering |
What are the drawbacks of ordering small quantities of custom-made plush toys?
While ordering small quantities of custom-made plush toys offers various advantages, be aware of potential drawbacks to make informed decisions. 
Higher Per-Unit Costs:
One of the primary drawbacks is that the cost per unit tends to be higher for small-quantity orders. Fixed costs, like setup and tooling expenses, are distributed across a smaller production run, increasing the per-unit cost.
Limited Economies of Scale:
Small orders may not benefit from economies of scale, which means that the production process may be less efficient, and cost-saving measures that apply to larger orders may not be applicable.
Reduced Customization Options:
Manufacturers might have limitations on the degree of customization they can offer for small orders. It could restrict the range of design options, materials, or special features available to those who place smaller orders.
Longer Turnaround Time Proportionally:
While small orders may have a quicker turnaround time compared to large-scale productions, the time it takes to complete the manufacturing process can still be proportionally longer per unit. It may impact tight deadlines or time-sensitive projects.
Minimum Order Quantities (MOQs):
Some manufacturers may have minimum order quantity requirements that are difficult to meet with a small order. It can limit the options for businesses or individuals for a modest quantity order.
Risk of Limited Availability:
If customized plush toys gain popularity quickly, ordering a small quantity may lead to limited availability, potentially resulting in unmet demand. It can be a missed opportunity for sales or brand exposure.
Less Favorable Pricing Negotiation:
Manufacturers may be less inclined to negotiate pricing for small orders than larger contracts. Bulk orders often provide more room for negotiation, leading to more favorable terms for the buyer.
Challenges in Marketing and Branding:
Small quantities may pose challenges in terms of marketing and branding. Establishing brand recognition and visibility can be more difficult with limited inventory, and the impact of marketing efforts may be less pronounced.
Shipping Costs per Unit:
Shipping costs per unit may be higher for small quantities, affecting the overall cost-effectiveness of the order. Bulk shipments tend to be more cost-efficient on a per-item basis.
Potential for Limited Variety:
Ordering small quantities may limit the variety of designs or products available, reducing options for customers. It can be a drawback for businesses to offer a diverse range of customized plush toys.
Tips for ordering small quantities of customized stuffed animals: 
Ordering small quantities of customized stuffed animals can be rewarding, offering flexibility and unique opportunities. 
Research Reputable Manufacturers:
Invest time in researching and identifying reputable manufacturers that specialize in small-quantity orders. Look for reviews, testimonials, and examples of their previous work to ensure they meet your quality standards.
Clearly Define Your Requirements:
Clearly outline your requirements, including design specifications, materials, and any special features you want. Providing detailed and precise information helps manufacturers better understand your vision.
Understand the Cost Structure:
Gain a thorough understanding of the cost breakdown. Small quantities may have higher per-unit costs, so be prepared and factor it into your budget. Inquire about any additional fees or charges to avoid surprises.
Communicate Effectively:
Establish clear and open communication with the manufacturer. Convey your expectations, timelines, and any specific requirements. Regular communication helps prevent misunderstandings and ensures everyone is on the same page.
Negotiate Pricing and Terms:
While small orders may have less room for negotiation than larger ones, it is still worth discussing pricing and terms with the manufacturer. Some flexibility may be possible, especially if you plan to place recurring orders.
Request Samples or Prototypes:
Before placing an order, request samples or prototypes to evaluate the quality of the products. This step ensures the final stuffed animals meet your design, materials, and craftsmanship expectations.
Check Minimum Order Quantities (MOQs):
Confirm the minimum order quantity required by the manufacturer. Some have more flexible MOQs for small orders, while others may have specific requirements.
Explore Customization Options:
Take advantage of customization options to make your stuffed animals unique. Consider custom tags, embroidery, or features that align with your brand or purpose. Discuss these options with the manufacturer to ensure feasibility.
Plan for Quality Control:
Establish a quality control process. Clearly define the quality standards you expect, and discuss how the manufacturer will address any defects or issues that may arise during production.
Factor in Production Time:
Understand the production timelines for small-quantity orders. While these orders may have a quicker turnaround than larger ones, have realistic expectations and plan accordingly.
Consider Eco-Friendly Options:
If sustainability is a priority for your brand, inquire about eco-friendly materials and production processes. Many manufacturers offer environmentally conscious options for custom plush toys.
Build a Strong Branding Strategy:
Even with a small order, invest in a strong branding strategy. Custom packaging, labels, and branding elements can enhance the perceived value of your stuffed animals and help build brand recognition.
Explore Collaborations:
Consider collaborating with influencers, bloggers, or other businesses to promote your custom stuffed animals. It can help generate buzz and increase the visibility of your unique creations.
Plan for Storage and Distribution:
Consider the logistics of storing and distributing your stuffed animals. Ensure you have a plan for managing inventory and fulfilling orders efficiently, especially if you plan to sell the products online.
How can you get accurate quotes from different manufacturers of custom-made plushies?
Getting accurate quotes from different manufacturers of custom-made plushies is crucial for making informed decisions and managing your budget effectively. 
Prepare Detailed Specifications:
Clearly define your plushie specifications, including size, design details, materials, colors, and features. The more detailed your requirements, the more accurate and comprehensive the quotes will be.
Research and Identify Potential Manufacturers:
Conduct thorough research to identify potential manufacturers. Look for companies with experience producing custom plushies and positive reviews from previous clients. Industry forums, trade shows, and online directories can be valuable resources.
Contact Multiple Manufacturers:
Reach out to a diverse range of manufacturers to gather quotes. Provide each manufacturer with similar specifications and project details to ensure consistency in the quotes you receive.
Request for a Detailed Quote:
When contacting manufacturers, request a detailed quote that breaks down the costs. Ask for separate line items for materials, labor, setup fees, shipping, and other relevant expenses. This breakdown helps you understand the cost structure and identify potential areas for negotiation.
Clarify Minimum Order Quantities (MOQs):
Inquire about the minimum order quantities (MOQs) required by each manufacturer. MOQs can significantly impact the overall cost and feasibility, so have this information upfront.
Specify the Quantity:
Communicate the number of plushies you are interested in ordering. This information is essential for manufacturers to provide accurate quotes, as pricing often depends on the volume.
Ask About Customization Options:
Inquire about customization options and any additional costs associated with specific design features. Whether custom embroidery, unique accessories, or special packaging, ensure the quote reflects these details.
Understand Production Timelines:
Gain a clear understanding of the production timelines from each manufacturer. Ask about lead times, production schedules, and any factors that may influence the overall timeline of your project.
Discuss Quality Control Measures:
Inquire about the quality control measures. A reliable manufacturer should have procedures to ensure the finished plushies meet your specified quality standards.
Negotiate Pricing and Terms:
Negotiate pricing and terms. While some costs may be non-negotiable, there may be room for flexibility, especially considering a long-term partnership or if you plan to place recurring orders.
Request Samples or Prototypes:
Before finalizing your decision, consider requesting samples or prototypes from the manufacturers you are considering. This step allows you to assess the quality of their work and ensure it aligns with your expectations.
Check References and Reviews:
Ask for references from previous clients or check online reviews to gauge the satisfaction levels of other customers who have worked with the manufacturer. It can provide valuable insights into reputation and reliability.
EverLighten: Crafting Christmas Magic 
In a heartwarming tale, EverLighten came to the rescue when Sarah Hall struggled to find a manufacturer for a custom plush fox toy. Despite the challenge of a low order quantity and unique specifications (18 inches), we embraced the opportunity to create a one-of-a-kind Christmas gift.
Their dream became a reality through our commitment to customers. The result? An adorable plush fox that she declared the best Christmas gift. 
Elevate Your Plush Toy Journey with EverLighten!
Embarking on the delightful adventure of creating custom-made plush toys is an exciting journey filled with creativity and endless possibilities. As you navigate bringing your unique plushie vision to life, consider partnering with a manufacturer that understands your dreams and shares your commitment to excellence.
At EverLighten, we turn your plushie dreams into reality with a suite of unparalleled services:
100% Customization:

Tailor every aspect of your plush toys to match your vision, from design details to materials, ensuring a creation uniquely yours.

100% Quality Check:

Our commitment to quality is unwavering. Every plushie undergoes rigorous quality checks to the highest standards.

Free Design Help:

Our team of experienced designers is here to assist you in bringing your ideas to life. Benefit from our free design help to create plushies that captivate hearts.

Worldwide Delivery:

No matter where you are, our global delivery ensures that your custom plushies reach you promptly and safely, bringing joy to every corner of the world.

24*7 Support:

We support your journey with EverLighten round the clock. Have a question or need assistance? Our dedicated support team is here for you, ensuring a smooth and seamless experience.

Unlimited Revisions:

We believe in perfection. Enjoy the flexibility of unlimited revisions, allowing you to fine-tune every detail until your plushies are perfect.

Low MOQ (Minimum Order Quantity):

Whether you are a small business, an individual creator, or a budding entrepreneur, our low MOQ ensures that you can embark on your plush toy venture without the constraints of high-volume commitments.
Connect with EverLighten and Bring Your Plushie Dreams to Life. 
FAQs: 
How much does it cost to make a custom plushie?
The cost of a custom plushie can vary greatly depending on several factors:
Size:

Larger plush toys require more materials and labor. It results in a higher cost.

Complexity:

Intricate designs with detailed features and accessories will cost more than simple ones.

Materials:

The type and quality of materials, such as premium fabrics or sustainable options, can impact the price.

Quantity:

Ordering in bulk can lower the per-unit cost, while smaller quantities see a higher cost per plushie.

Manufacturer:

Different manufacturers have varying pricing structures based on experience, expertise, and location.
How do you make custom plush toys?
The process of making a custom plush toy involves several steps:
Design:

Develop a detailed design for your plushie, including sketches, reference images, and specifications for size, colors, and features.

Prototype:

Create a prototype of your design using simple materials like felt or fabric scraps to test the proportions and overall look.

Pattern creation:

Once satisfied with the prototype, create a sewing pattern to guide the production of the final plushie.

Material selection:

Choose fabrics and stuffing materials that meet your desired quality and aesthetic. Consider factors like durability, safety, and texture.

Construction:

Cut and sew the fabric pieces according to the pattern, assemble the plushie, and add any final details like embroidery or accessories.
Why are custom plushies so expensive?
Several factors contribute to the higher cost of custom plush toys:
Personalization

requires dedicated design and production processes tailored to individual specifications, unlike mass-produced plush toys.

Skilled labor:

Crafting high-quality plushies involves skilled craftspeople with expertise in sewing, embroidery, and pattern making, warranting fair compensation for their labor.

Production scale:

Small-batch production of custom plushes can be less efficient than mass manufacturing. It leads to increased production costs per unit.

Material selection:

Premium fabrics, high-quality stuffing, and sustainable materials can be more expensive than those used in mass-produced plush toys.

Design complexity:

Intricate designs with complex features and details require more time and resources to create, reflected in the final cost.
What makes a good plush toy?
It should possess several qualities:
Softness and cuddliness

: The plushie should be comfortable, with soft fabrics and adequate stuffing for a pleasant tactile experience.

Durability

: The materials and construction should be durable enough to withstand regular play and handling, ensuring long-lasting enjoyment.

Safety

: The plushie should be safe for its intended age group, without choking hazards or harmful materials.

Appealing design

: The design should be visually appealing, whether cute or sophisticated and unique.

Quality construction

: The plushie should be well-made with neat stitching, secure seams, and careful attention to detail.

Personal connection

: A plush toy often holds sentimental value for its owner, representing a cherished character, memory, or expression of personal style.