Head-Turning Hats: Discover 15 Fashionable Options to Match Every Personality | EverLighten
|
Jun, 22 , 23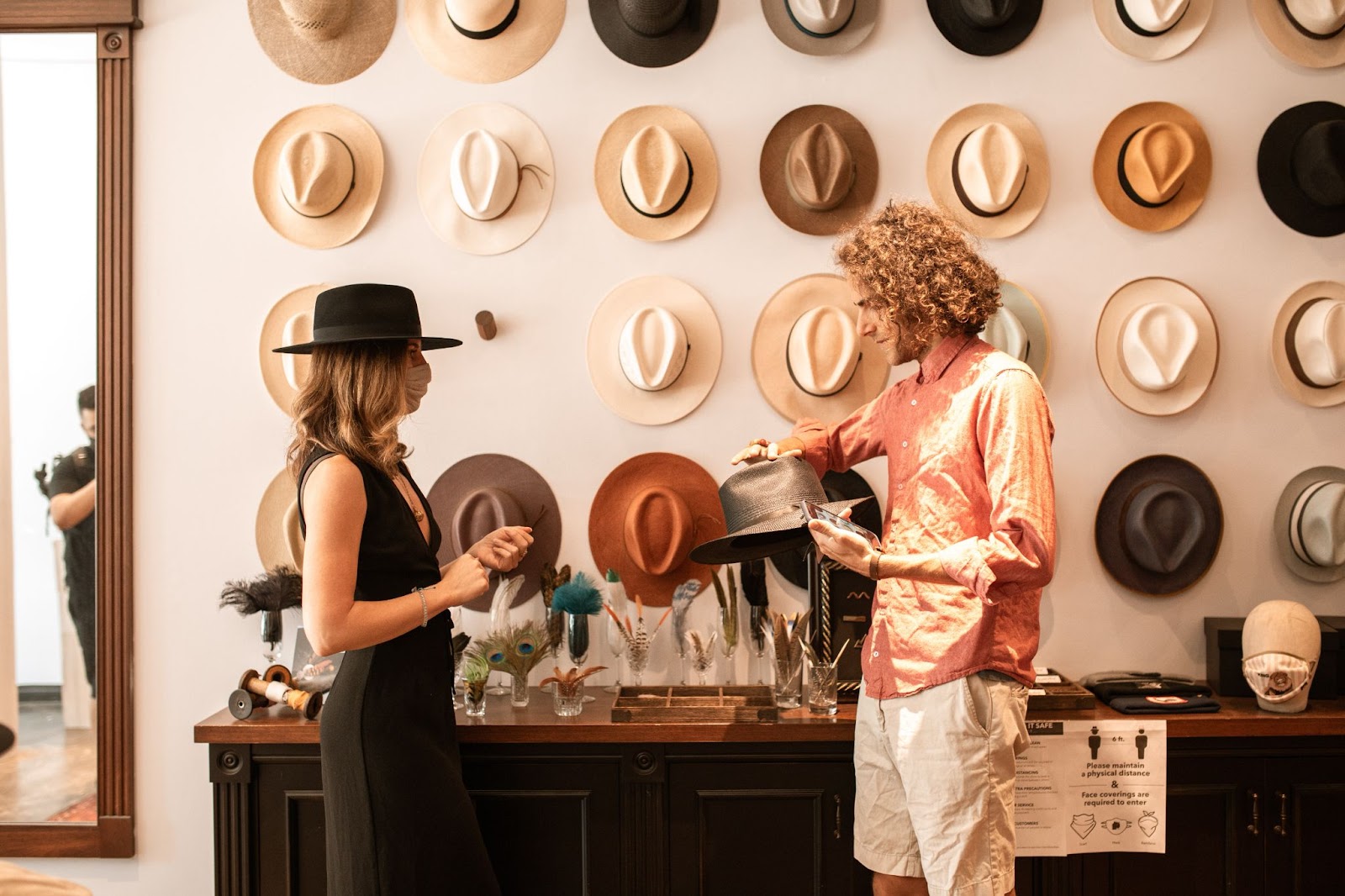 A concise guide to 15 different kinds of hats
Caps are not only useful accessories for shielding you from the atmosphere. They also can change your whole look. There is a style of hat for you. Whether you want to look sophisticated, embrace a casual vibe, or make a bold statement. We'll go over 15 different kinds of hats that you can wear with confidence in this article. Every hat, from traditional fedoras to trendy bucket hats, adds charm to your outfit. Find the ideal hat to complement your outfits and leave a lasting impression wherever you go. Thus, get your #1 "cap" and we should jump into the magnificent universe of headwear!


Fedora




The classic fedora has a wide brim and a pinched crown, making it stand out. It became popular at the beginning of the 20th century. It was frequently associated with an elegant and timeless appearance. Fedoras can be found in a variety of styles and colors and are typically made of felt or straw. They are versatile enough to go with both formal and casual outfits and can be worn by both men and women. Fedoras add a hint of class and can hoist your style.



Beanies

Beanies are close-knit caps made of wool or other warm materials that fit tightly. They are intended to give warmth, making them ideal for colder climates. Beanies are famous for their easygoing and loosened-up vibe. They are mainly worn in streetwear and metropolitan style. They come in a variety of colors and styles. These include cuff beanies with a folded brim and slouchy beanies with a looser fit. Beanies are flexible and can be matched with many outfits. For example, pants and Shirts to winter coats and sweaters. They add a comfortable and easygoing touch to your look.



Trilby

Like a fedora, the trilby hat has a crown that is more tapered and a slightly narrower brim. They are connected with a jazzy and refined look. Trilbies, which are worn by both men and women, are typically made of felt or straw. They can be worn in both formal and informal settings. They give traditional hat styles a sleek, contemporary twist. Trilbies are matched with customized suits, shirts, and pants for a neat appearance. Or with pants and overcoats, for a more contemporary look.



Panama hat

The Panama hat, like its name, originated in Ecuador. They gained popularity among workers working on the Panama Canal. The toquilla palm plant's leaves are used to make this hat. They are both lightweight and breathable. The wide brim and high crown of a Panama hat provide excellent sun protection. They are normally lightweight and have a characteristic, woven appearance. Panama hats are a popular choice for outdoor events, and vacations. They add a touch of sophistication to your outfit due to their elegant and summery appeal.



Flat Cap

A rounded cap with a small, stiff brim in the front is the flat cap, which is also known as the ivy cap. It is mostly associated with classic and vintage-inspired fashion. They are generally made of wool or tweed. Both men and women wear flat caps, which have a timeless appeal. They give you a look that is both casual and sophisticated, giving your outfit a touch of heritage and style. Level covers can be matched with different outfits. For example, easygoing pants and a sweater or a more proper jacket and pants. It gives a flexible decision for both regular wear and formal events.



Cowboy hat

The cowboy hat is a well-known symbol of the American West. It is an integral part of ranching and cowboy culture. It has a high crown with a crease running down the middle and a wide brim that provides sun protection. Rancher caps are made of felt or straw. Cowboy hats have evolved into fashionable accessories. They give your look a touch of ruggedness and individuality. Despite the fact that their original purpose was to provide protection and utility. They are worn on Western-themed occasions and blue grass live performances or as an explanation piece in the current design.



Baseball Cap

The baseball cap is a famous cap style that started in the realm of sports, especially baseball. It has a stiff brim and a rounded crown that protect the face from the sun. Baseball caps are normally made of cotton or polyester. They have a flexible tie or a snapback end at the back for a good fit.  They have a sporty and casual style. They are a common accessory in streetwear and everyday fashion. Baseball caps can be adorned with a variety of designs, logos, or team emblems. They allow wearers to show off their style, favorite brands, or favorite sports teams. They are adaptable and can be worn with a variety of outfits. For example, jeans, sneakers, and T-shirts, and add a casual touch to a more polished outfit.



Bucket Hat

The bucket hat has a wide, downward-sloping brim and a crown that fits comfortably on the head. This style is known as the bucket hat. It was promoted during the 1960s and 1970s. Bucket hats are made of cotton, or nylon, giving both style and usefulness.  They give a casual and relaxed feel. They are a popular choice for music festivals, beach trips, and outdoor activities. Bucket hats allow wearers to express their individuality. They come in a variety of colors, patterns, and prints. They are useful for outdoor activities and travel because they provide sun protection. They are simple to fold and pack.



Newsboy Cap

The flat newsboy cap is also known as the baker boy cap or the eight-panel cap.  It has a round, full crown, and a small, slightly curved brim. It was first worn by newspaper boys in the late 19th and early 20th centuries, hence its name. Wool, cotton, or tweed are the most common materials for newsboy caps. The tops generally feature a button or snap. They give your outfit a timeless vintage-inspired look. They add a touch of sophistication. Newsboy caps are adaptable and can be worn with casual or semi-formal outfits. They can be worn straight on the head or tilted to the side, allowing for a variety of style interpretations.



Boater Hat

The boater cap is also known as a skimmer cap or mariner cap. It is an excellent cap style. It became popular in the late nineteenth and mid-twentieth centuries. It has a ribbon band around the base, a wide and flat brim, and a flat crown. Boater caps are generally made of firm straw material. It gives them an organized and formal appearance. They are associated with formal and vintage events. For example, boating events, regattas, and summer garden parties. Boater hats are paired with more formal attire, such as blazers, suits, or dresses. They add a dash of retro appeal and summon a feeling of immortal complexity.



Pork Pie Hat

The pork pie hat is a unique style with a short, flat brim and a flat crown. It got its name because it looks like a British meat pie. Pork pie hats come in a variety of colors and patterns and can be made of felt or straw, among other materials. It came into existence in the early 20th century. This hat has been associated with a variety of fashion subcultures. For example, jazz musicians and the hipster movement. Pork pie hats add a touch of individuality and quirkiness to your look. They have a distinctive and slightly eccentric appeal. They make a fashionable and distinctive statement. They can be worn in casual or semi-formal attire.



Bowler Hat

The bowler hat, also called a derby cap, is a round and hard-delegated cap with a limited, bent edge. It was first made for horse riders in the mid-19th century as a durable and protective hat. It became popular very soon. Bowler hats are characterized by their sleek and formal appearance. They are made of stiff felt. They are related to English and respectful style. Famous figures like Charlie Chaplin wore them. To achieve a polished and distinguished appearance, bowler hats are paired with formal attire. For example, suits and overcoats. They give your outfit a touch of sophistication and refinement.



Sun Hat

A sun hat, as its name suggests, is made to shield the wearer from the sun's rays. Sun hats have wide brims that shade the face, neck, and shoulders. It reduces sun exposure and prevents sunburn. They are made of straw, cotton, or nylon. They are lightweight and breathable materials. Sun caps come in different styles, including floppy caps, wide-overflowed caps, and visors. They are a famous accessory for trips to the beach, activities in the great outdoors, and any sunny day. That is when you want to enjoy the outdoors while protecting yourself. Sun hats join design with usefulness. They permit you to remain classy while protecting yourself from destructive UV rays.



Fascinator Hat

A fascinator is a headpiece with a decorative design. Women wear them for special events like weddings, parties, and horse races. Fascinators are small and versatile. They feature feathers, blooms, globules, strips, or other enriching components. They are made to be worn with a comb, headband, or hair clip, making them simple. An outfit gains a touch of femininity, whimsy, and elegance from fascinators. They are worn to the side of the head. They can be matched with formal dresses or considerably more easygoing outfits. They add an assertion to the outfit. Fascinators allow for individuality and creativity in styling.



Top Hat

The top hat is a formal, tall hat with a narrow brim and a flat crown. It is associated with formal events, high society, and Victorian fashion. They are generally made of silk or felt. Top hats are viewed as a sign of sophistication and elegance. They are commonly worn with formal nightwear. For example, tailcoats or tuxedos, during occasions like weddings, horse races, or exhibitions. Top hats are fashion accessories that stand out, draw attention, and exude grandeur. They continue to be iconic and recognizable hat styles. They add a touch of historical charm and formality to formal occasions.  But, they are less frequently worn in everyday fashion.


Conclusion

A concise guide to 15 different kinds of hats is provided in this article. Each style has its charm and purpose. From the traditional Fedora to wide-brimmed hats, hats are tailored to specific activities.  There are also culturally significant hats like the Pork Pie hat. There is a hat for every taste and occasion. Whether you want elegance, sun protection, or cultural flair, you have a hat that suits you the best.
Are you ready to get a hat that fits you the best? You can contact EverLighten. EverLighten has been the industry leader in providing all kinds of custom hats. It has been providing custom hat manufacturing services for the last 19 years. EverLighten offers:
Quality

: It provides the best quality products in the least possible time.


Customer Support: They offer 24*7 customer support and guarantee customer satisfaction.


Competitive Prices: Their prices are very competitive. You can place any number of orders from 1 to thousands.  They keep all the costs upfront, and no hidden charges are involved.


Other Custom Products: They also offer to manufacture other custom products. These include custom basketballs, custom patches, custom keychains, custom hoodies, custom plush toys, etc.


Free Delivery: Everlighten offers free delivery to its customers. This gives a hassle-free user experience.


FAQs


What is the most famous type of hat?

Some of the most famous types of hats are Fedora, Beanies, Trilby, etc.



Which hat is best for hair?

Hats made of polyester material are considered best for hair.



What is a hat without a top called?

Fascinators are hats without a top.



What is the end of a hat called?

The end of a hat is known as the 'hat tip.'