Top Educational Benefits of Stuffed Animals for Children | EverLighten
|
Jun, 21 , 23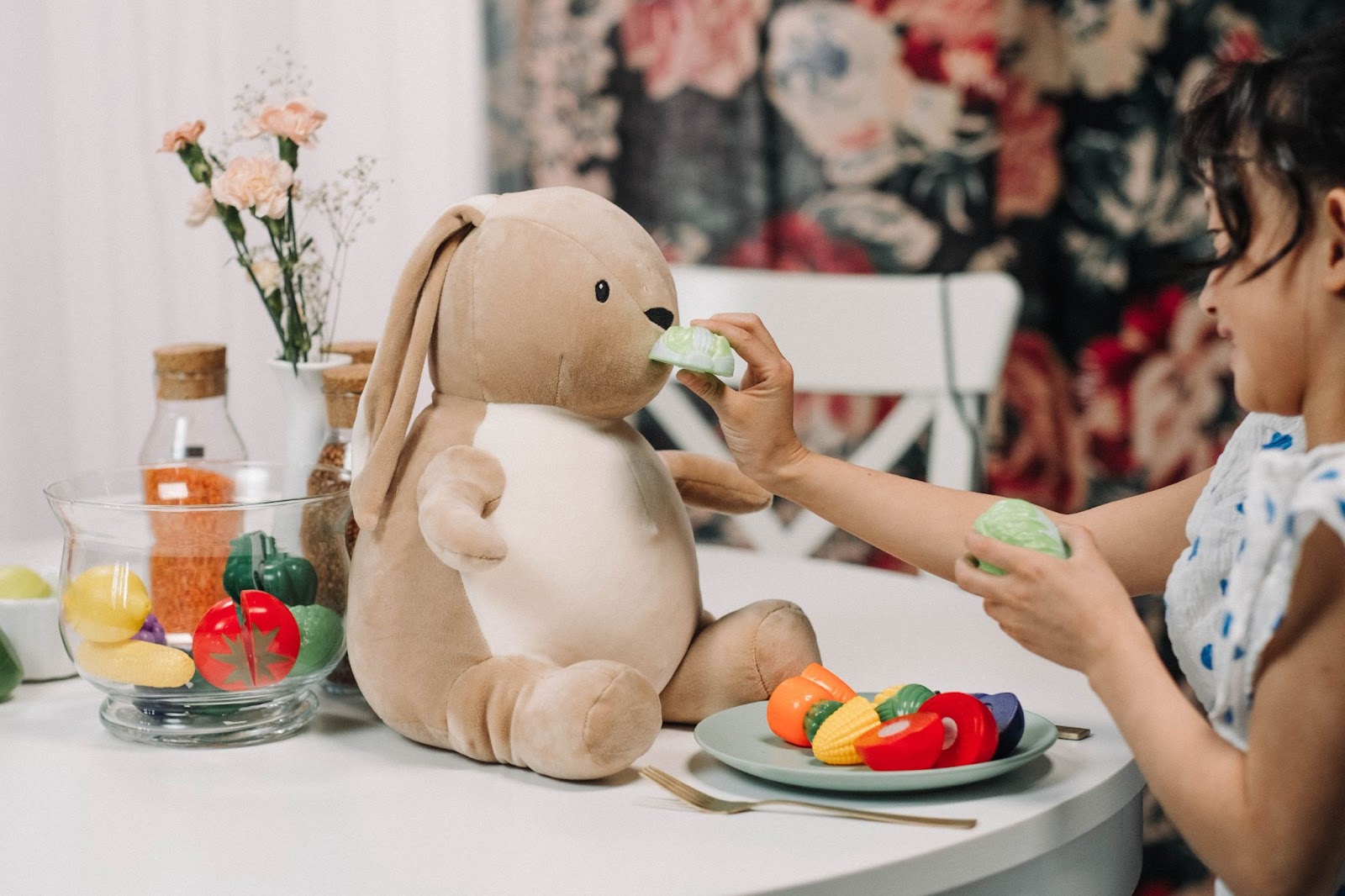 Have you ever wondered how a simple stuffed animal can enhance a child's educational journey? While they may seem like mere toys, stuffed animals have a remarkable ability to engage children in interactive and educational experiences. In this blog, we will delve into the world of stuffed animals and uncover the numerous educational benefits they offer for children.
Early childhood education plays a pivotal role in shaping a child's cognitive, emotional, and social development. During these formative years, children are like sponges, absorbing information and learning through various means. Interactive learning tools are essential in fostering a love for learning and providing children with opportunities to explore, create, and grow. Stuffed animals, with their cuddly appeal and imaginative potential, prove to be invaluable assets in this educational journey.
Throughout this blog, we will delve into the specific ways in which stuffed animals contribute to a child's educational development. From emotional growth and bonding to language and communication skills, cognitive development, social and emotional learning, and expanding knowledge about the world around them – stuffed animals offer a myriad of educational benefits. So, let's embark on this enlightening exploration into the educational advantages of stuffed animals for children.


Emotional Development and Bonding


Emotional development plays a crucial role in a child's overall growth and well-being. It encompasses understanding and expressing emotions, developing empathy, and establishing healthy relationships. Stuffed animals can serve as powerful tools in nurturing a child's emotional development and promoting bonding experiences. 


Companionship and Comfort: Stuffed animals often become cherished companions for children, offering a sense of security and comfort. They provide a source of emotional support, especially during times of stress, loneliness, or bedtime routines. A child can confide in their stuffed animal, expressing their thoughts and feelings without judgment or fear of rejection.

Developing Empathy: Interacting with stuffed animals allows children to explore and understand emotions both within themselves and others. Through imaginative play, children can project emotions onto their stuffed animals, enabling them to explore different perspectives and experiences. This process facilitates the development of empathy as children learn to recognize and respond to the emotions of their stuffed animal "friends."

Expressing Emotions: Stuffed animals can serve as a safe outlet for children to express their own emotions. Children often talk to their stuffed animals, sharing stories, fears, and joys, which helps them articulate their feelings and build emotional vocabulary. By listening and responding to their stuffed animals, children develop a greater understanding of their own emotions and become more adept at expressing themselves.

Strong Emotional Bonds: Children often form deep emotional bonds with their favorite stuffed animals. These bonds are built over time through shared experiences, such as cuddling, playing, and comforting routines. Stuffed animals become confidants and trusted companions, offering a consistent presence in a child's life. These strong emotional connections foster a sense of security, promote self-regulation, and provide a source of comfort and stability.

For example, a child might rely on their stuffed animal to alleviate separation anxiety when starting school or going to the doctor. The stuffed animal becomes a familiar and reassuring presence, offering emotional support in unfamiliar or challenging situations. This emotional bond can continue throughout childhood, offering a sense of nostalgia and a cherished reminder of happy memories.



Language and Communication Skills


Stuffed animals offer a rich platform for children to enhance their language and communication skills. Here are several ways in which children can benefit in this area through their interactions with stuffed animals:


Conversations and Language Development: Children often engage in conversations with their stuffed animals, treating them as attentive listeners and participants. These interactions provide valuable opportunities for language development. As children engage in imaginative play and create scenarios with their stuffed animals, they practice using words, constructing sentences, and expressing their thoughts and ideas. Through these conversations, children build vocabulary, improve sentence structure, and develop language fluency.

Pretend Play and Storytelling: Stuffed animals serve as ideal companions for pretend play, fueling a child's storytelling abilities. Children often create imaginative scenarios involving their stuffed animals, assigning roles and engaging in narrative play. This form of play enhances language skills as children construct narratives, develop plots, and articulate dialogue for their stuffed animal characters. They practice sequencing events, using descriptive language, and organizing their thoughts in a coherent manner.

Naming and Categorizing: Stuffed animals come in various shapes, sizes, and types, providing opportunities for children to learn and practice naming and categorizing skills. As children play with their stuffed animals, they can learn the names of different animals and even expand their knowledge to include specific breeds or species. Additionally, children can categorize their stuffed animals based on characteristics such as color, size, or habitat, which helps them develop classification skills and expand their vocabulary.

Communication and Social Skills: Engaging with stuffed animals in role-playing scenarios encourages children to practice communication and social skills. They learn to take turns, listen actively, and respond appropriately to their stuffed animal "friends." Through dialogues with their stuffed animals, children practice expressing themselves clearly, using non-verbal cues, and understanding different perspectives. This interaction promotes the development of effective communication skills and lays the foundation for positive social interactions with others.

For instance, a child may engage in a tea party with their stuffed animals, taking on the role of a host, interacting with their guests, and engaging in pretend conversations. Through this play, they practice using polite language, turn-taking, and active listening.



Cognitive Development and Problem-Solving


Stuffed animals play a significant role in stimulating children's imagination, fostering pretend play, and promoting cognitive development. Here's how interactive play with stuffed animals can enhance children's cognitive skills, critical thinking, and problem-solving abilities:

Imagination and Creativity: Stuffed animals provide a canvas for children's imagination to flourish. They can become characters in elaborate stories, participants in imaginary adventures, or even part of a make-believe world created by the child. By engaging in imaginative play with their stuffed animals, children exercise their creative thinking skills, develop storylines, and explore limitless possibilities. This imaginative process nurtures their ability to think outside the box, encourages originality, and cultivates a sense of wonder and curiosity.

Pretend Play and Imagination-Based Scenarios: Stuffed animals are often central figures in pretend play scenarios created by children. They can become patients in a veterinary clinic, passengers on a make-believe train, or characters in a tea party. Through these imaginative scenarios, children engage in problem-solving, make decisions, and develop narratives that require logical thinking and creativity. Pretend play with stuffed animals encourages children to generate ideas, plan and execute play scenarios, and adapt to changing circumstances, fostering cognitive flexibility and problem-solving skills.

Critical Thinking and Problem-Solving: Interactive play with stuffed animals presents opportunities for children to engage in critical thinking and problem-solving. Children may encounter challenges or obstacles while engaged in pretend play scenarios, requiring them to find solutions. For example, if a stuffed animal is "sick," the child may need to assess the situation, identify possible causes, and come up with remedies or appropriate actions. This process promotes critical thinking, decision-making, and problem-solving skills as children analyze situations, consider multiple perspectives, and evaluate possible outcomes.


Sequencing, Sorting, and Organization: Arranging and organizing stuffed animals can offer cognitive benefits to children. They can practice sequencing by arranging the stuffed animals based on size, color, or other attributes. Sorting stuffed animals into groups based on different characteristics can help children develop classification skills and learn to recognize patterns. Additionally, organizing stuffed animals in specific ways encourages spatial awareness and fosters logical thinking. These activities promote cognitive skills such as categorization, organization, and pattern recognition.



Social and Emotional Learning (SEL)


Social and emotional learning (SEL) refers to the process through which children acquire and apply the knowledge, attitudes, and skills necessary to understand and manage their emotions, set and achieve positive goals, establish and maintain healthy relationships, and make responsible decisions. SEL is crucial because it helps children develop self-awareness, empathy, emotional regulation, and effective communication skills. It also fosters positive relationships, promotes responsible decision-making, and cultivates a positive classroom and community environment.



How Stuffed Animals Help Develop Social Skills


Role-playing and Communication: Children often engage in role-playing scenarios with their stuffed animals, which offers opportunities to practice essential social skills. Through these interactions, children learn to initiate conversations, listen actively, and respond appropriately. They can practice turn-taking, negotiation, and compromise while engaging in dialogues and role-playing situations. Stuffed animals become non-threatening partners in social interactions, allowing children to build confidence and improve their social skills.

Teaching Responsibility and Nurturing Skills: Stuffed animals can teach children valuable lessons in responsibility and nurturing. By taking care of their stuffed animals, children learn about being responsible for another being's well-being. They practice feeding, grooming, and providing comfort to their stuffed animals, which helps foster a sense of empathy and responsibility. These experiences promote the development of nurturing skills, compassion, and empathy, which are essential for building healthy relationships with others.

Learning Empathy, Sharing, and Taking Turns: Interacting with stuffed animals can help children develop empathy, learn to share, and understand the concept of taking turns. Through pretend play scenarios, children project emotions onto their stuffed animals, developing an understanding of others' feelings. This process nurtures empathy and enhances their ability to relate to the experiences of others. Additionally, children can practice sharing and taking turns with their stuffed animals during play, promoting important social skills that are applicable in various contexts.


Conclusion:

The educational benefits of stuffed animals for children are truly remarkable. These cuddly companions offer a multitude of advantages, including emotional development and bonding, language and communication skills, cognitive development and problem-solving, and social and emotional learning. Stuffed animals stimulate children's imagination, foster creativity, and provide opportunities for interactive play that promotes critical thinking and decision-making.
If you're looking to harness the power of stuffed animals in your child's educational journey, EverLighten offers high-quality custom plush toys that can be tailored to your specific needs. Whether you're a parent, educator, or organization looking to provide children with unique and engaging learning tools, EverLighten's custom plush toys can be designed to match your vision and requirements.
By connecting with EverLighten, you can create personalized stuffed animals that align with your educational goals. These custom plush toys can serve as companions for children, reinforcing lessons, and providing interactive learning experiences. EverLighten's commitment to quality ensures that the plush toys are safe, durable, and designed to ignite children's imaginations.
Don't miss the opportunity to enhance your child's educational journey with the power of custom plush toys. Visit EverLighten's website today and discover the endless possibilities of creating high-quality, personalized stuffed animals that will leave a lasting impact on your child's learning and development.
Remember, stuffed animals are not just toys—they are educational tools that can inspire, engage, and support children in their quest for knowledge and growth. Embrace the magic of custom plush toys and unlock the full potential of educational play for your child with EverLighten.


FAQs


What are the benefits of stuffed animals?

Stuffed animals offer several benefits, including providing comfort and companionship, promoting emotional well-being, and aiding social and cognitive skills, particularly in children.




Why are stuffed animals important in child development?

Stuffed animals are crucial in child development as they can promote emotional regulation, empathy, imaginative play, and feeling secure and comfortable.




Do stuffed animals help kids sleep?

Yes, stuffed animals can help kids sleep by providing comfort, a sense of security, and a soothing presence, which can help children feel more relaxed and at ease when going to bed.
Why do stuffed animals make you happy?

Stuffed animals can make you happy because they evoke positive emotions, offer comfort, serve as companions, and often represent cherished memories or connections from childhood.
At what age can babies have stuffed animals?

Babies can safely have stuffed animals from around 6 months of age when they develop better control of their head and neck muscles.