Boost Productivity and Unleash Creativity with Custom Notebooks | EverLighten
|
Jul, 15 , 23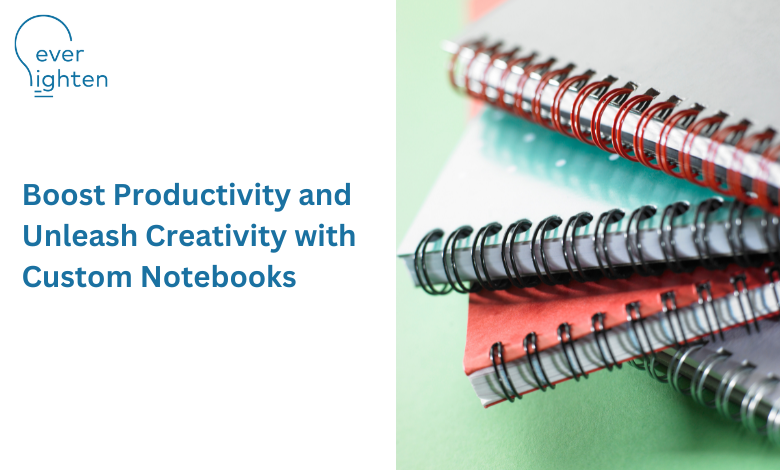 Elevate Your Branding Game with High-Quality Custom Notebooks
Note-taking is crucial in organizational settings, serving as a reliable tool for capturing ideas, important information, meeting minutes, and action items. It enables individuals and teams to organize their thoughts, track progress, and enhance productivity. However, the benefits of note-taking go beyond individual efficiency. Custom notebooks offer a unique opportunity for organizations to elevate their productivity levels while strengthening their brand identity.
We will explore the power of custom notebooks for organizations and how they can contribute to productivity and branding. We will examine ways people can tailor custom notebooks to reflect an organization's identity, values, and brand elements. By incorporating branding elements and personalized touches, these notebooks become more than just functional tools—they become extensions of an organization's image.


The Role of Note-Taking in Organizational Settings

In any organizational setting, note-taking is a fundamental tool for capturing and retaining vital information. 
Capturing Ideas: Custom notebooks provide a dedicated space for employees to jot down their thoughts, brainstorm new ideas, and record creative insights. Individuals can ensure that valuable concepts are not forgotten or lost in daily tasks by having a designated platform for idea generation.


Meeting Minutes:

Meetings are regular in organizations, and effective note-taking during these sessions is crucial.

Custom notebooks

enable participants to document discussions, decisions, and action items. Comprehensive meeting minutes ensure everyone understands what was covered and what steps to take afterward.


Action Items and Task Tracking: Notes remind of the tasks and action items that arise during meetings or daily work. Individuals can stay organized, prioritize tasks, and track progress by keeping a record of action items. It helps ensure that nothing falls through the cracks and promotes accountability within the team.


Knowledge Management: Custom notebooks facilitate knowledge management within organizations. By documenting insights, best practices, and lessons learned, teams can build a repository of valuable information. This knowledge can be shared, referenced, and leveraged to improve future projects and decision-making.


Benefits of organized note-taking for individual and team productivity

While digital notebooks offer several advantages, there are still benefits to using custom notebooks, which are physical notebooks tailored to specific purposes or preferences.


Tactile experience: Custom notebooks provide a physical, tactile experience that many people find satisfying. Writing on paper is more engaging and enjoyable than typing on a keyboard or touchscreen. It allows for a personal connection with your thoughts and ideas.


Reduced distractions: When using a custom notebook, you do not have the numerous distractions that come with digital devices, such as notifications, social media, or other apps. It can help you focus on your tasks and prevent multitasking, thus increasing productivity.


Enhanced creativity and flexibility: Custom notebooks offer the freedom to sketch, doodle, draw diagrams, and jot down ideas non-linearly. The blank pages allow you to express your thoughts and create visual representations. It can enhance creativity and promote different thinking processes compared to digital note-taking.


Improved memory retention: Research suggests that writing by hand helps with memory retention compared to typing. Writing engages different parts of the brain. It is easy to remember the information you're recording. You retain information more effectively and recall better by using a custom notebook. 


Personalization and customization: With custom notebooks, you can personalize them to your liking. You can choose the size, paper type, cover design, and layout that best suits your needs and preferences. Customization allows you to create a notebook that reflects your personality and style, making it more enjoyable.


Offline accessibility: Custom notebooks don't rely on batteries, internet connectivity, or software compatibility. You can access your notes anytime, anywhere, without worrying about technology limitations or battery life. It makes them ideal for situations where digital devices may not be practical or available, such as during power outages or in remote areas.


Better eye comfort: Extended screen time can lead to eye strain and fatigue. Using a custom notebook provides a screen-free alternative that reduces the risk of digital eye strain. It can be particularly beneficial for individuals who spend significant time in front of screens.



How Custom Notebooks Reflect the Organization's Identity and Values?

Custom notebooks offer a unique opportunity for organizations to showcase their identity and values through design elements and branding. 


Logo and Branding Elements: Custom notebooks can prominently feature an organization's logo, tagline, or emblem on the cover or pages. This visual representation strengthens brand recognition and establishes a consistent visual identity across various touchpoints.


Colors and Typography: It creates a cohesive visual experience by incorporating the organization's brand colors and typography into the notebook's design. Consistency in color schemes and fonts reinforces the brand's recognition and the organization's aesthetic preferences.


Mission and Values:

Custom notebooks can display an organization's mission statement, core values, or inspirational quotes that align with its ethos. This personal touch reminds

employees

of the organization's purpose and cultivates a sense of belonging and commitment.


Imagery and Artwork: Including relevant imagery, illustrations, or artwork that reflects the organization's industry, values, or culture can add depth and personality to custom notebooks. These visual elements create an emotional connection and evoke a sense of identity among employees and stakeholders.


Creating a Cohesive Brand Image Through Customized Stationery

Custom notebooks play a vital role in establishing a cohesive brand image. 


Consistent Branding:

When employees use

custom notebooks

with consistent branding elements, such as logos, colors, and typography, it reinforces the organization's brand image. Whether during internal meetings, client presentations, or conferences, customized stationery creates a professional and unified appearance.


Brand Visibility:

Custom notebooks act as mobile brand ambassadors. They increase brand visibility when employees carry and use branded notebooks in various settings, such as conferences or public spaces. It is an opportunity for others to notice the organization's logo, sparking curiosity and potentially leading to

brand

recognition. 


Professionalism and Attention to Detail: Customized stationery showcases an organization's commitment to professionalism and attention to detail. The effort put into designing and providing customized notebooks demonstrates that the organization values its employees and stakeholders, emphasizing its commitment to quality and excellence.



Impact on Employee Morale and External Perception

The customization of notebooks can have a significant impact on employee morale and external perception:


Employee Pride and Engagement: Custom notebooks create a sense of pride among employees. When they receive personalized stationery representing the organization's brand, it fosters a connection to the company. This touch boosts employee morale, instills a sense of belonging, and promotes engagement.


Brand Advocacy:

Custom notebooks

can turn employees into brand advocates. When employees feel connected to their organization's brand, they are more likely to share their positive experiences with others. This word-of-mouth promotion contributes to a favorable external perception of the organization.


Professional Image: External stakeholders, including clients, partners, and investors, form perceptions based on their interactions with an organization's representatives. Customized stationery, including notebooks, portrays professionalism and attention to detail. It enhances the organization's image, instilling confidence in stakeholders and leaving a lasting positive impression.


Notebook Size, Format, and Binding

When customizing notebooks for organizations, it's crucial to consider the various options for notebook size, format, and binding. These factors play a role in determining the usability and functionality of the notebooks.


Custom Notebook Sizes


Pocket-Sized: Pocket-sized notebooks are compact and easily portable. They are ideal for employees who are frequently on the go or need a convenient option for quick note-taking.


A5: A5 notebooks offer a balance between portability and writing space. They provide enough room for comprehensive note-taking while still being lightweight and easy to carry.


A4: A4 notebooks are large and provide ample space for detailed note-taking, sketching, or diagrams. They are suitable for employees who require more writing area or work in environments where larger notebooks are preferred.

Custom Notebook Formats
Spiral-Bound: Spiral-bound notebooks feature a wire coil binding that allows for easy flipping of pages and folding the notebook back on itself. This format provides flexibility and convenience, making it popular for fast-paced environments.


Perfect-Bound: Perfect-bound notebooks have a glued spine offering a sleek and professional appearance. They provide a more traditional and polished feel, making them suitable for formal settings or when a more refined look.


Considerations Based on Nature of Work and Note-Taking Preferences
Work Environment: Consider the work environment and specific needs of employees. For example, employees who work in outdoor or field settings may benefit from pocket-sized or water-resistant notebooks. People in office settings may prefer big, A4 notebooks for extensive note-taking.


Note-Taking Style: Take note-taking preferences into account. Some prefer ruled pages for neat and structured notes, while others prefer dot grid or blank pages for more flexibility, sketching, or visual organization.


Specialized Features: Evaluate if you need any unique features for the notebooks based on the nature of the work. It could include perforated pages for easy tear-out, numbered pages for quick referencing, or specific layouts tailored for task management, project planning, or meeting minutes.


Durability: Consider the durability requirements of the notebooks. If employees are frequently on the move or working in demanding environments, notebooks with sturdy covers, reinforced bindings, or materials resistant to wear and tear may be preferable.

Cover Materials and Finishes

The cover materials and finishes are crucial in creating a visually appealing and durable product. 


Leather: Genuine leather covers provide a premium and luxurious feel. They are durable, age beautifully, and add a touch of sophistication. Leather covers are well-suited for organizations aiming for a high-end and professional image.


PU Leather: PU leather is synthetic. It looks and feels the same as genuine leather but at a more affordable price. It provides a sleek and stylish appearance and is available in various colors and textures.


Fabric: Fabric covers offer a wide range of options in terms of patterns, textures, and colors. They can provide a more casual or artistic look and are for organizations that want a unique and personalized touch.


Recycled Materials: Organizations focusing on sustainability may opt for covers made from recycled materials. These can include recycled paper, cardboard, or other eco-friendly materials. Using recycled materials aligns with environmental values and showcases a commitment to sustainability.


Cover Finishes:


Embossing: Embossing involves creating a raised design or logo on the cover by pressing it into the material. It adds a tactile and elegant effect, enhancing the visual appeal of the notebook.


Debossing: Debossing is the opposite of embossing, where the design or logo is pressed into the cover, creating a recessed effect. Debossing gives a subtle and sophisticated look, combined with foil stamping for added impact.


Foil Stamping:

Foil stamping involve

s applying metallic or colored foil onto the cover material. This process creates a shiny, reflective design that stands out and adds a touch of luxury to the notebook.


Screen Printing: Screen printing allows precise and detailed designs to be applied directly onto the cover material. It offers versatility in colors, gradients, and complex artwork, making it an excellent choice for organizations with intricate branding elements.



Page Layouts and Customizations

The page layouts and customizations of custom notebooks contribute to their functionality and user experience.


Page Layouts:


Ruled Pages: Ruled pages feature horizontal lines that assist with neat and organized note-taking. They are widely used for general writing and provide a structured layout for text-based notes.


Grid Pages: Grid pages have a network of evenly spaced horizontal and vertical lines, forming a grid pattern. They are suitable for drawing, sketching, or organizing content in a structured manner.


Dot Grid Pages: Dot grid pages feature a series of evenly spaced dots. They provide more flexibility than ruled or grid pages, allowing users to create layouts, draw diagrams, or write in a structured yet freeform style. 


Blank Pages: Blank pages offer complete freedom for creativity, allowing users to write, draw, or sketch without predefined lines or grids. They are ideal for individuals who prefer a blank canvas for their notes or prefer visual organization methods.


Custom Page Headers, Footers, or Section Dividers:


Custom Headers and Footers: Adding custom headers and footers to notebook pages allows for consistent branding and organization. Organizations can include their logo, tagline, or relevant information at the top or bottom of each page, reinforcing their brand identity.


Section Dividers: Section dividers with customizable labels or tabs help users easily navigate different sections within the notebook. It is helpful for individuals who need to separate and organize their notes by topics, projects, or categories.


Additional Features:


Bookmarks: Incorporating built-in bookmarks allows users to locate pages. These can be attached to the notebook's spine or integrated into the pages, providing a convenient way to mark frequently referenced or essential sections.


Pen Holders: Pen holders or loops provide a designated spot to hold a pen or stylus with the notebook. This feature ensures that writing tools are easily accessible and minimizes the risk of misplacing them.


Pockets: Including pockets or expandable folders within the notebook cover or at the end of the notebook allows users to store loose papers, business cards, or small documents. Pockets provide convenient storage, keeping crucial materials organized and within reach.


Incorporating Branding Elements
Customizing notebooks to reflect the organizational identity involves incorporating branding elements that align with the organization's visual identity and messaging.


Printing Organizational Elements:

a) Logo: The organization's logo is a primary visual representation of its brand. Printing the logo on the cover or pages of

custom notebooks

reinforces brand recognition and creates a consistent visual identity.



Tagline or Slogan: Including the organization's tagline or a memorable slogan on the notebook cover or pages helps communicate key messaging and reinforces its brand positioning.


Mission Statement or Values: Custom notebooks can feature the organization's mission statement or core values. It reminds employees of the organization's purpose and helps reinforce a sense of alignment and commitment.



 Color Palette:

Selecting colors that align with the organization's brand guidelines is crucial.

Custom notebooks

can use the organization's primary brand colors prominently in the design to create a cohesive visual experience. It's to ensure that the chosen colors evoke the desired emotions and reflect the organization's personality.


Typography: Using fonts consistent with the organization's brand guidelines helps maintain a cohesive visual identity. Consider using the organization's preferred fonts for text on the notebook cover, headers, or custom page elements. Typography plays a significant role in shaping the overall aesthetic and readability of the notebook.


Artwork and Graphics: Incorporating relevant artwork, graphics, or patterns that align with the organization's industry, values, or culture adds depth and personality to custom notebooks. These visual elements should be consistent with the organization's brand guidelines and evoke the desired brand image.

Personalization for Employees
In addition to incorporating branding elements, personalizing custom notebooks for employees adds an extra layer of engagement and ownership. 


Employee Names or Initials: Printing employee names or initials on the cover or inside the notebook adds a personal touch. This customization makes each notebook unique to the individual and fosters a sense of ownership. It also makes it easier for employees to identify their notebooks and reduces the chances of mix-ups or confusion.


Customized Designs: Allowing employees to choose from designs, patterns, or colors gives them a sense of autonomy and personal expression. This customization option ensures that employees receive notebooks that resonate with their preferences and style.


Personalized Inserts: Including personalized inserts, such as a welcome note, a message of appreciation, or a motivational quote, inside each employee's notebook creates a positive and uplifting experience. People can customize it with the employee's name or specific details that make it feel tailored to them. It shows that the organization values and recognizes each employee as an individual.


Employee-Specific Sections: Consider including specific to each employee's role, projects, or responsibilities. For example, dedicated pages for meeting notes, project plans, or task lists can be pre-printed, allowing employees to have notebooks immediately with relevant sections ready.


Custom Notebooks that Reflect Your Brand's Identity

Custom notebooks are tools for organizations to enhance productivity, promote branding, and foster a sense of unity among employees. Organizations can create unique and impactful stationery by understanding the key features and design options, customizing notebooks to reflect organizational identity, and personalizing them for individual employees.
At EverLighten, we provide high-quality custom notebooks that meet unique needs and preferences. Our expertise in customization allows us to incorporate branding elements, select appropriate materials and finishes, and create personalized designs that align with your organization's vision and values. We understand the importance of attention to detail and strive to deliver notebooks that exceed your expectations.


FAQs




How do you use notebooks effectively?

Use notebooks effectively, keep them organized, use headings and bullet points, take concise notes, review and revise regularly, and use them for brainstorming, planning, and tracking tasks.



What are the benefits of a writer's notebook?

A writer's notebook helps writers to jot down ideas, observations, and inspirations. It helps capture thoughts before they slip away, serves as a creative outlet, enhances writing skills, and can be a source of inspiration for future writing projects.



What is the importance of notebooks in students' life?

Notebooks are crucial for students as they provide a platform to take organized notes, track progress, and review information. They promote active learning, help in revision and exam preparation, and allow students to reflect on their thoughts and ideas.



What is the biggest advantage of using a notebook?

The biggest advantage of using a notebook is its portability and convenience. It allows you to capture and store information in one place, making it easily accessible for reference anytime and anywhere.

 

What are the characteristics of a good notebook?

A good notebook has quality paper, a sturdy cover, and a binding that withstands wear and tear. It should be easy to write in, have sufficient pages, and provide a layout that suits your needs. Additionally, features like page numbers, a table of contents, and pockets for storage are desirable.



What are the benefits of reusable notebooks?

Reusable notebooks, often associated with digital or erasable formats, offer the advantage of reducing paper waste. They allow you to write, erase, and reuse pages, making them environmentally friendly. Some reusable notebooks also offer digital integration, allowing you to store and organize your notes electronically.



What are the different types of notebooks?

There are various notebooks, including spiral-bound notebooks, composition notebooks, pocket-sized notebooks, sketchbooks, graph paper notebooks, bullet journals, and digital notebooks.