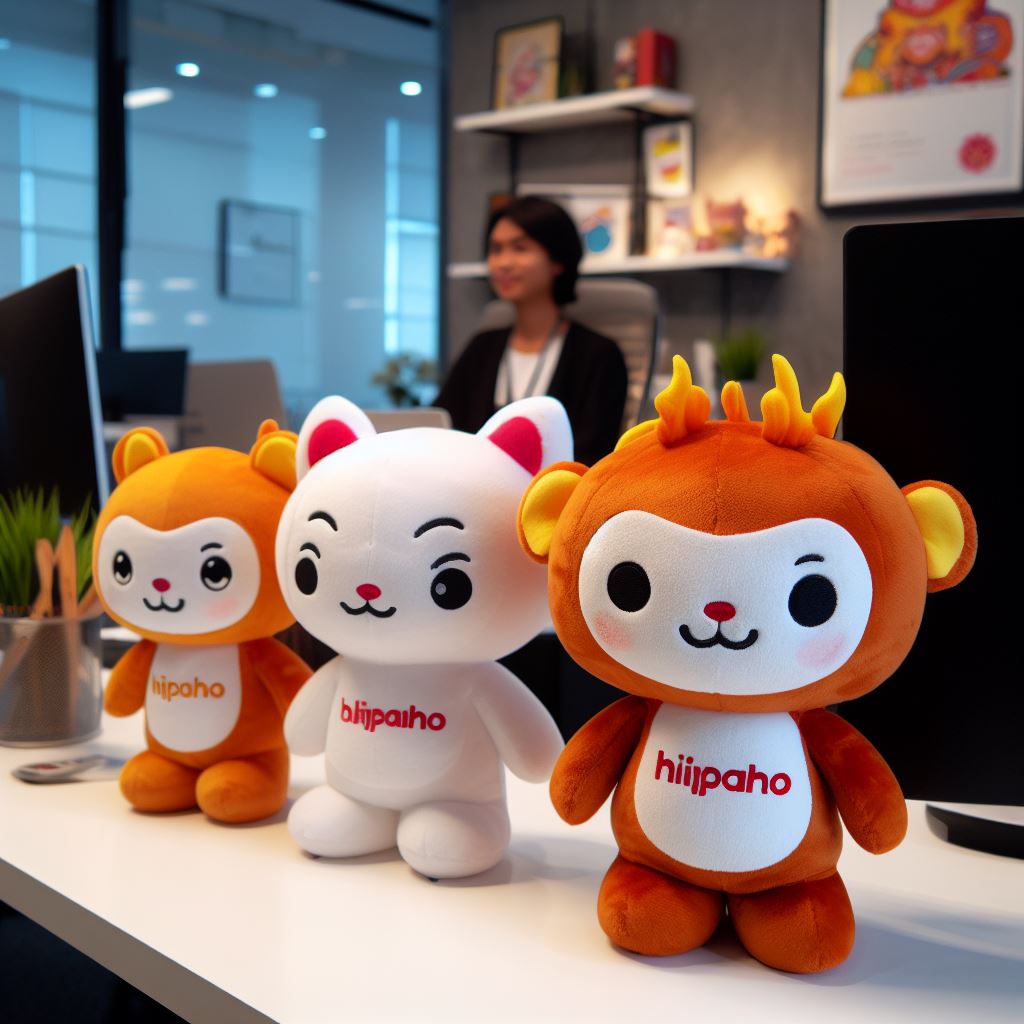 Breaking Down Common Misconceptions About Custom Plush Toys
In the ever-expanding world of promotional merchandise, custom plush toys have emerged as a top contender, catering to businesses and individuals with their versatility and charm. From brand promotion to personalized gifting, these cuddly companions have found their way into the hearts of consumers across various sectors.
The global plush toy market will reach an impressive $100 billion by 2026, with custom plush toys carving a significant niche within this growing landscape. Studies indicate that over 70% of consumers like businesses offering bespoke plush creations.
However, many misconceptions surrounding custom plush toys persist, potentially deterring prospective buyers or fostering unrealistic expectations. The blog is poised to debunk five prevalent myths to demystify these misconceptions and shed light on the true potential of custom plush toys. We aim to equip you with a comprehensive understanding of these delightful creations through evidence-backed insights and factual analyses.
Myth 1: Custom plush toys are too expensive.
One of the most common misconceptions surrounding custom plush toys is the perception that they are excessively costly. 
Fact: There are many companies, like EverLighten, that offer custom plush toys at a variety of price points. In reality, various factors contribute to the pricing of custom plush toys, and they can suit many budgets. 
Customization Options and Complexity:

The cost of custom plush toys can vary based on the level of customization and complexity involved in the design process. Simple designs with standard features are generally more budget-friendly, while intricate details, unique shapes, and special materials may incur additional costs.

Economies of Scale:

Ordering custom plush toys in bulk is often cost-efficient, as manufacturers can optimize production processes and reduce per-unit costs. Businesses planning to distribute plush toys as part of a marketing campaign or promotional strategy can leverage this cost-effective approach to maximize their budget.

Material Choices:

The type and quality of materials used significantly influence the overall cost of custom plush toys. While premium materials might increase the initial investment, they can enhance the plush toy's durability and appeal, ultimately providing better value for the investment over the long term.

Long-Term Marketing Investment:

Consider the cost of custom plush toys as a long-term investment in marketing and

brand promotion

. These tactile and visually appealing products have the potential to leave a lasting impression on customers, contributing to increased brand visibility, customer engagement, and loyalty, thereby offering a substantial return on investment.

Value-added Services:

Many custom plush toy manufacturers offer value-added services, such as free design assistance, quality checks, and reliable customer support, which can contribute to the overall perceived value of the product, making the investment more worthwhile.
Myth 2: Custom plush toys are only for businesses.
Fact: Contrary to the misconception that custom plush toys are exclusively for businesses, these delightful creations are for diverse individuals and groups. While potent marketing tools, their utility extends far beyond the corporate realm. 
Personalized Gifting:

Custom plush toys offer a heartwarming and personal touch, making them ideal for gift-giving on various occasions. From birthdays and anniversaries to holidays and special events, these customized creations can reflect the recipient's interests, hobbies, or favorite characters, making them cherished keepsakes.

Special Events and Celebrations:

Custom plush toys add a unique element to special events and celebrations, creating memorable experiences for attendees. Whether it's a themed party, a

fundraising event

, or a community gathering, these customized toys can serve as souvenirs or tokens of appreciation, fostering a sense of camaraderie and joy among participants.

Educational and Nonprofit Initiatives:

Custom plush toys are vital in educational settings and nonprofit initiatives. They can be used as educational tools, teaching aids, or comforting companions for children in various learning environments, hospitals, or shelters, providing a source of comfort and emotional support.

Personal Branding and Expression:

Individuals, artists, and creators often use custom plush toys for personal branding and artistic expression. By designing unique characters, mascots, or representations of their work, they can showcase their creativity and connect with their audience on a more personal and intimate level.

Family and Pet Memorabilia:

Custom plush toys can also serve as cherished family heirlooms or memorabilia, representing beloved family members, pets, or significant life events. These bespoke creations encapsulate cherished memories and emotions. They are tangible reminders of love, companionship, and shared experiences.
Myth 3: Custom plush toys are not as high-quality as mass-produced plushies.
Fact: Contrary to the misconception that custom-made products are inherently inferior, many companies specializing in custom plush toys employ the same high-quality materials and construction methods as those used in mass production. 
Material Selection:

Reputable custom plush toy manufacturers prioritize premium materials, such as soft, durable fabrics and hypoallergenic fillings, ensuring that each plush toy meets stringent quality standards. These materials are carefully selected to withstand regular handling and maintain their appearance and texture over time.

Attention to Detail:

Custom plush toy manufacturers pay meticulous attention to detail during the production process, ensuring that every aspect, from stitching and embroidery to the placement of features and accessories, adheres to strict quality control measures. This attention to detail guarantees that each plush toy reflects the intended design and meets the client's specifications.

Expert Craftsmanship:

Skilled artisans and craftsmen with extensive experience in plush toy production oversee the manufacturing process of custom plush toys. Their expertise and dedication contribute to the flawless execution of intricate designs, small features, and unique characteristics, resulting in high-quality, visually appealing, and meticulously crafted plush toys.

Durability and Safety Compliance:

Custom plush toy manufacturers prioritize durability and safety compliance, adhering to industry standards and regulations to ensure the final products are safe for individuals of all ages. Stringent quality control measures, including comprehensive testing and inspections, guarantee that each plush toy meets or exceeds safety requirements.

Client Satisfaction and Reputable Reviews:

Testimonials and reviews from satisfied clients attest to the exceptional quality of custom plush toys. Positive feedback often highlights the superior craftsmanship, softness, and durability of the plush toys, affirming that custom-made products can rival or surpass the quality of mass-produced counterparts.
Myth 4: It takes a long time to manufacture custom plush toys.
Fact: The time required to create custom plush toys varies depending on the chosen company and the complexity of the design. Despite the misconception that custom-made products entail prolonged production timelines, many reputable companies in the industry offer efficient and quick turnaround times for custom plush toys. 
Streamlined Design Process:

Experienced custom plush toy manufacturers often streamline the design process, allowing clients to collaborate closely with skilled designers and artists to bring their visions to life. You can expedite the design process through effective communication and clear design guidelines. It minimizes unnecessary delays.

Efficient Prototyping:

Leveraging advanced prototyping techniques and technologies, custom plush toy manufacturers can create rapid prototypes to provide clients with a tangible representation of the final product. It allows for timely feedback and revisions. It ensures the final plush toy design is as per expectations and requirements.

Effective Project Management:

Reliable custom plush toy companies employ dedicated project managers overseeing each stage. It ensures the process remains on schedule and within the agreed-upon timeline. Clear communication, meticulous planning, and proactive problem-solving contribute to a seamless and time-efficient production process.

Manufacturing Expertise and Capacity:

Established custom plush toy manufacturers often possess extensive manufacturing expertise and production capabilities, enabling them to manage multiple projects simultaneously without compromising quality or delivery timelines. With streamlined manufacturing processes and a focus on efficiency, these companies can meet tight deadlines while upholding the highest quality standards.

Responsive Customer Support:

A commitment to responsive customer support facilitates effective communication and timely updates throughout the production process. Clients can receive real-time progress reports, address concerns promptly, and make necessary adjustments to ensure the final product meets their specifications and expectations within the stipulated timeframe.
Myth 5: Custom plush toys are not durable.
Fact: Contrary to the misconception that custom plush toys lack durability, many reputable companies prioritize high-quality materials and employ robust construction methods to ensure their products are exceptionally durable and long-lasting. 
Premium Materials Selection:

Trusted manufacturers source premium materials known for their durability and resilience. These materials undergo rigorous quality checks. It ensures they withstand regular handling, washing, and prolonged use without compromising their softness, texture, or appearance.

Reinforced Stitching and Seams:

Custom plush toy manufacturers employ reinforced stitching and secure seam construction techniques, enhancing the overall durability and longevity of the plush toys. These robust construction methods minimize the risk of tearing, fraying, or unraveling, even with frequent play and handling, ensuring that the plush toys retain their shape and structural integrity over time.

Safety Compliance Standards:

Adhering to stringent safety compliance standards, custom plush toy manufacturers prioritize child-safe materials and non-toxic components. Thorough testing and quality control measures guarantee that the plush toys meet or exceed industry safety requirements, providing peace of mind to consumers regarding the product's durability and safety.

Quality Assurance Protocols:

Established manufacturers implement comprehensive quality assurance protocols throughout the production, from material selection to final product inspection. Each plush toy undergoes meticulous scrutiny to identify and address potential issues that may compromise its durability, ensuring that only the highest-quality and most resilient products reach the market.

Client Testimonials and Reviews:

Positive testimonials and reviews from satisfied clients testify to the durability of custom plush toys. Clients frequently highlight the lasting quality, resilience, and enduring charm. It reaffirms these customized creations can withstand the test of time and deliver long-lasting enjoyment.
Conclusion: 
We have debunked the myths surrounding custom plush toys, revealing their potential as versatile, high-quality, and accessible products. From debunking cost misconceptions to highlighting their diverse applications, it's clear that custom plush toys offer a world of possibilities for businesses and individuals alike.
Are you ready to embark on your custom plush toy journey? Look no further than EverLighten, your trusted partner for premium custom plushies. Our commitment to excellence encompasses:
100% Customization:

Tailoring each plush creation to reflect your vision and brand identity.

Complete Quality-Check:

Ensuring that every plush toy meets the highest standards of craftsmanship and durability, promising a product that stands the test of time.

Free-Design Help:

Leveraging our expertise to bring your unique ideas to life without additional design costs, making the customization process smooth and hassle-free.

Worldwide Delivery:

Seamless delivery services reach you wherever you are, ensuring that your customized plush toys reach your doorstep promptly and securely.

24*7 Customer Support:

A dedicated team is always available to assist and address queries or concerns, providing a seamless and satisfying customer experience.
Connect with EverLighten today to unlock the endless possibilities of high-quality, bespoke custom plushies that will leave a lasting impression on your audience and elevate your brand's visibility and engagement.
FAQs: 
How do you make a plushie marketable?
To make a plushie marketable, you need to consider the following factors:
Design

Materials

Construction

Branding

Marketing
How much does it cost to make a custom plushie?
The cost of making a custom plushie will vary depending on the size, complexity, and materials used. However, you can expect to pay between $10 and $50 for a simple custom plushie. More complex plushies can cost upwards of $100.
Is selling stuffed animals profitable?
Yes, selling stuffed animals can be profitable. However, choose a niche market and develop a strong brand identity. You also need to be able to price your plushies competitively.
How do you package stuffed animals to sell?
Here are some tips for packaging stuffed animals to sell:
Use clear plastic bags or boxes to protect the plushies from damage.

Tie the bags or boxes with ribbons or bows to add a decorative touch.

Include a thank-you note or business card in the packaging.