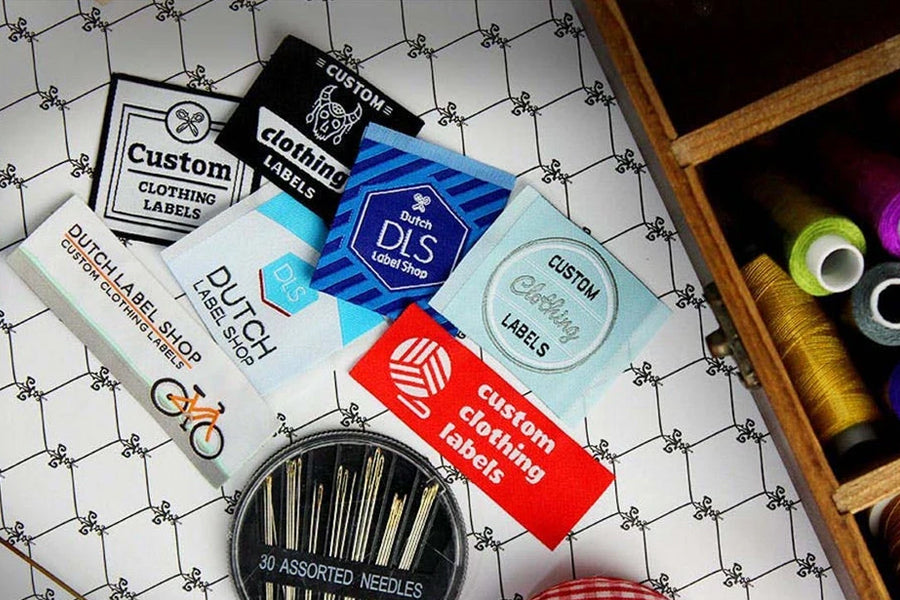 Differences between Custom Printed Labels
and Woven Labels
If you need a label for personal information, washing instructions, brand, or contact information, you have to choose from the two types of labels, respectively printed labels and woven labels. These two labels are durable and can be customized according to your name, contact information, and business information.
However, what is the difference between these two labels? How can you choose the best label for your clothing? This blog will discuss these differences and help you to select suitable labels.
What are Custom Printed Labels?
As logos, brand names, and other information are printed on selected materials, this kind of label is named as custom printed labels. Custom Printed labels are usually made of various materials, including satin, cotton, Tyvek, or a poly blend. With custom printed labels, there are basically no restrictions on the colors you can choose.
Printed labels are so clear that you can print everything you want, even some complex details. With these advantages, you can create amazing visual effects on your garments by the label. This small detail can not only win the trust of customers but also enhance their brand loyalty because people want to know that they are worth the money.
Even if it is printed, the label is washable. When you choose custom printed labels, you should make sure that you use high-quality ink to take advantage of water resistance. Custom printed labels are a great way to increase brand awareness if they are water-resistant enough.
Custom woven labels are usually made of polyester. The appearance and feel of woven labels are based on the type of weave and the thickness of threads. In fact, the entire label is woven, giving them a soft feel. Because of the high-quality materials, custom woven labels are more durable than custom printed labels.
Custom woven labels will add a touch of class to your clothing. Many types of custom woven labels can be used for brand recognition, brand promotion, and information for clothing and other textile products. It is very important to choose the most suitable woven label for your clothing. Here are three types of custom woven labels.
Damask
As the highest thread count of the three, the damask is soft and pliable, as well as slightly reflective and shiny. This is the most common type of clothing label for high-end garments to enhance brand image. Compared with other labels, damask labels are woven slower with finer yarns and higher fabric density.
Satin
As the lowest thread count of the three, satin is the sturdiest and provides a reflective surface. Satin labels are usually cheaper than damask. They cannot present the details of damask or taffeta labels, but have a smooth and shiny look and feel. And pastel colors. It can also be used in baby clothes to enhance softness.
Taffeta
Taffeta is a basic but popular woven label because of its low cost. Taffeta labels are woven with plain weave or backing fabric. They are similar to damask labels, but they are not softer, smoother, and shinier than damask labels. However, taffeta labels can carry fairly detailed designs and text. These labels are often used for care guidance labels because of their lower cost.
The Key Differences between Custom Printed and Woven Labels
As we all know, different types of labels will give diverse impressions. It is very important to choose the right label for your garments. There are various differences between printed and custom woven labels. After knowing that, you can better choose the labels.
Price
Generally, custom printed labels are cheaper than custom woven labels because the production technique is easier. Custom woven labels are made on a loon so that they are more costly. As they differ in technique, custom woven labels tend to last longer than custom printed labels. However, the difference in price depends on the quantity and materials of the labels you want.
Data Variation
Custom Printed labels usually include sizes because they are easier to set up than custom woven labels.
Durability
Custom woven labels tend to be more durable than custom printed labels because they are sewn in every high-quality stitch. In addition, custom woven labels can be washed more times than custom printed labels.
Professional Quality
Many high-end fashion brands tend to choose custom woven labels instead of custom printed labels because custom woven labels can leave people a more luxurious impression. However, custom printed labels will also offer the same appearance for lightweight garments if they are designed well.
Intricacy of Design
Custom woven labels can weave the amount of complicated designs with big size when you look forward to boosting brand names, while custom printed labels can combine hundreds of different colors in a small area to produce complex and advanced designs.
Resistance
If the producer uses high-quality fabrics and inks, custom printed labels can be washing resistant for many times. But, custom woven labels tend to be more durable over a long period.
Custom labels are, usually joined to ordinary things, decorated or printed with names, logos, or brands. These labels add adaptable style to coats, caps, packs, covers, beanies, shirts, etc, and have an assortment of support or attachment alternatives.
If you want to customize labels, you can visit EverLighten. If you want to add some different fonts and colors then you can suggest. Our designer will design your customer leather according to your requirement and budget. These markings add character to each genuine, distressing thing and look incredible when it has been laser engraved and customized only for you.
We are one of the best product manufacturers and we are offering trusted and reliable services to our clients. We are getting love from our regular clients due to our work quality. Please visit our website and check out a wide range of products. And they are available at pocket-friendly prices. You can find top quality labels at incurability low prices. The perfect martial is used in the custom label to make it strong.
For more info, please visit our website www.everlighten.com.