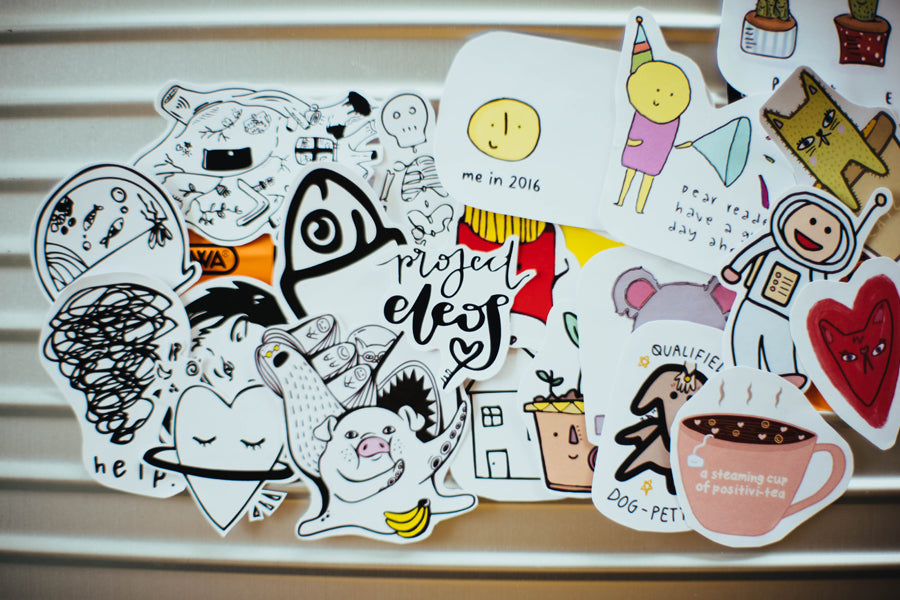 Differences between Custom Labels and Custom Stickers
Most people believe that labels and stickers are the same, but indeed they are different. Generally, stickers are made of high-quality, thick vinyl while labels are often made of thinner BOPP film. The former is usually used for promotion and handed out separately or included in the packaging. But labels are often used in production.
What is the Custom Sticker?
Stickers can be one type of label, which is usually made of cut vinyl. Some custom stickers are blank, allowing you to write or draw whatever you want. Custom stickers generally have two layers. One is the decorative layer which has adhesive on the back and pattern on the front. The other is the paper on the back, you can peel it off. These custom stickers are the best choice if you want something lasting outdoors. Here are four types of custom stickers:
Die Cut Stickers
There are two kinds of die-cut stickers, respectively glossy finishes, and matte finishes. They are individually cut with no obvious backing to present a clean appearance both before and after use.  The die-cut stickers have a split back for easy peeling and pasting, which is the reason why they are popular.
Kiss Cut Stickers
Kiss cut stickers can be done as an individual sheet sticker, or on a roll. As an individual sticker, kiss cut stickers are surrounded by a small amount of visible backing. This kind of sticker is the best choice for you when you know your products will be displayed.
Clear Stickers
Clear stickers are great products to advertise your brand on storefronts or car windows. With crystal clear materials, you can design everything in various surfaces to show your artwork through the stickers. If you want to enhance the opacity of your designs, you can add a layer of white ink behind your work.
Silkscreen Stickers
Silkscreen stickers are one of the most durable stickers printed by the traditional spot color method. They are still very popular on vehicles as a bumper sticker, turning brands, logos, quotes, etc.
What is the Custom Label?
Basically, a custom label is an informative sticker, which often has instructions or descriptions on it. They are designed for indoor use and cannot bear the outdoor exposure. When they are exposed to excessive precipitation or moisture, most oh them will begin to tear and deteriorate.
However, custom labels can withstand the typical moisture levels and oils that many products meet during transportation, storage, and shelves. The main purpose of custom labels is to make your products stand out on the shelf while providing consumers with all the information they need so that they can decide to buy your product.
You can customize your label with the logo of your brand. There are many materials of custom labels, including glossy, matte, transparent, and paper. Custom labels can also be printed with a full-color process.
Polypropylene Labels
Polypropylene labels are considered as ideal alternatives to vinyl labels, providing excellent solvent resistance. They are more affordable and offer better clarity. Here are three popular types of polypropylene labels according to their coating, adhesive, and colors.
1) Chrome/silver BOPP labels: This label is oil and water resistant, and has a mirror-like finish.
2) Clear BOPP labels: This label has some same characteristics as chrome/silver labels, such as water resistance. They are very suitable for windows.
3) White BOPP labels: This label has a permanent adhesive and is impervious to water or oil. They are ideal for bathroom products, as well as some food and beverage products.
Recycled Labels
As the name suggests, recycled labels are made from 100% recycled materials. Kraft paper labels are not water or oil resistant because are not suitable for lamination. This kind of label must be removed in hot water. Vellum labels and Kraft labels are currently popular types of recycling labels.
Satin Labels
Satin labels are basically made of satin acetate cloth, which is ideal for wine. Satin labels will add a beautiful dimension to your product packaging. It is also an ideal gift on a holiday.
If you are searching for custom stickers with the best quality yet sensibly evaluated and trustworthy printing solution for stickers, EverLighten is offering creative and innovative solutions for your requirement.
EverLighten has a professional group of experienced experts. Our experts are always ready to assist you. They will help you to save time, effort, and money. Customer satisfaction is our main priority and we can do anything to fulfill the customer requirements.
Besides, our group will guarantee that you can get a top-notch item. Our groups are additionally prepared enough to give a better solution for your business necessity and offer you a genuine solution to your question. We are very expert, dedicated, and results situated. We are known for our sticker and name printing and have had the chance of conveying extraordinary quality items to a wide number of little and big organizations.
At EverLighten, You will find:
▸ Best artwork from our professional designers
▸ Free unlimited adjustment and revisions
▸ 100% guarantee on work quality
▸ Best customer services
▸ Fast deliver and tracking service
▸ Affordable services
Here are four simple steps for you to make custom stickers.
Step 1: Customize
In this step, you can decide every detail you required. Whether you want a blank template or a pre-designed template, you can customize everything you want. Besides, you can rearrange the design and add personal pictures or graphics you like.
Step 2: Upload Design
This is the second step in which you need to upload your design for custom stickers. Also, EverLighten can help you design what you want just providing your logo or sharing your idea.
Step 3: Digital Approval
Before production, you will get free digital approval and make sure that you are satisfied with it. Only when you confirm it will we put it into production.
Step 4: Production and Delivery
After completing all steps, we will process the production and deliver it soon.
For more info, please visit our website www.everlighten.com.