#CustomProducts, Brand, Charity, custom basketballs, custom beanies, Custom Caps, custom casual knit socks, Custom Design Socks, custom drinkware, custom keychains, custom plush high-quality, Custom Plush toys, Custom Sock, Custom Socks, Custom Stuffed Animals, Custom T-shirt
Design Custom Products for a Cause: Inspire Others to Make a Difference
|
Oct, 05 , 23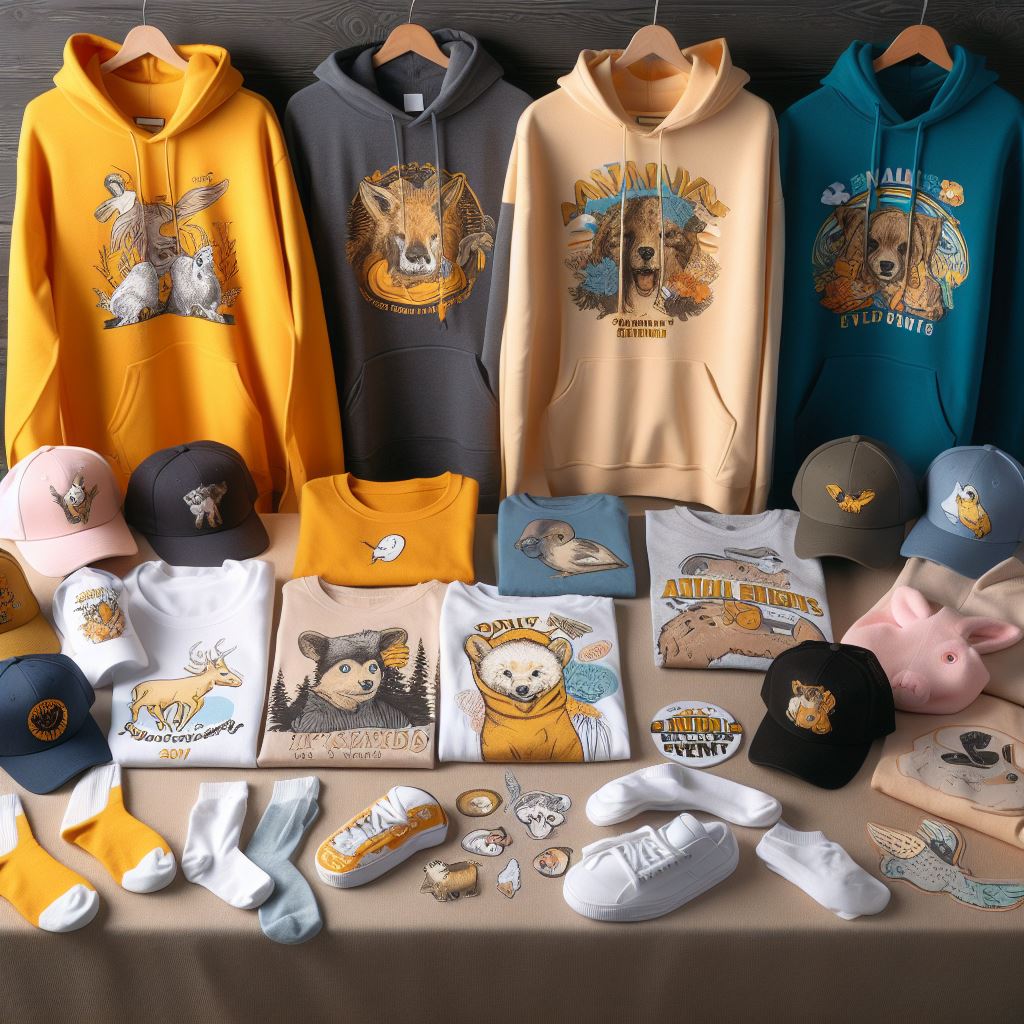 Did you know that over 100 million people in the United States volunteer their time to charity each year? That's a lot of people who are passionate about making a difference in the world. But what if there was a way to make a difference even when you don't have time to volunteer? That's where custom products for a cause come in.
Custom products for charity are not just accessories or garments; they're powerful tools for change. In this blog, we'll explore how customized products can serve as catalysts for a positive impact on raising awareness and fostering a sense of unity among supporters. Whether you're a non-profit organization looking to bolster your brand or an individual seeking a stylish and meaningful way to support a cause, custom products can be the answer you've been searching for.
What are custom products for a cause? 
Custom products for a cause are personalized items designed with a specific purpose: to support and promote charitable or humanitarian causes that individuals and organizations deeply care about. These products go beyond mere merchandise; they are powerful tools for raising awareness, fostering unity, and driving positive change. The beauty of custom products for a cause lies in their versatility; they encompass a wide range of items, including hats, hoodies, socks, mugs, keychains, plush toys, basketballs, patches, tote bags, and more.
Benefits of using promotional products for a cause:
Boosting Brand Awareness and Engagement:
Non-profit organizations often grapple to increase brand awareness and engage their supporters effectively. The solution? Custom products for charity. According to a study by the Blackbaud Institute, a staggering 74% of donors are more likely to support a non-profit organization if they have received a promotional item from them. Custom products are tangible reminders of your organization's mission, creating a lasting impression on supporters.
Building Community and Unity:
Beyond branding, custom products for charity have the power to unite communities around a common cause. Imagine a group of people donning custom t-shirts, hoodies, socks, hats, and more, all designed for a charity walk. It promotes the cause visually and fosters camaraderie and support among participants. Custom products symbolize shared values, bringing people together like a beacon of hope.
Fun and Creative Support:
Supporting a cause doesn't have to be a dull affair. Custom products for charity offer a fun and creative way to express your commitment. With a wide array of product options, you can choose something that resonates with your style and the cause you care deeply about. These products become more than just accessories; they become a statement of your dedication.
Versatility for Non-Profit Organizations:
Non-profit organizations leverage custom products for charity in myriad ways, from fundraising to marketing and event promotion. These products become invaluable tools for spreading the message, attracting donors, and supporting vital initiatives. Customization allows organizations to tailor their products to fit specific campaigns and target audiences, maximizing their impact.
Reaching a Wider Audience:
Last but certainly not least, custom products for charity open doors to reaching a wider audience and raising awareness about important causes. They serve as conversation starters, drawing attention to the issues. With every customized item worn or used, the ripple effect of awareness grows, amplifying the impact of your cause.
How do you design custom products for a cause? 
Designing custom products for a cause that are both effective in conveying your message and visually appealing is crucial to the success of your campaign. 
Define Your Message:
Start by clearly defining the message and purpose of your custom products. What is the cause, and what message or story do you want to convey? 
Know Your Target Audience:
Understand your target audience's preferences and interests. Tailor your design to resonate with them. Consider age, demographics, and the values that matter to your audience.
Choose High-Quality Products:
Select high-quality items for customization. The quality of the product itself can affect how people perceive and use it.
Simple and Impactful Design:
Keep your design simple and easily recognizable. Use clear graphics, fonts, and colors that align with your cause. Avoid clutter and complex designs that may confuse or overwhelm you.
Incorporate Your Cause's Colors and Symbols:
If your cause has specific colors or symbols associated with it, incorporate them into your design. It helps reinforce the connection between the product and the cause.
Personalization Options:
Offer personalization options whenever possible. Allowing individuals to add their names or specific messages can make the product more meaningful to them.
Storytelling through Design:
Tell a story through your design. Use imagery and graphics that convey the mission and impact of your cause. Show the before-and-after or the journey toward positive change.
Collaborate with Local Artists:
Consider collaborating with local artists or graphic designers who can lend their creativity and expertise to your custom product designs. Their unique perspectives can add depth and appeal to your products.
Social Media Integration:
Design your custom products with social media sharing in mind. Incorporate hashtags, QR codes, or social media icons to encourage people to share their support and engage with your cause online.
Eco-Friendly Options:
If possible, opt for eco-friendly and sustainable product options. Many individuals and organizations are conscious of environmental impact, and choosing eco-friendly products aligns with these values.
Test and Gather Feedback:
Before launching your custom products, gather responses from a diverse group. Test the design with potential supporters to ensure it resonates and makes the desired impact.
Budget Considerations:
Be mindful of your budget. Custom products should be financially sustainable for your cause. Consider pricing strategies that balance affordability with fundraising goals.
Consistency Across Products:
If you offer multiple custom products, maintain consistency in branding, colors, and messaging. It creates a cohesive and recognizable campaign.
Review Legal and Licensing Requirements:
Have the necessary rights and permissions to use any logos, trademarks, or copyrighted material associated with your cause.
Consider Accessibility:
Ensure the design is accessible to a broad audience, including those with disabilities. Use high-contrast colors and consider font legibility for all.
Top custom products for a cause: 
Basketball Jerseys, Jersey, Flannel Shirts, T-shirts, Hoodies, Sweaters, Face Boxers Shorts, Scarves, Neck Gaiters, Face Masks, and Safety Vest: Custom apparel allows individuals and organizations to wear their support proudly. From comfortable t-shirts to stylish hoodies, these are versatile and wearable promotional tools for your cause.
Casual Knit Socks, Printed Socks, Athletic Socks, Dress Socks, Compression Socks, Fuzzy Socks, Bamboo Socks, Yoga Socks, Diabetic Socks, Soccer Socks, Football Socks: Custom socks offer a fun and practical way to promote your cause. They can feature eye-catching designs. They are suitable for everyday wear or specific activities.
Baseball Caps, Snapback Hats, Trucker Hats, Dad Hats, Beanies: Custom hats are popular and versatile accessories you can customize with logos, slogans, or artwork related to your cause. They offer shade and style while spreading awareness.
Embroidered patches, Chenille patches, Leather patches, Printed patches, Woven patches: Patches are collectible items that can be attached to clothing, bags, or accessories. They provide a unique way for supporters to display their commitment to your cause.
Koozies, Water Bottles, Tumblers, Sports Bottles, Mugs: Custom drinkware combines functionality with promotional value. Supporters can use these items daily while spreading awareness about your cause.
Pens, Notebooks, Lanyards, Umbrellas: Custom office supplies are practical items you can brand with your cause's message or logo. They make excellent giveaways at events and fundraisers.
Plush Toys, Pillows: Plush toys and pillows provide a comforting and huggable way to promote your cause, especially if it involves children or families.
Stickers, Woven Labels, Backer Cards, Hang Tags: Custom packaging labels and tags enhance the branding of your products. They add a professional touch to your custom items.
Lapel Pins, Medals, Challenge Coins, Keychains: Custom metal items like lapel pins and keychains can serve as collectibles and rewards for supporters, helping to commemorate their involvement with your cause.
Footballs, Soccer Balls, Basketballs, Tambourines, Yoga Mats: Custom sports equipment and leisure items are excellent for organizing sports events or yoga sessions to raise funds and awareness.
Bath Towels, Beach Towels, Golf Towels, and Fitness Towels: Custom towels are practical and make great giveaways at outdoor events, beach cleanups, or fitness-related fundraisers.
Phone Cases, USB Flash Drives, and Mouse Pads: Tech accessories offer a contemporary way to promote your cause among a tech-savvy audience.
Grocery Bags and Tote Bags: Custom bags are eco-friendly and reusable, making them ideal for environmentally conscious causes.
Top places for custom products for a cause: 
Online Retailers and Custom Printing Companies:

Many online retailers and custom printing companies specialize in creating personalized products for various causes.
Local Print Shops:

Local print shops and graphic design businesses often offer custom product printing services. They may provide in-person consultations and personalized support for your cause-related projects. Check your local directory or ask for recommendations from your community.

Non-Profit Organizations:

Some non-profit organizations partner with custom product manufacturers, like

EverLighten

, to raise funds for their causes. Supporting these organizations by purchasing custom products can be a direct way to contribute.

DIY and Craft Stores:

Craft stores often carry DIY custom product kits and supplies. You can purchase blank items such as t-shirts, tote bags, or mugs and use fabric markers, iron-on transfers, or screen-printing kits to create custom products for a cause.

Promotional Product Companies

specialize in creating branded merchandise. They can produce many items, from custom pens to keychains and beyond, and may offer customization options to support your cause.

Online Marketplaces:

Websites like Etsy and eBay host individual sellers who offer custom product design and printing services. You can find artisans and small businesses willing to create unique, handcrafted items for your cause.

Fundraising Platforms:

Some fundraising platforms allow individuals and organizations to design and sell custom apparel and other products for a cause. These platforms often handle production and shipping, making it easy to raise funds.

Local Artisan Markets and Fairs:

If you prefer to work with local artisans and artists, consider visiting local artisan markets, craft fairs, and bazaars. Many talented creators offer custom product design services and unique, handmade items.

Screen Printing Studios:

Screen printing studios specialize in creating custom apparel, such as t-shirts and hoodies, with high-quality prints. They can be a great choice if you're looking for professionally printed clothing items for your cause.

Social Enterprises:

Some social enterprises focus on creating custom products to support social and environmental causes. These companies often have a mission-driven approach and can provide unique products with a meaningful impact.

Wholesale Suppliers:

Wholesale suppliers can be a cost-effective option for ordering custom products in bulk. You can find wholesale suppliers for various items, such as t-shirts, socks, hats, plush toys, tote bags, and keychains, and customize them according to your cause.
How EverLighten helped the Midwest Food Bank – Peoria, IL 
The Midwest Food Bank is a faith-based organization dedicated to alleviating hunger locally and globally, with thousands of employees and volunteers across different countries. The organization sought 200 pairs of one-size-fits-all custom athletic socks for fundraising but struggled to find a manufacturer within their budget and tight timeline. They turned to EverLighten based on positive testimonials. We delivered custom socks on a tight deadline, and the fundraiser proved successful. EverLighten was honored to be part of this impactful endeavor, demonstrating our commitment to custom products for a meaningful cause.
Conclusion: 
Custom products are a lovely way to raise funds for a cause. Remember, it doesn't have to be limited to using just t-shirts; you can choose from a wide array of items that resonate with your mission. EverLighten is here to help you make a lasting impact with custom products for your cause. There are endless possibilities with us. 
100% Customization:

We tailor our products to your unique vision and purpose, ensuring your cause stands out.
Free Design Help:

Our design experts will assist you in creating compelling custom products that tell your story effectively.

Global Shipping:

No matter where you are, we offer global shipping to bring your custom items to your doorstep.

100% Quality Check:

Every product undergoes rigorous quality checks to meet the highest standards.

Free Samples:

We provide free samples so you can see and feel the quality before committing.

24/7 Customer Support:

Our dedicated support team is available around the clock to address your questions and concerns.
Whether you're an individual, a non-profit organization, or a business, EverLighten is your partner in making a difference. Connect with us today to bring your cause to life.
FAQs:
What is a cause-related product?
A cause-related product is a part of a social or environmental cause. You can do it by donating a portion of the proceeds from the product or by using the product to raise awareness about the cause.
For example, a company that sells clothing might donate a portion of the proceeds from the sale of each pink t-shirt to breast cancer research. 
What is cause-based marketing?
Cause-based marketing is a strategy that involves partnering with a social or environmental cause to promote a product or service. You can do it by donating to the cause, co-branding, or sponsoring events or related initiatives.
What is an example of cause branding?
Cause branding is a marketing strategy that involves building a brand identity around a social or environmental cause. You can include it in the brand's mission, vision, values, marketing materials, and products.
Which is an example of a cause-related strategy?
A cause-related strategy is a business strategy that involves aligning the company's mission, vision, and values with a social or environmental cause. 
Tags:
#CustomProducts
,
Brand
,
Charity
,
custom basketballs
,
custom beanies
,
Custom Caps
,
custom casual knit socks
,
Custom Design Socks
,
custom drinkware
,
custom keychains
,
custom plush high-quality
,
Custom Plush toys
,
Custom Sock
,
Custom Socks
,
Custom Stuffed Animals
,
Custom T-shirt