#CustomProducts, Best Custom Socks, Brand, custom apparel, Custom Caps, Custom Hang Tag, custom hats, Custom Hoodies, Custom Plush toys, Custom T-shirt, Customized Socks
Custom Products Go Green: How to Make Sustainable Choices
|
Oct, 06 , 23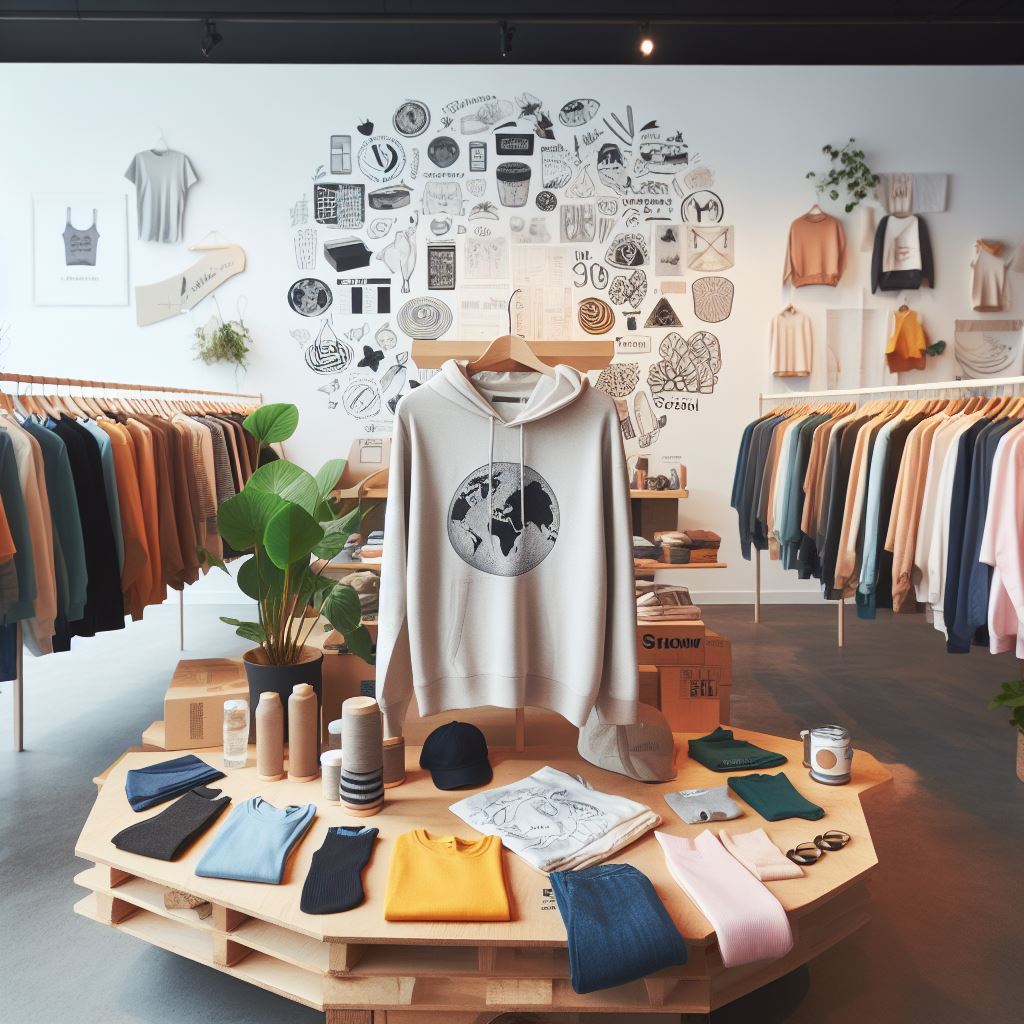 How EverLighten is embracing it and doing its part. 
Imagine you've just received custom-made promotional products, like a t-shirt or socks adorned with your favorite colors or an inside joke that only you and your coworkers or friends share. It's a creative expression of your personality, a wearable work of art. Custom products like t-shirts, socks, hoodies, sweaters, caps, plush toys, and more have long been the canvas for our imagination. They're not just products. They're statements, memories, and symbols of our individuality.
But beneath the surface of this creative and expressive industry lies a stark reality—a reality often overlooked. The negative environmental impact of traditional production processes for custom products is a sobering truth that demands our attention. It's a dark side to our desire for unique and personalized items, and it's high time we shed light on it.
The blog will dive deep into custom products, where creativity intertwines with environmental concerns. We'll explore the remarkable transformation in the industry, driven by eco-innovation. We have plenty to discuss, from materials to production, ethical supply chains to consumer engagement. The quest for sustainable, eco-friendly custom products is changing the game, and the impact is nothing short of extraordinary. Let us start. 
Understanding Eco-Innovation
In custom products, "eco-innovation" represents a profound shift in how these products are conceptualized, created, and consumed. It is a multifaceted approach to designing, producing, and using custom items while minimizing environmental impact. Eco-innovation in this context encompasses a range of strategies, technologies, and practices that aim to harmonize our desire for personalized and creative goods with our responsibility to safeguard the planet.
At its core, eco-innovation in custom products means rethinking every aspect of the production and consumption cycle to ensure that it aligns with sustainability principles and environmental responsibility. It involves the final products, materials used, the methods employed, the supply chain logistics, etc.
The Urgency of Reducing the Environmental Footprint
We cannot overstate the urgency of reducing the custom product's environmental footprint. The traditional methods of producing custom items, such as t-shirts, hoodies, socks, plush toys, etc., have long been associated with ecologically damaging practices. 
Resource Depletion:

Traditional production processes heavily rely on resource-intensive materials. Conventional cotton, for instance, demands vast amounts of water, pesticides, and land. Over time, this leads to the depletion of vital resources and exacerbates environmental issues.

Waste Generation:

Custom product manufacturing often generates significant waste, including discarded materials and excess inventory. It not only contributes to landfill problems but also results in wasted resources.

Energy Consumption:

Traditional production can be energy-intensive. It leads to greenhouse gas emissions and contributes to climate change. The extraction and processing of raw materials also require high energy consumption.

Chemical Use:

The industry's reliance on chemicals, from dyes to finishing agents, threatens water and soil quality. These chemicals can be toxic and have far-reaching ecological consequences.

Fast Fashion Impact:

The custom products industry is not immune to the fast fashion phenomenon, where rapid production cycles and low-quality items encourage excessive consumption and disposal. This "throwaway culture" compounds environmental problems.

Lack of Transparency:

Many consumers are unaware of the environmental impact of their custom product choices due to a lack of transparency in the industry. Raising awareness is crucial.
Sustainable Materials:
In the quest for eco-innovation within the custom product production industry, a pivotal and transformative aspect is the shift towards sustainable materials. This shift comes from the growing recognition that the traditional materials used in production, which are often resource-intensive and environmentally harmful, must be replaced with more eco-friendly alternatives. 
The Shift Towards Sustainable Materials:
The custom product industry is transforming as it gradually shifts from conventional materials toward sustainable alternatives. A commitment to reduce the environmental footprint of these products and promote responsible consumption is guiding the shift. Here's a glimpse of this transition:
Organic Cotton:
Example:

Organic cotton does not use synthetic pesticides or genetically modified organisms (GMOs). It is grown using natural processes and practices that maintain soil health.

Environmental Benefits:

Organic cotton reduces the impact of cotton farming by minimizing chemical use, conserving water, and promoting biodiversity. It also encourages responsible land management.
Hemp:
Example:

Hemp is a versatile and eco-friendly material known for its durability. It requires minimal water and pesticides and can thrive in various climates.

Environmental Benefits:

Hemp production has a significantly lower footprint than traditional cotton. It also enriches the soil and reduces the need for chemical inputs.
Bamboo:
Example:

Bamboo is a fast-growing, renewable resource that is helpful for textiles. It requires little water and minimal chemical treatment.

Environmental Benefits:

Bamboo grows fast, making it a highly sustainable option. It also helps sequester carbon dioxide and reduces soil erosion.
Recycled Fabrics:
Example:

Fabrics made from recycled materials, such as recycled polyester or plastic bottles, are gaining popularity. These materials repurpose existing resources.

Environmental Benefits:

Using recycled fabrics diverts waste from landfills and reduces the need for virgin materials, conserving energy and resources.
Tencel (Lyocell):
Example:

Tencel is a fiber made from sustainably sourced wood pulp, often from eucalyptus trees. The production process is highly efficient and minimizes waste.

Environmental Benefits:

Tencel production uses less water and fewer chemicals than traditional textile production. It is biodegradable and has a lower environmental impact.
The Environmental Benefits of Using Sustainable Materials:
Switching to sustainable materials in custom product production offers a multitude of environmental advantages:
Reduced Resource Consumption:

Sustainable materials often require less water, energy, and chemicals during production, conserving valuable resources.

Lower Carbon Footprint:

Many sustainable materials have a lower carbon footprint than their conventional counterparts, contributing to climate change mitigation.

Biodiversity Conservation:

Sustainable farming practices, such as organic cotton cultivation, promote biodiversity and soil health.

Waste Reduction:

Using recycled materials helps reduce waste and alleviates the burden on landfills.

Enhanced Sustainability

: Your choices are critical in the broader movement towards a more sustainable and responsible global economy with sustainable materials. 
Advanced Technologies:
Advanced technologies play a crucial role in sustainable production processes for custom products. 
3D Printing:

3D printing technology has gained traction in custom product manufacturing due to its ability to create precise items with minimal material waste. It allows for on-demand production, reducing the need for massive inventories and excess waste.

Digital Pattern-Making:

Traditional pattern-making involves paper and often results in material waste. Digital pattern-making uses computer-aided design (CAD) to create precise patterns, optimizing material usage and reducing waste during production.

Automation and Robotics:

Automation technologies streamline production processes. It leads to greater efficiency and reduced resource consumption. Robots can perform tasks such as cutting, sewing, and quality control.

Sustainable Materials Sourcing:

Advanced software and supply chain management systems help source materials from sustainable suppliers, ensuring responsible sourcing practices.
EverLighten - Pioneering Eco-Innovation in Custom Product Manufacturing
EverLighten stands out as an exemplary manufacturer in the custom product industry, leading the way in eco-innovation and sustainability. EverLighten is setting new standards for responsible custom product production with a commitment to reducing its environmental footprint and promoting ethical practices. Let's explore some of the specific eco-friendly practices and initiatives implemented by EverLighten across a wide range of custom products:
EverLighten prioritizes sustainable materials like organic cotton and recycled fabrics for custom apparel production. They have embraced eco-friendly dyeing processes that reduce water usage and minimize chemical waste. They also design for longevity to extend the lifespan of their custom apparel, like t-shirts, hoodies, sweaters, flannel shirts, etc.
EverLighten employs sustainable materials and ensures fair labor practices in custom sock manufacturing. They incorporate recycled fibers into their sock production and use eco-friendly dyes. Their commitment to ethical labor practices extends to every stage of sock manufacturing.
EverLighten utilizes sustainable materials like organic cotton and hemp for custom hat production. Their hats are durable and long-lasting. The brand also promotes responsible sourcing of materials, tracing the origins of fabrics to ensure ethical and sustainable practices.
EverLighten offers custom patches made from eco-friendly materials, including recycled and upcycled fabrics. They actively minimize waste during production and use digital pattern-making to optimize material usage.
In custom plush toys, EverLighten uses sustainable stuffing materials and offers options for recycled fabric exteriors. They create toys that are safe for children and kind to the environment.
EverLighten recognizes the importance of sustainable packaging labels. They use recycled paper and employ minimalistic design to reduce waste. The brand also encourages customers to recycle or reuse their packaging labels.
Custom Metals (e.g., Keychains):
EverLighten ensures that the metals used in custom products, such as keychains, are sourced responsibly and can be recycled at the end of their lifecycle. Their metal customization processes prioritize quality and longevity.
Custom Outdoor Items (e.g., Yoga Mats, Basketballs):
EverLighten extends its eco-friendly practices to custom outdoor items, incorporating sustainable materials like natural rubber in yoga mats. They focus on creating durable products that withstand outdoor conditions, reducing the need for replacements.
EverLighten offers custom tote bags made from organic cotton and recycled materials. Their tote bags are designed for reuse and durability, reducing the demand for single-use plastic bags.
Embrace Sustainability
As consumers, you have the power to drive change. Choose custom products that prioritize sustainability, ethical sourcing, and quality. You're investing in products that reflect your unique style and commitment to a greener world.
Connect with EverLighten: EverLighten stands out with its unwavering commitment to customer satisfaction. With 100% customization options, you can create products that resonate with your personality and values. Their free design assistance ensures that your vision becomes a reality.
Quality Assurance: Rest easy knowing that EverLighten puts your satisfaction first. Every custom product undergoes a rigorous 100% quality check to meet the highest standards.
Global Reach: EverLighten's global shipping ensures that you can access their sustainable custom products no matter where you are. Join the international community of conscious consumers making a positive impact.
24/7 Customer Support: Have questions, ideas, or need assistance? EverLighten offers 24/7 customer support to guide your custom product journey, making it as smooth and enjoyable as possible.
FAQs: 
How can you make a custom product more sustainable?
There are many ways to make a custom product more sustainable. 
Use sustainable materials

Design the product for durability

Use energy-efficient manufacturing processes

Reduce waste

Make the product easy to recycle

 
What makes a custom product sustainable or green?
A sustainable product is a product that has a minimal environmental impact. It uses resources efficiently, produces little waste, and uses renewable or recycled materials.
How can we make environmentally friendly choices?
There is a wide range of ways to make environmentally friendly choices.
Reduce your consumption

Choose sustainable products

Recycle 

Support sustainable businesses. 
Tags:
#CustomProducts
,
Best Custom Socks
,
Brand
,
custom apparel
,
Custom Caps
,
Custom Hang Tag
,
custom hats
,
Custom Hoodies
,
Custom Plush toys
,
Custom T-shirt
,
Customized Socks