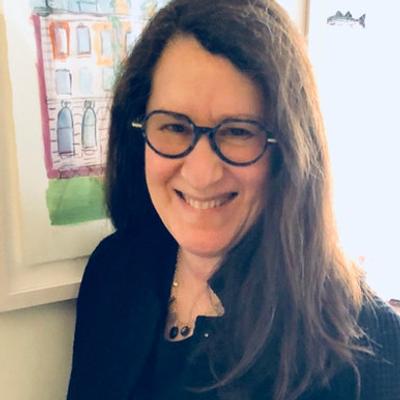 1. COULD YOU TELL US A LITTLE ABOUT YOURSELF AND YOUR BUSINESS?
I am a former children's book author, who many years ago, turned my hand from writing Children's books to creating art.  I went in any direction my art lead me.
From making figures out of socks, to carving driftwood, to stitched birds.
In 2016, when Donald Trump took office, I changed directions.
I wanted to honor great people(women in particular) who had, and were changing the world for the better. I began with: Ruth Bader Ginsburg, the second woman elected to the US Supreme Court. At 85 years old Ruth was an inspiration! I began designing socks. My goal was for younger generations to know who these women were (my list includes not only RBG, but great women scientists, political figures, writers, pilots, noble prize winners, etc.,) as well as older men and women to walk in my designed socks with these notable people displayed on the sides of each sock. The images  are my artistic interpretations. Each design consists of an image, and a quote on the sole of each foot. And frequently a message above the person's head.
My business is small. It consists of me, Michael, my book keeper and two part time packers.
2. HOW LONG HAVE YOU BEEN WITH EVERLIGHTEN?
I received an email from Michael, at Everlighten about 2 years ago.
He promised lower prices, quicker speed and no payment until the product was received. How could I not try? I had absolutely nothing to lose.
3. WHAT MADE YOU DECIDE TO WORK WITH EVERLIGHTEN?
I had already created about 9 or 10 designs with other companies.
Some based in the United States and two others in China. As an experiment and to see if EverLighten could do what it promised, I chose a design I had already done with another company.
In two weeks, I received the socks (I also liked that EverLighten had no minimum quantity.)
The quality was BY FAR superior to the other factories. 
The question of who to work with was a "no-brainer".
4. WHAT MADE YOU CONTINUE WITH EVERLIGHTEN?
As I said above, there was no question. There was no negotiating and re-renegotiating with pricing. The other places changed their pricing with every order and made all kinds of mistakes, including mis-spelling, late shipping, lost shipments, and so on. The quality of Everlighten socks were impeccable.
5. HOW DO YOU LIKE WORKING WITH EVERLIGHTEN?
It has exceeded my every expectation.  Michael helps me through every stage of the designing process!
As well, his organizational skills are exemplary. He keeps careful track of every detail.  My book keeper appreciates him as well!
Not once has never once disappointed me.
And that is a BIG statement.
I would not  consider working with anyone else—and I cannot recommend him highly enough! He is one of a kind, as a person, and his work is superb.
What more could a company ask for?