Best Custom Socks, Custom Design Socks, custom dress socks, custom logo socks, Custom Made Socks, Custom Sock, Custom Socks, Custom Socks Bulk, Custom Socks Wholesale, Customized Socks, Personalization Socks, Personalized Socks, Premier Sock
Custom Socks: How Much To Charge Customers To Maximize Conversions
|
Oct, 24 , 23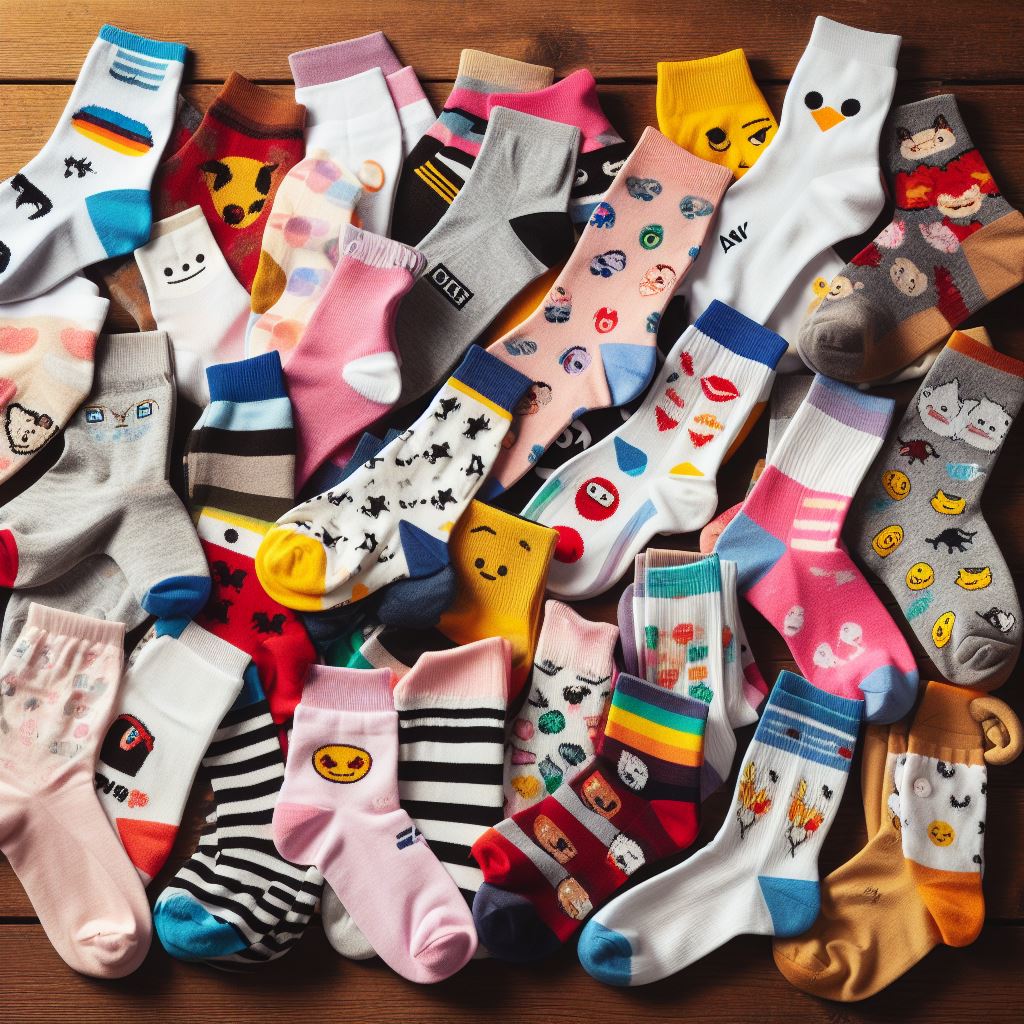 Custom socks have emerged as a famous way of expressing individuality, promoting brands, and creating memorable gifts. Whether it's a vibrant logo, a quirky design, or a personalized message, these customized foot garments have become a unique form of self-expression and marketing. However, as the demand for products continues to surge, an increasingly pertinent question arises: How does one strike the perfect balance in pricing custom socks?
The art of setting the right price for custom socks extends beyond mere monetary considerations; it embodies a delicate interplay between customer appeal and profitability. Overpricing might repel potential buyers, while underpricing can threaten sustainability. Therefore, the quest for the optimal pricing sweet spot isn't just about numbers; it's about constructing a value proposition that resonates with customers while ensuring viable returns for your business.
Understanding the pivotal role of pricing strategy in customer conversions and sales generation, it becomes clear that the stakes are high. A well-calibrated pricing approach can steer your custom sock enterprise toward financial gains and a deeper connection with your customer base. Thus, delving into the intricacies of pricing dynamics is essential in establishing a successful custom sock venture.
Understanding Customer Perceptions:
In custom-designed products, including personalized socks, customer perceptions of cost are intricately intertwined with their perception of value. Psychological factors play a significant role in how customers assess the worth of a product, often leading them to draw connections between price points and attributes like quality, exclusivity, and personalization.
The psychology of pricing perception influences the notion that higher prices correspond to superior quality. People associate it with better materials, intricate designs, and craftsmanship when customers encounter a custom sock with a higher price tag. This psychological association creates a perceived value proposition that transcends the tangible cost of the product, shaping their expectations of durability, comfort, and overall satisfaction.
Moreover, the concept of exclusivity further impacts customer perceptions. When custom socks are at a premium, customers often perceive them as exclusive, limited edition, or as a status symbol. This perception of exclusivity can cultivate a sense of pride and distinction among buyers, enhancing the desirability and fostering a deeper emotional connection with the brand.
Furthermore, the personalization aspect of custom-designed socks amplifies the perceived value in the eyes of the customer. The ability to imprint one's unique style, preferences, or even personal messages onto a pair of socks elevates the emotional significance attached to the product. 
Customers are inclined to perceive such customized offerings as more valuable and meaningful, making them more willing to invest in these personalized products, even at a higher price point.
Analyzing Production Costs and Profit Margins:
When considering the production of custom socks, it's essential to dissect the various cost components involved to establish a comprehensive pricing strategy. 
Materials:

This encompasses the yarn or fabric used for the socks, along with any additional materials for customizations such as dyes, prints, or embellishments.

Labor:

The cost of skilled labor involved in the production process, including knitting, sewing, printing, embroidery, and packaging.

Design:

Investments in designing custom patterns, logos, or unique artwork for the socks, including any costs associated with graphic designers or specialized software.

Customizations:

Additional costs may arise from personalized touches, such as individual monograms, specific color combinations, or tailored features.
Market Research and Competitor Analysis:
In the dynamic landscape of the custom sock industry, conducting comprehensive market research and competitor analysis is indispensable for devising an effective pricing strategy. Thorough market research allows businesses to gain valuable insights into the prevailing trends, customer preferences, and evolving demands within the custom sock market. Simultaneously, competitor analysis facilitates a nuanced understanding of rival businesses and at what price points, providing a benchmark for positioning one's products effectively.
Understanding the pricing standards in the custom sock industry is vital for setting competitive yet profitable price points. By gauging the current pricing trends, businesses can avoid underpricing, which might undervalue their products, or overpricing, which might deter potential customers. Moreover, grasping the price points of competitors aids in identifying gaps in the market where a business can strategically position its products to cater to specific customer segments or offer unique value propositions.
Businesses must highlight the distinctive features and value-additions that set their custom socks apart to differentiate product offerings and justify potentially higher prices. You can achieve the differentiation through:
Quality and Craftsmanship:

Emphasize the use of premium materials, superior craftsmanship, and attention to detail, ensuring that customers recognize the quality inherent in your product.

Innovative Customization Options:

Offer diverse customization options beyond the standard offerings available in the market, allowing customers to create truly unique and personalized designs.

Emotional Appeal and Brand Story:

Leverage storytelling to evoke emotional connections with customers, showcasing the narrative behind each custom sock design and how it resonates with their individuality or

brand identity

.

Added Value Services:

Introduce additional services such as expedited customization, eco-friendly materials, or sustainable production practices, reinforcing the value proposition and justifying a higher price point.
Strategies for Setting the Right Price:
In the custom sock industry, deploying effective pricing strategies is paramount for optimizing conversions and achieving sustainable growth. Here are several pricing strategies to maximize conversions:
Cost-Plus Pricing:

This strategy involves adding a markup to the production cost to determine the final selling price. It ensures that all production expenses are covered while allowing for a reasonable profit margin. However, it may not account for the perceived value and could potentially overlook opportunities for premium cost based on exclusivity and customization.

Value-Based Pricing:

This strategy aligns with the unique benefits and emotional appeal. Businesses can justify higher prices by emphasizing personalization, quality, and exclusivity. The challenge lies in effectively communicating the added value to customers, as the subjective nature of perceived value can vary among different market segments. 

Competitive Pricing:

This approach involves setting prices based on the prevailing rates within the custom sock market. By closely monitoring competitors' pricing strategies, businesses can position their products competitively to attract price-sensitive customers. However, relying solely on competitive costs may lead to a price war and undermine the brand's ability to communicate its unique value proposition.
Each pricing strategy has its pros and cons. Evaluate in the context of the custom sock industry. Understanding the impact of these strategies on customer perception and conversion rates is crucial. For instance:
Cost-plus

can ensure a stable profit margin but may not fully leverage the potential of perceived value to justify higher prices.

Value-based

can elevate the brand image and create a sense of exclusivity but requires effective communication to convey the unique benefits of custom socks to customers.

Competition

can attract price-conscious customers but may limit the ability to establish a premium brand image and differentiate the product from competitors.
How to set prices for different types of custom socks
Setting prices for different types of custom socks involves a nuanced approach considering various factors such as design intricacy, materials used, and quantity produced. 
Basic Custom Socks (Standard Design and Material):

Consider using a cost-plus pricing approach for basic custom socks with simple designs and standard materials. Calculate the production cost per pair of socks, including materials, labor, and overhead, and add a suitable markup to ensure a reasonable profit margin. Be mindful of market standards and competitors' pricing to remain competitive while maintaining profitability.

Complex Custom Socks (Elaborate Designs or Premium Materials):

When dealing with intricate designs or premium materials, it's essential to implement value-based pricing. Highlight the unique features, quality craftsmanship, and personalized details to justify a higher price point. Emphasize the superior materials and the intricate artistry in creating these socks, aligning the pricing with the perceived value.

Bulk Orders or Subscription Packages:

Offer discounts or special pricing packages for bulk orders or subscription services. Encourage customers to purchase multiple pairs by providing tiered pricing that offers cost savings for larger quantities. Consider implementing subscription-based pricing models offering recurring orders at a discounted rate, ensuring customer loyalty and consistent revenue streams.

Limited Edition or Exclusive Collections:

Introduce premium pricing for limited edition or exclusive collections of custom socks. Position these collections as high-end, exclusive products that offer a unique and sought-after experience. Highlight the scarcity and exclusivity of these designs to create a sense of urgency and exclusivity, justifying a higher price point that resonates with customers seeking exclusive, one-of-a-kind products.

Custom Socks with Special Add-Ons or Personalization Services:

For custom socks with additional add-ons or personalized services, implement a combination of value-based and cost-plus pricing strategies. Consider the costs of the base product and extra customization or personalization services. Highlight the added value of these services, such as individual monograms, custom packaging, or express delivery, to justify a slightly higher price while ensuring customers perceive the extra benefits they receive.
Tips for maximizing conversions
Maximizing conversions in the custom sock industry involves implementing effective strategies that encourage customer engagement and prompt purchase decisions.
Limited-Time Offers and Flash Sales:

Create a sense of urgency and encourage immediate action by introducing limited-time offers and flash sales. Promote exclusive discounts or special pricing for a short duration, compelling customers to make a purchase decision swiftly to take advantage of the deal.

Discounts for Bulk Orders:

Offer volume discounts to incentivize customers to purchase in bulk. Encourage larger purchases by providing tiered pricing that offers cost savings for customers buying multiple pairs of custom socks, increasing the average order value and fostering customer loyalty.

Promotional Bundles:

Create attractive promotional bundles that combine different custom sock designs or include complementary accessories. Offer bundled packages at a discounted rate, providing customers with added value and encouraging them to explore products, leading to increased sales and customer satisfaction.

Referral Programs:

Implement a referral program that rewards customers for referring friends and family to your custom sock business. Offer discounts, store credits, or exclusive offers to the referring and the new customer, fostering customer loyalty and expanding your customer base through word-of-mouth marketing.

Personalized Promotions and Offers:

Leverage customer data and purchase history to personalize promotions and offers based on individual preferences. Send tailored promotions via email or targeted advertising that showcase custom sock designs or offers aligned with each customer's unique style, encouraging them to purchase based on their interests.

Seasonal and Holiday Campaigns:

Capitalize on seasonal and holiday themes by launching campaigns and promotions. Introduce festive designs, limited-edition collections, or holiday-themed bundles to capture the season's spirit, driving customer engagement and sales during peak shopping.

Free Shipping and Easy Returns:

Remove any barriers to purchase by offering free shipping and hassle-free return policies. Highlight these customer-friendly services to enhance the overall shopping experience, instilling confidence in customers and encouraging them to complete their purchases without hesitation.
Conclusion:
In the custom sock businesses, setting the right pricing strategy emerges as a critical determinant for sustained success. Businesses can maximize conversions and foster long-term profitability and customer satisfaction by following the above tips. 
At EverLighten, we understand the intricacies of the custom sock industry and are committed to helping your business thrive. Our premium socks meet your specific needs, ensuring 100% customization and 100% quality check to deliver unmatched products that resonate with your target market. With our free design help, global delivery services, and 24/7 customer support, we aim to provide you with a seamless and hassle-free experience, enabling you to focus on growing your business and maximizing your profits.
Reach out to us at EverLighten for:
100% Customization:

Tailor your socks the way you envision them.

100% Quality Check:

Ensure top-notch quality and durability with every order.

Free Design Help:

Leverage our expertise and support to bring your designs to life.

Global Delivery:

Seamlessly reach customers worldwide with our efficient delivery network.

24/7 Customer Support:

Experience unparalleled assistance and guidance at every step.
FAQs: 
What are the factors to consider when pricing custom socks? 
The factors to consider when pricing custom socks include the cost of materials, production costs, shipping costs, and profit margin. You should also consider the type of socks you are selling, the quantity you are selling, and the target market.
What are some different pricing strategies for custom socks? 
A few pricing strategies include cost-plus, value-based, and competitor-based pricing. Cost-plus pricing involves adding a profit margin to the cost of producing the socks. Value-based pricing is setting a price based on the perceived value of the socks to the customer. Competitor-based pricing is a competitive price with other businesses that sell custom socks.
How do I set prices for different types of custom socks? 
When setting prices for different types of custom socks, you should consider the following factors:
The type of material used

The design of the socks

The number of socks ordered
How can I maximize conversions when selling custom socks? 
There are several things you can do to maximize conversions when selling custom socks, such as:
Offering discounts and promotions

Offering bundles

Making it easy for customers to order

Providing excellent customer service
Tags:
Best Custom Socks
,
Custom Design Socks
,
custom dress socks
,
custom logo socks
,
Custom Made Socks
,
Custom Sock
,
Custom Socks
,
Custom Socks Bulk
,
Custom Socks Wholesale
,
Customized Socks
,
Personalization Socks
,
Personalized Socks
,
Premier Sock