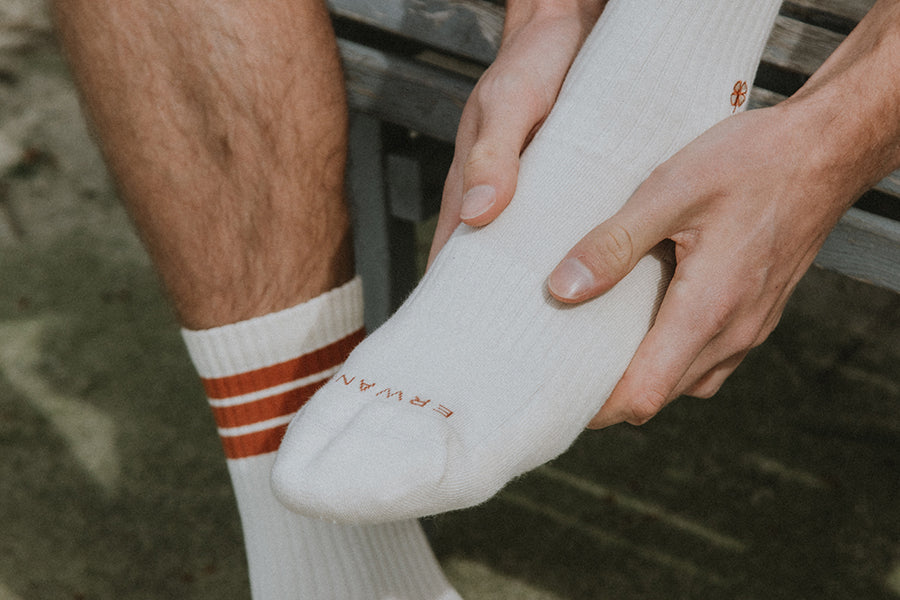 Cycling regularly is one of the best ways to be physically and mentally fit. Scientific evidence shows it helps protect you from severe diseases like obesity, heart disease, diabetes, arthritis, etc. It is a healthy and low-impact exercise and thus suitable for people of all ages, including children and older people. Cycling is also fun and good for the environment. Riding to work or shopping is one of the most effective ways to combine regular exercise into your daily lifestyle. Over a billion people ride bicycles daily - transport, recreation, and sports. Riding comfort depends upon various factors, such as your riding position, kit, contact points, etc. But one often overlooked item that can have a crucial role is socks. With technological advancements, they have grown from humble products we used to cover our feet into a product that can take comfort and performance to the next level. Today, top cyclists, clubs, retailers, and businesses know this and use custom socks to increase performance and brand awareness. 
Why do you need custom cycling socks: 
Cycling, also known as biking, is a popular leisure activity in the US. Last year, around 15% of Americans cycled regularly. The percentage increased because of the awareness regarding healthy lungs and heart. It is a low-impact physical activity with incredible health benefits that everyone can do - if not suffering from any critical illness. Since the percentage of people riding bikes is increasing, it presents a unique opportunity for businesses to target a new segment of people with promotional products.
Custom socks
 are a budget-friendly and practical item to add to your promotional campaigns. You can target:
Over 50 million people ride cycles regularly.
People between the age of 24 and over.
180 -million people attended cycling events in the US.
Tips for creating the best custom cycling socks:
The importance of a snug fit:Custom cycling socks fit perfectly to your feet; working with high thread count and a seamless design, they result in fewer pressure points. Regular socks can cause micro-vibrations and discomfort because of seams inside the sock lining.
The tight-fitting cycling socks ensure they are in place during the entire ride; they promote blood flow to your extremities, reducing swelling during long and arduous rides. Does the snug fit enhance performance? It is a frequently asked and debated topic among cyclists. They display proven benefits for recovery and repair. A well-designed custom cycling sock is precise about its compression, which helps better performance.
Choosing the correct fibers

:the materials used for custom cycling socks have seen vast improvements and changes over the last decade. Synthetic fibers are now the preferred choice over natural fibers. Cotton, wool, or any other organic material absorbs moisture and expands; it leads to rubbing, hot spots, and blisters. Synthetic fibers like polyester, nylon, etc., have various advantages. You can weave them closer to better conform to the foot shape, wick moisture, and reduce road grime and dirt from entering socks. The high thread counts ensure long-term color fastness; your brand logo will be visible over the lifetime of the socks.
You can also weave antibacterial or antimicrobial fibers into
 custom socks
 that reduce the level of bacteria on your foot. It reduces skin irritations and odor - features you want after clocking up kilometers on a long ride.
Light-on cushioning: Sports-specific socks like running socks have padding to help absorb shock. But, for cycling, you don't want padding or ankle support. In cycling, we place the foot in a stable position. Thinner and form-hugging socks are more helpful. Custom cycling socks allow the technical features of the socks to perform at their optimal level.
Cushioned or regular socks cause excess movement inside the shoes because of the expansion and contraction of sensitive nerve endings in the feet. Customized socks provide high comfort because of better contact with the cycling shoes. The thinner and lighter socks make your pedal stroke as efficient as possible. It saves precious energy by improving tactile feedback resulting in better power transfer.
esigning socks with linings; they wear off after a handful of wearing.
Apart from the above points, the design and construction of custom cycling socks affect the level of compression and performance.
Do not use seams around the toes to avoid chafing.
Use an elastic arch band around the foot to keep them in place and prevent bunching at the shoes.
Firm and elastic cuff to prevent from moving.
Reinforce the toe area with thicker or insulating fabric to protect from wind, cold, and nails.
Extra protection on the shins with windproof fabrics.
Less material on the heels for better peddling.
Conclusion: 
The bottom line: custom cycling socks provide many benefits, including brand awareness and performance. The right cycling socks depend on your choice and your company's brand image. However, customizing cycling socks is not complicated; keep the points in mind to make it fun and easy. Choose a reliable and expert manufacturer like EverLighten. They have helped startups, large organizations, sports teams, colleges, universities, hospitals, etc., customize their socks.
Hummingbird is a digital retail store that offers a unique collection of sports apparel and accessories for women athletes, including cyclists. They approached us to design
custom socks
 and other items like face masks, neck gaiters, woven patches, etc. We had several rounds of discussions to understand their requirements and values. The team produced five mockups for free in a short time; we changed texts, design, and ribbing in the socks to make them perfect. EverLighten delivered the products in 15-days. It impressed them with the products and praised us for our craftsmanship, quality, and hard work.
The EverLighten difference:
Best pricing: they are a dedicated factory for producing custom socks and not intermediaries; customers always get the best price.
Quality without a compromise: they use premium-quality materials and the latest processes.
Fast turnaround time: they provide the quickest delivery for every order.
24*7 support: you can contact us anytime; they provide round-the-clock support.
Real people, phenomenal service: EverLighten loves helping; they offer various options for every sock.
Free design help and unlimited customization: the custom socks will look as you imagined; they also provide endless customization.
No MOQ requirement: you can order as many socks as you need; they accept orders without a minimum limit.
Worldwide shipping: they deliver worldwide; customers can track their orders anytime with an order tracking tool.