10-fun activities to develop a strong team culture using custom socks for business success
|
Dec, 23 , 21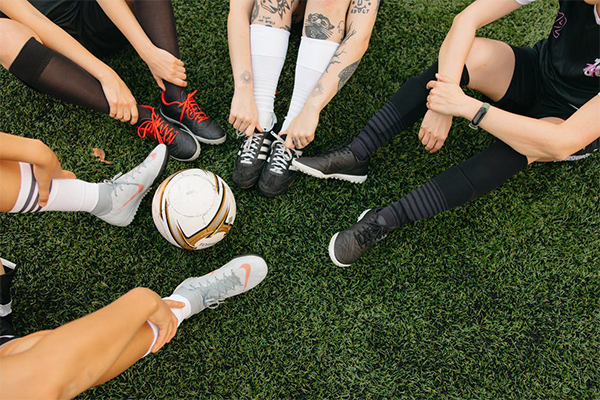 Company culture is vital for business success - it helps build camaraderie among teammates, impacts your outside image and sales. A belief in the company creates confidence among employees - it helps generate interest from prospects with the way you send them emails or do cold calling. Building a solid team culture doesn't happen overnight; it is the total of many small things done correctly over a period. Companies are searching for ways to impart team spirit; one of the most innovative ways to impart a sense of belonging, a feeling of team spirit, is using custom logo socks.
Custom items are excellent for creating a sense of belonging; however, it works only when done the right way - people don't keep a cheap pen, flimsy tote bag, or ill-fitting company t-shirts with them for long. It also dents your brand image in the employees' eyes; this spirals further when their family members or friends see these items. Word-of-the-mouth spreads, and suddenly you will find people choosing your competition over your business. 
Don't get disheartened; there is good news; employees, clients, prospects, and customers will view your organization in a positive light if you use high-quality, helpful items that don't shout "company promotional item." It would help if you were subtle and innovative. Company logo socks are relatively new to the arena. Still, companies have quickly grabbed it, building team spirit and promotional items; they have rapidly shown positive results. 
You might be having some doubts, but let us explain why custom logo socks work: 
They are novel items
Custom socks are new items for corporate giveaways and promotional activities. A 2019 report by the Advertising speciality institute shows a list of the most common things for imparting company spirit - it contains pens, diaries, t-shirts, and similar accessories. Custom logo socks are not in the list of top 10 items; what does it mean for you? When you give away these at corporate events or trade shows, people are likely to notice them, use them and not ignore and keep them in their drawers.
They look fabulous
Custom socks look fabulous when done right; companies distribute low-quality, sad-looking t-shirts or hideous baseball caps to their employees, thinking they will appreciate the gesture. They feel that everyone will wear them proudly during team activities and feel connected with the company. In reality, the move backfires; no one wants to wear them, especially in public - there goes your team spirit down the drain. However, expertly designed high-quality colorful custom socks are a different story altogether; employees wear them, displaying to the public their organization name. 
They make an excellent impression
Who doesn't like a great-looking pair of socks; with the rise of social media, people search for something new every day to show to their family and friends. Everyone appreciates high-quality socks because of their usefulness and versatility - you can wear them with any piece of footwear and even sleep wearing them.
They are comfortable
People don't like to wear even the most amazing-looking clothing if it is uncomfortable. You have the freedom to choose a manufacturer; companies like EverLighten produce high-quality custom logo socks. It ensures you get unparalleled comfort because of their excellent fit; they also provide optimal protection without overheating. These socks are durable so that people will wear them for a long time, ensuring more people will likely see your logo. 
They fit everyone
You know how frustrating it is when you get some gift like t-shirts, sweatshirts and it doesn't fit you. It is also a waste of money for companies handing out those. They need to stock and carry various sizes of every item, usually divided into men and women categories for giveaways at events. It is not an issue with custom socks; they are truly one-size-fits-all. Socks are unisex, so you don't have to get differently for men and women. 
They are convenient
Socks are convenient to order in bulk and carry around because of their small form and lesser weight. Unlike sweatshirts or tote bags, these are easy to carry around; companies with limited budgets need to keep shipping costs low. 
They are sustainable
Over the last decade, people are becoming more environmentally friendly; they want sustainable products. According to a consumer report of 2020, people are preferably buying from companies that they see as caring for Nature. Handing out sustainable products creates a positive brand image in your employees' minds and people viewing those products. You can also use eco-friendly materials for manufacturing your company logo socks like bamboo.
They are fun & easy to customize
Designing company socks is a fun and creative activity; you can involve everyone in your company, ask them to send their ideas and designs to make it better. When you include people in such activities, it creates a sense of belonging, a feeling of being a part of a group, thus making the team gel together. 

Having great ideas is one thing; getting results is another; you need innovative methods to achieve the desired results. Some fun team building activities where you can ask participants to wear and show off your custom logo socks: 
1. Scavenger hunt 
Humans are curious and love to solve a problem, puzzle, or mystery. A scavenger hunt is a perfect activity to bring your employees together. It gives their senses the sweet taste of unraveling a mystery, finding a secret. The urgency of finding the answer helps bring employees together; working as a team, they can find the solution faster. Use your creativity, make custom logo socks of different colors and distribute them amongst your employees; people with the same colored socks will be on the same team.
2. Pets showdown
People love their pets like their children, whom they love to show off to others. Organize a showdown and give away your custom socks specially designed for pets; it will raise your brand image in everyone's eyes.  
3. Field day
One of the best stress-buster and team-building activities is a field day. People become relaxed and tend to bond when out of their work environments. They talk to each other more and suddenly find more in common; it rekindles joy for their work and life. 
4. Build helpful for a cause
When people do something good for others, they feel good about themselves. Organize a day to build useful items for less privileged people, donate them, and bask in the light of kindness. The team will unite behind a noble objective, sharing a feeling of epic accomplishment and instilling positive feelings in their hearts. People seeing the selfless work of your team will also grow positive emotions for your business.
5. Organize a tournament
Nothing brings people together like a competition; organize a tournament for your employees, sports, or whatever they prefer. Take a vote amongst them, asking for their choices. Their bond will become stronger when they work together because they have to use their critical thinking and collaborative spirit. Use the colored sock idea to organize them into different teams, instilling healthy competition. 
6. Workout/ yoga sessions
During a group workout or yoga session, you become mentally and physically healthy; you also tap into a more profound sense of connection with your employees. As you breathe together deeply, it subconsciously connects you. It elevates mood, gives you a sense of group support and empathy for each other. You can organize group sessions in a public park or fitness center.
7. Explore your city
Go out of the office, get some fresh air, explore your city with your teammates. We like to think that we know our town and there is nothing left to see, but there are always some hidden spots left to explore. You can engage everyone by asking them to come up with some places to go. Visit museums, parks or go for a walk along with your employees. Use the opportunity to gel together, get to know each other. 
8. Adventures
According to your team's interests, start adventurous outdoor activities like hiking, trekking, cross-country running, etc. Make it your company's tradition; you will bond together on these activities and in the office talking about past adventures. People at work look forward to an activity they enjoy making them more productive. Give them custom logo socks for their group activities, creating a sense of belonging.
9. Group bike rides
When you hop onto your bikes, you people are not only office co-workers; you become fellow explorers taking on the roads and treks together. Novelty experiences like bike rides give us a sense of excitement, joy, and adrenaline rush; it creates stronger bonds when we ride together, looking after each other during the event. 
10. Field trips
Go out together in the countryside, explore local wineries or crop mazes - by stepping out of the office from your day-to-day routine, you are opening up your team for new experiences. Pick a fun activity, let go of yourself and enjoy thoroughly.
Now that you know the benefits and ways to use custom socks for building team culture, it can be confusing with lots of variations when choosing and designing the right socks. You have to choose styles, colors, lengths, and prints. You can use one print pattern for every occasion or choose different patterns for different events. Remember when it's time to make custom logo socks for your company; having the right partner will simplify the whole process. 
1. Choose the material
According to the occasion, there are many options to choose from, helping create different styles for your team.
Acrylic
You can use acrylic when designing socks with bright colors, and they help enhance the coloring and printed details. 
Cotton
Cotton is a naturally breathable fiber with moisture-absorbent properties; you can choose from various types of cotton, such as combed, organic, or recycled. People nowadays are more environmentally conscious than before; when you choose organic or recycled materials, it also helps create a positive image. 
Cashmere
Cashmere is a soft fabric made from goat hair; it is luxurious. You can use it to design high-quality socks for presenting to your best employees as a reward. 
Lurex
Use it to weave in shining metal threads to provide a special touch to your custom socks; you can use the logo to make it distinct.
Nylon
Nylon is elastic and durable; blend it with other materials to create sustainable company socks. 
Bamboo
They are 100% organic; you can use them to show your stand for the environment; they are premium and display quality.
2. Choose the lengths
Many lengths are available according to the occasion and need, from anklets to knee-high socks. While you can pick any of them for your team, the three most common lengths are short, crew, and knee-high socks. 
You can use knee-high socks for soccer or off-field adventures; they will protect your legs from bruises. Crew socks go well with most attires, while short socks are helpful for sporting activities.
3. Select sizing
Socks have a distinct advantage over other apparel; they have limited sizes to choose from, you don't have to worry about not fitting. Sock sizes 9-11 and 10-13 will fit most women and men; they are also unisex items, so you don't have to order differently for everyone.
4. Decide colors, prints, and logos
You can show your creativity with various colors, print styles, and designs. You can design one that is the same for every occasion or according to the theme. You can create unique socks exhibiting the Christmas spirit or supporting a cause. 
5. Pick your packaging
Packaging is equally important, if not more important than the product itself; a nicely wrapped gift will create an impression even before opening. Please go the extra mile for applying the finishing touches if you're doing for the employees because it will exhibit your commitment towards them, making them commit more to the organization and the team. 
6. Place the order
Now you have all the knowledge about custom logo socks; you are ready to place the order. Different manufacturers provide various turnaround times; some also offer express delivery for an extra cost, which comes in handy when looking for fast shipment. 
Socks are small items helpful in creating a solid team, keeping their feet warm and comfortable, and injecting some healthy competition. You want to have a high-quality sock manufacturer like EverLighten for achieving these purposes. Teaming up with them for manufacturing custom socks will ensure you always get on-time delivery. 
No minimum order limit
It becomes problematic when placing a small order because most manufacturers don't take small orders. Even if they take orders, they don't deliver on time; EverLighten takes every order without any minimum order limitation. 
100% quality check
You want high-quality socks for giveaways, brand promotions, and team building; if someone gets a torn sock mistakenly, that will severely impact your brand image. EverLighten experts check every sock, ensuring only socks passing the quality standards reach you. 
Fast-turnaround
They directly own factories, making manufacturing as fast as possible. EverLighten delivers every order on time.
Free design help
You can upload designs/sketches on the website; the design experts will help create the final design and free sample before manufacturing. 
Free worldwide shipping
Whether you live in a big city or a small countryside, they provide free worldwide shipping. 
On-time delivery
Sometimes manufacturers take on many orders, and they cannot provide on-time delivery; that's not the case with EverLighten; they deliver every order on time. 
They put their heart and soul into creating every sock. Check out custom socks and a wide variety of custom merch at Everylighten.com.