Stepping in Style: Creating Patriotic Custom Socks and Mastering the Art of Selling and Marketing
|
Jun, 15 , 23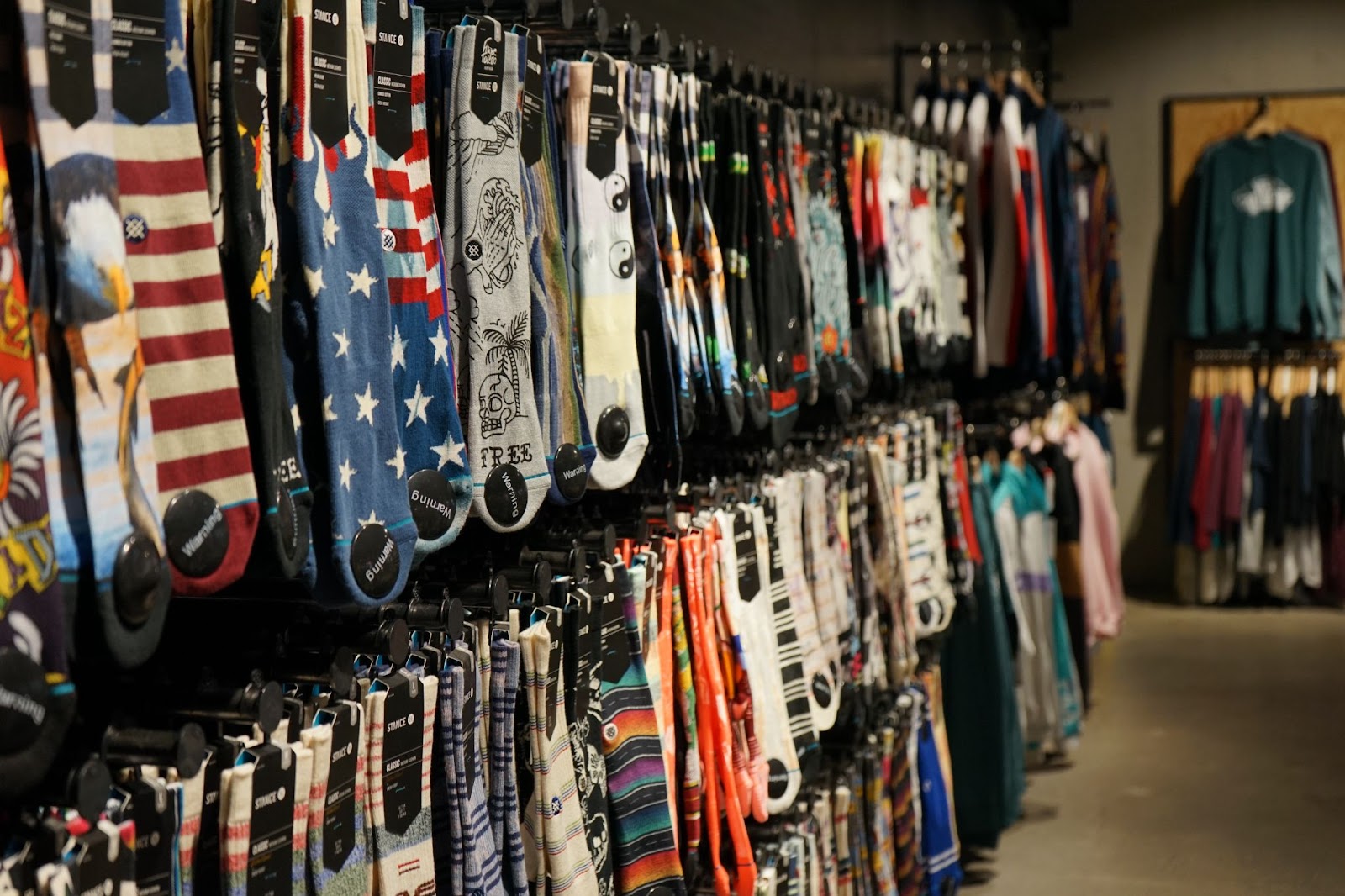 In a world where fashion is evolving, individuals seek unique and stylish ways to express their interests and values. One such avenue for self-expression is through custom socks, a canvas for creativity and individuality. In this guide, we will explore the concept of patriotic custom socks – a distinctive and fashionable means of showcasing national pride.
Patriotism runs deep in the hearts of many, and what better way to demonstrate love and loyalty for one's country than through fashion? Custom socks provide an excellent platform to merge style and patriotism, allowing individuals to proudly display their national symbols, colors, or even iconic landmarks on their feet.
The potential for creating and selling patriotic custom socks is immense. With a market brimming with patriotic enthusiasts, there is a demand for products that cater to their desire to express their love for their country. You can tap into this thriving market and establish a successful business venture by mastering the art of designing, producing, and effectively marketing these custom socks.
We will delve into the step-by-step process of creating patriotic custom socks. From conceptualizing unique designs to finding reliable manufacturers, we will provide you with the knowledge and tools necessary to bring your vision to life. Additionally, we will explore the art of selling and marketing, uncovering strategies to reach and engage your target audience.
So, whether you are an aspiring entrepreneur looking to start your own sock business or an individual passionate about design, this guide will equip you with the essential skills to step in style with patriotic custom socks. Let's embark on this creative journey and unlock the potential of combining fashion and national pride!


Understanding the Appeal of Patriotic Custom Socks

Custom socks have witnessed a remarkable rise in popularity in recent years, transcending their traditional role as mere functional garments. Today, socks have become fashion accessories allowing individuals to make bold statements. They offer a unique canvas for creative expression, enabling people to showcase their interests, beliefs, and affiliations through eye-catching designs. 
Patriotic symbols hold a special place in people's hearts, evoking a deep emotional connection to their homeland, culture, and shared history. Flags, national emblems, and iconic landmarks represent the values, aspirations, and collective identity. When individuals wear custom socks adorned with these symbols, it amplifies their connection and serves as a tangible expression of their love and pride for their country. 
The versatility of socks as a canvas for creative designs makes them an ideal medium for showcasing patriotic elements. The variety of sock styles, including ankle, crew, and knee-high socks, allows for design possibilities. The options are limitless, from subtle and elegant patterns incorporating national colors to bold and intricate illustrations of iconic national symbols. 
Moreover, custom socks offer a practical and accessible way for individuals to display their patriotism. Unlike clothing items such as shirts or jackets, socks are visible even in formal or professional settings. They can be worn discreetly, peeking out from beneath pants, or proudly displayed with shorts or skirts, making them suitable for various occasions. This versatility enables individuals to integrate their patriotism seamlessly into their everyday attire. 
Furthermore, the rise of social media and the influence of digital platforms have amplified the visibility of fashion accessories like custom socks. People now have a platform to showcase their unique styles and share their love for their country with a broader audience. As a result, patriotic custom socks have gained traction as a fashionable and shareable form of self-expression, allowing individuals to connect with like-minded people and spark conversations about their shared national pride.
By combining fashion with patriotism, custom socks become more than just a garment; they symbolize unity, identity, and personal style. They enable individuals to celebrate their country and express their individuality, making them a compelling and appealing choice for those seeking to step in style with patriotic custom socks.


Designing Your Patriotic Custom Socks

Designing patriotic-themed sock patterns or graphics allows you to unleash your creativity while capturing the essence of national pride.
Research and understand the symbolism

: Familiarize yourself with popular patriotic motifs and symbols associated with your target country. For example, in the case of the United States, the American flag, stars, stripes, eagles, landmarks (such as the Statue of Liberty), and patriotic phrases like "Land of the Free" are commonly used. Gain a deeper understanding of the historical and cultural significance to infuse authenticity into your designs.



Balance aesthetics and symbolism:

Strive for a balance between aesthetics and patriotic symbolism in your designs. Incorporate patriotic elements into visually appealing patterns, illustrations, or graphics. For instance, you can integrate stars and stripes into abstract patterns or create intricate designs of national symbols that are visually striking.



Choose appropriate colors:

Select colors that evoke the patriotic spirit of your target country. For example, red, white, and blue are synonymous with American patriotism. Consider using complementary colors or shades to add depth and visual interest to your designs. However, remember to maintain a harmonious color palette pleasing to the eye.



Material selection:

Pay attention to the materials for your

custom socks

. Opt for high-quality, comfortable, durable, good-stretch fabric. Cotton, polyester blends, or a combination of materials can be suitable choices depending on your requirements.



Printing techniques:

Consider the various methods available to bring your designs to life on the socks. Sublimation printing allows for vibrant and long-lasting colors, while screen printing offers precise and detailed graphics. Research the pros and cons of different printing methods and select the one that best suits your design, budget, and quality expectations.



Seek inspiration from different sources:

Look for inspiration from various sources, such as art, history, and nature. Explore traditional patterns, cultural motifs, or iconic landmarks unique to your country. Incorporate these elements into your designs to create a sense of connection and authenticity.


Test and iterate: Once you have your initial designs, test them on sample socks to evaluate how they translate into the product. Make adjustments as necessary and seek feedback from trusted sources to refine further.


Production and Sourcing

When creating custom socks, there are various production methods to consider. Each offers different advantages and considerations.
Knitting

is a popular method for producing

custom socks

. It allows intricate patterns, designs, and text into the fabric. Knitted socks often offer a comfortable fit and flexibility. When sourcing a knitting manufacturer, ensure they have experience producing custom designs and can deliver the desired quality and attention to detail.



Sublimation printing

involves transferring designs onto socks using heat and pressure. This method allows for vibrant and detailed prints that cover the entirety. It is ideal for complex and colorful designs. When sourcing a sublimation manufacturer, ensure they have the necessary equipment and expertise in sublimation printing and the capability to maintain the integrity of your design during the production process.



Embroidery:

Embroidered custom socks involve stitching designs onto the sock fabric. This method adds texture and dimension to the design and offers a premium look. It is well-suited for simpler designs or logos. When sourcing an embroidery manufacturer, ensure they have the required machines and skilled operators to replicate your design onto the socks.



Material Sourcing:

To ensure high-quality

custom socks

, source materials from reliable suppliers. Look for suppliers specializing in sock materials and offer options that meet your desired quality, comfort, and durability requirements. Consider fabric composition, breathability, moisture-wicking properties, and stretch. Ask for samples from potential suppliers to evaluate the materials firsthand before committing.



Finding Reliable Manufacturers or Production Partners:

Research and reach out to manufacturers or production partners with experience producing custom socks. Look for companies with a proven track record, positive reviews, and a portfolio that aligns with your vision. Request samples or visit their facilities to assess their production capabilities, quality control processes, and professionalism. Consider factors such as production capacity, lead times, communication, and flexibility in accommodating custom designs.



Quality Control:

Establish clear quality control measures to maintain consistent product quality throughout production. It can include inspecting materials upon receipt, conducting regular inspections, and performing final quality checks before shipment. Communicate your quality expectations to manufacturers or production partners and request samples at different stages of production for evaluation. Maintain open lines of communication to address any concerns or issues promptly.



Prototyping and Sampling:

Before proceeding with large-scale production, it is advisable to create prototypes or sample batches to assess the accuracy of the design, fabric quality, and overall fit. This step allows for adjustments and refinements before mass production begins. Collaborate closely with manufacturers or production partners during this stage to ensure your vision of the final product.


Establishing Your Brand and Online Presence

Developing a brand identity is crucial for the success of your patriotic custom socks business. It helps differentiate your products from competitors and creates a lasting impression on your target audience.
Define Your Brand Identity,

brand values, personality, and target audience. Consider the emotions and values you want your brand to evoke, like patriotism, pride, or a sense of community. Understanding your brand identity will guide your design choices, messaging, and overall marketing strategy.



Create a Memorable Brand Name

relevant to your niche and resonates with your target audience. Consider incorporating elements that convey patriotism, national pride, or the essence of your country. Conduct a thorough search to ensure the chosen name is available as a domain and on social media platforms.



Design a Striking Logo:

Your logo is the visual representation of your brand and will be associated with your

custom socks

. Design a logo that reflects your brand identity and incorporates elements that symbolize patriotism or national pride. Ensure the logo is versatile, scalable, and works well across different platforms and mediums.



Craft an Engaging Tagline

to

communicate your brand's message and reinforce the patriotic theme. Create a tagline that captures the essence of your brand and resonates with your target audience. It should be memorable, concise, and aligned with your brand values.



Set Up an Online Store

that suits your needs and offers user-friendly features. Platforms like Shopify, WooCommerce, or Etsy provide easy-to-use interfaces for setting up and managing your online store. Customize your store's design to align with your brand identity, incorporating colors, imagery, and typography that reflect your patriotic theme.



Optimize Product Listings:

Craft compelling product descriptions highlighting the unique features and benefits. Use high-quality images that showcase the designs and details of your socks. Optimize your product titles and descriptions with relevant keywords to improve search engine visibility. Encourage customer reviews and ratings to build trust and credibility.



Develop Engaging Content:

Establish an online presence by creating engaging content related to your brand and patriotic themes. Start a blog on your website, write articles, or create videos that celebrate national events, share stories of patriotism, or provide styling tips for wearing patriotic socks. Engage with your audience on social media platforms by sharing relevant content, running contests, and encouraging user-generated content.



Build a Social Media Strategy:

Leverage social media platforms to expand your reach and connect with your target audience. Identify the platforms most popular among your target audience and create engaging and shareable content. Develop a consistent posting schedule, engage with your followers, and collaborate with influencers or patriotic-themed accounts to amplify your brand's visibility.


Marketing and Promotion Strategies




Implement various marketing strategies to promote your patriotic custom socks and reach your target audience. 
Social Media Marketing:

Leverage the power of social media platforms to showcase your patriotic

custom socks

. Create engaging content, including high-quality images and videos featuring your products. Use relevant hashtags and engage with your audience through comments, likes, and shares. Consider running paid ads on platforms like Facebook, Instagram, or Pinterest.


Influencer Collaborations: Collaborate with influencers or micro-influencers having a presence in the patriotic or fashion niche. Partnering with influencers allows you to tap into their engaged audience and gain credibility through their endorsements. Ask them to create content featuring your custom socks and share their honest reviews with their followers.


Email Marketing Campaigns: Build an email list of interested customers and send regular newsletters or promotional emails. Highlight new designs, special offers, or limited-edition collections to incentivize purchases. Personalize your emails based on customer preferences and purchasing history to enhance customer engagement and conversions.


Engaging Content Creation: Develop engaging and shareable content that resonates with your target audience. Create blog posts, videos, or infographics that celebrate national pride, share styling tips, or showcase the inspiration behind your designs. Encourage user-generated content by running contests or campaigns that invite customers to share photos of themselves wearing your patriotic socks.


Special Promotions and Discounts: Run special promotions or offer exclusive discounts during patriotic holidays, national events, or relevant celebrations. It can incentivize customers to purchase and generate excitement around your brand. Consider offering bundle deals, limited-time offers, or free shipping to encourage conversions.


Collaborate with Patriotic Organizations: Partner with patriotic organizations, charities, or community groups that align with your brand values. Sponsor events, donate some of your profits to a cause, or collaborate on initiatives. It supports a worthy cause and helps increase brand visibility and credibility among the patriotic community.


Customer Referral Program:

Implement a referral program to reward existing customers for referring friends or family to purchase your

custom socks

. Offer incentives such as discounts, freebies, or loyalty points for successful referrals. It helps generate word-of-mouth marketing and encourages customer advocacy.


Leverage Seasonal and Holiday Marketing: Capitalize on national holidays, patriotic events, or seasonal celebrations to promote your patriotic custom socks. Create limited-edition designs or themed collections that align with these occasions. Develop targeted marketing campaigns that resonate with the emotions and sentiments associated with these special times.


Building a Customer Community

Connecting with your customers and building a loyal community around your brand is vital for the long-term success of your patriotic custom socks business.
Personalized Customer Communication: Make an effort to personalize your interactions with customers. Respond to their inquiries, comments, and messages promptly and in a friendly manner. Use their names in communication and address their specific concerns. This personal touch helps customers feel valued and fosters a sense of connection.


Social Media Engagement: Actively engage with your customers on social media platforms. Respond to their comments, likes, and shares. Ask open-ended questions to encourage conversations and invite them to share their experiences or stories about your patriotic custom socks. It not only strengthens customer relationships but also creates opportunities for user-generated content.


Giveaways and Contests help gain traction and engagement. Ask customers to share photos of themselves wearing your patriotic socks, tag their friends, or use specific hashtags to enter. It helps generate excitement, increase brand visibility, and reward loyal customers.


Themed Events and Collaborations: Organize themed events or collaborations that align with your brand values and resonate with your target audience. For example, you can partner with local organizations to host charity events or participate in patriotic parades or festivals. It directly engages with your community, showcases your products, and builds relationships with like-minded individuals.


Support Patriotic Causes: Demonstrate your commitment to patriotic causes by supporting relevant initiatives or organizations. Donate some of your profits to patriotic charities or contribute to community projects that align with your brand values. Communicate these efforts to your customers to establish your brand to make a positive impact.


Encourage Customer Feedback and Testimonials: Actively seek customer feedback through surveys, reviews, or feedback forms. It helps you understand customer preferences and improve your products and services. It also demonstrates that you value their opinions. Display customer testimonials on your website and social media platforms to showcase positive experiences and build trust and credibility.


Exclusive VIP Programs or Loyalty Rewards: Create VIP programs or loyalty reward systems for your customers. Offer incentives such as early access to new designs, special discounts, or freebies. It makes customers feel appreciated and encourages repeat purchases. Consider personalized birthday offers or anniversary rewards to strengthen the bond with individual customers.


Community Forums or Groups: Create online forums or social media groups dedicated to discussions around patriotism, fashion, and your custom sock designs. Encourage customers to join these communities and actively participate in conversations. It fosters a sense of belonging and allows customers to connect with like-minded individuals who share their interests.


Expanding Your Product Line and Collaboration Opportunities

Expanding your product line beyond patriotic custom socks presents an opportunity to cater to an audience and increase your brand's reach.
Accessories and Complementary Apparel:

Consider expanding your product line to include accessories or complementary apparel that align with your patriotic theme. It can have items like hats, wristbands, scarves, or t-shirts. Ensure these products complement your

custom socks

and resonate with your target audience. Conduct market research to identify popular trends and demand for items within the patriotic or fashion niche.


Collaboration with Patriotic Brands:

Connect with other patriotic brands sharing similar values or target audiences. For example, you could collaborate with a patriotic apparel brand to create a limited-edition collection that includes

custom socks

and matching t-shirts. Collaborations allow you to tap into each other's customer base and gain exposure to new audiences.


Collaborations with Influencers: Partner with influencers with a strong presence in the patriotic or fashion space whose values align with your brand and whose audience matches your target market. Collaborate on content creation, giveaways, or special promotions. Influencers can help amplify your brand message and introduce your products to their engaged followers.


Collaborations with Organizations: Explore partnerships with patriotic organizations or charities. Work together on special initiatives, events, or fundraising campaigns. It supports a worthy cause, showcases your products to a broader audience, and builds credibility. Seek organizations having a following and a mission aligned with your brand values.


Approaching Collaborations: Do your research to understand their brand, values, and audience when collaborating. Reach out with a clear proposal that outlines the benefits of collaboration for both parties. Highlight how you can create value and reach new audiences. Be prepared to negotiate terms, such as revenue sharing, cross-promotion, or co-marketing efforts.


Mutually Beneficial Promotions: Develop mutually beneficial promotions or special offers with your collaboration partners. It could include bundle deals, exclusive discounts, or joint giveaways. Leverage each other's platforms and networks to maximize reach and engagement. Coordinate promotional activities and ensure clear communication throughout the process.


Maintaining Brand Consistency: While expanding your product line and collaborating with other brands, it's essential to maintain brand consistency. Ensure the new products or collaborations align with your brand values, quality standards, and design aesthetics. Consistency across all product lines helps to strengthen your brand identity and build trust among your customer base.


Conclusion

Creating and selling patriotic custom socks presents a unique opportunity to tap into the market of patriotic enthusiasts while showcasing personal style and national pride. By understanding the appeal of custom socks as fashion accessories and leveraging the emotional connection with patriotic symbols, you can create designs that resonate with your target audience.
Now it's time to take action. Start by brainstorming unique designs that showcase patriotism and resonate with your target audience. Take the first step today and embark on this exciting entrepreneurial journey with EverLighten.


FAQs


What is the most important thing in the art of selling?

The most crucial thing in selling custom socks is understanding and meeting your customer's unique needs and preferences.




How do you master the art of selling key points?

To master the art of selling, focus on building strong relationships, understanding customer needs, highlighting product benefits, and effectively communicating value propositions.



How much does it cost to print on flag socks?

The cost of printing on flag socks can vary depending on factors such as the printing technique, quantity, complexity of the design, and the specific printing service provider. It is best to contact a company for an accurate cost estimate.



Which sock material is best for flag socks?


Polyester is often considered the best sock material for flag socks due to its durability, vibrant color reproduction, and ability to showcase intricate designs.



What types of socks are popular?

 

Some popular socks include athletic, dress, ankle, crew, and novelty socks.