Comprehensive guide to custom printed sock manufacturing in 2022
|
Jan, 10 , 22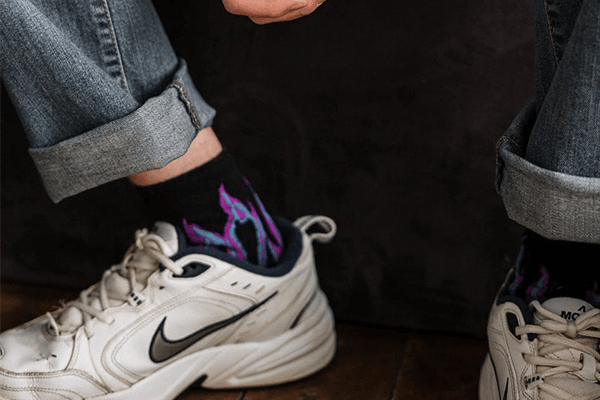 Custom printed socks are fantastic for showing off personality, creating brand awareness, supporting a cause/ charity, and creating bonds with employees, retailers, and vendors. There are many possibilities with custom socks, and you can choose from various styles, colors, sizes, and designs. You can also choose from different socks, i.e., athletic socks, casual socks, dress socks, and more. Do you like knee-high socks, or do you like crew socks, no-show socks, or quarter cuff socks - you are spoiled for choices. 
But there's more to a custom sock than simply the look itself! However, that chosen style will significantly distinguish between the sock's overall look and feel and the perceived quality.
Suppose you're looking for custom socks for your store or want information for your knitting needles or textile machine, go through the blog. You'll be able to produce high-quality custom socks online from the comfort of your home. But before you begin the process and finalize your sock style, first, you need to know various types of fabrication methods. 
There are two primary fabrication methods: 
Sublimation printing process 
360-digital printing process 
Each fabrication method is best fitted to completely different styles of socks. When you choose the incorrect process, you can find that your socks are not the quality you want. However, on the opposite hand, the proper method will assist you in bringing your vision to life in an exceedingly compelling way! We'll check the two main fabrication ways for custom socks, which fabrication method works, and which sock styles they're suitable for. Then, we'll fill you in on many different sock customization choices you can think of before finalizing your sock style.
 
Fabrication methods for Custom Socks
One of the most significant advantages of making custom socks is the freedom to change the pattern and style and different specifications like materials and cuff size. We provide a high-quality process of adding your custom pattern or style to your sock. Every process works with many alternative colors and levels of detail; however, each has its distinct advantages and disadvantages. 
Dye-sublimation custom socks
Dye-sublimated socks provide more incredible details and unlimited color combos. Dye-sublimated socks are created with a heat transfer printing process known as dye-sub printing; dye sublimation is done using a computer printing process that uses heat to transfer dye onto materials like paper, plastic, and, of course, fabric. Although the look isn't printed into the sock material, it still looks good when the material is stretched. You can only find gaps in the printing if you look closely. 
Use of dye-sublimation custom socks
Dye-sublimated custom socks are ideal for bold styles that incorporate various colors and intricate details. You can match the original design with this process. Therefore, if you're trying to find a fabrication methodology that stays the truest to your original design, dye sublimation is the method to choose. 


360- digital printing Socks
This process adds to the design after manufacturing socks. The print is done around a wrapped cylinder in this process instead of socks laying flat on the surface. All manufacturers don't offer 360-digital printed socks; EverLighten has sophisticated machines for using this process. 
Advantages of 360-digital printing socks
These socks are ideal for dynamic, colorful, and vivid styles. However, this can be the go-to sock if you're trying to find the advanced color dedication and a picture that wraps all the manners around while not the white gaps related to the old sublimation process. It yields a fine-looking result with endless color choices and noble printing fineness. 
Now that you simply have a far better idea of which kind of fabrication methodology may well be the best applicable to your forthcoming custom sock design. Your decision-timer has begun. We at EverLighten provides you with various options to design your custom socks: 
Cuff size
Choose whether or not you'd wish to produce no-show socks, quarter cuff socks, crew socks, or knee-deep socks. All cuff sizes are compatible with all fabrication ways. 
 


Material 
You have the option of choosing from multiple material composites, as well as customary casual like cotton, spandex, nylon, elastic, and more. You can also choose premium materials like bamboo, spandex, etc.  
 


Thickness
Choose whether or not you'd like a typical sock weight, thick weight,extra-thick weight, regular athletic socks with contraction ribbing, thick athletic socks with contraction ribbing, or extra-thick athletic socks with cushioning. All choices are compatible with every fabrication process. 
 


Extra customization options
Choose whether or not to feature on custom embroidery, terry artefact, contraction ribbing, nethermost grips, published/ knit textbook detail, custom cuff shapes, and more according to your needs. 

 


Uses of custom socks
There are many ways you can use custom socks for your business. 
 
Custom socks

go well with every attire; you can use them to promote your business name by giving them away at sports events at local colleges. 
You can also sponsor an event and distribute them among volunteers; people will instantly notice. You can distribute among potential clients at trade shows if your marketing budget permits. 
One amazing way to build goodwill and build a brand is by awarding custom socks to the top employees of the month; it is useful to the employees while promoting your brand name subtly. 
 


How to order custom socks
Head over to EverLighten.com and upload your design; the design experts will help you create the final design. They are an experienced and reliable manufacturer with no minimum order limits, and they have also made it easy to order custom socks in three simple steps. 
Request a quote
Customers can request a quote by providing a little information about the product. Their dedicated executives contact customers to go ahead with the process. 
Design and sample
After customers provide a plan, they create a free mockup and send it back to them for approval. Afterward, the company sends free samples to customers for their final confirmation before manufacturing. 
Production and delivery
The experts check each item for its quality. The company provides its customers tracking information to track their shipments. 
Why choose to work with EverLighten
EverLighten is a reliable name in the industry focusing on customer satisfaction. Some of the advantages of ordering custom socks are: 
 
Order any time
You can order any time of the day according to your convenience. 



No minimum order limits
You can order any number without worrying about order rejection. 
 
Free design help
Upload your sketch or image, and design experts will help complete the final design. 



Fast turnaround
They own the factory, so they finish every order in the minimum time possible. 



100% quality check
The experts check every item for quality during manufacturing and before shipping. 
 
Free shipping worldwide
You will get free worldwide shipping. 
 
They put their heart and soul into creating every sock. Check out and design custom socks at EverLighten.com.