Custom Socks
Celebrate international dog day with custom socks
|
Aug, 08 , 22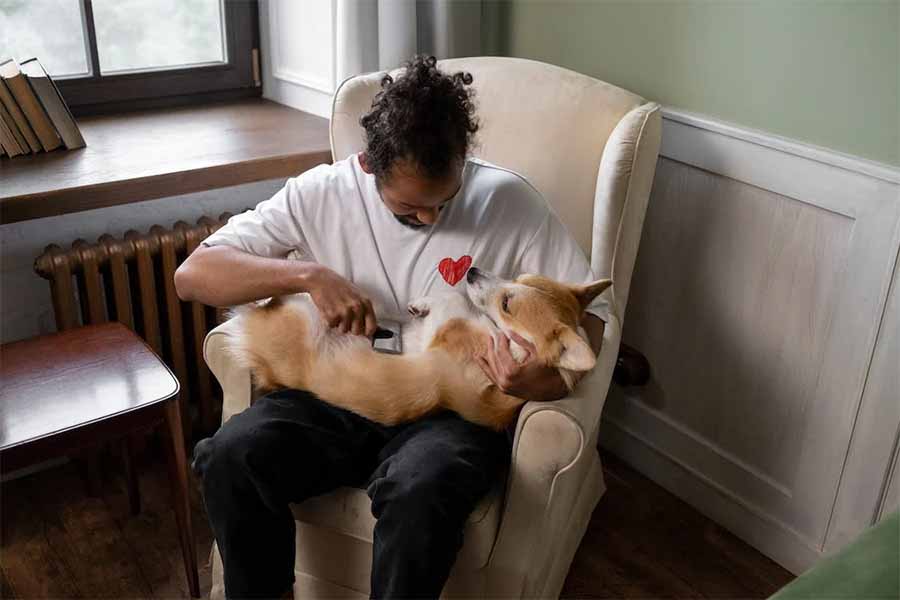 Dogs are our best friends and are the most popular pets worldwide. They are loyal, cute, protective of their owners, make us happy and shower unconditional love. So it's natural for us to dedicate a day - 26th August - to celebrate our furry friends. Although we all know only a day to them is not fair, they deserve to be celebrated every day. Custom pet socks are a lovely way to celebrate this friendship. They are also an innovative way to raise money for dog charities and increase brand awareness for pet shops and companies. Before diving in, let's start with shedding some light on the dog day.
History:
International dog day is celebrated on 26th August worldwide to encourage people to adopt dogs instead of buying them. Collen Paige, started the day in 2004 to commemorate the adoption of a dog - Sheltie. It gained popularity fast, and people in many countries observe and celebrate the day.
The day puts the spotlight on a vital issue - dog rescue. The dogs at the local authorities are in desperate need of attention. People abandon them when they become old or sick. The aim is to motivate people to adopt and care for these animals and give them the life they deserve.
Custom pet
socks
 for pet stores, nonprofits, and businesses:
To celebrate the precious bond: Every dog lover wants to take their dog with them everywhere. However, it is not always the case; there are some places they are not allowed. Custom socks with the dog's face are one way to celebrate your love for them. People can go places wearing them, including business events, working out, etc. It will be a talking point and remind people not to abandon their dogs. If you are a company, printing custom dog socks with your logo will make you popular with dog lovers quickly.
For gifts:Custom socks are a beautiful gift for pet lovers. You can create them for personal or professional reasons. It would benefit your pet store business immensely to promote using these socks. They are easy to manufacture in bulk, and you can use other occasions too. People will love the unique and cute socks as they love dogs.
For memories:dogs live up to 12-14 years, and people feel sad after

they

are gone. Custom dog socks are suitable to respect them; you can also create them for their anniversaries. For shops and nonprofits, when someone adopts a dog, you can give them a sock to celebrate the occasion. They will talk about their positive experience with their peers.  
For awareness: People remember the organization's name after receiving free merch. They are budget-friendly; they won't cost you much and will provide tremendous ROI.
For fundraisers:Dog charities need a constant flow of money to carry out the work successfully. They need money for medicines, building shelters, food, etc. Custom socks help raise money; when people receive validation of their good deeds, they donate more.
How to create custom dog socks?
There are three popular methods of manufacturing custom dog socks. Start by answering the questions to choose the best process:
Do you want the socks to have your brand logo on them?
Do you want to use festive-themed dog socks?
Based on the answers, you can choose from:
Jacquard knitting is a traditional process in which we weave the design into the sock fabric. They are lovely for repeated patterns and designs. These socks look classy and come in a wide selection of lengths.
When to choose: The process is suitable when you want clean-looking socks with a repeating pattern. You can use the socks to spread awareness about the day, brand, and fundraisers. People can wear them at work and other places without feeling awkward.
Dye-sublimation

 is a method of creating deep design prints on socks using heat transfer printing. The process provides you with rich details, long-lasting images, and vibrant colors. It is best suited to polyester fabric. You can print the design on the front, back, or both; printing on the side of the sock will stagger the design, and you can see the side seams.
When to choose: the method is suitable for dog socks; you can print realistic images easily. They have a sleeker feel because of less yarn and fuzz.
360-degree printing

 is the latest upgrade to dye-sublimation printing. You can create dog socks with all-over print seamlessly. The colors permeate deep, and you can't see any white spots after stretching the socks. The method gives ultimate freedom to choose colors, patterns, and designs. You can also print the dog's photo all over them.
When to pick: The socks with vibrant images and realistic design flexibility are lovely for holidays, tradeshows, festivals, and gifts.
Note: When designing custom dog socks, ensure to save and send the image at high-quality - 300dpi or above. Failing to do will result in poor prints.
Ways to celebrate international dog day with custom socks:
Encourage adoption drives: You can create dog socks and distribute them during the week/ month to encourage people to adopt them. If someone is looking to adopt, your shop or shelter will get their attention with the logo and message. Please inform them of all the responsibilities and methods to care before adopting.
Thank volunteers: Not everyone can adopt a dog, but they can volunteer their time. Charities need as many volunteers as possible to accomplish their mission. Thank volunteers with custom socks for their precious time and efforts. You can encourage more people to join the nonprofit with a signup drive. They can clean cages, walk or play, etc.
Donate to animal welfare organizations: You can create dog socks and run fundraisers to gather funds. It will benefit your brand if you are a business by building goodwill. You can donate the money or buy dog foods, blankets, toys, etc., and give them to relevant charities.  
Organize events:You can organize or sponsor dog shows in the locality and distribute the dog socks at the event; it will affect your brand positively.
Conclusion:
Now that you know about international dog day, manufacturing, and the ways to use custom dog socks, it is time to create. Dogs are precious, and you don't want to use low-quality socks unworthy of them. For high-quality custom socks, you need to contact EverLighten. They have over eighteen years of manufacturing experience for various companies and nonprofits.
The Let It Be Foundation is run by women and helps children and families affected by cancer; they arrange fundraisers. The nonprofit was looking to run a fundraiser and increase awareness using custom socks and neck gaiters. When they contacted us, we were touched by their mission and showed our support by providing a 15% discount on the total production cost. Our in-house designers helped them create beautiful designs worth their mission. After receiving the custom items, they showered us with positive praise; it was a wonderful experience to be associated with such a noble cause.
Benefits of working with EverLighten:
Best pricing: they are a dedicated factory for producing custom socks and not intermediaries; customers always get the best price.
Quality without a compromise: they use premium-quality materials and the latest processes.
Fast turnaround time: they provide the quickest delivery for every order.
24*7 support: you can contact us anytime; they provide round-the-clock support.
Real people, phenomenal service: EverLighten loves helping; they offer various options for every sock.
Free design help and unlimited customization: the custom socks will look as you imagined; they also provide endless customization.
No MOQ requirement: you can order as many socks as you need; they accept orders without a minimum limit.
Worldwide shipping: they deliver worldwide; customers can track their orders anytime with an order tracking tool.