Best promotional items for sports teams
|
Aug, 08 , 21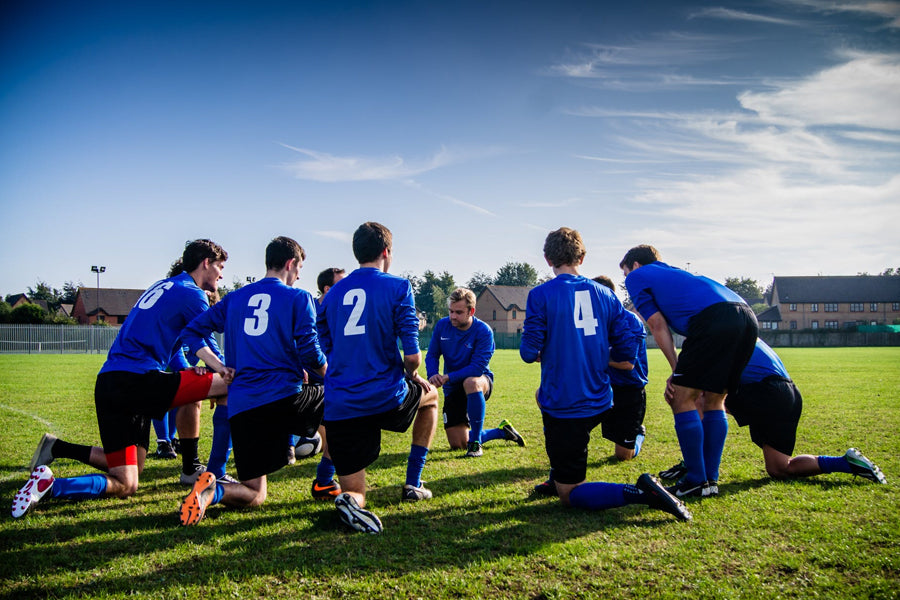 The whole world is watching the Olympics, and everyone is cheering for the athletes representing their nation. Every athlete is giving their 100% to bring glory and pride to their country's soil. In recent times, we all are taking more interest in sports, and brands are more involved in using this opportunity to advertise their business on a global platform. We all know promotional items for sports teams can help your brand being relevant in your customer's minds. In this article, we will be discussing the promotional products ideas for sports teams. So, let's dive into the pool of opportunities.

Promotional items ideas for sports teams
Calling yourself a super sports fan without having official team merchandise is a crime. You should at least have your favorite team's custom team apparel, custom jersey, custom hoodies, etc. The team's merchandise is a part of the experience. Whether you are going to watch the professionals at a stadium or enjoying a game at a pub or club, it is important and fun to display your enthusiasm for your favorite team. Here is the list of promotional products that you can purchase for the love of your favorite sports team. If you are running a business, then giving away custom socks, custom t-shirts, custom keychains, custom basketball, and other custom products at gift shops and concession stands can be a good idea.

Custom team apparel
Fans mostly purchase a custom t-shirt or custom jersey which has a logo of their favorite team. But it won't stop them from buying other custom team apparel to add to their collection.
Custom jersey
Custom t-shirts
Custom hoodies
Sweatshirts
Hats
Vests
Scarves
Gloves
Jackets
Onesies
Many sports leagues will offer
custom team apparel
 for their fans. They care for their fan club, thus allowing them to display their swagger.

Waving flags
Waving flags are the symbols of pride and dedication to an organization or team. You may have seen waving flags around the stadium during national sports games. Flags are also used to decorate walls and hang from the rafters. People feel proud while they wave flags of their favorite team or national team. Many sports fans would love to have them as souvenirs. It allows fans to show affection towards their favorite team, and it is the best way to encourage another generation of fandom.

Keychains
You will find custom keychains at any gift shop. People like to carry keys with attractive keychains. They are also the most affordable sports merchandise. So anybody can buy them. Not every fan can afford expensive custom team apparel or fancy shoes. For them, custom keychains are great as they allow them to be fans and don't impact their budget that much. If you are searching for promotional products for your sports league, then custom keychains are an affordable option. You can make it in your team colors, so the fans will find it more relatable. You can also create custom keychains shaped like a team's logo design with the fan's name engraved on it.

License plate frames
People are finding innovative ways to support their teams. You can now support your team while sitting in traffic too. To do that, you just have to attach a personalized license plate frame to your car. Some fans are passionate enough to paint their whole car with the theme of their favorite team. When a car owner does something like this, everyone will take notice of it. That car will act as a billboard for a sports team. The vendors at the stadium may think of selling license plate frames during super games.

Mascot teddy bears
Kids love sports too. Keeping that in mind, every stadium, arena, or league should sell stuffed animals promoting sports teams. Kids love these furry toys, and they will keep them for years. They may also use it at night for comfort. You should not ignore the young fans. They can become the most loyal fans of your sports teams.

Custom tote bags
People can use custom tote bags for several reasons. They can bring them to work, use them for weekend getaways, put groceries and other important stuff while shopping, etc. Thus, you can consider it as the best sports promotional product. Many teams distribute custom tote bags to their fans. It can be a part of the sports teams' stylish campaign.

Personalized mugs
Many love their morning tea or coffee, whether they are football, baseball, basketball, or hockey fan. That is why personalized ceramic mugs and travel mugs are considered great promotional products for any sports team, club, or organization. You can create distinctive custom basketball-shaped or football-shaped mugs for fans. You can print their name on these mugs to appeal to more people.

Postcards & Greeting cards
You may think that greeting cards and postcards are old schools, but believe us, they are a much better choice for fans who travel to a different state to enjoy a game. Many sports clubs keep seasonal cards in their gift shops during holidays. Sports fans can buy them and send them to their family to click an awkwardly memorable photo.

Team ornament, lapel pins, and medals
You can curate team ornaments, custom lapel pins, or custom medals for decorative purposes. It can help you embellish the house every season. You may use custom medals or team ornaments to decorate the Christmas tree. People who visit your home during this holiday season will notice these incredible team ornaments, custom lapel pins, or custom medals and appreciate your passion for sports.

Foam fingers or wavers
Every sports fan wants their team to be number one. You can show that your team is a winner with classic foam fingers or foam wavers. They are a great way to keep the crowd on their feet during exciting games. It creates an amazing atmosphere around the stadium which may help boost the confidence of the players too.

Pint glasses
Sports fans celebrate their team's victory every time. A sports team or an organization should take advantage of it to create branded pint glasses. It would light up the stadium when their team scores a touchdown or win a thrilling contest. Pint glasses are a big hit with fans.
We may love different teams, but we all love the merchandise. A sports fan will love to collect different custom team apparel. So even though you are not an expert, make sure to have one of these great promotional products for your league or organization.

How to order custom promotional products for your sports team?
You can read the following steps to understand how to order custom promotional products for your sports team.

Step 1 - Budget
First of all, you must decide and allocate the budget to order custom promotional products. If you figure out the budget first, then the whole ordering process will become much smoother.

Step 2 - Merchandise
The budget will help you determine the type of products you can customize and how many processes each piece may receive. EverLighten's team will guide you through the whole process and will make it interesting. We will guide you to pick out the best merchandise for your sports team. We have an amazing range of products like custom socks, custom t-shirts, custom jerseys, custom medals, custom keychains, custom lapel pins, custom basketball, custom hoodies, etc. Pick the best one as per your budget and needs.

Step 3 - Sales order
Once you decide on the products you want to customize, you can confirm your order. This order comprises the products and customization of the entire order with final pricing. When you confirm the order, EverLighten will start the process of customization for your selected products.

Step 4 - Design
Not many customers have designing skills. Thus, our experienced team guides them and creates appealing graphics for the products. They will rework the designs till customers are fully satisfied. Designing is the first step towards customization, and with impressive graphics knowledge and design abilities, EverLighten makes this process smooth.

Step 5 - Proofing
After you finalize the design, our staff will deliver your artwork, or you can call it a mock-up of your design. It will be on the actual product of your choice. Once we provide you that, you have to check it thoroughly and confer changes if there are any. This process ensures that you are finalizing the selected design for final printing. So, double-check all the spellings, grammar, colors, etc. Once a design goes to production, it will be impossible for you to make changes without reprinting.

Step 6 - Confirmation & Production
After getting a sample, you approve the proof and send revisions that may be needed. Once you approve the design, we will start producing the merchandise.

Step 7 – Delivery
The last step is delivery. Once the production process completes, we arrange merchandise pickup, shipping, or delivery, depending on your location and preference.
EverLighten is the leader of the customization industry, and we curate several customized products. You can contact us for any kind of custom promotional products for your sports team.