A definitive guide to embroidery for promotional merch
|
May, 24 , 22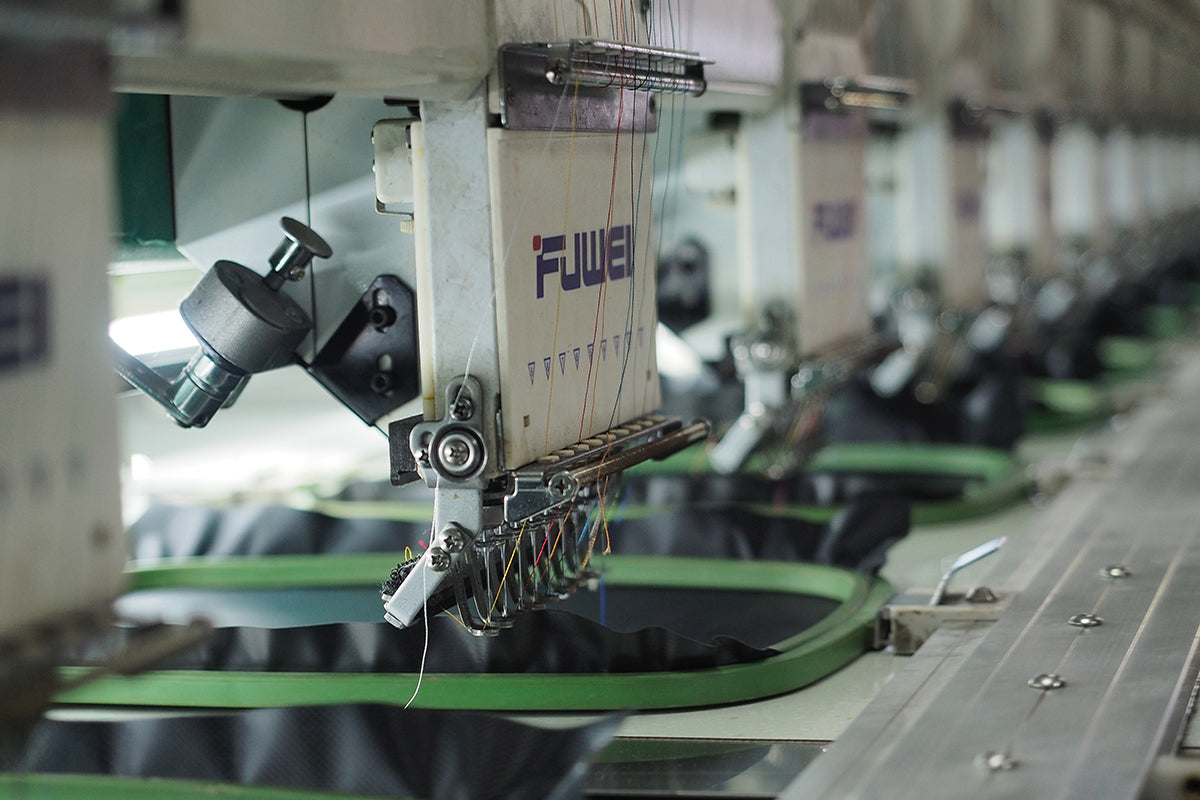 Promotional merch is one of the most effective ways to build your brand by connecting with the audience. People receiving products with your logo will feel connected with your brand because of the law of reciprocity. It has been a time-tested and proven strategy to provide wonderful ROIs. However, with many types of embroidery techniques to create your logo on products, it can sometimes be confusing. When ordering embroidered merch, it would be helpful to understand the process and become familiar with what's possible and available. The blog will provide you with a complete idea of what to consider for your embroidered promotional merch fitting your requirements, budget, and delivery time. 
Let's get started: 
Design:
Do you have the design ready? Designing a logo is a piece of cake for some people, while it can be challenging for others. There are several resources available for creating your design in digital form. However, you can always use the traditional route and start with creating a sketch. You can send the drawing to the manufacturing company - many companies like EverLighten have their in-house designers create the design for you. One thing to keep in mind is the size of the logo you want; if your logo has a lot of details, you would like to start by designing a slightly bigger one to make it visible easily. 
You can use the auto-digitizing software to convert the image into embroidery.
You can manually digitize more complex designs with complete control. 
You can combine these two methods to create a more well-rounded, beautiful design. 
You can't deny the importance of design in promotional merch; people attracted to a design are more likely to buy from you. 
The design makes your product more visible

:

You need to think of all the designs a consumer sees in their average days, from social media to real life. Companies are fighting for the limited amount of attention we have. You need an eye-catching and elegant design to separate yourself from the crowd while keeping it synced with your brand image. 
It drives conversion:

People get connected with the colors and shape of promotional materials, equating them to your products/ services. It would help if you designed it to send the right message to receivers. You also need to research if using some other images regarding designs because copyright laws protect them—for example, Olympic rings. 
Embroidery technique:
Many different embroidery techniques are suitable for various purposes. Often the fabric you choose for your promotional merch affects the quality of your embroidery and the type of technique. 
Basic embroidery

is suitable for simple texts, graphics, and logos.

Gradient coloring, puff embroidery, applique, etc., are specialty embroidery processes providing different looks. 
The image resolution also affects the quality of embroidery; if you have more details in the image, you would want to send high-quality images to the manufacturer. 
Stitching techniques: 
It is one of the most crucial, if not the essential, points to remember when creating your logo design for custom promotional products. It is the process that will transfer your image/ design on the product like t-shirts, hoodies, socks, etc. There are a variety of stitching techniques, but three are the most common techniques: 
Satin stitch

:
The technique is also known as a column stitch or the damask stitch and is the most common stitch used in custom embroidery to create letters in names and outline images. The satin stitch goes back and forth across the entire width of the area where the colored threads are used, giving a smooth look and raising the stitch above the fill. The uninterrupted stitches and solid lines give the column stitch distinct satin or glossy appearance. The technique is used for text, borders, and places where narrow stitching is required. It enhances the stitching. It works in any direction and may vary in size. E.g., when filling in a leaf shape. The longer the stitch, the more vulnerable it will become to being untidy; the skill is in creating stitches that lie evenly and closely to persevere the edges. 
Fill stitch:
The process is also known as tatami or ceding and helps fill in spaces of solid colors. The technique helps create the background or underlay foundation to flatten bulky fabric types, patch backgrounds, or large, single-color images. It prevents puckering between satin stitching areas and helps create a matte and polished look. It is suitable for coloring or shading in places and is often straight lines; however, you can curve it depending upon the design.
Balboa or trapunto stitches are forms of fill stitch helpful in holding down the thickness of knap of fabrics like fleece. It is used as the base to stitch embroidery on top to prevent it from sinking into the fabric. 
Running stitch:
The technique is also known as the walking or straight stitch, which are tiny fine dashed stitches helpful for creating finer details of the design. It gives a hand-stitched look to the design. You can also blend in small amounts of color within the base color. The procedure involves inserting a needle into a fabric and taking it out at small intervals. The length of each stitch varies according to the purpose, and the threads are more visible on the right side of the fabric than on the opposite side. Running stitches are practical for thicker materials like jackets, hoodies, hats, belts, bags, etc. 
Variations of running stitch: 
Double running or Holbein stitch:

It uses a second working line of running stitches over the first one to create a solid stitch line. The second row is in the reverse direction by placing the stitch between the previous pass, so there are no spaces between the stitches. It helps create embroidery outlines because it produces a single bold stitch line. 

Basting stitch:

The process is sometimes called the Tailor's tack, and it involves creating long-running stitches for holding two pieces of fabric together. It is helpful for sewing the pieces together and holding them in place during the final sewing. 

Darning stitch

:

The closely spaced parallel lines of running stitches helpful in creating logos/ designs is the darning stitch. 
Double Darning stitch:

When the Darning stitch is combined with the double running stitch, the process is known as the double darning stitch. It creates closely spaced parallel solid stitching lines making it perfect for embroidery borders. 
Threads selection:
Before diving into various fabric types for embroidery, you need to know about backing. It is a specialized type of fabric that is useful for creating the foundation for stabilizing embroidery stitches. Since fabrics are flexible, backing provides stiffness giving the stitches something stable. There are many types of backings, and a helpful manufacturer like EverLighten will provide you with options and guidance to choose the correct one according to your requirements. Backing comes in white for light garments and black to reduce visibility; it is mostly undetectable. You can use hats, bags, and jackets without a backing because they are sturdy enough to do the job. Thin or flimsy fabrics like silk, rayon, or thin t-shirts and socks are unsuitable because backing will be visible noticeably on these garments, especially in light or white color. 
Two primary threads used for embroidery are:
Rayon:

The thread is smooth and shiny with a soft finish that is best for delicate or high-end promotional products. E.g.,

corporate apparel

like t-shirts. 

Polyester

:

It is one of the most helpful and multipurpose threads suitable for most apparel, including sports teams uniforms. The thread provides a matte appearance that is strong and durable. It can withstand bleaching, detergent, and hot water washing. 
Specialty threads: 
Metallic threads

add great contrast to different embroidery designs, but they are challenging to work with; it takes an experienced manufacturer like

EverLighten

to create the design per your requirements. The metallic threads have metal wrapping around an inner core, making it delicate and expensive. 

Fire-resistant threads

:

If you are creating industrial uniforms, fire, safety, transportation, etc., these are the threads you need. They are available in bright electric orange, red, and soft pastels of blue and pink. 
Glow in the dark threads

:

As the name suggests, these threads glow and help create a logo/ design to stand out in the dark. 
Solar active threads:

These special threads change color when subjected to light. It works pretty well with high-speed embroidery machines and is available in six sun-activated colors. The threads are costly compared to other types of threads. 
Color matching your design:
You need to think about how the colors will look on the design; you can create the design with different colors and choose the one suiting the brand image you want to make. Pantone colors are used for assigning specific colors in the art files or logos. However, it would help if you considered some changes because not all Pantone colors are available in threads. You can consult the manufacturer or view the book and select the color closely resembling the color you want. 
Delivery time:
You need to keep in mind the delivery time because rushing your orders can result in poor-quality promotional products. You can opt for rush orders, but, chances are, it will increase the overall cost. It would be helpful if you discussed this with your manufacturer before ordering. 
Staying within your budget:
It is pretty easy to go overboard with creating promotional embroidered products with various options. But, marketing is a continual effort; you can't hope to develop and distribute one time and reap the benefits for a long time. Having a budget ensures your prices and expenses stay within the budget. 
Embroidery is a complex process and requires expertise and experience to produce the right design for various promotional products. It would be better to have a wide range of options available under one roof. EverLighten has been manufacturing custom embroidery products for over eighteen years. They have helped startups, large organizations, sports teams, universities, colleges, celebrities, and individuals with their promotional apparel. 
Best pricing: They provide the best pricing because they are a factory and not intermediaries. 
Quality in every product: They use top-quality materials and the latest processes to produce promotional apparel. 
Real people, outstanding service: EverLighten loves helping; they offer various eco-friendly options also. 
Designs to impress: Your design will look as you imagined with help from in-house designers.  
No minimum order quantity: You can order any number of items you require; they accept every order without a minimum amount. 
Worldwide shipping: They deliver worldwide, and customers can track their orders online with an order tracking tool.
For more information and design, visit EverLighten.com.