A complete guide to Iron on custom patches
|
Jun, 28 , 22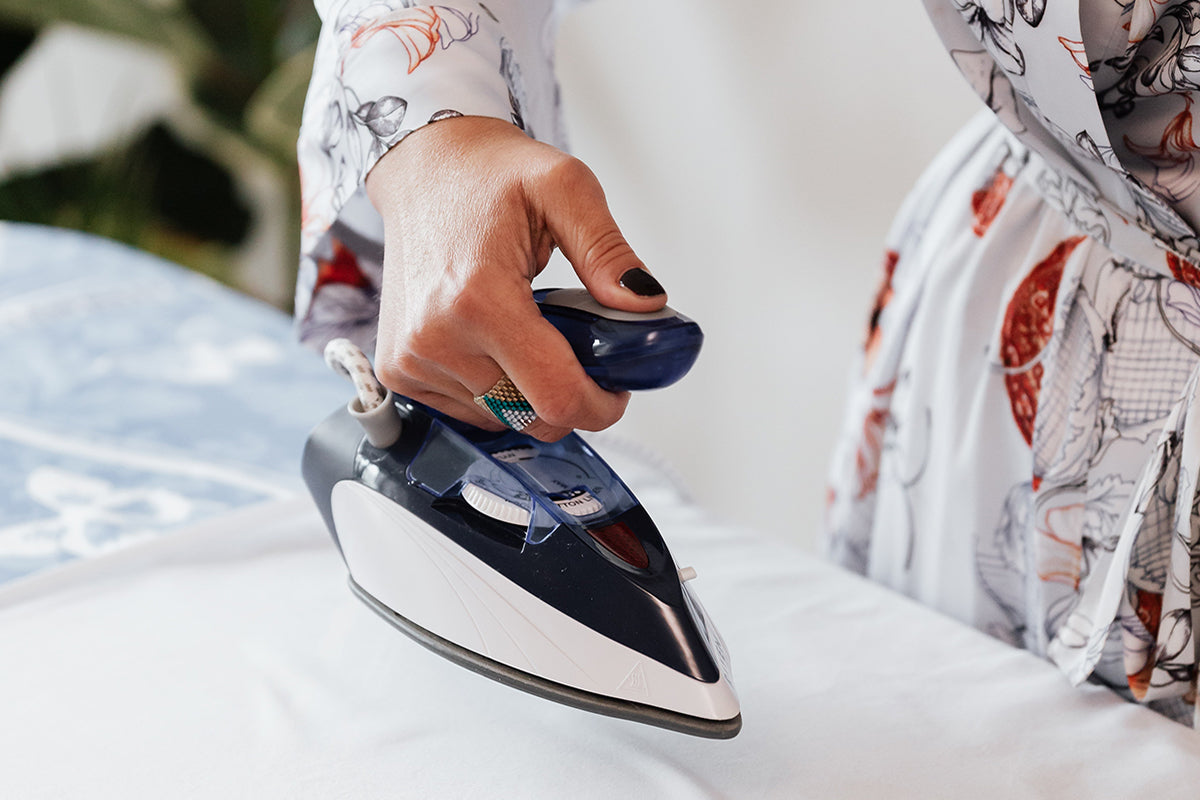 Congratulations! You have received your custom patches, and now, you can't wait to use them on your favorite product. However, there is an issue; you don't know how to iron on custom patches. Don't worry; you are not alone; many people worldwide don't know about the subject. Luckily, the blog will guide you on the best ways to use your patches. So, without further adieu, let's get started by answering the question:
What are iron-on custom patches? 
Most custom patches come with a backing, and an iron-on is one of those backings; it is a thin plastic backing coated with a special adhesive. The glue activates and melts when it gets hot, sealing the personalized patch onto the material of your choice. 
Previously, patches like military, scout, etc., were hand-stitched. But, with the technological advancements, we have got various types of adhesives for quick application. You can create customized patches with colors and designs and use them efficiently. 
Although you can have different backings, embroidered patches work pretty well with an iron-on backing. After creating embroidery patches, a thin layer of plastic seals over the back to give more security to stitching. A layer of adhesive is used to coat the plastic afterward. 
The embroidered patches have a thick layer of thread and a thin layer of plastic resting on top of the adhesive. It would help if you had a lot of heat to penetrate the layers and melt the glue. However, you don't want to overheat that it scorches the thread or melts the backing. It could also damage the garment and ruin the patch. 
The suitable heat for applying iron-on embroidered patches is 270-degree Fahrenheit. But, most household irons don't come with a digital temperature setting. You can read the manual, but, let's face it, you are not going to search for it. You can use the information: for "cotton," the irons reach a temperature of 275-degree F. Before starting, you need to check the heat sensitivity of the garment. You can find the information on the manufacturer's label inside the garment. E.g., a fabric made of cotton will handle more heat than fabric like nylon, athletic clothes, leather, etc.  
The time to hold onto the patch will vary according to the size and thickness, and you can get the information when buying the patches. Generally, pressing at least 30 seconds is recommended for thoroughly securing it. 
On a shirt/ jacket:
Using an embroidered patch on a jacket, shirt, hoodie, etc., is relatively easy because of the large flat surface to place the patch. You can start by reading the manufacturer's label to ensure it is safe to iron on the fabric. E.g., you don't want to iron a silk shirt. 
Set your iron to a temperature of 270- degrees F. Home irons have "cotton" marked on them and will be the setting for the purpose. 

Figure out where you want to use the patch. You can use a measuring tape and chalk to mark the spot. E.g., for wearing the patch, you can measure equal distances from the side seam. 

After marking the spot on the cloth, you need to pre-press the area; it will remove any wrinkles. 

You must place the patch on the desired spot and smooth it using a pressing cloth. You can use a thin cloth if you don't have a pressing cloth. E.g., a tea towel or cotton pillowcase. 
The pressing time will vary from patch to patch; usually, it varies between 12 seconds to 30 seconds. 

You also want to iron the inside of the cloth and not sweep the iron from side to side - only press down the spot.
Parchment paper:
Some manufacturers suggest using silicone-coated parchment paper instead of using a pressing cloth. It is cheap, effective, and heat resistant. 
Don't place the paper between the patch and the cloth. It is meant to protect the patch from excessive heat and not for sticking the embroidered patch to your apparel. 
You need to use one piece; however, you can use two for extra sensitive patches. 
While ordering custom embroidered patches, you need to ask the manufacturer whether you need to use parchment paper.
Work clothes:
Most business apparel uses fabrics that may melt/ scorch when exposed to high temperatures. You need to read the label carefully. E.g., If the label has a picture of iron with an "X" mark or "dry clean only," don't apply the patch. 
If you are an employer, it would be better to provide detailed information to employees, so they don't ruin their work clothes. 
Jeans: 
You can easily use iron-on patches on jeans or denim. They contain cotton that sticks with the adhesive backing and resists high temperatures, and it makes jeans an ideal choice for using embroidered patches. 
You need to follow all the basic instructions mentioned above, and the only difference is putting something inside the pant legs to protect the reverse side. You can use a piece of parchment paper or cardboard to avoid gluing pants legs. 
Leather:
One of the most common questions is, can your iron-on patch be on leather? The answer is yes and no. It would help if you did not use heat directly on leather. However, you can use iron to help put the patch on a leather surface. 
You need to clean the leather surface using cleaning products. E.g., you can use a drop of soap in warm water and a sponge to wipe away the dust. 
Next, you need to find a fabric or craft adhesive for use on leather. 
You must apply the embroidered side carefully by drawing a thin line with the glue around the edges. 
Place the cool iron - don't turn it on - on top of the patch. 
Let it sit for 12 hours. 
You can also use heat to iron the patch onto a fabric scrap and sew it onto the leather. It is a better and more permanent method of applying embroidered patches on leather.  
Shoes: 
Custom embroidered patches on canvas shoes look exceptional; they give your footwear a unique personality. You need a few additional steps to adhere to patches on more rounded surfaces. 
Mark the place using chalk where you want to place the patch on the shoes. 
Now, roll up a handful of paper and stuff them firmly inside the shoes. You would need a solid surface that your iron can press. 
Place the patch where you've marked. 
Set the iron to a high-heat setting and press it down for about 30 seconds. 
Now, let the patch cool after removing the pressing cloth. Tug the edges carefully to see if it holds firm. 
You must repeat the steps twice if the patch doesn't seem secure. 
With a hair straightener:
You can sometimes use a flat iron or hair straightener as an alternative to an iron; they also come with a digital temperature reading making them easier for patches. Additionally, the double pads allow you to heat the back and front simultaneously, and you can complete the process quickly. 
However, it works best on small objects like hats, headbands, cuffs, collars, etc. It is challenging to reach the middle of a shirt or the knee of jeans. 
Polyester: 
Ironing-on custom patches on polyester are similar to cotton, but you will need to use lower temperatures and longer pressing time. You can use high temperatures and place a thick cotton fabric like a cotton t-shirt between the patch and the iron. 
You can avoid the risk of damaging your apparel by using fabric glue to hold the patch in place. You can also sew the patch more safely and permanently. 
Do iron-on patches last long?
Iron-on patches are durable with solid adhesive; they remain firmly in place if left undisturbed. But, moisture, movements, friction, etc., can make the patch peel away. E.g., if you wear your denim jacket covered in patches in the rain, the patches can retain some moisture, and they could slowly curl up and peel away. If you've put patches on the knee of the pants, constant movement will wear out the glue faster. You may want to add a hand-sewn whipstitch around the patch's edge to avoid the issue. 
Which is better: iron-on or sewing? 
It will depend on many factors, like how roughly you use the apparel or product. Iron-on patches give faster but semi-secure results; you need to sew the patches for a permanent effect. You can sew the patch into place for products like backpacks, shoes, etc., that you would wear often. However, an iron-on option is better if you want to use a tiny patch on a shirt once or twice a year; it will save a lot of time sewing. 
Conclusion: 
We hope you have all the information regarding how to iron on custom embroidered patches. But, before ironing, you would need to manufacture them. With numerous manufacturers, you need to trust the one with years of expertise and reliability like EveLighten. They are trusted by startups, large organizations, sports teams, nonprofits, colleges, universities, and celebrities for their custom products, including custom patches. 
"I've gotten better quality, amazing details, friendly customer service, and lower prices from EverLighten." These are the words from the Heating and Cooling Co., Ltd. after receiving their custom patches from us. The company was tired and frustrated with their searching for a manufacturer able to provide high-quality custom patches, and they were elated and 100% satisfied with our work quality. 
Read the complete story here, https://everlighten.com/blogs/success-stories/company-the-heating-and-cooling-co-ltd. 
Benefits of partnering with EverLighten:
Best pricing: They are a factory for producing custom patches and not intermediaries, ensuring customers always get the best prices. 
Quality in every product: They use top-quality materials and the latest processes to produce embroidery patches. 
Fast turnaround time: They provide the quickest turnaround time for every order. 
24*7 support: Customers can contact them 24*7 for their queries resolution; they reply within half an hour. 
Real people, fabulous service: EverLighten loves helping; they offer various options. 
Free design help and unlimited customization: Your patch design will look as you imagined with help from in-house designers.  
No minimum order requirement: You can order any number of patches you need; they accept every order without a minimum limit. 
Worldwide shipping: They deliver worldwide, and customers can track their orders online with an order tracking tool.
For more information, queries and design, visit https://everlighten.com/products/custom-embroidered-patches.