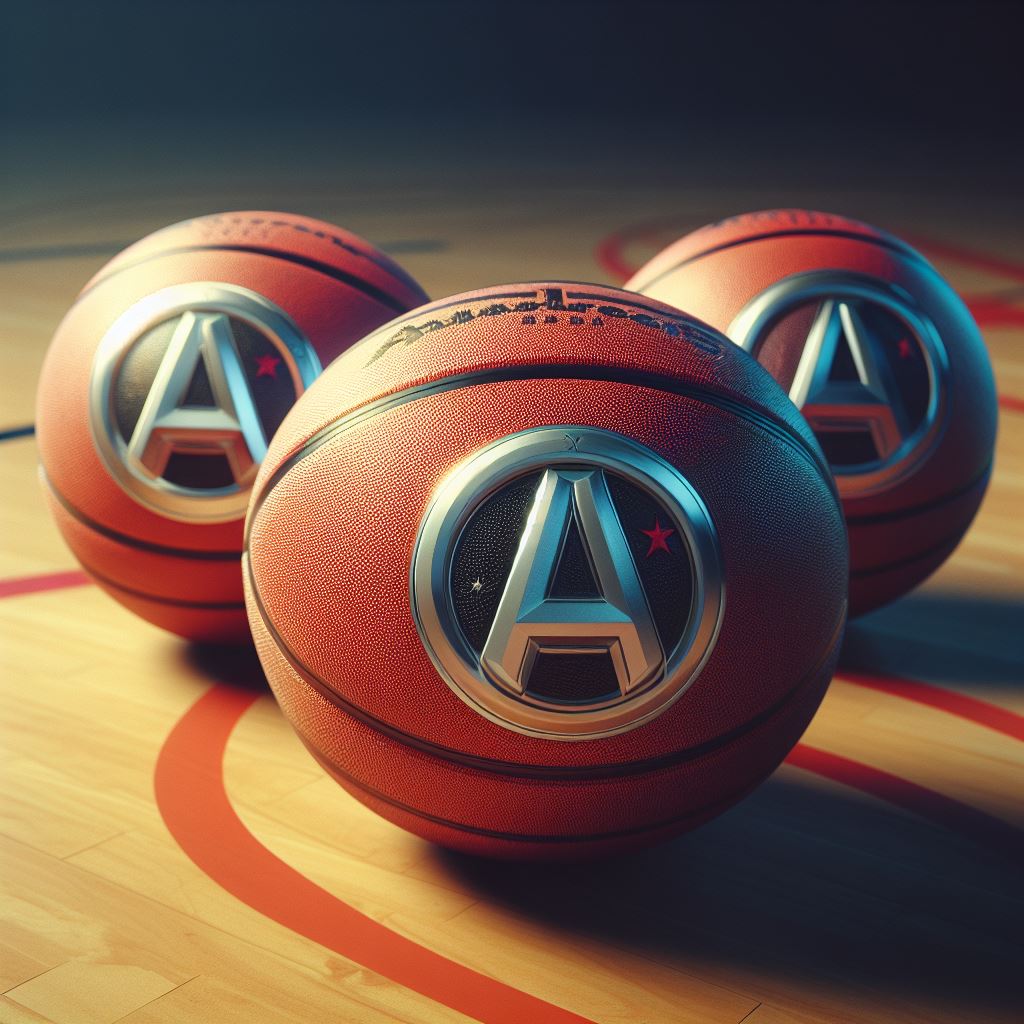 In a world overflowing with advertisements and marketing strategies, a way to stand out and make a lasting impression is essential. Here, the power of promotional merchandise comes into play. Custom promotional items leave a tangible mark on your audience and create a sense of connection and loyalty that other forms of advertising struggle to achieve.
Among the diverse range of promotional merchandise available, custom basketballs are emerging as a compelling and popular choice. Did you know custom basketballs are among the most sought-after promotional items worldwide? It's a fact! And the reasons behind their popularity are intriguing and backed by data.
According to a recent study, custom basketballs have shown an impressive ability to increase brand awareness by up to 20%. That's a significant boost for any business, large or small! But what about these custom basketballs that make them a winning merchandise choice for promotional activities? Let's explore this further. 
Unique Brand Representation
Custom basketballs offer a unique canvas for brand representation. With these customizable sporting gems, you can convey your brand's identity, values, and personality in a truly distinctive and creative manner. 
Eco-Conscious Branding

: Imagine a company dedicated to eco-friendly products. They can distribute custom basketballs crafted from recycled materials, embodying their commitment to sustainability.

Team Spirit

: A sports team can express their unwavering team spirit by gifting custom basketballs featuring the team logo and colors. These branded basketballs promote the team and create a community among fans.

Educational Institutions

: Schools or universities can give away custom basketballs adorned with their school mascot or logo, instilling a sense of pride and unity among students, graduates, and supporters.

Business Promotion

: For businesses, custom basketballs bearing their

company name

and contact information become a promotional tool that can serve as unique giveaways. It leaves a lasting impression on potential clients and partners.
Broad Audience Appeal
Custom basketballs possess a universal appeal that transcends demographics and geographic boundaries. Basketball is a widely beloved sport enjoyed by people of all ages and backgrounds across the globe. This inherent popularity makes custom basketballs powerful for spreading your marketing message to a diverse audience.
Furthermore, you can tailor custom basketballs to cater to specific demographics. For example, you can distribute custom basketballs featuring team logos or colors that resonate with your target audience's preferences. Alternatively, you can design custom basketballs with motifs that cater to specific interests, such as music, movies, or video games.
The broad appeal of custom basketballs opens up a world of possibilities for connecting with an extensive and diverse audience, making them a highly potent choice for promotional activities.
Versatility in Marketing
Custom basketballs offer remarkable versatility in marketing campaigns. They can be integrated into various promotional initiatives, making them a dynamic and adaptable tool for your brand's promotional arsenal. 
Event Giveaways

: Companies can distribute custom basketballs at sporting events or

trade shows

, creating a buzz around their brand and leaving attendees with a tangible and enjoyable souvenir.

Sports Team Promotions

: Sports teams can utilize custom basketballs in contests and promotions, such as halftime raffles or free throw contests, enhancing fan engagement and loyalty.

Fundraising

: Schools or universities can sell custom basketballs as merchandise to

raise funds

for their institutions or athletic departments, simultaneously promoting school spirit.

Philanthropy

: Businesses can contribute to local schools or charities by donating custom basketballs, fostering goodwill within the community, and building a positive brand image.
Choosing the Right Custom Basketball
Quality Matters
When selecting a custom basketball for promotional activities, the quality is crucial. A high-quality basketball reflects positively on your brand and ensures the recipients have a lasting and enjoyable experience.
Good Construction

: Look for custom basketballs with sturdy stitching and durable materials. A well-made basketball is more likely to withstand the rigors of play and maintain its integrity over time.

Durable Materials

: This ensures that the basketball can endure regular use without showing signs of wear and tear.

Consistent Bounce

: A quality custom basketball should have a consistent bounce. This attribute is crucial for players to shoot and pass the ball. Inconsistent bounces can hinder the game and lead to frustration.

Good Grip

: The basketball should offer grip to players, allowing them to control the ball. A secure grip enhances the playing experience and helps players perform at their best.
Design and Logo Placement
The design and logo placement are elements to consider, as they determine how well it will represent your brand and how attractive the basketball is to recipients. 
Color Scheme

: Choose a color scheme consistent with your brand's visual identity. It ensures that the custom basketball aligns with your overall brand aesthetics.

High-Quality Graphics

: Utilize high-quality graphics and images in your design. It contributes to a professional and visually appealing appearance that resonates with the audience.

Prominent Logo Placement

: Your brand's logo should be placed prominently on the basketball. However, it should not be overly distracting. Striking the right balance is crucial to successful logo placement.

Avoid Clutter

: Avoid overcrowding the design with excessive text or clutter. A clean and visually appealing design is more likely to be well-received and appreciated by your target audience.
Sizing and Materials
Custom basketballs come in various sizes and materials. Select the right combination that aligns with your promotional objectives. 
Sizing

: Basketball sizes are designated by a number, with size 7 being the official size for men's and boys' and size 6 for women's and girls' basketball. Choosing the appropriate size ensures the custom basketball suits the intended players.

Materials

:
Leather

: Leather basketballs are the most popular choice due to their durability and superior feel.

Synthetic

: Synthetic basketballs are less expensive than leather and are suitable for outdoor play. They offer good durability and performance.

Rubber

: Rubber basketballs are the most cost-effective choice and are often used by beginners and for casual play.
Creative Ways to Use Custom Basketballs in Promotions
Corporate Events and Team Building 
Custom basketballs can be a fantastic addition to corporate events and team-building activities, enhancing engagement and boosting company morale. 
Prizes for Games and Activities

: Custom basketballs can serve as enticing prizes for games and challenges during corporate events. It adds a fun and competitive element and gives participants a tangible reward for remembering the event.

Team Building Exercises

: Incorporate custom basketballs into team-building exercises, such as organizing a basketball tournament or skills challenge. These activities promote collaboration, communication, and a sense of camaraderie among employees.

Company Branding and Morale

: You can distribute custom basketballs bearing your

company's logo

and branding elements to employees. It reinforces company identity and fosters a sense of belonging and pride within the organization.

Appreciation for Employees and Customers

: Gifting custom basketballs to employees or valued customers is a thoughtful way to show appreciation. It demonstrates recognition and gratitude while offering a unique and memorable token of your relationship.
Sports Sponsorship and Events
Custom basketballs are a versatile tool for sports sponsorship and involvement in various sporting events. 
Youth Team Sponsorship

: Companies can sponsor local youth basketball teams and provide custom basketballs featuring the company's branding. It promotes community engagement and brand visibility.

Donations to School Programs

: Donating custom basketballs to school and college basketball programs supports education and sports and generates goodwill in the local community.

Tournament and Event Sponsorship

: Companies can sponsor basketball tournaments, leagues, or charity games by providing custom basketballs for these events. It's an excellent way to support local sports and build brand recognition.
Giveaways and Contests
Engaging your audience through giveaways and contests is a powerful marketing strategy. 
Customer Incentives

: Offer custom basketballs as incentives for customers who sign up for your newsletter, make a purchase, or reach specific milestones. It encourages engagement and loyalty.

Contests and Competitions

: Host contests where individuals can compete for a custom basketball, such as free-throw or three-point shooting contests. These activities generate excitement and engagement around your brand.
Custom Basketball Leagues
Creating custom basketball leagues is a fantastic way to promote your brand and engage with your target audience:
Employee Leagues

: Organize a custom basketball league for your employees, fostering teamwork and physical fitness while promoting your company culture.

Community Sponsorship

: Sponsor a custom basketball league for a local community or organization. It strengthens community ties and showcases your commitment to grassroots sports.
Educational Outreach
Custom basketballs can play a vital role in educational outreach:
Donations to Schools

: Donate custom basketballs to schools or youth organizations to support physical education programs and encourage sports involvement among students.

Basketball Clinics or Camps

: Sponsor basketball clinics or camps for children. It provides an opportunity to learn and engage with the sport while associating your brand with a positive experience.
Design Tips for Custom Basketball Promotion
Incorporating Your Brand
Incorporating your brand into the design of custom basketballs is a crucial step in creating a consistent promotional message. 
Prominent Logo Usage

: Your logo should take center stage on the basketball. It's the most recognizable symbol of your brand, so ensure it's prominently featured.

Branded Colors

: The color scheme of the basketball should align with your brand's official colors. It creates a visual link between the basketball and your brand.

Typography Consistency

: Use your brand's fonts for any text on the basketball. It maintains a cohesive and recognizable brand image.

Brand Messaging and Values

: Let your brand's messaging and values inspire the design. If your brand is known for innovation, incorporate futuristic elements into the design. Align the basketball's aesthetics with the essence of your brand.
Eye-catching Colors and Graphics
To make your custom basketballs visually arresting and distinctive, consider the following design recommendations:
Bright and Vibrant Colors

: Opt for colors that are bold and vibrant. These hues can capture attention and draw people in, making your basketballs more eye-catching.

Bold and Eye-catching Graphics

: Use graphics that are bold and striking. These visual elements can create immediate interest and make the basketballs stand out.

Variety for Visual Interest

: Incorporate colors and graphics to make the design visually fascinating. This diversity adds depth and captures attention.

Avoid Clutter

: While you aim to make your design eye-catching, be cautious not to overcrowd the basketball with excessive colors or graphics. Too much can make the design appear cluttered and overwhelming.
Balancing Aesthetics and Information
Finding the right balance between aesthetics and information is essential when designing custom basketballs for promotions. 
Clear and Concise Design

: Aim for a design that is clear, concise, and easy to read and understand. Clarity should always be a priority.

Avoid Clutter

: Steer clear of excessive text and clutter. A clean and streamlined design is more likely to be visually appealing and easy to comprehend.

High-quality Graphics and Images

: Utilize high-quality graphics and images to enhance the overall design. Sharp, well-defined visuals contribute to a polished and professional look.

Prominent but Not Distracting

: Place your logo and essential information in prominent positions, but ensure they do not overwhelm the design or distract from the overall aesthetic appeal.
Additionally, consider these extra design tips for custom basketball promotions:
Varied Design Elements

: Beyond logos and colors, incorporate design elements like patterns, textures, and shapes to create a distinctive and visually engaging design.

Creativity

: Don't hesitate to think creatively and step outside the box when crafting your design. Unconventional and inventive designs can leave a lasting impact.

Feedback

: Before finalizing your design, seek feedback from various stakeholders, including employees, customers, and your target audience. Their insights can identify areas for improvement and help you create a design that resonates with your audience effectively.
Effective Distribution Strategies
Targeting the Right Audience
Identifying and reaching the right audience is the cornerstone of an effective distribution strategy for custom basketball promotions.
Understanding Your Brand's Audience

: Start by understanding your target audience. These are most likely to buy your products or services. Tailor your custom basketball promotion to cater to their preferences and interests.

Alignment with Promotion Goals

: Clearly define your promotion's goals. What are your priorities for this marketing campaign? Knowing your goals will help you determine the best strategies to reach your target audience effectively.

Data and Analytics

: Tools like social media analytics can provide valuable insights into the demographics and interests of your audience. Use this data to refine your targeting strategies.
Online vs. In-Person Distribution
Choosing between online and in-person distribution depends on your goals and budget. 
Online Distribution:
Advantages

:

Convenient and cost-effective for reaching a broad audience.

You can precisely target based on demographics and interests.
Disadvantages

:

Online competition can make it challenging to stand out.

Shipping and handling is an additional cost.
In-Person Distribution:
Advantages

:

Offers face-to-face interactions, fostering relationships.

Suitable for distributing custom basketballs at events and trade shows.
Disadvantages

:

It can be costlier than online distribution.

It may have limitations in reaching a large audience.
Sourcing Custom Basketballs
Finding Reputable Suppliers
When sourcing custom basketballs, securing reliable and reputable suppliers is a fundamental step to ensure the quality and success of your promotion. 
Seek Recommendations

: Word-of-mouth recommendations can be invaluable. Talk to friends, colleagues, and business associates. They can provide insights into reputable suppliers they have worked with.

Conduct Research

: Take the time to research potential suppliers. Online platforms can offer valuable information. Reading reviews and comparing prices will help you identify suppliers with a strong track record.

Direct Communication

: Contact the suppliers on your shortlist. Engage in direct communication to learn more about their products and services. Inquire about their experience, quality standards, and lead times. This step allows you to gauge their professionalism and responsiveness.
Budget Considerations
Creating a budget for your custom basketball promotion is essential for effective cost management. 
Comprehensive Cost Assessment

: Ensure that your budget covers all associated costs. Account for expenses such as shipping and handling, design, and any other ancillary costs that may arise.

Obtain Multiple Quotes

: Request quotes from multiple suppliers. It allows you to compare prices and select a supplier with the best value for your budget. But remember, price isn't always the best measure of quality.

Flexibility in Design

: If your budget is limited, consider being flexible with the design. Simplify the design or explore less expensive materials to keep costs in check. A balance between design and budget is essential.
Ordering and Lead Times
Managing your orders and lead times ensures your custom basketball promotion runs smoothly. 
Early Order Placement

: Place your order well in advance to allow the supplier sufficient time for production and shipping. Last-minute orders may result in delays that could affect your promotion's timeline.

Clear Specifications

: When placing your order, provide precise specifications regarding the size, quantity, materials, and design of the basketballs. Ensure to communicate your expectations to the supplier.

Lead Time Inquiry

: Inquire about the supplier's lead times. The time required for production can vary based on the complexity of your order and the supplier's workload. Understanding lead times is essential for timely delivery.

Regular Follow-Up

: Maintain regular communication with the supplier after placing your order. Regular follow-ups help you stay informed about the status of your order and address any potential issues promptly.
Challenges and Pitfalls to Avoid
Overlooking Quality
Quality is paramount for custom basketballs, as they represent your brand. Overlooking quality can damage your brand's image and impact customer perception. 
Reputable Suppliers

: Partner with reputable suppliers known for producing high-quality basketballs. A trustworthy supplier is more likely to deliver products that meet your standards.

Request Samples

: It allows you to assess the quality and craftsmanship of the basketballs firsthand.

Thorough Inspection

: When you receive custom basketballs, inspect them for defects or imperfections. 
Misaligned Branding
Consistency in branding across all marketing materials, including custom basketballs, is vital for building a brand identity.
Use Key Brand Elements

: Incorporate your brand's key elements, such as the logo and colors. These elements are essential for brand recognition.

Consistent Typography

: Employ your brand's official fonts for any text on the basketballs. Consistent typography reinforces brand cohesion.

Reflect Brand Messaging and Values

: Ensure that the design of the custom basketballs reflects your brand's messaging and values. This alignment creates a cohesive and compelling brand identity.
Poor Timing
Timing is crucial when distributing custom basketballs to ensure they serve their promotional purpose effectively. 
Align with Promotion Schedule

: Coordinate the distribution of basketballs with your promotion's start and end dates. Ensure people have ample time to engage with the basketballs during the promotional period.

Consider the Season

: If the promotion involves outdoor use of basketballs, consider the season and weather conditions. For example, distributing them in the middle of winter in a cold climate may limit their usage.

Audience Schedule

: Keep the schedule of your target audience in mind. Distribute custom basketballs at times when your audience is most likely to enjoy and engage with them. For instance,

employees

may appreciate receiving them on a Friday afternoon for weekend use.
Budgeting for Custom Basketball Promotions
Calculating Costs
Calculating the costs for custom basketball promotion is a critical first step. 
Cost of Basketballs

: The cost of the basketballs will depend on various factors, such as size, quantity, materials, and design. Obtain quotes from multiple suppliers to compare prices and choose the most cost-effective option.

Shipping and Handling

: The weight and size of your order influence the shipping and handling costs, as well as the destination. Request shipping estimates from different carriers to find the most economical solution.

Other Associated Costs

: Account for additional expenses, like graphic design or printing services. These services can impact the overall cost of your promotion.
Long-term Investment
Consider custom basketballs as a long-term investment for your business. They can be used across multiple promotions and events, offering value over time.
Frequency of Use

: Determine how frequently you plan to use the custom basketballs. By reusing them for various promotions and events, you can extend their value and reduce the cost per use.

ROI per Use

: Calculate the potential ROI for each use of the custom basketballs. It helps you evaluate their long-term impact on your marketing efforts.
Additionally, to maximize your budget for custom basketball promotions:
Budget Flexibility

: Be prepared to adjust your budget to accommodate changing circumstances and opportunities.

Discounts and Promotions

: Look for opportunities to secure discounts on large orders. Many suppliers, like

EverLighten

, offer volume discounts or occasional promotions that can help reduce costs.
EverLighten's expertise in creating premium custom basketballs for high-profile events
EverLighten's standout performance took center stage when Tiffany Ling, representing both cossette.com and magiccircleworkshop.com, faced the critical task of procuring 150 custom basketballs for an immensely high-profile event. This event was not ordinary, but a Google Pixel celebrity basketball, attended by NBA sensation Jeremy Lin and renowned Hollywood star Simu Liu. Their presence alone drew a significant crowd of youth and community members, with a horde of media and celebrity attention. In such a spotlighted scenario, the quality and delivery of the custom basketballs became pivotal to the event's success. 
With a spotlight this bright, EverLighten rose to the occasion with an unyielding commitment and impeccable execution. We delivered nothing short of exceptional custom basketballs, each one a testament to our dedication to quality and precision. The products met and exceeded expectations, leaving everyone thoroughly impressed, from Jeremy Lin and Simu Liu to the event attendees.
High-quality custom basketballs with EverLighten: 
What sets EverLighten apart as your ideal partner for custom items is our dedication to a 100% customized approach. Each product is tailored to your specifications, ensuring it perfectly aligns with your vision. 
EverLighten's commitment to quality is unwavering, with a rigorous 100% quality-check process to guarantee that every item meets the highest standards.
But EverLighten's support doesn't stop at production. They offer free design assistance to help you bring your creative ideas to life. Their low MOQs (Minimum Order Quantities) make it accessible for projects of all scales, and their global delivery ensures that no matter where you are, EverLighten can reach you promptly.
Fast delivery is a hallmark of our service, ensuring your custom items are in your hands. Moreover, EverLighten's 24/7 support means they are always available to address your inquiries and provide assistance.
For any future projects, make the smart choice by partnering with EverLighten. Experience the benefits of 100% customization, fast delivery, rigorous quality checks, free design support, low MOQs, global delivery, and 24/7 customer support. 
Connect with EverLighten today and take the first step towards bringing your custom ideas to life.
FAQs: 
How do you promote basketballs?
Here are some ideas on how to promote basketballs:
Sponsor a local basketball team or league. 

Host a basketball tournament or event. 

Give away custom basketballs to customers or employees. 

Use basketballs in your marketing materials.

Partner with other businesses to promote your brand. 
How do I promote my sports shop?
Here are some ideas on how to promote your sports shop:
Create an online presence. 

Run targeted advertising campaigns. 

Offer competitive prices and discounts. 

Provide excellent customer service. 

Get involved in the community. 
How do you monetize promotional basketballs?
Here are some ideas on how to monetize promotional basketballs:
Sell them at a profit. 

Use them to generate leads.

Use them to promote your brand.