15-Top fabrics for custom socks | EverLighten
|
Jun, 29 , 23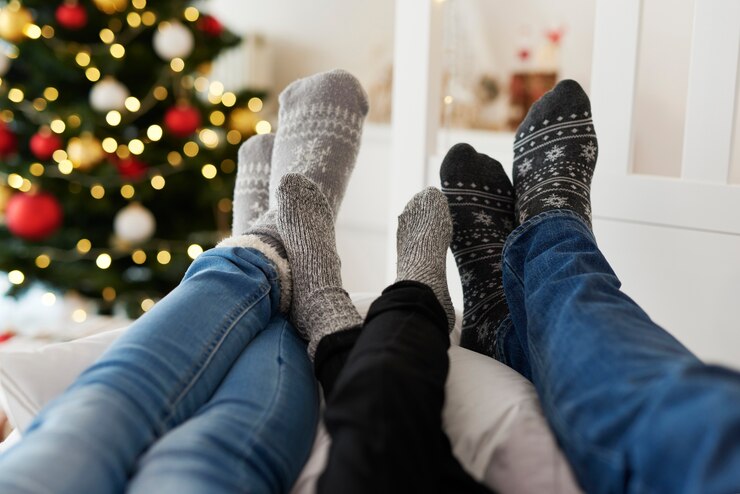 Choosing the best material is crucial for optimal comfort, performance, and style when crafting custom socks. The options are abundant, from natural fibers known for their softness and breathability to synthetics engineered for moisture-wicking and durability. We delve into the top 15 materials commonly used for crafting custom socks, offering a comprehensive overview of their unique characteristics and benefits.
Natural V Artificial custom sock fibers
Natural fibers such as cotton, wool, bamboo, silk, cashmere, and more, bring a touch of luxury, comfort, and breathability to custom sock designs. These materials are sourced from the natural world, often derived from plants or animals. They offer softness, insulation, moisture-wicking abilities, and varying levels of durability, catering to diverse needs and preferences.
On the other hand, artificial fibers like polyester, nylon, acrylic, and others enhance performance and durability. These synthetics provide excellent moisture-wicking properties, quick drying, and improved resilience, making them ideal for active individuals or those seeking long-lasting custom socks.
Whether you prioritize breathability, softness, insulation, moisture management, or eco-friendliness, understanding the differences between these materials will empower you to create socks that perfectly suit your needs and personal style.


Differences between natural and man-made fibers for customized socks

 
| | | |
| --- | --- | --- |
| | Natural Fibers | Man-Made Fibers |
| Source | Derived from plants or animals | Synthetically produced or derived from natural sources through chemical processes |
| Comfort and Softness | Generally soft and comfortable | Varies in texture and softness |
| Breathability | Generally more breathable | May have moisture-wicking properties, but less breathable compared to natural fibers |
| Insulation and Warmth | Excellent insulation properties | Can provide warmth, but may not insulate as well as natural fibers |
| Moisture-Wicking | Varies in moisture-wicking abilities | Often engineered for moisture-wicking properties |
| Quick Drying | Varies in drying speed | Often quick-drying due to moisture-wicking properties |
| Durability | May require extra care and attention | Generally more durable and resistant |
| Environmental Impact | Generally more eco-friendly | Less eco-friendly due to energy-intensive manufacturing processes |
What makes custom socks perfect for marketing, gifts, and other purposes?

Custom socks offer a range of advantages that make them perfect for marketing, gifts, and various other purposes. 


Brand Promotion:

Custom socks provide an excellent opportunity for brand promotion. By incorporating a company's logo, colors, or slogan into the design,

custom socks

serve as a walking advertisement. They create brand visibility and help establish a memorable presence.


Unique and Personalized: Custom socks allow for unique and personalized designs. Whether adding names, images, or custom patterns, you can tailor them to match specific themes, events, or individual preferences. This personal touch enhances the value and meaning of the socks, making them standout gifts or promotional items.


Versatile and Functional: Socks are practical and widely used by people of all ages. Custom socks serve a functional purpose while offering an opportunity to express creativity. You can customize them for corporate events, sports teams, fundraisers, or holiday gifts.


Long-lasting Brand Exposure:

Socks are durable items people can wear repeatedly. It provides lasting brand exposure. Unlike other promotional items,

custom socks

have a longer lifespan, ensuring extended visibility and a lasting impression.


Targeted Marketing: Custom socks allow for targeted marketing efforts. You can design them to cater to specific demographics, interests, or niche markets. It enables companies to connect with their target audience, increasing the effectiveness of their marketing campaigns.


Employee and Team Spirit: Custom socks can foster a sense of unity, pride, and camaraderie among employees or team members. When designed with a company or team logo, they promote a sense of belonging and team spirit, boosting morale and creating a cohesive identity.


Memorable and Appreciated Gifts:

Custom socks

make unique gifts. They offer a unique and thoughtful gesture, showing that the recipient is valued. The personalization adds an emotional touch, making them cherished keepsakes or tokens of appreciation.


Cost-Effective:

Custom socks can be a cost-effective marketing or gifting solution, especially when ordered in bulk. They offer a high perceived value while being relatively affordable compared to other promotional items or personalized gifts.
| | | |
| --- | --- | --- |
| | Regular Socks | Custom Socks |
| Design | Standard, pre-existing designs and patterns | Personalized and unique designs created specifically for the individual or purpose |
| Customization | Limited customization options | Extensive customization options, including personalized text, logos, graphics, colors, and patterns |
| Brand Promotion | Not specifically designed for brand promotion | Can incorporate company logos, colors, and slogans for effective brand promotion |
| Personalization | Generic and mass-produced | Reflects individual preferences, themes, or events, adding a personal touch |
| Targeted Marketing | Not tailored to specific demographics or interests | Can be designed to cater to specific demographics, interests, or niche markets, allowing for targeted marketing efforts |
| Versatility | Suitable for general use and everyday wear | Can be designed for specific occasions, events, teams, or promotional purposes |
| Memorable Gifts | May not have a personal or memorable impact | Customization adds a thoughtful and unique touch, making them memorable and appreciated gifts |
| Brand Visibility | Limited brand visibility and exposure | Custom designs increase brand visibility as they are often noticed and talked about |
| Team Spirit | Not designed to foster team or organizational spirit | Can enhance team spirit and foster a sense of unity among employees, sports teams, or organizations through the inclusion of logos or team-specific designs |
| Pricing | Generally more affordable | Customization and personalization may add to the cost, depending on the complexity and quantity |
| Production Time | Generally readily available | Customization may require additional production time for design creation and printing |
| Perceived Value | Standard, expected value based on market standards | Higher perceived value due to the personalized and unique nature of the socks |
| Longevity | | Comparable lifespan to regular socks, but the personalized design may encourage recipients to keep and use them for a longer period |
Top materials for personalized socks
Cotton: Soft, breathable, and comfortable. Cotton socks are widely popular and suitable for everyday wear.


Wool: Provides excellent insulation and moisture-wicking properties, keeping feet warm and dry. Merino wool is a popular choice for its softness.


Polyester: Known for its durability, moisture-wicking abilities, and quick drying. We often blend them with other materials for added strength.


Nylon: Offers durability, strength, and elasticity. It is frequently combined with other fibers to enhance durability.


Bamboo is an eco-friendly and sustainable material. Bamboo socks are soft, moisture-wicking, and hypoallergenic.


Acrylic is lightweight, soft, and warm. We use acrylic socks in sports and outdoor activities.


Silk: Luxurious and smooth material. Silk socks are known for their comfort and ability to regulate temperature.


Cashmere is a premium material known for its softness and excellent insulation properties. Cashmere socks are warm and cozy.


Alpaca: Like cashmere, alpaca wool is soft, lightweight, and provides excellent insulation.


Linen: Breathable and lightweight, linen socks are ideal for warmer weather. They have excellent moisture-wicking properties.


Lycra/Spandex: Stretchy and elastic, these materials provide a snug fit and help socks retain shape.


Modal is an artificial fabric that we make from wood. Modal socks are known for their softness, breathability, and resistance to shrinkage.


CoolMax: Engineered polyester fabric designed to wick moisture away from the skin, keeping feet cool and dry during physical activities.


Angora: Known for its warmth and softness, angora wool socks provide excellent insulation in colder climates.


Coolmax Wool: A blend of wool and CoolMax fabric, combining the insulating properties of wool with moisture-wicking abilities.


Conclusion

Custom socks offer possibilities for brand promotion, personalized gifts, team spirit, and targeted marketing. Their unique designs, versatility, and ability to leave a lasting impression make them a sought-after choice for individuals and businesses alike. By opting for custom socks, you can elevate your marketing efforts, create memorable gifts, and foster a sense of unity among teams or organizations.
For high-quality custom socks at the best price, EverLighten is your trusted partner. With their expertise in custom apparel manufacturing, EverLighten is committed to delivering top-notch socks that meet your unique requirements. Whether you need custom socks for your business, sports team, or special event, EverLighten offers extensive customization options to bring your vision to life.
Don't settle for generic socks when you can have custom-made masterpieces. Connect with EverLighten today to discover how they can help you create custom socks that make a statement. Experience the exceptional quality, personalized touch, and competitive pricing that EverLighten brings.

Step up your sock game and leave a lasting impression with custom socks from EverLighten. Take action now and unlock the potential of custom socks for your marketing, gifting, or team spirit needs.


FAQs




What sock material is best for your feet?

The best sock material for your feet can vary depending on personal preferences and specific needs. However, people prefer natural fibers like cotton, merino wool, or bamboo for their breathability, moisture-wicking properties, and comfort.



What is the best material for summer socks?

The best material for summer socks is typically lightweight and breathable. Fabrics such as cotton, bamboo, or blends with moisture-wicking synthetic fibers can help keep your feet cool and dry in hot weather.



What material is best for sports socks?

Sports socks often require durability, moisture management, and cushioning. Synthetic fibers like polyester, nylon, or blends with spandex are standard for sports socks due to their moisture-wicking abilities and stretchiness.



How do I choose high-quality socks?

When choosing high-quality socks, consider factors such as material composition, construction techniques, comfort features, durability, and reputation of the brand or manufacturer. Look for socks that meet your needs, whether moisture-wicking, cushioning, arch support, or any other desired features.

 

What is the expensive sock material?

Expensive sock materials can vary depending on the brand and specific product. Luxurious fabrics like cashmere, silk, or high-quality merino wool can contribute to higher-priced socks. However, the cost of socks depends upon various factors beyond the material used.