Custom Socks
10-best color combinations for custom socks for your store
|
Oct, 28 , 22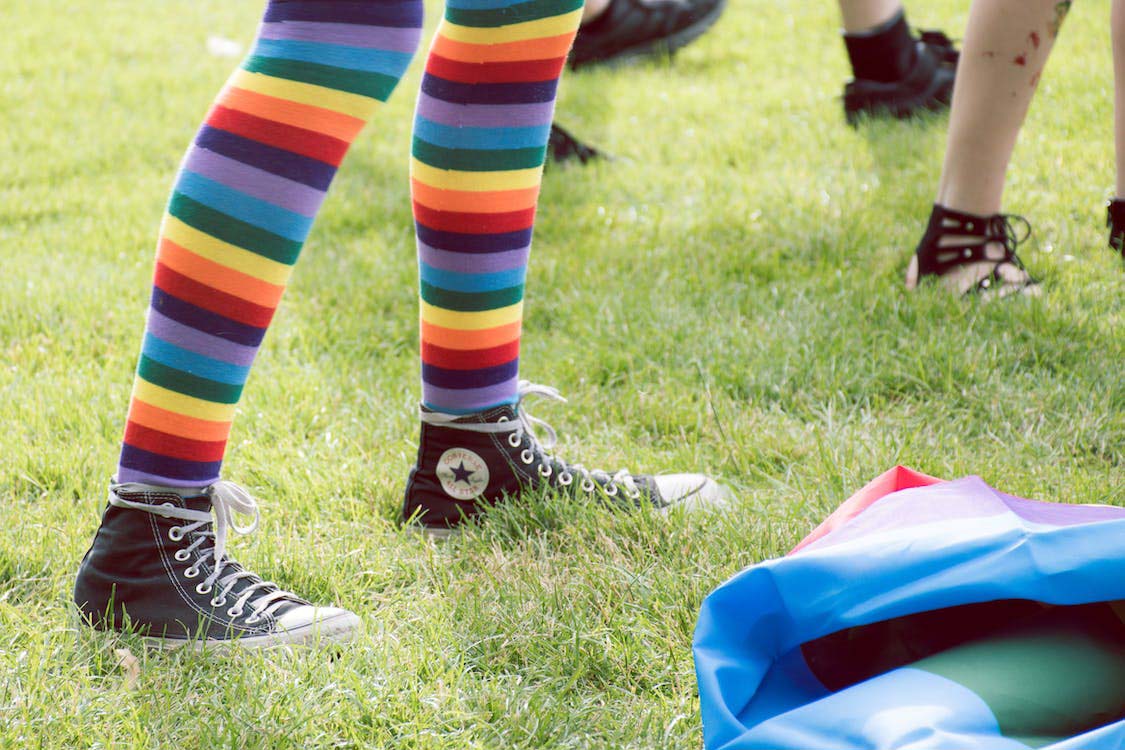 Custom socks
 are one of the most popular products to sell. It does not take much resources and space to start. They are also fun to design. But, it can get tricky because of the many options for materials, styles, colors, etc. You can find many resources on the best materials but few on choosing the best color combinations. Which inks should you select when customizing socks for your store? Do you want to try some extravagant, or do you want a more classical look? You will get all the information to create the best socks. But, before you get into the colors, understand the basics of colors.
Looking at the color wheel, you can find three primary colors - red, blue, and yellow; three secondary colors - orange, green, and violet. Six tertiary colors form from mixing the primary and the secondary colors - red-orange, yellow-orange, yellow-green, blue-green, blue-violet, and red-violet.
You can get various color schemes by combining the colors on the wheel. For example, opposite colors are complementary and provide the most contrast. Use them in your custom socks to make the artwork pop.
Other primary schemes are analogous, monochromatic, rectangle, split complementary, square, and triadic. Choose the one per your requirements. Experiment with various colors and shades to find the ideal color combination. Use the list as a guideline for your custom socks.
Although customizing your socks gives freedom to use any combination you want, not everyone will look good. Don't be afraid! If you have the basic knowledge, it is not that difficult. The list will provide you with the best combinations.
Black and yellow:Many big brands, films, fashion designers, and sports teams use it for their apparel and branding. There is an excellent reason - it looks lovely both in real life and on screen. Take a leaf out of their book and use it for custom socks.People associate yellow with playfulness, optimism, and creativity; black stands for elegance, power, and sophistication. Get the best of both worlds - yellow will get attention, and black will give a balance. The extreme contrast will showcase the artwork on the socks and make the design stand out.
Red and white:Whether you use a red sock with white dye or the other way around, it provides a suitable contrast for every design. Red is one of the primary colors and represents warmth and passion. It attracts attention, that is why you can find every danger sign using red. Leverage it when designing your custom socks. It is suitable for people who like a bit of flare and attention.

Orange and blue

 can be the formula for a successful custom sock design and are complementary and go well together. While bright colors are suited for sports apparel, you can tone down a bit for socks. Use a lighter orange shade and darker blue to get notable contrast, like washed-out orange and bright navy blue works. Be careful when you pair complementary colors because using bright colors for socks can throw off a few customers.
Blue and gold are a royal combo; rich people used them for their extravagant clothes in the olden days. Blue is the most popular color in the apparel industry, including socks. It looks gorgeous on everyone. Add a bit of gold to it and get a unique and marvelous-looking pair of socks.Blue stands for calmness and peace, and gold represents success and wealth. The neutral blue balances the liveliness of the golden hue. Use it for customizing the next socks.
Black and white is a timeless classic, and many consider them the best for custom socks. They are neutral colors and go well with socks in every situation, like, business settings, holidays, athletic events, etc. The visuals will look astonishing whether you choose white socks and black ink or vice versa. People can see every little detail, including fine line work. It lets you use a wide variety of artwork, like fun and playful, elegant and sophisticated, etc. They are generous and let you get away with more than other combos.
Blue and white:this is one of the best pairings if you want neutral socks but don't want to go with monochromatic ones. Experiment with shades of blue for the background, like baby, navy, royal blue, etc. White makes it easy to spot delicate lines. You can also go with a white or off-white sock and blue ink. It looks marvelous for summer and outdoors.  
Gold and olive:These are not the colors you expect to see in socks. That's what makes them unique. There are plenty of conventional combos, but few use something original.Olive is neutral - depending on the shade - and can provide excellent color for the gold-colored artwork. Please stay away from tiny details because they can be challenging to see. Use large shapes and letters. 
Maroon and white:For darker socks, it is one of the best combos. They associate maroon with fall; it brings a nostalgic feeling of school days because it is the most prominent color of universities. Every white artwork looks marvelous on maroon background because of the notable contrast. Here is an idea to try: use off-white socks with a maroon print.
Red, blue, and yellow: Mixing these primary colors might not seem like a great idea. But that's what makes the color palette special. Use their shades to make them work together. For example, keep a darker shade of blue in the background and a dimmer shade of yellow and red. Focus on making them work well in real-life; if you do it, these socks can become the go-to for your customers.
Green and gray:It might surprise a few, but they look breathtaking for other apparel and can work for socks. Various shades of green, like forest, mint, lime, etc., match with a gray background.As mentioned earlier, keep a clear contrast between the artwork and socks. For example, if you use a lighter shade of gray for the socks, use a darker one for green, and vice versa.
Ready to customize:
Now that you have at least ten color combos to pick from, it is time to customize your socks. Choose whether you want darker or lighter colors for your
custom socks
, use a different shade or a specific hue - make it happen with EverLighten. They offer unlimited colors, styles, materials, etc., and have helped many startups, large companies, schools, universities, sports teams, hospitals, nonprofits, etc., for over eighteen years.
Evelina Edens - the founder of Wear Your Snacks - a quirky sock brand that prints unique designs - food and beverages - on athletic socks, contacted EverLighten. They revealed their entrepreneurial story and inspiration; we connected instantly. She did not want to be like any other company that creates brightly colored socks for teenagers. They focus on the mature audience. We helped her choose the best materials and color combos. Our partnership is going strong; she is running a full-blown business.
Benefits of working with EverLighten:
Best pricing: EverLighten creates custom socks in their factory, which helps customers to get the best prices.
High-quality: Customers get the highest-quality custom socks with the best materials and the latest processes.
Fast delivery: our factory helps deliver orders in the least time.
Customer service: Customers can contact us 24*7 for their queries.
Customer-centric: They love helping every customer create their dream socks.
100% customization: Customers can customize every aspect of their custom socks.
Minimum order quantity: you can order as many socks as you need; we offer the lowest minimum limit in the industry.
Worldwide delivery: EverLighten delivers to every part of the world, and you can track orders with the online tool.