#CustomProducts, 3D mold pins, About EverLighten, custom hard enamel pins, custom lapel pins, custom manufacturing, custom soft enamel pins, Die struck, Usages of custom lapel pins
Why Custom Lapel Pins are so Popular?
|
Aug, 07 , 20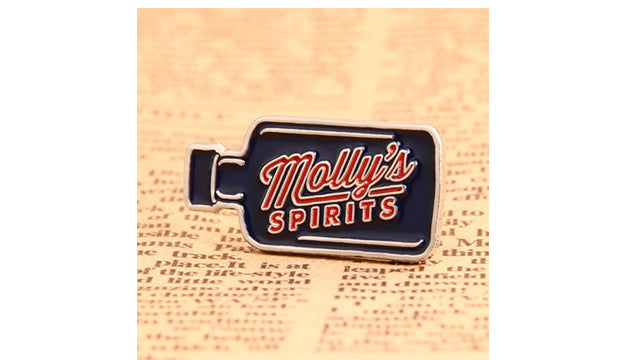 A lapel pin, also known as an enamel pin, is a small pin worn on clothing, often on the lapel of a jacket, attached to a bag, or displayed on a piece of fabric. Lapel pins can be ornamental or can indicate the wearer's affiliation with an organization or cause. Before the popularity of wearing lapel pins, boutonnières were worn. 
There are different types of lapel pins, including soft enamel pins, hard enamel pins, 3D mold pins and die struck. Knowing the differences of these lapel pins, you can choose whichever suits your style.
Soft Enamel Pins
Custom soft enamel pins are called die struck pins or embossed pins, having a textured/ridged feel. Custom soft enamel pins are one of the most popular kinds of pins because of a raised and textured look and feel. If you want your pins to be black, or any other colors, custom soft enamels are perfect.
Hard Enamel Pins
Hard enamel pins are also known as imitation Cloisonné pin with a hard enamel finish. Compared with custom soft enamel pins, custom hard enamel pins are more durable and scratch-resistant. Many people choose custom hard enamel pins instead of custom soft enamel pins because they are clean and smooth. They are perfect for corporate giveaways, political events sporting teams, and more.
3D Mold Pins
Sometimes known as die-cast pins, 3D mold pins are made of hard enamel in copper, bronze, nickel, and gold. 3D mode pins are typically designed without color, which is available with a variety of finishes for a variety of visual and tactile finishes. The finishing options often include antique, polished, and matte. Custom mold pins are often used for promotional gifts or awards ceremonies, which has an elegant appeal.
Die Struck
The design of the die struck is made to allow the design to be raised and recessed into a medal similar to a coin. This type of pins shows the texture and finish of the material by combing with the color of the medal. Besides, finishing options such as sandblasting are very important to emphasize the look and feel of the pins.
Lapel pins are a form of expression among individuals and organizations, which is also a reason why custom lapel pins are popular. With multiple purposes based on the needs of organizations, individuals can use these custom lapel pins as an image of achievement, or connections with associations, clubs, groups, companies, etc. Here are few fields where custom lapel pins are widely used:
Honors and acknowledgment
Custom lapel pins are regarded as the best way for companies to honor their employees. They are a great memento for the employees because most of them want to be recognized. These custom lapel pins could be service pins, award pins, volunteer pins, and recognition pins. In a word, most lapel pins are used as part of rewards nowadays.
Clubs and Associations
Clubs and associations can give away their custom lapel pins to the members of the donors. A custom lapel with their logo will definitely help increase awareness, promote the activities, and make a memento.
Church and Religious Associations
It is a great way for churches and religious associations to provide custom lapel pins to their supporters. These pins can help in advancing or imparting your beliefs in an unobtrusive and positive way. They can also be used to attract people's attention to social causes. There are several kinds of custom lapel pins for churches and religious associations, including church pins, remembrance pins, recognition pins, and usher pins.
Sports
Many people use custom lapel pins to express their support for a specific team or sport. The custom lapel pins used for this purpose include game pins, club sports pins, hockey pins, baseball pins, and team trading pins.
Advertising and Advancements
If a brand fails to promote itself, it cannot survive for long. It is a long way for the manager to make the marketing strategy right and promote well. But custom lapel pins are an effective way to promote brands and build the image. Company pins, promotional pins, and recognition pins are the types of custom lapel pins used by companies to promote their brands.
Military and Government
Custom lapel pins are a great way to pay tribute to the government and the military. The military and government will use custom lapel pins to define the name of different departments. In the military, navy pins, marine pins, army pins, air force pins, and armed pins are often used.
As a form of expression and style, lapel pins have become popular in recent years. Although you can purchase lapel pins anywhere, custom lapel pins are the new craze and provide you various benefits. In addition, custom lapel pins provide you with more flexible and affordable options due to modern design and advanced technology. Here are some reasons why people like custom lapel pins.
Indicate Designation and Dedication
It is very easy to identify your employees by custom lapel pins. You can customize the pins with the name, tag, or title of your employees, which help you indicate who you are speaking. On the other hand, custom lapel pins help employees to demonstrate their commitment and dedication to the company. They will fell that they are part of the company and the mood gets improved.
Cost-effective
It may be an expensive risk by advertising your brand, especially some methods such as SEO, digital marketing, and website development. However, if you want to increase your brand awareness in an economical method, custom lapel pins are a wise choice. You can give your customers a custom lapel pin every time they purchase a product, which can advertise your brand at an affordable price.
Promote Uniqueness
Wearing a custom lapel pin in an event will make you stand out from the crowd. For example, if you wear a custom lapel pin at a trade show, it will attract more people's attention and thus promote your business. Custom lapel pins are an excellent option for any individual or organization to promote uniqueness with personalized logos or patterns.
At EverLighten, we sell custom lapel pins in bulk with any design you want. We can utilize a wide range of pin forms and can make proposals to add that uncommon touch to your handcrafted pin. We have a team of professional experts and designers. They will help to create your custom lapel pins. We will assist you to save your time, money, and efforts. 
Because customer satisfaction is the main important factor for us and we can do anything for customer satisfaction. Please visit our website and check out other client's reviews and feedbacks. We have a strong relationship with every customer. Contact us today for more information about ordering custom lapel pins.
For more info, please visit our website www.everlighten.com.