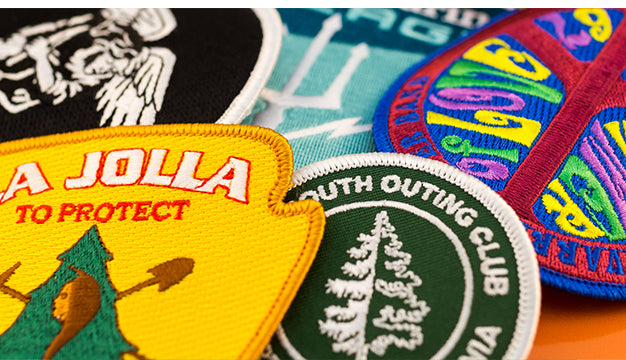 Patches are often decorated in jackets, bags, or anything you like, which will add some special and personalized style. If you want to make your brand stand out, custom patches are the best choice for you.
Custom patches vary from materials, usage, and technique. Here are different types of custom patches, including name patches, embroidered patches, printed patches, chenille patches, woven patches, blank patches, and leather patches.
1. Name Patches
Name patches are usually used in work shirts at chain stores and factories, where official ID cards are not always worn. These custom patches are not expensive and can be ordered in bulk for your workplace.
2. Embroidered Patches
Embroidered patches are a familiar style to most people, having been seen on uniforms, hats, jackets, etc. Embroidered designs are embroidered with thread based on the twill. There are three coverage amounts for embroidered patches, respectively 50% embroidery, 75% embroidery, and 100% embroidery. The coverage amount refers to how much thread coverage the patch will have versus the amount of twill that will be visible.
3. Printed Patches
Unlike embroidered patches, printed patches take a blank twill base. The patterns are printed directly on printed patches through a dyeing process called sublimation. This special technique makes the colors to be completely integrated into the base, hence the flat surface effect.
4. Chenille Patches
Chenille patches, also known as letterman patches, have a fluffy and fuzzy surface due to their two layers. The bottom layer is made of felt, which makes it softer. Chenille patches can be made of any shape. The only disadvantage of the chenille patches is that the design cannot be too complicated.
5. Woven Patches
Woven patches are woven together by thinner threads instead of embroidered on the fabric. When the design is too complicated or complex to be achieved through embroidery, they are ideal.
Woven patches are made of thread, stitched in a continuous design. Woven patches are finer in design and text. This type of patches has a smooth appearance.
Woven patches are also a great way to achieve photographic realism, which can reproduce human faces, landscapes, motorcycles, gradients, and more.
6. Blank Patches
Blank patches are a good choice for uniforms, work shirts, motorcycle groups, etc. The blank patches have no designs, which are a piece of twill fabric with an over-locking herringbone edge. The design can then be embroidered or printed on the blank twill. You can purchase blank patches in bulk.
7. Leather Patches
Leather patches are ideal for your denim, bags, hats and shoes, which can be screen imprinted, embossed, deboss laser etched, or hot stamped. They can also be die-cut into various shapes and dyed to match the color hue. The durability and authentic appearance of the leather patch can highlight your brand.
Custom patches have been very popular a few decades back because they can be easily decorated to any type of items such as bags, shirts, pants, and more. They are also regarded as a convenient way to identify an individual organization, brand, or company. Hundreds of years ago, embroidered custom patches are useful in correcting holes and tears in uniforms and military wear. But now, custom patches are used for any purpose. Here are some uses for custom patches.
Military Uniforms
In the military, patches are an important part of any uniform. It is most popular to show a person's military rank. Besides, some custom patches are made for commemoration of missions, showing pride and spirit.
Charity
A custom patch embroidered with a charity logo, mascot or important fundraising event date is a good choice for any charity shop, which can attract more people to do charity.
School Teams
Schools, no matter it is a college or primary school, can use custom patches to award the winner of the sports meeting to show off their pride. When the student wins the patch customized with the school logo, their parents must feel proud and show their support.
Travel Groups
It is a perfect way to show where in the world you've visited with a custom patch embroidered the name or place of the country. Explorers can build a collection of patches of all destinations, which looks great attached to their travel backpack.
Organizations
Some local organizations already use embroidered patches on their uniforms to showcase the areas they serve. You can also create your own custom patches for any organization—whether it's a book club, political organization, dance group or any other group.
If you want to make custom patches, the first thing you should consider is the manufacturer. At EverLighten, it very easy to make custom patches. We assist makers with assembling little to enormous batches of their fantasy design, with mind-blowing quality and industry-driving client care.
Our enthusiasm is bringing the advantages of on-request assembling to everybody — which is the reason we offer quick turnaround times, reasonable pricing, and a low minimum number of orders for each custom patch venture you make with us. Here are some tips for you to make custom patches.
Patches Borders
There are different borders in various kinds of patches, such as merrowed border, hot cut, embroidered border, frayed edges and no border. The kind of border totally depends on what you need.
Backing Options
There are multiple backing options. You can have a paper backing, iron-on, iron-on with a paper insert, adhesive, velcro hook-loop. You can also choose to have no backing at all.
Design
It is very easy to make a design. You just need to upload your logo or other artistic design and we will help you finalize the design. Special backings and borders are available to suit your adherence requirements.
Color Range
We have hundreds of thread colors to choose from. Since the color spectrum is infinitely variable, accurate color matching is not always possible. Nevertheless, our team of experts can select the closest color for you. With so many colors, we will definitely have a line to closely match each color in your design.
Size
Most patches are made according to the same size (width: 10mm-50mm; height: 10mm-50mm). If you want to customize your patches, you can also customize the size you want. The price is determined by the size of custom patches.
At EverLighten, we are using these steps to deliver the best and quality product.
Step 1: Start With the Basics
Select your patch size and the quantity of the patch you required.
Step 2: Provide Your Design
Send us an idea/sketch for your custom patch or you can send your logo.
Step 3: Designing Phase
Our professional designers will design your patch.
Step 4: Payment
Make payment for confirmation.
Step 5: Approve a Sample
We will send a physical prototype or a photo sample for you to approve.
Step 6: Changes
If you can want changes then you can give advice. We will do it free of cost for you.
Step 7: Production phase
After completing all steps, we will process the production.
Step 8: Receive your order
After the production stage, we will deliver your order to your door as soon as possible.
For more info, please visit our website www.everlighten.com.