Why choose custom embroidered patches and where can use them
|
Apr, 01 , 21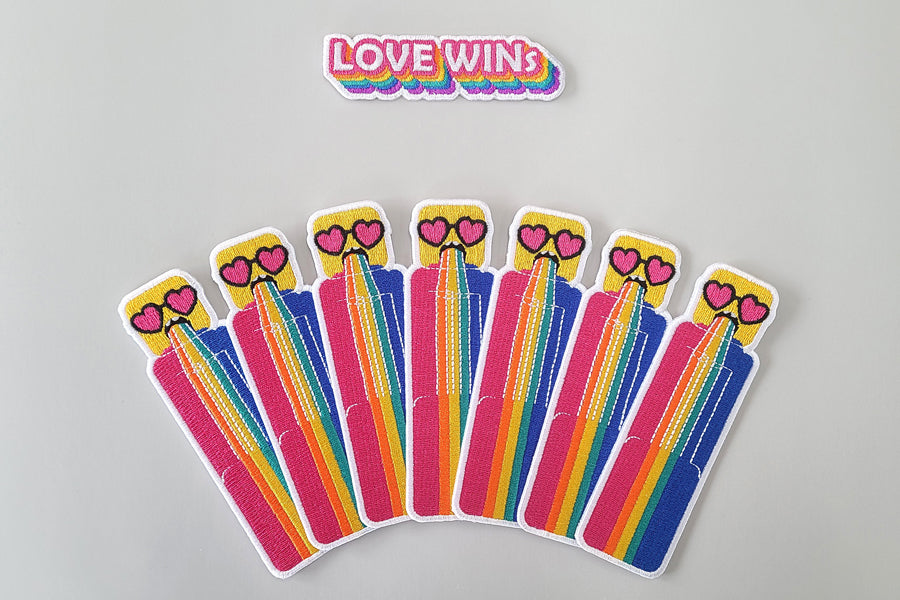 Custom embroidered patches can prove to be a convenient branding solution for businesses if used effectively. It is a versatile branding solution. Custom embroidered name patches or custom patches can be applied to a variety of fabrics. These custom patches reflect the unique identity of the wearer. To understand this better, let's look at different types of custom patches first.

Different types of custom patches
Name patches
Custom embroidered name patches are mostly found on work uniforms of franchises, factories, and chain stores. They are simple and serves the purpose where formal ID cards are not worn at the workplace.

Embroidered patches
Custom embroidered patches are the most popular type of custom patches. They are cool, trendy, and stylish yet cheaper. It has a twill base, and the design or name can be embroidered on it with thread.

Printed patches
Printed patches' production process is trickier. You can use any design to create printed patches. They are printed on a blank twill base, so colors blend beautifully into the base, and the surface remains flat.

Chenille patches
Chenille patches provide different texture to custom patches. They are also known as letterman patches as they have softer fluffier surface.

Bullion patches
Bullion patches are high-quality custom patches. Felt, wire, beads, and many more materials are incorporated to maintain their quality. They are robust than other types of custom patches, as bullion patches are hand-made and stitched with a thicker base.

Woven patches
Custom embroidered patches and woven patches are similar in terms of thread usage, but the thinner thread is used in woven patches to achieve greater detail. They are used for photo-realistic effect in designs and give more room to work as it doesn't have a twill base.

What is the advantage of custom embroidered patches?
Custom patches, custom embroidered patches, custom embroidered name patches, or custom embroidered iron-on patches are great for any business, group, team, or organization. They help you stand out from the crowd. It is also an effective method to increase brand awareness and promote your business. When someone wears custom patches, people around them see it at least once, which results in a distinctive and striking impression and gives any uniforms or garments a unique identification.
Cost
Custom embroidered patches are reasonable in cost than direct embroidery. The latest sewing techniques and custom designs have reduced the manufacturing cost significantly. It is the best option when people don't have a huge budget to spend.

Professional impression
Custom embroidered iron-on patches or any other custom patches give a professional look to any garment or fabric. It provides a personalized touch and bold looks. The usage of custom embroidered patches connects with clients instantly.

Business differentiation
When a business decides to promote its brand using custom embroidered patches, it builds an idiosyncratic image among its target audience and differentiates it from its competitors.

Comes in all shapes and sizes
The prominent advantage of using custom embroidered patches is that they can be manufactured in any shape or size, and you can put any design on them. There is no limitation to your imagination. They can be used on shirts, tees, sweatshirts, jackets, hats, or any form of garment or fabric. Various easy techniques allow you to remove custom embroidered name patches or custom patches without spoiling the clothing to keep it reusable for the future.

Imperishable
Custom embroidered patches can resist several cleaning and drying cycles without becoming ordinary or dull. They are durable in active environments of industries, hospitality, and healthcare.

Tons of options
Suppliers and manufacturers provide custom embroidered patches in various options. They provide different types of colors and fabric choices. It gives your promotional events an extra edge which can become the talk of the town. They are convenient in the development of promotional products like hats, jackets, or bags for your organization.

Promotion
Any garment, clothing, or fabric with custom embroidered patches offers free promotion, and people wearing those custom patches act as a walking billboard, leading to better brand awareness.
Businesses and individuals can convey messages effectively using custom embroidered patches. You can find high-quality custom patches that match your needs at EverLighten's website.

Different usage of custom embroidered patches
Custom embroidered patches have become very popular as they are easy to attach, they are flexible for any type of fabric, and they give a unique identification to organizations and companies. Earlier, its usage was limited to rectify manufacturing mistakes like hiding holes, tears, and rips in uniforms and military wear. Now, we see its presence almost everywhere, from local gasoline stations to factories.

Sports
Custom embroidered name patches are used for all sports teams of all ages. Be it a club, national team, or league team, the custom patches are an ideal way to show your team spirit and celebrate sports like soccer, baseball, tennis, football, volleyball, and many others.

Anniversaries
Everyone wants to remember their anniversary forever, and custom embroidered patches make this special occasion memorable. You can celebrate wedding anniversaries, achievement anniversaries, or birthdays by creating special custom patches that can be used as a souvenir.

Motorcycle clubs
When someone talks about a motorcycle club, you will have people wearing leather jackets with custom embroidered patches and sunglasses in mind. They create custom patches to give their club exclusivity. It is their pride and identity.

Law enforcement
You must have seen a custom embroidered patch on the shoulder of police and security personnel. They signify authority and also make people aware of the area that individual serve. Custom embroidered iron-on patches or any kind of custom patches, like custom embroidered names patches display as much detail as necessary.

Military uniforms
Custom embroidered patches are a huge part of the military uniform as they showcase an individual's rank and unit. Several custom embroidered patches honor individuals who were part of important missions and assignments.

Commemorations
You can commemorate anything with the help of custom embroidered patches. If you want to spread awareness about important subjects in society, then custom patches will be an effective tool to achieve your goal. People who support causes like Black Lives Matter or Breast Cancer Awareness will proudly wear those custom patches on their clothing, purse, backpack, or anything.

Organizations
Organizations use custom embroidered iron-on patches, custom embroidered name patches, or custom patches for identification. You can create custom patches for your book club, small business, or any other group so that people identify your group easily.
You can visit the website of EverLighten to order various custom embroidered patches with no minimum order requirement.