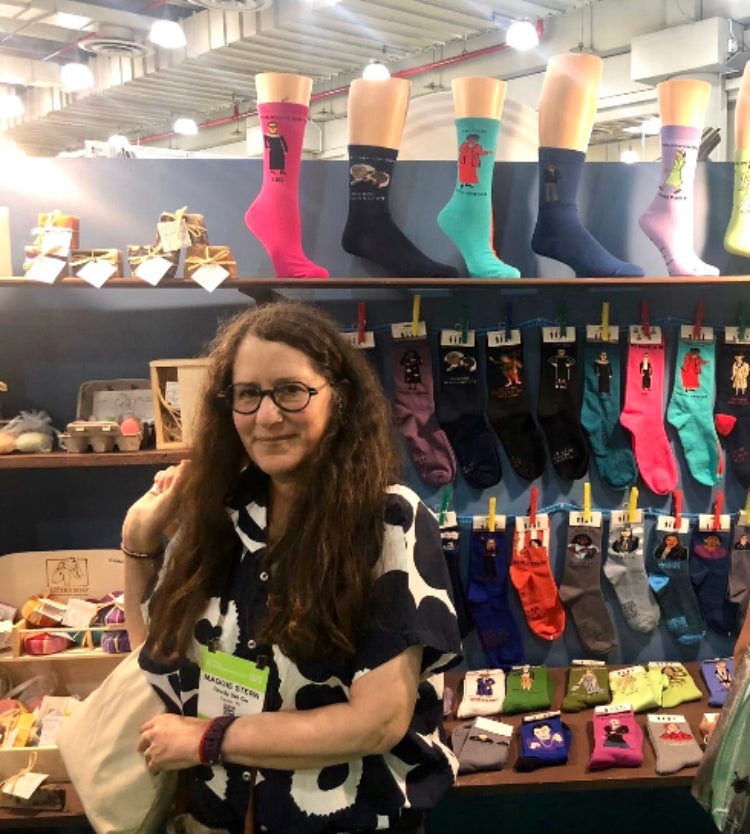 Who'd ever guess that a company called Everlighten would enlighten my life and change me forever??!!!
I was a struggling folk artist who wanted to make a difference in the world! Who doesn't? When Donald Trump was elected president of the United States, the world I knew went dark. My friends wore their pink pussy hats and marched the streets in protest. I'm afraid of crowds and only watched on tv.
I decided instead of being negative, I was going to take the opposite approach. I decided that what I wanted to do was to honor the women who had contributed positively to the world. And I wanted to do that on socks!
I knew nothing about sock designing, but nothing was going to stop me from trying. And try I did. I tried several USA places and several factories in China. For various reasons each one was a major disappointment.
Then, like In a fairytale, just when I was ready to call it quits, I got an email from Michael at Everlighten.
Normally,  I immediately delete E-blasts. But this time I didn't. Was that fate
Michael promised a fast turn around time. He promised the lowest prices anywhere. No minimums. And he promised quality.
That was a LOT to promise.
What can I say? Michael has not only followed through on his every promise, but he has helped me grow as a designer, and as a person. He's a patient, ALWAYS good natured man. ALWAYS willing to go the extra mile-and beyond. I often wonder how I got SO lucky? As for the quality of his socks, all I can say is my socks have gone viral. One small idea, that due date to our collaboration, has taken the world by storm.
My socks can be found in many prestigious museums, including:
The Smithsonian Museums in Washington DC
The Museum of Fine Arts in Boston
The American Folk Art Museum, in New York City
The Jewish historical  Museums, in NYC and Philadelphia
The High Museum, in Atlanta
And countless boutiques all over the country.
I have EverLighten to thank for all of this.
Most important—and something that could be promised in a E-blast, is that Michael has become my friend.