#CustomProducts, Brand, Create Your Own Plush, custom plush high-quality, Custom Plush Toy Manufacturer, Custom Plush toys, Custom Plushies, Custom Stuffed Animals, Make a Custom Plush, Personalized Stuffed Animals
The Rise of Kidult Custom Plush Toys: Why People Love Them and How You Can Profit from Them
|
Nov, 01 , 23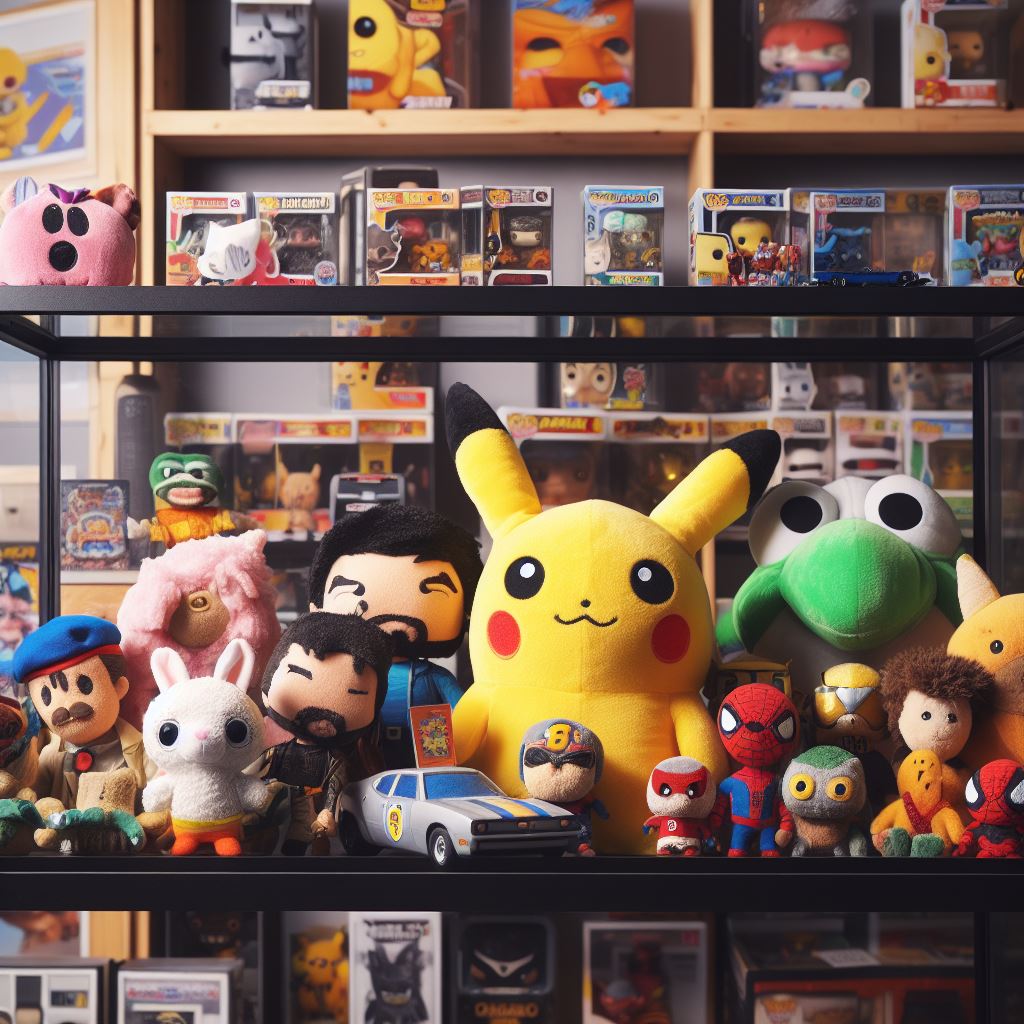 In the world of retail, a peculiar trend has emerged that is reshaping the traditional perception of custom plush toys. Once exclusively associated with childhood, these cuddly companions have found a new and unexpected fan base—adults. As the lines blur between nostalgia and modern-day comforts, the concept of "kidult" custom plush toys is taking the market by storm, leaving consumers and retailers alike in awe of its growing popularity.
Recent statistics reflect this undeniable shift, with 43% of adults admitting to cherishing their childhood soft toys. An overwhelming 84% of men and 77% of women still keep their cherished stuffed animals within the confines of their beds. Even more striking is the financial impact, as sales of custom plush toys in the United States surged to a remarkable $1.25 billion in 2020, showcasing a substantial upsurge from previous years.
Intriguingly, the trajectory of plush toy sales has experienced significant fluctuations, oscillating between $1.15 billion in 2016 and $1.39 billion in 2018. However, what truly solidifies this shift is the recent exponential growth, with a noteworthy 17% increase in 2020 and an additional 14% rise in 2021 by the burgeoning "kidult" market.
The reasons behind this surge are multifaceted, as adults find solace, nostalgia, and aesthetic appreciation in the comfort of these timeless plush companions. Whether seeking stress relief, rekindling childhood memories, or simply reveling in the charm of these delightful creations, the allure of custom plush toys for grown-ups appears to be an enduring phenomenon, heralding an era where these fuzzy treasures have secured a permanent place in the hearts of consumers.
With a diverse array of custom plush toys catering to every taste and preference, it's becoming increasingly evident that this trend is not just a fad. It's a cultural shift that has permanently transformed the landscape of the retail industry, presenting both an intriguing phenomenon and an enticing opportunity for those keen on tapping into this burgeoning market.
What are Kidult custom plush toys?
Kidult custom plush toys, a portmanteau of "kid" and "adult," refer to stuffed toys or plushies specifically designed and marketed for adults. These toys often cater to the nostalgic tendencies of adults, evoking feelings of comfort, nostalgia, and emotional connections to childhood. Kidult custom plush toys typically feature designs and themes that resonate with adult sensibilities, interests, and pop culture references, catering to the tastes and preferences of grown-ups rather than children.
These toys may include many designs, from classic stuffed animals and characters from famous cartoons or movies to more sophisticated or humorous designs that appeal to adult humor or aesthetics. Kidult custom plush toys often come in various sizes, shapes, and textures, with some incorporating additional features such as specialized materials, intricate detailing, or interactive elements to enhance their appeal to adult consumers.
The rising popularity of kidult custom plush toys signifies a shift in the traditional perception of custom plush toys as solely for children, with more adults embracing these cuddly companions as a means of self-expression, stress relief, and collecting items that bring them joy and comfort. As such, the market for kidult custom plush toys continues to expand, offering a diverse and ever-evolving range of options that cater to the unique preferences and interests of adult consumers.
The reasons why grown-ups love custom plush toys
Adults are increasingly drawn to custom plush toys for many reasons, reflecting the evolving relationship between adulthood, nostalgia, and emotional well-being. 
Nostalgia and Emotional Comfort:

Custom plush toys can evoke a sense of nostalgia, reminding adults of their carefree childhood days and offering comfort during times of stress or emotional turbulence. The familiar touch and appearance of these toys can provide a source of solace and emotional support.

Stress Relief and Relaxation:

The soft and huggable nature of custom plush toys can have a calming effect, helping adults alleviate stress and anxiety. Squeezing or cuddling a plush toy can provide a sense of relaxation and emotional relief, making them popular choices for individuals seeking comfort and emotional well-being.

Aesthetic Appeal and Collectibility:

Some adults appreciate custom plush toys for their aesthetic value and unique designs. Collecting custom plush toys, especially those representing beloved characters or iconic symbols, can become a hobby or a way to express personal interests and tastes, adding a touch of personality and charm to living spaces.

Connection to Popular Culture and Media:

Custom plush toys often represent characters from popular culture, including movies, television shows, and video games. Adults may feel a strong connection to these characters, making custom plush toys a way to celebrate their favorite franchises and immerse themselves in the worlds of their beloved stories and fictional universes.

Decorative and Gift Purposes:

Custom plush toys can serve as decorative items, adding warmth and playful touch to homes, offices, or personal spaces. Additionally, they make popular gifts for friends, family members, and romantic partners, offering a sentimental and fun way to express affection and appreciation.

Novelty and Humor:

Some custom plush toys with humorous or whimsical elements appeal to the playful side of adults. These toys may feature witty phrases, unconventional designs, or satirical interpretations, providing entertainment and amusement for individuals seeking expressions of creativity.
Types of kidult custom plush toys
Kidult custom plush toys come in various forms, catering to the diverse preferences and interests of adult consumers. 
Retro custom plush toys:

These toys often pay homage to nostalgic characters, icons, or themes from past decades, evoking a sense of sentimental longing and fond memories. They may feature classic cartoon characters, vintage video game mascots, or iconic figures from pop culture, appealing to adults with a penchant for retro aesthetics.

Pop Culture Icons:

Kidult custom plush toys inspired by contemporary pop culture icons, such as beloved movie or TV show characters, music artists, or internet memes, resonate with adults who enjoy staying connected to current trends and media phenomena. These toys often reflect the latest trends in entertainment and serve as collectible items for fans and enthusiasts.

Artistic and Unique Designs:

Custom plush toys with artistic and unique designs appeal to adults seeking visually distinctive and creative pieces. These toys may feature abstract shapes, unconventional materials, or avant-garde designs, appealing to individuals with a penchant for art, design, and avant-garde aesthetics.

Limited Edition Collectibles:

Some kidult custom plush toys are released as limited edition collectibles, adding an element of exclusivity and rarity to their appeal. These toys often come with special packaging, certificates of authenticity, and unique features that make them highly sought after among collectors and enthusiasts.

Interactive custom plush toys

incorporate interactive elements such as sound, movement, or sensors, providing an engaging and immersive experience for adult users. They may include custom plush toys that can play music, respond to touch, or interact with other devices, appealing to adults interested in technology, innovation, and interactive experiences.

Whimsical and Humorous custom plush toys:

Kidult custom plush toys with whimsical and humorous designs, including quirky characters, witty phrases, or satirical interpretations, cater to adults with a playful and light-hearted sense of humor. These toys often serve as novelty items or conversation starters, adding a touch of whimsy and amusement to everyday life.

Personalized custom plush toys:

Customized plush toys that allow for personalization, like names, messages, or specific features, appeal to adults seeking unique and personalized gifts or keepsakes. These toys can commemorate special occasions, milestones, or personal achievements, making them meaningful and cherished mementos for recipients.
How can you profit from the kidult plush toy trend?
To profit from the growing kidult plush toy trend, consider implementing the following strategies:
Unique and Niche Designs:

Develop a line of kidult custom plush toys with unique, niche, or limited edition designs that cater to specific interests or subcultures within the adult market. It can help you stand out from competitors and appeal to dedicated fan bases or communities.

Customization Options:

Offer customization options for your kidult custom plush toys, allowing customers to personalize their purchases with names, messages, or specific design elements. Providing this level of personalization can enhance the perceived value of your products and foster a loyal customer base.

Online Presence and E-commerce:

Establish an online presence through an engaging and user-friendly e-commerce platform. Utilize targeted digital marketing strategies, including social media advertising, search engine optimization, and email marketing, to reach a broader audience and drive online sales.

Limited Edition Releases and Collectibles:

Create a series of limited edition releases and collectible kidult custom plush toys that generate excitement and anticipation among enthusiasts and collectors. Promote these releases through strategic marketing campaigns and exclusive offers to capitalize on the demand for unique and rare products.

Collaborations and Partnerships:

Collaborate with brands, artists, or influencers to co-create exclusive kidult plush toy collections or collaborative products. Leveraging the influence and reach of your partners can help expand your customer base and increase

brand

visibility within the kidult market.

Retail and Distribution Channels:

Explore partnerships with established retailers, specialty stores, or online marketplaces to expand your distribution channels and reach a wider consumer audience. Participate in trade shows, conventions, or pop-up events to showcase your products and connect with potential retail partners and customers.

Diverse Product Offerings:

Expand your product offerings beyond custom plush toys to include complementary merchandise such as apparel, accessories, or home decor items that align with your brand and cater to the preferences of kidult consumers. Diversifying your product line can increase customer engagement and encourage repeat purchases.

Community Engagement and Events:

Foster community among your customers by organizing interactive events, workshops, or online forums encouraging engagement and participation. Create a space for enthusiasts to share their experiences, stories, and creative uses of your kidult custom plush toys, building a dedicated fan base and fostering brand loyalty.
How businesses selling custom plush toys can leverage it for more sales? 
Businesses selling custom plush toys can leverage various strategies to boost sales and enhance their market presence. 
Targeted Marketing:

Identify and target specific niche markets or demographics most likely to be interested in your custom plush toys. Tailor marketing campaigns and messaging to resonate with the preferences and interests of your target audience, utilizing social media, email marketing, and advertising to reach potential customers effectively.

Product Customization:

Offer customization options that allow customers to personalize their custom plush toys, such as adding names, messages, or specific features. Providing a range of customization choices can help create a unique and memorable experience, encouraging repeat purchases and fostering customer loyalty.

Limited Edition Releases:

Create a sense of exclusivity and urgency by introducing limited edition plush toy collections or seasonal releases. Promote these items through targeted marketing campaigns and exclusive offers to stimulate customer interest and drive sales, leveraging the appeal of scarcity and uniqueness.

Collaborations and Partnerships:

Collaborate with brands, artists, or influencers to create co-branded or co-designed custom plush toys that appeal to a broad audience. Partnering with well-known personalities or established brands can help expand your reach, increase brand visibility, and attract new customers who resonate with the collaborative concept.

Omnichannel Presence:

Establish a strong online and offline presence by integrating an omnichannel approach. Maintain an engaging and user-friendly e-commerce platform while considering brick-and-mortar retail opportunities, pop-up shops, or participation in relevant trade shows and exhibitions to showcase your custom plush toys and engage directly with customers.

Customer Engagement and Loyalty Programs:

Implement customer engagement initiatives, such as loyalty programs, referral rewards, and exclusive membership benefits, to incentivize repeat purchases and foster a loyal customer base. Encourage customer feedback, reviews, and user-generated content to build trust and credibility, enhancing the overall customer experience.

Social Responsibility and Sustainability:

Emphasize your commitment to social responsibility and sustainability by using eco-friendly materials, supporting ethical manufacturing practices, or participating in charitable initiatives. Communicate your brand's values and initiatives transparently to resonate with socially conscious consumers and differentiate your custom plush toys in a competitive market.

Seasonal Promotions and Gift Bundles:

Capitalize on seasonal trends and festivities by offering special promotions, gift bundles, and holiday-themed plush toy collections. Create engaging marketing campaigns and visually appealing displays that align with specific occasions, encouraging impulse purchases and catering to customers seeking unique and thoughtful gifts.
Creative ways to use kidult custom plush toys
Kidult custom plush toys can be used in various creative and engaging ways, providing opportunities for self-expression, entertainment, and emotional connection. 
Home Decor:

Incorporate kidult custom plush toys into home decor to add a playful and whimsical touch to living spaces, bedrooms, or home offices. Display them on shelves, beds, or sofas to create a cozy and inviting atmosphere, infusing warmth and character into the overall decor.

Photography and Social Media:

Use kidult custom plush toys as props in creative photography projects or social media content. Showcase them in themed photo shoots, storytelling sequences, or imaginative scenes to engage and entertain your audience, fostering an interactive and visually appealing online presence.

Stress Relief and Relaxation:

Utilize kidult custom plush toys as stress-relief companions during moments of relaxation or meditation. Embrace their soft and comforting textures during quiet moments, meditation sessions, or self-care routines, fostering a sense of emotional comfort and tranquility.

Gift Giving and Personalization:

Offer kidult custom plush toys as gifts for friends, family members, or colleagues, incorporating customized messages or special features to create meaningful and memorable presents. Use them to commemorate special occasions, celebrate milestones, or express affection and appreciation.

Collector's Items and Displays:

Build a collection of kidult custom plush toys as valuable collector's items, showcasing them in dedicated display cases, shelves, or themed collections. Curate and organize these collections based on themes, characters, or designs, creating visually appealing and personalized displays that reflect your unique interests and passions.

Interactive Storytelling and Role-playing:

Engage in interactive storytelling or role-playing activities with kidult custom plush toys, creating imaginative narratives or playful scenarios that stimulate creativity and cognitive development. Use them as characters in storytelling sessions, role-playing games, or collaborative play experiences that encourage social interaction and imaginative exploration.

Community and Charity Initiatives:

Donate kidult custom plush toys to charitable organizations, community centers, or hospitals to bring joy and comfort to individuals. Participate in community outreach programs or charity events that focus on providing emotional support and care to individuals facing challenging circumstances, spreading happiness and positivity through the

gift

of custom plush toys.
Customize high-quality custom plush toys with EverLighten:
As the trend of kidult custom plush toys continues to flourish, it's essential to partner with a reliable and experienced manufacturer that can bring your creative visions to life. 
EverLighten is your trusted source for high-quality kidult custom plush toys tailored to your specifications and designed to captivate your target audience. With a focus on unparalleled customization and quality, EverLighten ensures a seamless and hassle-free manufacturing process, delivering products that exceed expectations and resonate with your brand identity.
Connect with EverLighten today and experience the following benefits:
100% customization to bring your unique ideas to life

Rigorous 100% quality checks to guarantee superior craftsmanship

Free design assistance to refine and perfect your plush toy concepts

Worldwide delivery options to reach your global customer base

Unlimited revisions to ensure your complete satisfaction

24/7 dedicated customer support for any inquiries or assistance needed
FAQs: 
How big is the Kidult market?
The kidult market is growing. In 2022, kidult toy sales represented 28% of total toy sales in the United States. It is up from 23.4% in 2019.
What are kidult toys?
Kidult toys are toys that are marketed and sold to adults. They can be anything from custom plush toys to action figures to video games. Kidult toys evoke nostalgia or appeal to adults' interests.
Who is buying toys?
Adults of all ages are buying toys. The most common age group for kidult toy buyers is 25-34. However, kidult toys are also popular among adults in their 30s, 40s, and even 50s and beyond.
Stress relief:

Toys can provide a fun and relaxing way to relieve stress.

Nostalgia:

Toys can evoke happy memories of childhood.

Fun and enjoyment:

Toys can be a fun way to spend time.

Self-expression:

Toys can be a way to express one's individuality and creativity.

Connection:

Toys can be a way to connect with others who share similar interests.