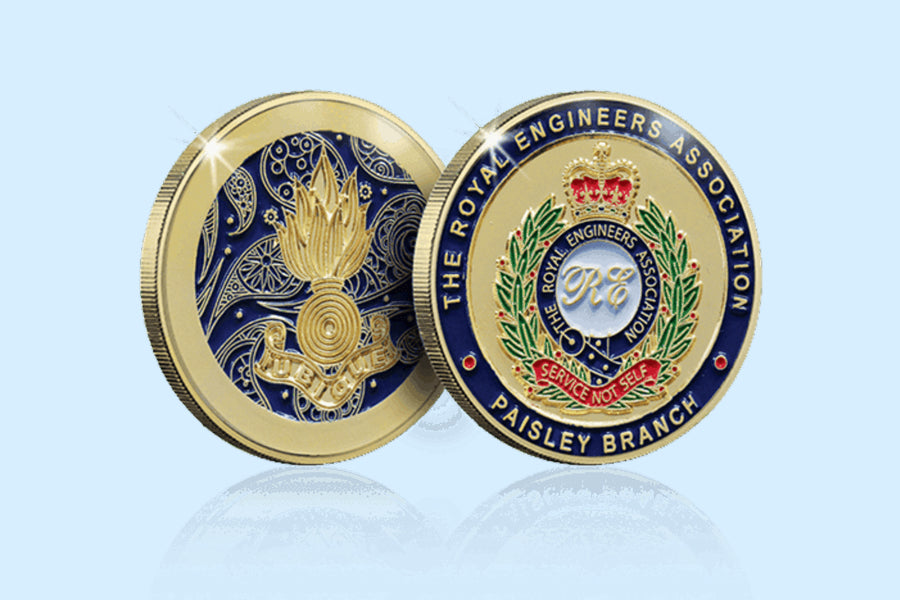 No one knows how the first challenge coin is and where it comes from. But according to first-hand accounts from people, we have a unique perspective on the history of the challenge coin. Although some people believe it as a legend or campfire story, this history of challenge coins is not fabricated. If you have ever wondered where challenge coins come from, how they have evolved over the years, or the development of the challenge coins, you can learn from this blog.
As a sign of camaraderie, military commanders often give service personnel pocket-sized medals, which are called challenge coins. These challenge coins are unique usually made by copper, bronze, or nickel with symbols and mottos of troops or offices. Generally, challenge coins are round, but they can also be pentagonal, spade-shaped, or any shape you want.
During the service, challenge coins are used to prove military members' loyalty when challenged. Some high-ranking military officers and retirees often display a batch of challenge coins in the office with uniform patches and ribbons next to them, showing their pride.
It is almost impossible to know exactly where the challenging coins originated. But the history of challenge coins is much longer than our modern times.
One of the earliest-known examples happened in ancient Rome. At that time, an enlisted soldier received monetary rewards for bravery. If a soldier performs well in the battle that day, he will get his usual day's salary and a single coin as a bonus. Some people say that this coin was specially minted with the logo of the legion, which prompted some men to use the coin as a souvenir rather than spend it on women and wine.
In World War I, a wealthy lieutenant commissioned a set of solid copper coins for the pilots under his command. He distributed the challenge coins when the troops were preparing for a dangerous mission over enemy territory. Each challenge coin is customized with the team's emblem, and the lieutenant wore his coin in a pouch around his neck.
During the mission, the lieutenant was forced to land because his plane was damaged by ground fire. He was captured by German soldiers. But fortunately, as the challenge coin was small and contained in an easily-overlooked pouch, the enemy soldiers miss it. He was relieved of any personal identification after searching.
In the end, the lieutenant managed to escape on the way to the internment camp. When he reached the nearest friendly outpost in France, French soldiers sentenced him to death because they thought he was a spy. In order to prove that he is an ally and save his life, he took out the challenge coin he wore on his neck. Fortunately, a French soldier recognized the emblem pressed on the coin. The coin saved his life.
No one knows the appearance of this coin, the unit it comes from, or even the authenticity of the story. However, this story is widely accepted by people and becomes the most widely spread origin story of custom military coins. The first official record of challenge coins comes from the US Army during the Korean War (17th Infantry) and Vietnam War (10th Special Forces Group A).
Challenge coins are widely used in the army, which becomes one of the traditions to soldiers to win challenge coins. Military leaders can have their own coins. The top general and the president of the United States have their own unique challenge coins. They are not mementos or keepsakes, but symbols of higher goals for those who serve our country and prepare to make the ultimate sacrifice.
Today, the use of coins in the military is more subtle. Although the military still distributes challenge coins as an appreciation for an excellent job, especially for those who were part of a military operation, some managers exchange them like business cards. Some coins are  even sold as fundraising tools.
Challenge coins are used today to honor service in certain units and deployment periods. Challenge coins are also used as a kind of business card to be exchanged among the military leaders. Some people even collect challenge coins. One of the most famous collectors is President Bill Clinton, whose official portrait is based on his personal challenge coin collection. Besides, the use of challenge coins has even surpassed the military field and entered the motorcycle and commercial fields.
If you are considering a custom challenge coin for your organization or event, EverLighten is a perfect choice for you. At EverLighten, we are offering trusted and reliable custom challenge coin services at an affordable price. Here you can get a wide range of challenge coins designs and styles. EverLighten is offering the best and easiest way to create challenge coins online. Send your ideas and we will demonstrate our art proof.
EverLighten has made millions of custom challenge coins for clients. We are getting love from our clients due to our work quality. Our clients include Air Force, Navy, Marine Corps, Army, Government Agencies, Sports Teams, Coast Guard, Fraternities, Clubs, Schools, Organizations, Businesses, Firefighters, Law Enforcement, and more.
We have a team of professional and experienced designers. They are dedicated to offering the best quality work. Our group of capable designers works with you to make custom challenge coins that represent your team's mission or interest.
Before the production process, EverLighten will provide you a digital proof. Suppose if you want any changes for the coin design then we will change it according to your requirement.
Our experts are always ready to assist you. They will help you to save time, effort, and money. Customer satisfaction is our main priority and we can do anything to fulfill the customer requirements.
For more info, please visit our website www.everlighten.com.