custom phone case
Make a Lasting Impression with Custom Phone Cases for Employees
|
Mar, 01 , 23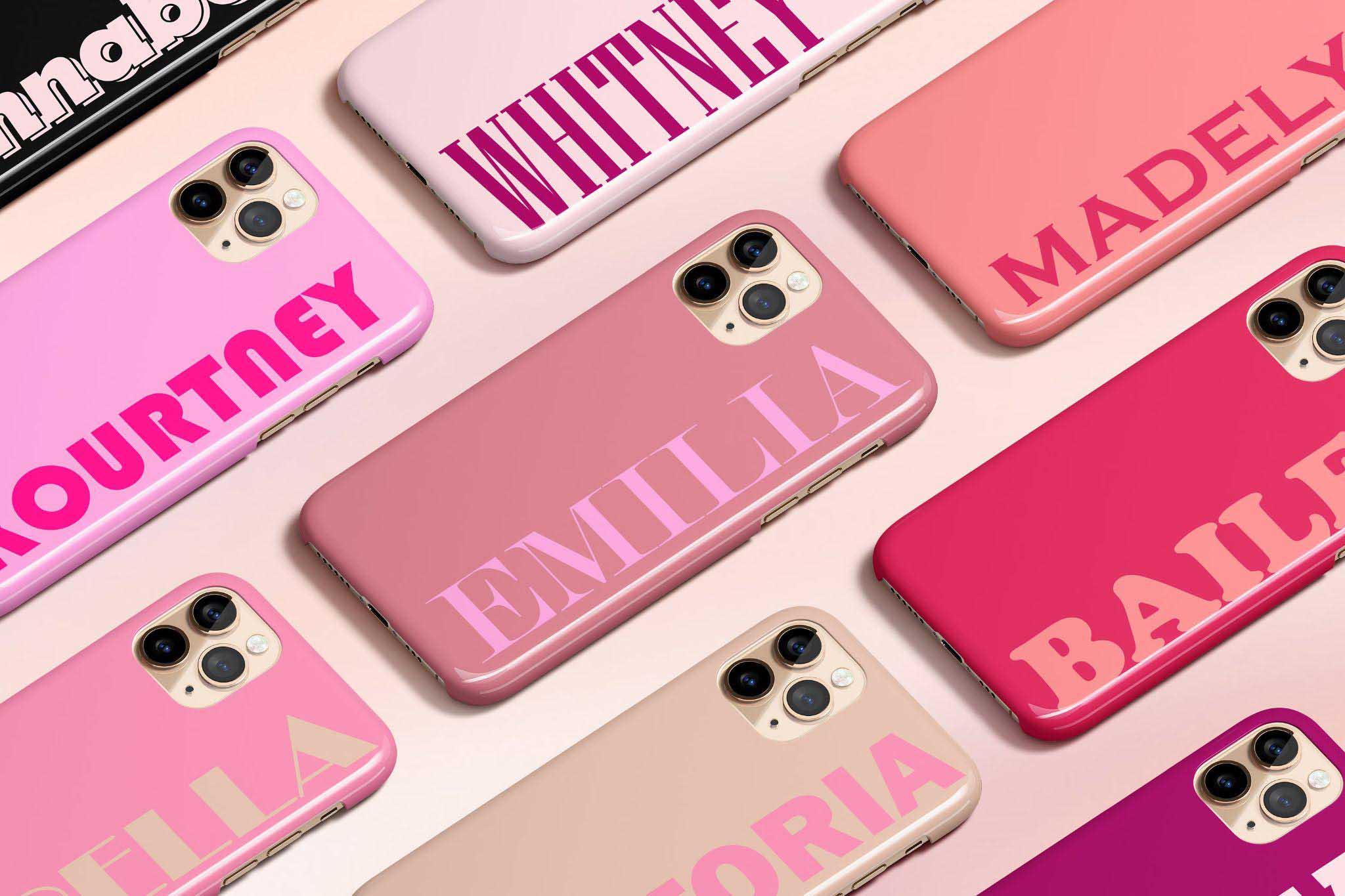 Custom phone cases are a practical and cost-effective way to promote your company and protect your employees' phones. You can customize it to fit any phone model and your company logo or message. By providing your employees with custom phone cases, you can show appreciation for their hard work and ensure that their phones are safe from scratches, cracks, and other types of damage. Custom phone cases are an excellent way to boost employee morale, promote your brand, and provide a functional item that your employees can use. Whether you choose a sleek, minimalist design or a colorful, eye-catching design, custom phone cases are a superb investment that can benefit both you and your employees.
What are custom phone cases?
Custom phone cases are protective cases for mobile phones designed and printed with a custom image, logo, or text. They are often made of silicone, plastic, or rubber and fit specific models of phones. Custom phone cases allow you to personalize your device and protect it from scratches, bumps, and other everyday wear and tear. You can use them for personal or business purposes, promote your brand, show off your style, or protect your phone. Some manufacturers like EverLighten offer customization services that allow you to upload your design or choose from several pre-designed templates to create your custom phone case.
What makes custom phone cases a popular and helpful item for employees?
Custom phone cases
are a popular and helpful item for employees because they offer several benefits, including:
Brand Awareness:Custom phone cases display your company logo or design, which helps increase brand awareness and exposure among your employees and their contacts.
Protection:Phone cases protect against scratches, cracks, and other damage to the phone. It can be especially crucial for employees relying heavily on their phones for work.
Practicality: Phones are an item that everyone uses daily, making custom phone cases practical and valuable products for employees.
Cost-effective:Custom phone cases are typically cost-effective to provide employees with a practical item they will use frequently.
Unique and Personal:Custom phone cases allow employees to personalize their devices and express their styles leading to increased employee satisfaction and morale.
Custom phone cases are a practical and cost-effective way to provide employees with an item that promotes your brand and enhances employee morale.
What are a few of the most popular materials for making custom phone cases for employees?
Here are a few materials that are commonly used for making custom phone cases:
TPU (Thermoplastic Polyurethane)is a flexible and durable material offering protection against scratches and minor impacts.
Polycarbonate is a hard plastic that provides excellent protection against cracks and other forms of damage. It is also lightweight, making it ideal for phone cases.

Silicone

 is a soft and flexible material that provides good grip and protection against scratches.

Leather

 is a premium material that offers a sophisticated look and protection against scratches and minor impacts.
Wood can create unique and natural-looking phone cases that offer protection against scratches.
Each of these materials has advantages and disadvantages. For example, TPU and silicone are good options for cases that need to be flexible and shock-absorbing. Polycarbonate is a better choice for extra protection against cracks and damage.
Tips for custom phone cases
Choose the material:As mentioned earlier, different materials offer different levels of protection. Consider the one that suits your requirements the best.
Consider the design:The design should be visually appealing. It should also clearly display your company logo or message. You can choose from pre-designed templates or create your unique design.
Ensure the case fits: Choose a phone case that fits their phones. One that is too small or too large will not provide adequate protection.
Quality printing:Choose a printing method that provides high-quality, long-lasting results. For example, screen or digital printing can provide clear and vibrant images.
Bulk order: If you're ordering custom phone cases for a large group of employees, consider in bulk to take advantage of cost savings.
Durability:Consider the durability and ensure it can withstand everyday wear and tear.
User-friendly:The case should be easy to put on and remove and provide easy access to all buttons and ports.
Using these tips, you can create custom phone cases that are high-quality, visually appealing, and effective in promoting your brand and protecting your employees' phones.
What is the manufacturing process for custom phone cases?
The manufacturing process for custom phone cases typically involves the following steps:
Design:The first step is to design the case by choosing from pre-designed templates or creating your custom design. This design should include your company logo or message or any desired graphics or text.
Printing: The design is then printed onto the case material using a printing method such as screen printing or digital printing.
Cutting:The printed material is then cut to the appropriate size and shape to fit the specific phone model.
Molding: They mold the cut material into its final shape, which involves heating and pressing the material into a mold.
Assembly:The molded case is assembled with necessary components, such as buttons or ports, to make it fully functional.
Quality control:Before shipping, the manufacturer thoroughly checks for quality, including fit, durability, and overall appearance.
Shipping:The finished cases are then packaged and shipped to the customer.
This process may vary slightly depending on the manufacturer, but the general steps are similar for most custom phone case production. The process is usually automated and efficient, allowing quick turnaround times and high-quality results.
How do they mold the phone cases?
Molding is a manufacturing process in which a material, such as plastic, is formed into a specific shape or form using a mold. We can break it into several stages:
Preparing the mold: The mold is typically made of metal or another durable material and is designed to the exact specifications of the final product. The mold is then cleaned and prepared for use.
Loading the material: The raw material, such as plastic pellets or liquid plastic, is loaded into a hopper that feeds into an injection molding machine.
Heating and melting: The raw material is heated and melted in the injection molding machine, typically using a screw-type plunger. The manufacturer forces the melted material into the mold under high pressure.
Cooling and solidifying: Once the melted material has filled the mold, it is cooled and solidified, typically using a cooling system built into the mold or a cooling bath.
Demolding: After the material has solidified, they open the mold and remove it with robotic arms or manually.
Finishing:The molded part may undergo additional finishing processes, such as trimming, sanding, or painting, to improve its appearance and functionality.
Molding is a highly efficient and precise manufacturing process to produce several products, including custom phone cases. The process is fast and scalable, allowing manufacturers to produce high volumes of products quickly and cost-effectively.
How to give custom phone cases to employees to motivate them?
Here are a few ways you can give custom phone cases to your employees to motivate them:
As a recognition or reward: Offer custom phone cases as a reward for excellent performance, meeting targets, or for years of service. It shows your appreciation for their hard work and encourages them to continue their superb work.
At company events: Distribute custom phone cases at company events such as holiday parties, team-building activities, or company conferences. It creates a sense of community and helps your employees feel valued.
As a welcome gift: Give custom phone cases to new employees as a welcome gift. It helps them feel appreciated and valued from their first day on the job.
In employee recognition programs: Incorporate custom phone cases into your employee recognition programs, such as monthly or quarterly awards. It not only motivates employees but also encourages friendly competition.
With company-wide announcements:Send out company-wide announcements with custom phone cases as gifts. For example, you can use custom phone cases to celebrate a milestone, such as the company's anniversary.
By giving custom phone cases to your employees, you can show appreciation for their hard work, boost their morale, and make them feel valued. It's a simple and effective way to motivate and keep them engaged with your company.
How to pack custom phone cases to make them attractive for employees?
Only handing over-the-phone cases might not be helpful. Here are a few tips on how to package custom phone cases to make them attractive for employees:
Use eye-catching packaging: Choose colorful and eye-catching packaging that reflects your company's brand. Well-designed packaging can help make a lasting impression on employees.
Personalize the packaging:Personalize the packaging with each employee's name, or include a personal note or message. It adds a personal touch and makes the custom phone case feel like a special gift.
Use high-quality materials:Invest in high-quality packaging materials, such as premium paper, sturdy boxes, and clear plastic bags. It helps to protect the custom phone case during shipping and adds to the overall appeal of the package.
Include instructions and accessories: If your custom phone case requires special instructions for use or comes with accessories, include them in the packaging. It ensures that employees get the most out of their custom phone cases.
Make it eco-friendly: Consider using eco-friendly packaging materials, such as recycled paper or biodegradable plastic, to show your company's commitment to sustainability.
You can create a memorable and enjoyable unboxing experience for your employees by taking the time to pack them. It can help build excitement and anticipation around receiving their custom phone case and make the gift feel even more special.
Over to you:
Custom phone cases are a practical and cost-effective solution for promoting your brand and protecting your employees' phones. With a wide range of materials, designs, and customization options, you can easily create a custom phone case that meets your needs and fits your budget. Whether you want to improve employee morale, showcase your company's values, or protect your employees' phones, custom phone cases are an excellent choice. With high-quality printing and durable construction, custom phone cases are an investment that will continue to pay off for years. So, if you're looking for a practical and impactful way to show your appreciation for your employees, consider investing in custom phone cases today. EverLighten has been helping diverse clients, including startups, corporations, sports teams, universities, nonprofits, celebrities, and individuals, making it a trusted partner for all their needs.
Jan Richardson, the VP of Operations at Global Results Communications Company, wanted to create custom phone cases for their employees after winning the Marcom Platinum award for their PR 360 podcast. But, he could not find a manufacturer to produce high-quality products per their needs. Fortunately, he contacted EverLighten, and we worked closely to create premium-quality phone cases that satisfied them. They were so happy with the quality that they ordered custom socks for their employees.
Make high-quality custom phone cases with EverLighten:
Best price: We customize phone cases in our factory, which helps customers get the best cost in the industry.
Premium-quality: Our customers receive high-end products made with premium materials, manufacturing techniques, and packaging to ensure the highest level of quality.
Quick turnaround: At EverLighten, we prioritize fast turnaround times to ensure the timely completion of each project.
24*7 support: Our customer service team is available to assist you with your needs at any time, day or night.
Customer focussed: They enjoy helping people and welcome all orders
Unlimited customization: Customers can customize every aspect -colors, materials, artwork, printing process, etc.
Low MOQ: We offer the lowest minimum order quantity available in the industry to provide greater flexibility.
Worldwide delivery: EverLighten ships to any destination, and our clients can conveniently track their orders through our online tracking system.