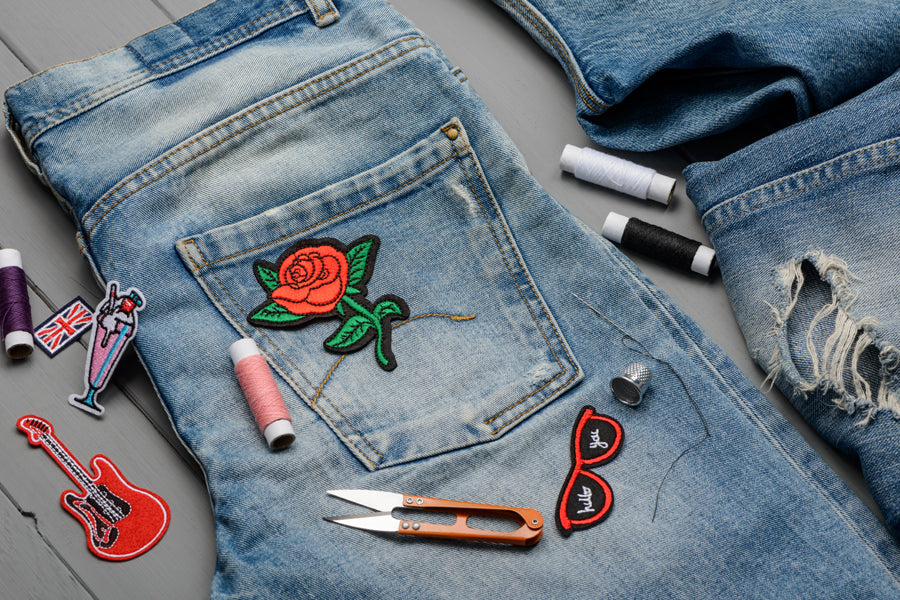 Youngsters are fashion conscious, and they will find many reasons to put custom patches on their clothes. The biggest among them is because they look ultra-cool. Youth loves custom patch clothing, and many consider it to be the most desirable wardrobe. When there is a hole in your fabric, which you can't repair, custom patches become the Marvel Superheroes you watch on the big screen, and ultimately, saves the day. People put custom embroidered patches, custom woven patches, custom printed patches to hide a hole in their clothing material. Keep the custom patch on the top of the hole, and it disappears for good.

It is inevitable to keep the clothes new and fresh all the time. They are made of fabric, and you can't prevent a hole in your clothes when they get old. If you have kids at home or you do hard work all day, or you wash and scrub your clothes harshly, then your clothes will have holes more or less. They appear on sleeves and jeans and bags - they can appear on any clothes you own. Sometimes, you love your clothes to throw them away, so people choose to put custom patches on it.

Be it funky custom printed patches or cute custom woven patches or artsy custom embroidered patches, they solve the purpose of recycling it and gives it a unique fashionable touch. If you are looking specifically how to put custom patches on clothing - check out this post.
Depending on the material you want to put the patch on – there are three options:
1. Iron-on
2. Glue
3. Sewing
As the name suggests, this technique will require you to put iron 'on' custom patches you want to hide your holes with. You don't need a high IQ to understand this technique. It's simple and to the point. Let's try to understand it briefly.
 
To start with the technique, you need iron-on custom patches or transfers, an iron & ironing board, a towel or sheet of blank paper, and clothing or a canvas to put an iron-on patch.
 
You have to be very cautious while selecting a fabric or canvas to put an iron-on custom patch. Cotton fabrics and denim are most suitable to put an iron-on custom patch. If you go for a material that has plastic in it, then you may risk burning or melting it while putting on an iron-on custom patch. Whenever you're trying this method, always test a small part of your clothing first before applying a patch.
 
After testing, decide on the look of the iron-on patch on your material. Try out some placement first before making up your mind. If you're adding a patch to jeans, then you should consider using safety pins and attach them to various places. Your creative mind will find many options to keep it cool and classy. Once you get satisfaction, then you should start with ironing.
 
While trying out the placements for your custom patch, you should plug in your iron and let it heat up for a few minutes. Put your garment on the ironing board and make sure that your patches are in place. Delicately put a towel of a sheet of paper over the custom patches so that it can protect your patch and garment from the iron. In an ideal world, it will take 10 to 15 seconds to press a patch on the fabric. Once you press a patch, let it cool, and then try smoothening of the edges. If it peels up, it is advisable to keep ironing for a little more time. Be careful of over-ironing.
Using glue to put on custom printed patches is the most popular way among the people. You don't have to be very skillful in implementing this technique. Make custom patch hats or custom patch t-shirts to apply this method to any fabric or clothing material. If you are afraid of the heat of an iron or you find difficulty in sewing the custom patches on - gluing patches on clothes will solve all of those problems. You just need a custom patch on clothes, fabric or cloth glue, and a piece of clothing to try on. Before trying this method, check if your piece of cloth is dry or not.
 
To begin the process, lay the piece of cloth on a flat surface or an ironing board. Decide on the look of your patch to be put on. After making up your mind, you put the glue on the custom patch clothing and let it dry for two minutes before placing it at your desired place. In the market, there are custom patches available that have sticky back glue. To put on those types of custom patches, you just need to peel it off and place at the desired spot on your clothing material.
 
Sew-on patches can be the oldest of all other techniques. You can sew-on patches either by hand sewing or using a machine to do that. To apply this method, you have to well-versed in sewing. To sew a patch on cloth, you will require a custom patch, needle, and thread or a sewing machine with a piece of fabric of your choice to sew the patch. Sewing is more durable than all of the other techniques.
 
To implement this technique, put your fabric on a flat surface or an ironing board, and then place the patch on the cloth of your choice. Start sewing with a hand or machine. You can use different colors to make your custom embroidered patch more attractive. Custom patches sewed on clothes look very elegant after finishing.
 
Knowing how to put custom patches on clothes is an art that everyone should be able to do. Whether it is to beautify your clothes or to cover a tear, the important thing is that now you can do it. So when are you trying one of these methods? Implement, and stay stylish.
For more info, please visit our website www.everlighten.com.