How to Promote Your Business with Custom Coffee Mugs? | EverLighten
|
Jun, 30 , 21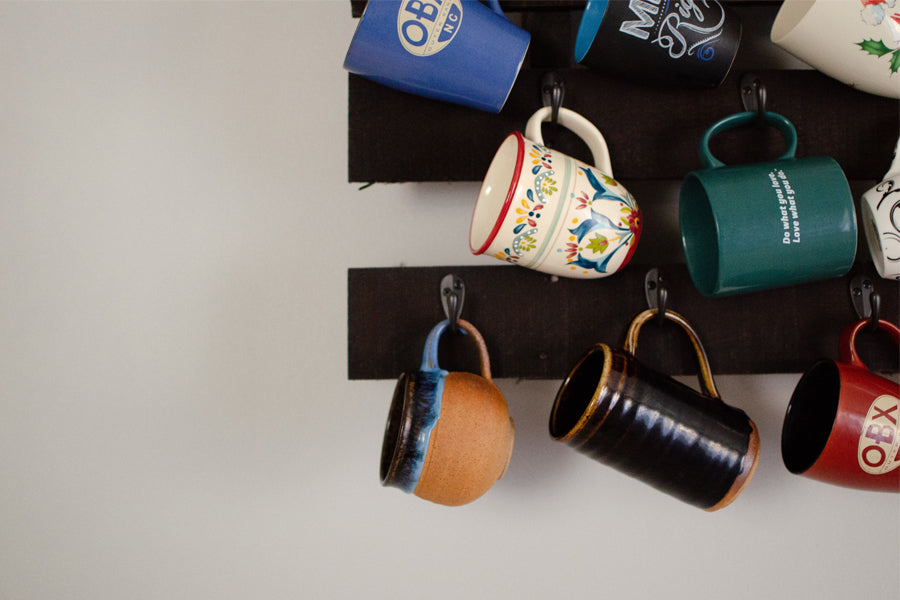 People start their days by drinking hot beverages. Many prefer to drink coffee, tea, milk, or any other refreshments in their favorite mugs. This ritual is incomplete without cups or mugs. Therefore, you may consider promoting your business by selling custom mugs, custom logo mugs, custom picture mugs, or any other types of high-quality custom mugs. People prefer custom mugs that reflect their identity, personality, and uniqueness. Thus, selling custom-made mugs can be beneficial for your business.
Why custom mugs?

Personalized custom picture mugs, custom logo mugs, business mugs, or various types of high-quality custom mugs give you an opportunity to brand your business effectively. Custom mugs at wholesale prices or cheap custom mugs may attract new customers. You can include it in your advertising and marketing strategy to increase brand awareness. You can sell mugs for various occasions like birthdays, weddings, anniversaries, graduation day, friendship day, father's day, or valentine's day. Custom-made mugs add a personal touch and stay in the memories of your loved ones.
Promoting your business by selling custom mugs can lead to better results than any other type of marketing or advertising. Let's check out the reasons why you can't go wrong with selling custom-made mugs.


Customers appreciate value

Customers cherish those offerings when a business sells something that adds value to its life. Everyone likes to drink something warm or refreshing from time to time. Custom Mugs can be used to drink coffee, tea, or hot chocolate. They add value that encourages your target audience to trust your brand.


Above-average marketing reach

Brand managers and marketing professionals are always dubious about the reach of the marketing campaign. When you sell custom picture mugs or custom logo mugs, or business mugs,  you make sure that they will be used for a long period and will be noticed by many. With custom-made mugs, there are high chances to reach your target audience.


Boost recognition

High-quality custom mugs keep your audience and potential customers invested in your brand. Many coffee and tea drinkers boast a diverse custom mug collection. Every time they drink, your branding will be there for other people to notice. Attractive and unique custom mug designs spark memorable conversations as well.


Best for introducing something new

When your brand is looking to introduce new products, services, features, websites, or mobile applications, you can try using custom mugs as they are more efficient marketing tools than keychains or badges. People are likely to notice custom picture mugs or custom logo mugs, leading to more eyeballs for your new product, features, or services from your company.


Generate new leads

When you start using custom-made mugs during various points in the sales process, people will begin interacting with your brand, and the response rate will increase. Conversions from visitors to leads will happen quickly. Selling custom mugs at wholesale rates or giving them away to those who consider your services may increase the chances of generating new leads.
After understanding the benefits of using mugs, let's move on to the process of creating them.


How to make custom mugs?

You will find mugs in every household for daily use. You can customize them by applying various styles, colors, and patterns from the material of your choice. There are three easy steps to customize your cups creatively and successfully. Read on to create the next cup of tea or hot cocoa.
Choose the right style
Select material and imprint method
Design your mug
Step 1 - Choose the right style

You can be creative while choosing the right style, shape, or size for your custom mugs. You can select trendy designs that will stand out and are apt for your drinking habits. Check the various styles listed below.


Traditional mug

It is a classic style available in various sizes. It helps to have a relaxing cup of coffee in the morning.



Spooner mug

This type of mug has a spoon that fits into the handle and adds convenience to your mornings. They are valuable for outdoor events or camping.



Novelty mugs

They are available in various novel designs. You can give it your personal touch and make it memorable. You can spot them at bars and restaurants, family reunions, or pool parties.



Travel mugs

Travel mugs are beneficial for travelers who love to visit places all the time. The lid of the travel mugs keeps beverages warm and prevents them from spilling.
Have fun picking your

custom mugs

!
Step 2 - Select material and imprint method

Choose the material that fits the functionalities of your mugs and make them attractive and appealing using the imprint method. Selecting material for your custom-made mugs, high-quality custom mugs, custom logo mugs, custom picture mugs, and business mugs is a vital task. You can add designs to custom mugs in multiple ways. Check the information given below.
Ceramic


You can print designs in multiple ways on this durable material. Pad printing is advisable for ceramic mugs because of the smooth surface.



Glass 


They are clear and transparent. You can try laser engraving as an imprinting method for glass mugs.


Stainless steel


The mugs which are frequently used are made of stainless steel. They are ideal for trapping heat and providing durability. Laser engraving is perfect for them as well because of its ability to withstand high temperatures.



Stoneware


They contain a different blend of stone, flint, and clay. They look different from regular custom mugs. You can use digital printing to add designs to stoneware mugs.



Acrylic


They are cost-effective, lightweight, and versatile. Pad printing suits them because the process does not use heat and won't damage the material. Choosing the right type of material to make high-quality custom mugs is crucial. You would not want your mug to get broken quickly. This information will help you pick the ideal imprint method to make sure your custom-made mugs look attractive.


Step 3 – Design your mug

It is time to choose the color and design; after selecting a style, material, and imprint method for custom mugs. Always pick colors and designs that match your brand theme and logo. You can also pick cause-specific colors or vibrant colors to make it appealing. Check the insights given below for more information.
While creating custom logo mugs, make sure that other elements complement your logo colors and themes.

To make your custom-made mugs more attractive, you should pick patterns like marble instead of solid colors.

Choose a white background for your

custom logo mugs

if your designs have dark colors.

White color or light color designs suit best when the background is dark.

You can create custom picture mugs by using the full images of your choice.

Use a permanent paint marker or Sharpie to decorate ceramic mugs. Once you finish drawing, bake the custom mug in the oven for 20 minutes at 350 degrees.
If you have a good choice of colors, patterns, and designs, then your custom-made mugs will look amazing. You can make them for raising awareness for a cause or sell them at your coffee shop.
After learning about the creation of custom mugs, let's understand how to promote them.
How to promote custom mugs?

There are multiple ways to promote custom mugs. We will have a look at them in this section. Let's deep dive into the ways to nurture custom-made mugs.


Make gift baskets that include your mugs 




You can create gift baskets that include your branded mug with baked goods, some coffee, and anything else you can think of. People admire gift baskets as it uniquely presents the already available products.



Send mugs to bloggers




Many prolific bloggers influence people to purchase products. You can collaborate with them to promote your

custom mugs

.



Advertise on Social Media

 


You can click good pictures of your custom logo mugs or custom picture mugs, business mugs, and company logo mugs and advertise them on social media platforms like Facebook or Instagram. Your brand will reach many people as these platforms have millions of users.



Deals and discounts

 


People always admire discounts and deals on any product. So, you can try these tactics to sell your custom-made mugs or high-quality

custom mugs

. Many people consider buying cheap custom mugs or custom mugs at wholesale prices; they will also consider your brand when you start offering deals and discounts on your product.



Giveaways




You can create unique

custom logo mugs

to promote your brand and give them as freebies.



Email marketing




You can promote your high-quality custom mugs, such as custom logo mugs and custom picture mugs, through email marketing. It is a powerful tool, and an email marketing program like MailChimp can help you do it efficiently. Users have to pick a template and add some automated features to start email campaigns. Make sure you space out your emails; so receivers do not consider them spam.

You can try these ways to promote custom mugs effectively. These ways will help you stay relevant and increase brand awareness. Now, we have understood the complete process of promoting our business by selling high-quality custom mugs. So, be wise and let your business fly with the help of

custom-made mugs

.


Conclusion

Now you know the need for creating custom mugs. We have discussed the process of creating custom mugs as well as helpful ways of promoting them. Custom mugs give the user a uniqueness that anyone would like to have. Thus, custom mugs are used by giant brands for promotion purposes. It is one of the most cost-effective ways of advertising your brand and thereby increasing sales. So what are you waiting for, order your custom-made mug now. Wondering where you can get your custom-designed mugs manufactured? We will suggest EverLighten for this purpose.
EverLighten is the industry leader in providing custom manufacturing services for the past 19 years. Its designers and team members collaborate with you to understand your need and come up with sample designs. After your approval, they produce your custom mugs in the least possible time and provide free delivery to your doorstep. So, if you want your custom mug designed and delivered to you, Contact EverLighten now.


FAQs


How do I market my mug business?


Refer to the article above where we have mentioned the ways of promoting your mugs. Using social media, distributing free samples, and having the correct marketing strategy will help you make your mug business a success.


What is the price of a customized mug?


You can get a customized mug at a price of $7.99 approximately. The prices are variable depending on the material used, the type of design, and the order quantity.
Is selling mugs a profitable business?


Having a correct marketing strategy, creativity, and a lot of hard work, you can make the mug-selling business a success.
How to start a print-on-demand mug business?


Initially, you can outsource the manufacturing part and work on marketing and selling the mugs. Once you succeed in creating a brand presence, you can also start manufacturing your custom mugs. But, if you choose to outsource the manufacturing part, it will keep you concentrated on the marketing and sales strategy.
What shape mug is best?


A tulip-shaped mug is considered best for coffee. These mugs are narrow from the top and broader from the bottom. These mugs are considered to increase the aroma and taste of coffee.