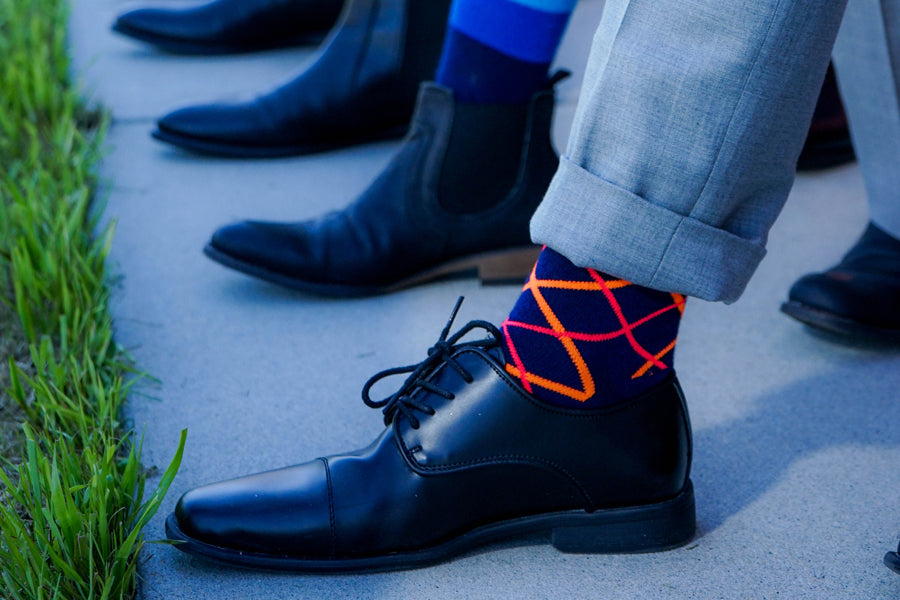 When you take part in an event, it is easy to focus only on the obvious accessories, such as your favorite suit color and tie combo. You must pay attention to match these accessories with your suit. But one aspect of formal or business suit that is easy to forget is some accessories and accents like pocket squares and socks. When you wear a suit, a pair of suitable dress socks can easily blend into your formal look with an extra flair.
Basic Rules to Match Different Colors of Custom Dress Socks
When assembling fashionable men's outfits for business meetings, appointments or other important occasions, you need to consider many little aspects. From the color of ties to how to tie shoelaces, there always seems to be another wardrobe detail that needs to be figured out.
It is especially difficult in matching socks with shoes and pants. Many men insist on primary colors, such as black or navy blue. However, when the colors of shoes and slacks are different, it is still difficult to know which color to wear. Here are bits of advice on some basic rules to help you choose the right color.
Gray, Black or Navy Dress Socks
Gray, black, and navy are good for less casual situations. Black is a suitable choice for professional settings, especially with black or gray slacks and shoes. When you need to wear tan or light-colored slacks at the "business casual meeting", a pair of navy dress socks are a good choice.
Although these colors are reliable classics, they may not fit all in some cases. For example, when you wear brown shoes, it is not suitable for black dress socks. If you wear black shoes or slacks, navy socks will bring another classic faux pas. On the contrary, you can consider choosing brown socks or navy blue socks in some cases to match a variety of suit colors.
Bright and Solid Dress Socks
Dress socks with bright or solid colors can add a refreshing burst of color to your outfit in some occasions. Normally, it is not suitable to put on new coral dress socks in somber occasions. However, you can wear bright or solid dress socks in retirement parties, wedding receptions, or other celebrations. In most cases, wearing solid dress socks is better than patterns.
Dress Socks with Patterns
Dress socks can have many different fun and quirky designs. Knowing when to use them is key. This is not only related to patterns, you need to coordinate socks into the outfit. If you don't know how to wear, look at the pants you will be wearing for inspiration.
For example, if you are wearing dark pants with hunter green, you can wear dress socks that include the same tone in the pattern. Similarly, you can also choose a palette that matches the socks for your outfit. The real key to wearing bright patterned socks is to coordinate and choose the right occasion.
If you are not sure what color and style socks you should wear, you can refer to the other part of your suit. When you have some colorful ties, you can wear a pair of dress socks with some patterns with similar colors. Here are 4 tips for you to wear custom dress socks properly.
Pair Socks with your Outfit
It is important to choose socks based on the color of the pants. However, if you have a pair of striped socks with two colors, or just a pair of contrasting colored socks, it is significant to pick up the same color elsewhere in your outfit. It could be your pocket square, tie, bow tie, or even shoelaces. No matter what you choose, some forms of coordination will make your outfit look decent.
Avoid Ripped or Punctured Socks
If your dress socks have a hole, you should throw them away. You must feel uncomfortable when wearing a pair of socks with a hole. If you have someone who can repair them, you may want to try it, but repairing may be easier to spend more than a new pair at the cost of current labor costs.
Trim your Nails & Treat your Heels
If you properly cut or clip your toenails to avoid sharp edges, the dress socks will last longer. If you have cracks or hard calluses on your heels, they will wear out the socks faster than when protecting the heel. Therefore, you should take care of your feet with a high-quality nail kit.
Don't Mix Them
Socks come as a pair for a reason, which should not be mixed and matched. Even the basic black socks may have a slightly different shade or hue. You should be extremely careful to ensure that the socks are paired correctly, otherwise discard them.
It will take a long time to wash your socks extremely clean. Here are four easy steps for you to clean them properly.
Step 1: Soak
First, you need to put your socks in warm water and mild detergent, which will never cause any harm to most socks. In this step, you have to soak them about 3-5 minutes. When they are really dirty, you can soak about 10 minutes.
Step 2: Wash
Most custom dress socks can be washed without too much agitation. After soaking, you should wash them in soapy water. If you find stubborn stains on the socks, you may need to soak them again overnight or use a stain remover.
Step 3: Rinse
You should rinse the soap with clean cold water. Generally, you may need to rinse two or three times to remove all the soap.
Step 4: Dry
Most custom dress socks need to be air-dried. You can gently squeeze them to remove water, and then place them on a clean dry towel to absorb water. After that, these socks are hanged to dry. If you are worried that thin fabrics will stretch, you can lay them flat to dry.
It is difficult to find a reliable manufacturer to make custom dress socks with high quality. People who want to personalize dress socks will find a manufacturer on Google or other website. But a young manufacture named EverLighten must meet all your needs, which has its own factory, a professional team and high-quality products at a factory-directing price.
For more info, please visit our website www.everlighten.com.