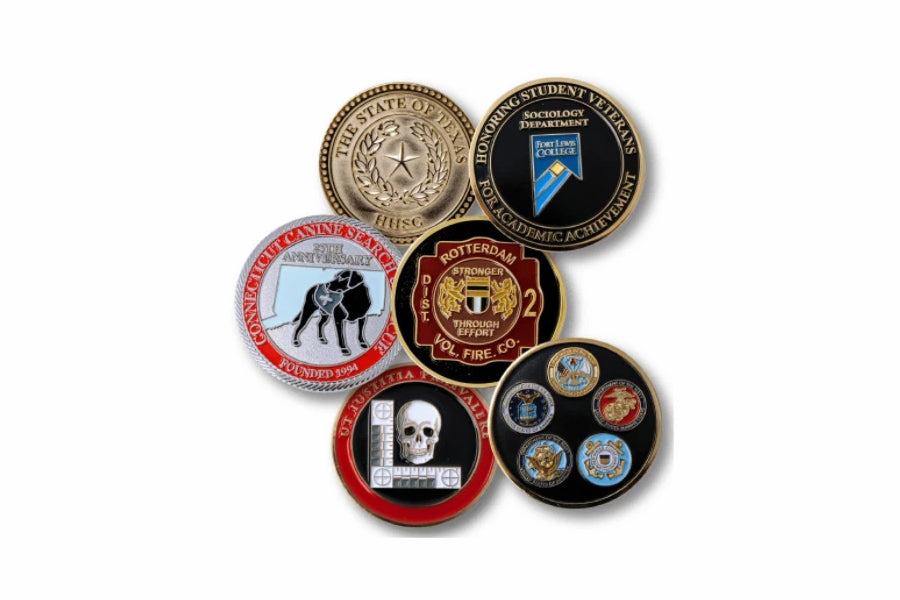 The excellent thing about custom medals is that you can have anything you desire. Manufacturing and designing medals are entirely different than designing for print or web. With custom medals, we will consolidate veneer, electroplating, textures, and shapes in various layers! There will be sentiments attached to each medal, and therefore we have to consider that while making them. People work hard for many years to win custom race medals, custom award medals, custom running medals, custom academic medals, custom competition medals, and many more.
Consider a sportsman who has worked for a year to win custom baseball medals, custom basketball medals, or custom gold medals. We have to make sure that your design matches their accomplishment and they feel special while achieving your custom medals. Here we will be discussing how you should create custom medals. So, without further ado, let's start learning about that.
Why we need custom medals?
Are you thinking about distributing or awarding custom medals to your employees? Will it be an appropriate option, or should you instead opt for a certificate? Should you give it to the winners or every person? Custom medals can solve almost all of your problems considerably. You only have to pick perfect custom medals suppliers. Here, we will be discussing the reasons for the need for custom medals.

Perceived as valuable & precious
It is common knowledge that videos help people remembering certain things better than hearing or reading. Visuals and spectacles are preferred by viewers. If people participate in contests, then they will admire having something physical which they can take to their homes. It is perceived as valuable and precious. You can try making larger custom medals for the winners that encourages them to perform better to acquire such valuable custom coins and medals.

Brand building
As brands, you must know that people will keep custom competition medals for their future memories. You must have saved the school mascot medals you got after participating in the sports fair. Awarding custom coins and medals is a genuine opportunity for brand building. Your custom race medals, custom academics medals, custom award medals may reflect the brand's commitment to fun and its willingness to do something new for its customers.

Improve employee engagement
Top-tier businesses are also clueless about improving employee engagement, and regular appraisal does not ignite the necessary spark. Employees crave more recognition than that. You may celebrate them by handing out custom award medals; you can also hand out custom volunteer medals for their voluntary achievements or responsibilities. You can create various custom coins and medals to reward employees instantly, which will help enhance employee engagement because they will feel more acknowledged and appreciated.  

Nurture goodwill
You can nurture goodwill by keeping your employees' families in check. Generally, they pay the price when your employees stay late. So, you can recognize their sacrifice by giving them custom medals of their own. It fosters goodwill, and employees also appreciate that you care for their lives beyond the business.

Ways to use custom medals
Custom medals serve various purposes. You can give custom award medals to honor people. School mascot medals, custom volunteer medals are given as mementos. Custom academics medals and custom competition medals are given as souvenirs as well. So, it is very vital to know the ways to use custom medals for various purposes. Here are some of the most popular reasons to use custom medals.

Athletics
School
To award winners of contests like spelling bees, trivia sessions, debate, and other contests
To recognize student achievements
To honor students who represent the school in various sports and state tournaments and competitions
To felicitate students from band, orchestra, and other national contests.
Corporate and small business
To reward employees who achieve their sales targets and help businesses achieve their annual goals
Fundraising
The process of making custom medals
Custom medals are manufactured to show appreciation for people who have worked hard to achieve something or prove themselves. Custom gold medals are mostly awarded to athletes, but they are not limited to them. Custom medals suppliers have made several custom medals for ordinary people as well. People can be awarded for their achievements, efforts, or devotion towards a cause or a company. We all know the importance of these medals, but it is time to understand the process of making one. Over here, we will learn how to create custom medals. Brace yourselves. The following information may be useful for you.

3D Mockup
After deciphering the requirements received from the clients, the group of creative individuals will replicate the visuals of the custom medal. First, they will draw it by hand and then fine-tune it with cutting-edge computer technology. They will create a 3D mock-up of the design, which will give you an idea of the final appearance, which will be achieved by custom medals suppliers or manufacturers. Till the process of manufacturing begins, the clients can request multiple modifications.

Relief model
The craftsman created the ideal object using various procedures, usually with modeling clay (building the relief), then plaster for details, and finally some resin. This way, ancient techniques remained relevant enough with assistance from modern technologies. Custom medals are prepared by merging experience, heritage, and history with modern methods like 3D printing, laser technologies, etc.

The creation and control of the tools
First created in the 18th century, the lessening machine moves a downsized copy of the alleviation in the pitch onto a steel plate. A sort of metal finger touches the pitch while a carbide processing burr repeats the specific developments, carving into the steel plate. The process of etching can take about 24 to 48 hours.
After the completion of etching and carving, you have to make sure that there are no miniature scratches. It is efficiently looked at and quietly modified by the hands of engravers and etchers. After that, there is an immersion stage at which the steel plate is warmed to a high temperature before being inundated in fluid nitrogen, which sets atoms of metal and gives it remarkable resistance. Then, the tool will be placed on the press and used to stamp the metal spaces.

The metal cutting
After the above-mentioned steps, the metal is cut to the required shape of the medal, and then stamping happens. The workers set up and adjust various settings to simplify the process of stamping after cutting the metal.

Striking -or stamping- medals
To procure the perfect shape and design for the medal, the metal blank should be struck constantly. There are some metals like bronze and silver which cannot tolerate the stamping process very well.

The annealing process
It is vital to expose the future medals to warm cycles between each pass to reestablish their unique pliability. So after each strike, the medal experience a tempering cycle (an annealing process) that requires almost eight hours in specially designed "annealing ovens"! After each annealing treatment, the medals are submerged to scrap impure ones. (Any deformity would be noticeable to the unaided eye!).

Trimming
When the help and its subtleties show up with accuracy and refinement, the medals will be managed: As the striking disfigures and straightens the first bronze plate as it dazzles the ideal alleviation, we end up with a band of metal that invades the boundary of the medal. The trimming step: this band of excess metal around the medal is eliminated to give the piece its final and consummated shape and measurements.

Polishing and welding of the attachment for the ribbon
In this step, the custom medals of different types like custom race medals, custom awards medals, custom running medals, custom baseball medals, custom academics medals, custom basketball medals, custom competition medals, custom gold medals, custom volunteer medals, school mascot medals are rinsed and polished by custom medals suppliers and manufacturers to keep its shine intact. After following the cleaning process, almost all impurities are removed, and a smooth and shiny outcome is achieved.

Finishing work and surface treatments
Custom medals are then sanded to make a uniform surface and empower the patina or silver plating to follow. After that, they are inundated in showers, to store a fine layer of patina, silver or gold, by means of electrolysis. Generally, the thickness of the valuable metal is more than 1 micron. For patinated medals, the initial step is to brush the surface of the medals to eliminate the black deposit on the surface yet leave the deposit in the hollows of the relief of the medal for accentuation and as such, to feature and highlight the engraving or etching work.