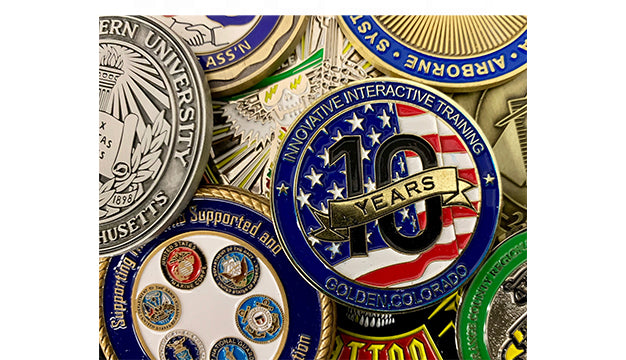 Custom challenge coins are a great way to know an individual, a team, or bring meaning to an activity or achievement.These custom challenge coins establish lasting bonds between team members and encourage them hard work.Besides, custom challenge coins are an unforgettable and unique great gift. Whether you want to honor service personnel, a first responder, or valuable team members, custom challenge coins will make this moment unique and memorable.
What are Challenge Coins?
Challenge Coins are metal coins that come in different shapes, sizes, and styles that are commonly awarded to a person for extraordinary accomplishment and excellence.
Challenge Coins are additionally utilized in different manners to support morale, motivate, make camaraderie, unique occasions, inspire, and recognition, even as a business card that will never get tossed away.
Different Types of Challenge Coins
Military Challenge Coins
Whether in the Army, Navy, Air Force, Marines or Coast Guards, challenge coins become a tradition with a longstanding history. Many different traditional challenge coins represent various military departments, individual units, special groups and even specific tasks.
Military leaders can also have their own coins. The top general and the president of the United States have their own unique challenge coins. They are not mementos or keepsakes, but symbols of higher goals for those who serve our country and prepare to make the ultimate sacrifice.
First Responders Challenge Coins
Like military challenge coins, first responders challenge coins are used to honor service. Law enforcement agencies and firefighters use challenge coins to commemorate special achievements in missions. This creates a sense of honor and unity.
Whether you make the custom challenge coin for the first time or not, following the 10 tips will help you simplify the design process and make your final product more influential.
1. Consider the Purpose of Custom Challenge Coins
Who is your custom challenge coins for? Why are you making this coin? Do you agree with the idea that custom challenge coins are a symbol of pride and solidarity? Generally, custom challenge coins are designed for membership, recognition, a bond between people in a group or branding.
▸ Membership
In the military, custom challenge coins can prove that you are a member of the army or have served on a specific duty. In the early military history, they were used for security. The members of army may be required to show challenge coins to prove their loyalty. It may not be necessary today, but is still a strong tradition for team members.
▸ Awards and Recognition
Custom challenge coins are used to award team members with outstanding performance. Giving these custom coins to award those who perform outstanding will build pride and morale. It can also encourage other team members to work harder.
▸ Bonds and Connections
The tradition of challenge coins keeps members of the military connect with each other even after leaving the military. Veterans often display coins of the units they served in, the tasks they performed, and the leaders they met. When the tragedy occurs, first responders will be awarded for their heroic efforts.
Challenge Coin pays tribute to the events shared by the members of the organization and creates a bond that can last a lifetime.
▸ Branding
Recently, people identify company brands by their custom challenge coins. Companies begin to distribute these custom challenge coins at conferences, sales events, and trade shows. Challenge coins are definitely more memorable than business cards. Even schools and sports teams are joining the trend. Mascots and logos are placed on coins to be handed out at local events in the community.
 2. Explore your Coin's Concept
You should outline your ideas, collect your content, and propose different variants of ideas before putting them into production. What logos or images should be included? What color or text you want to add? Custom challenge coins are not as simple as putting a logo on a coin. Before presenting your idea, it is better to start with a clear concept.
For example, if you are considering making custom challenge coins with different plating styles, there is no harm in thinking about how these plating styles can change the details and design displays on the coin.
 3. Plating Options Matter
You can choose polished gold coins, polished silver coins, antique gold coins or antique silver coins to set the tone and visual effect of the entire design. Especially if your design uses few colors or is completely die struck. From a cooler look to a warmer tone, the electroplating effect you choose throughout the design is like a canvas or background, and you should consider how the metal selection will affect the overall appearance of the design.
 4. Localize your Design
The challenge coin is not only a coin but also a symbol of an organization whether it is a military department, a fire department, a law enforcement department or a business. On top of a flashy coin, it is important to customize coins to best express the personality or characteristics of your organization, including such as text, images or symbols that are important to the organization and its responsibilities. You should find ways to localize elements that are particularly important to the members of the organization.
5. 3D Molds are Great for Texture and Detail
If the design of your custom coin is based on photos of people, buildings or very-detailed sketches, it is almost always best to use 3D molds to capture these details. Although you can create great designs by traditional 2D molds, there is no better way to capture textures and details than molding those details in 3D.
6. Measure out Your Coin's Actual Scale
One of the most difficult things is the actual scale and size of the custom challenge coin. Measuring out the scale of your designs by a ruler or other measuring tools to make sure that it matches the final look of your order. This is especially important for coins with very complex or detailed appearances. If the scale you order is too small, the coins may become too small to look view.
If you are considering a custom challenge coin for your organization or event, EverLighten is a perfect choice for you. At EverLighten, we are offering trusted and reliable custom challenge coin services at an affordable price. Here you can get a wide range of challenge coins designs and styles. EverLighten is offering the best and easiest way to create challenge coins online. Send your ideas and we will demonstrate our art proof.
EverLighten has made millions of custom challenge coins for clients. We are getting love from our clients due to our work quality. Our clients include Air Force, Navy, Marine Corps, Army, Government Agencies, Sports Teams, Coast Guard, Fraternities, Clubs, Schools, Organizations, Businesses, Firefighters, Law Enforcement, and more.
We have a team of professional and experienced designers. They are dedicated to offering the best quality work. Our group of capable designers works with you to make custom challenge coins that represent your team's mission or interest.
Before the production process, EverLighten will provide you a digital proof. Suppose if you want any changes for the coin design then we will change it according to your requirement. 
Our experts are always ready to assist you. They will help you to save time, effort, and money. Customer satisfaction is our main priority and we can do anything to fulfill the customer requirements.
For more info, please visit our website www.everlighten.com.