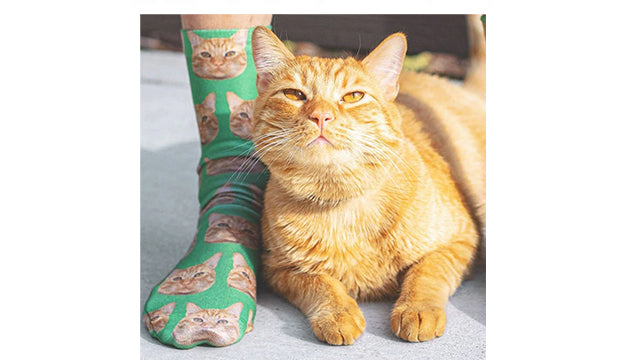 How to Make Custom Cat Socks
- Make your Cat a Superstar
Custom pet socks have received a lot of popularity among young people. They are really cool socks with cat, dog or any other pet face. Whether you are celebrating an anniversary, birthday or other special events, custom pet socks are a great choice especially for pet lovers!
The Reasons Why you Customize Cat Socks
▸ For accompanying
Every cat owner wants to take his cat anywhere, but this is not really feasible. Therefore, it is a good way to customize a pair of socks with cat face. You can travel around the world, travel on business or other events in which you couldn't company cat with these custom cat socks. In that time, the cute and funny cat faces printed on the socks will always remind you of them.
Besides, when you wear custom socks with cat face to see the dentist or hang out with friends at a party, you will look so cool. If you have multiple pets, you can have multiple pairs of custom printed pet socks.
▸ For a Gift
It is really a great idea to gift for cat lovers. If someone in our family or friends really likes animals, we can give him or her personalized pet socks. They will like this unique cat sock! Such a pair of socks will diversify every, even the most common clothing. The only thing you should do is to have an image of their pets.
▸ For a Memory
Another reason why people customize cat socks is for memory. When we have a cat and a newborn kitten but want to sell or hand them over, it will be meaningful to give the buyer a pair of cat socks as a cute gift if he picks the cat. The new owner will remember this day for a long time.
Custom cat socks can be attached to sportswear, tracksuit, jeans and T-shirts. Such match is so comfortable that we can go shopping, go to the cinema or have dinner with friends with the company of cat face.
Because there is no any strict dress code, socks with cat face can be worn at school, university or even in the workplace. However, if we have to stay elegant at work and wear a suit, we can add a sense of fashion and a little bit of luxury with custom cat socks.
Even if we hold an important business meeting, no one believes it is rash. Puppy or kitten socks are suitable for elegant suit shoes! Nowadays, combining elegance with streetwear is a very fashionable combination.
Today's trends are very different. There is no leading one. The most important thing is to express yourself by choosing favorite patterns or interesting photos. Fashion should be for people, not for fashion people. Therefore, everything is trendy now. No matter how you match custom cat socks, just follow your heart!
There are several key features to look for a reliable and quality cat socks manufacturer. Here are some important factors to following for your reference:
▸ Online ordering any time of a day
▸ Low minimum order quantity (MOQ)
▸ Affordable pricing
▸ Free custom design from any images or photographs
▸ Wide variety of colors and styles
▸ Many choices for size, patterns and shapes
▸ Premium material and different packaging choices
▸ Fast turnaround and on-time delivery
▸ Satisfying after-sales service
If you want to customize your own cat socks, EverLighten is a perfect choice, which meets all the needs. EverLighten specializes in creating quality, personally branded socks that are both practical and unique. You can order any quantity of custom socks you want — from 1 pair to any pairs. The socks produced by EverLighten are very fashionable, durable and personalized.
It is not difficult to make custom cat socks. You can create your own custom socks by taking just three simple steps.
Step 1: Simply upload your favorite photo
The photo must be a high resolution and clear with no distortions. Make sure to send us a happy or smiling face of your cute cat, or a grumpy one if you like, but the seriously pick one which you exactly like! Within one day, you will receive designs by our professional team, which will be available on a variety of backgrounds. You can choose your favorite design.
Our designer will be uniquely tailored to your needs to ensure that you are satisfied. They will carefully consider your comments to develop a design that suits your exact preferences. If you are still dissatisfied after several free modifications, you can unconditionally refund your purchase for 100% of the price with no questions asked.
Step 2: Choose your correct size and the fabric you prefer
Each pair of custom cat socks is made of high-quality polyester, cotton and spandex blends to ensure a perfect fit. Whether you make it for yourself or for your friends or family as a gift, they will definitely help you keep your feet warm and comfortable all day long. There are many sizes to choose from that will fit both men and women.
Step 3: Payment and delivery
We only need your postal address and payment information to send you the perfect pairs of pet socks tailor-made for you! After you complete the order and approve the certificate, we will put the order into production within one working day. The products are customized and printed on demand, usually 1-2 weeks.
We believe that the idea of cat faces on the socks will make you too excited. These pairs of super comfortable socks are made of high-quality materials, including polyester, spandex, and quick-drying cotton. They will not fade quickly.
These socks have been carefully designed and have a long service life, which is longer than ordinary socks. They are carefully designed and have a long service life, which is longer than ordinary socks.
For more info, please visit our website www.everlighten.com.