#CustomProducts, About EverLighten, custom dress socks, custom manufacturing, Custom Sock, Custom Socks, dress socks for men, mid-calf dress socks, over the calf dress socks, Premier Sock
How to Make Custom Dress Socks?
|
Jul, 27 , 20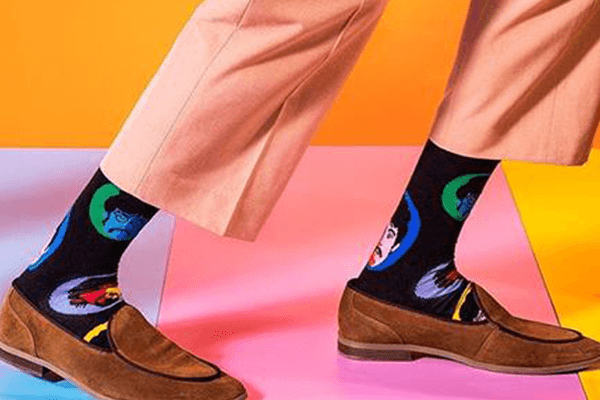 Dress socks are dress clothes socks for men traditionally in dark colours like black, blue, gray or brown. For more casual wear they are sometimes offered in other colours or checkered patterns. Dress socks are worn in accompaniment to dress shoes of varying styles depending on dress codes or personal preferences.[1]
Although it sounds simple to buy socks, it is relatively difficult to shop custom dress socks for men. As men's hosiery vary widely, some men like custom dress socks while others strongly dislike. There are three main factors affecting designing custom dress socks, respectively the length, the material and the color of dress socks.
▸Dress Sock Length
Sock length is the easiest place to go awry. The two main lengths of custom dress socks are mid-calf and over the calf. As the name suggests, mid-calf custom dress socks tend to reach approximately halfway up a man's calf, while over the calf socks reach completely above the calf and below the knee. The style of mid-calf socks is sometimes described as "calf-length" or "calf-high" while over the calf socks are often described as "knee-high socks" or "long socks".
Historically, the main length of men's socks has been the over calf socks. But as the style of menswear becomes more casual, mid-calf custom dress socks become popular. Each length has its advantages but with the appearance of menswear more casual, the popularity of mid-calf socks has increased. Each length has its advantages, but it largely depends on personal preference.
Over the Calf
In formal and professional occasions, the most common length of custom dress socks is over the calf because this length can completely cover a gentleman's calf. These socks, also known as knee-high custom dress socks, are very comfortable because the top of the socks is tightened on the narrow portion of the leg below the knee. This can minimize the stress on the elastic top, ensuring that the sock stays up and extends its life.
There is no doubt that over the calf socks can stay up on your legs better. The main reason for this is that the calf acts as an anchor and prevents the upper strap of the sock from slipping down your leg. If you wear a pair of socks all day, you should choose over the calf socks.
The other advantage of over the calf socks is that these socks can completely cover a person's legs, preventing any skin from being exposed when his pants rise up. During speeches, meetings or other important settings, wearing over the calf socks can make the audience pay attention to your speech content rather than the hairy legs.
When you attend weddings, charity and vocation events, over the calf socks are the first choice. They can not only stay up on the leg but also fully cover your leg.
Mid-Calf
Compared to over the calf custom dress socks, mid-calf socks are shorter. Wearing these mid-calf custom dress socks, there is a much better chance of showing bare skin when sitting down or crossing legs.
Gentlemen who like mid-calf socks tend to feel more comfortable than over the calf socks. As the trend shifts to more casual outfits, followers of this length are increasing. Men of all ages are committed to wearing mid-calf custom dress socks.
From the timeline of menswear, it is a more modern look. With its lower length, many men find it more comfortable than over the calf socks. It can be intolerable to wear over the calf socks all day especially for some gentlemen with very large calves.
Besides, when the temperature is high, mid-calf socks can keep you cool. It is best to wear mid-calf socks in summer. They can be matched with jeans for casual Friday attire, a Saturday night out or a trip to the beach.
▸Dress Sock Material
Wool and cotton are the two most common materials used in socks production. Like the length of custom dress socks, which materials do you like depend on personal preference. Some men have merino wool socks in the colder weather and Pima cotton in the warmer weather, but they usually prefer one material which occupies a place in most of the sock drawer.
Pima cotton can be said to be the most commonly used material for making men's dress socks. Cotton yarn is very soft and often cheaper than wool, which reduces manufacturing costs. 
Fine merino wool will be made into a pair of high-quality wool dress socks, which is a soft, breathable fiber that helps control moisture and odor, making it comfortable throughout the year. Like any woolen garment, you must be very careful when washing them.
▸Dress Sock Color & Style
Some people only wear patterns, some only wear solids, and others have a mixture of the two in their sock drawers. When buying custom dress socks as a gift, you need to consider his dressing habits. If he only wears solid color socks but you want him to try a pattern, you can choose a subtle pattern with a moderate color.
The other key to choose custom dress socks is the drawer. If black socks are filled in the drawer, please choose a pattern with a black body. If the drawer has no black dress socks, you can enlarge the pattern or select a solid color, such as deep purple in Pima cotton.
Before designing custom dress socks for men, you must do some research on the length, yarn and style. If possible, you can decorate it in a sock gift box.
Custom dress socks are suitable for all occasions, such as leisure venues, commercial concourse and wedding celebrations. They can be casual, stylish, solemn and serious, suitable for everyone. Before designing your own custom dress socks, here are some primary aspects to be considered for your reference.
▸Manufacture: It is difficult to find a reliable manufacturer to make custom dress socks with high quality. People who want to personalize dress socks will find a manufacturer on Google or other website. But a young manufacture named EverLighten must meet all your needs, which has its own factory, a professional team and high-quality products at a factory-directing price.
▸Materials: Usually there are Cotton/Nylon/Polyester/Acrylic/wool materials for custom dress socks. You can pick the suitable materials you prefer.
▸Sizes: If you want to wear custom dress socks for some formal occasions, over the calf socks are the better choice. But it all depends on different personal tastes. The length of custom dress socks will affect the prices of custom dress socks. EverLighten also customizes the sizes according to the specific length you want.
▸Colors: EverLighten has multiple colors for your choice, which can meet all your requirements.
▸Other requirements: If having any special requirements, EverLighten will help you in all hearts.
After considering all the factors, you can make your own custom dress socks with the simple 3 steps as following:
Step 1: Design Custom Dress Socks
In this step, you just need to send us your logo or give us your idea. The professional designers at EverLighten will help you design your custom dress socks for free. 
Step 2: Make a Sample and Production
After you feel satisfied with the design, we will make the sample. Only when you confirm the sample, we put it into production. If you are not content with the sample, we can remake it till your affirmation.
Step 3: Payment and Delivery
After making a payment, you just need to take a vacation and wait for a while. We will ship these socks as soon as we can.
For more info, please visit our website www.everlighten.com.