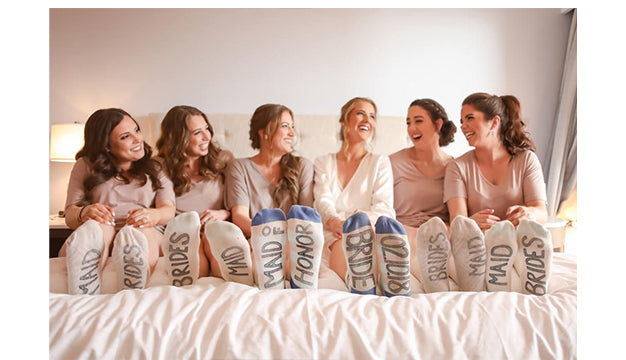 Custom Socks for Wedding – A Special Memory
Wedding is one of fun, important and monumental events, not only with your new spouse but also with groomsmen and bridesmaids. On the wedding day, it can be difficult to choose the outfits that bridesmaids, groomsmen and parents will wear all day.
In this special moment, most couples will customize socks with their faces, names or dates to express their gratitude, which is also a perfect way to help commemorate this unforgettable event in your life.
What is Custom Wedding Socks?
Wedding planning is tailored for every couple to make a perfect wedding, which covers various wedding forms. They will often suggest newlyweds customize wedding socks to make the wedding more monumental.
Custom wedding socks such as groom socks or groomsmen socks have a variety of personalized socks patterns and colors, which will perfectly fit the shoes you want to wear and give you absolute confidence and comfort.
There are commonly four types of custom wedding socks, respectively custom wedding dress knit socks, custom wedding athletic knit socks, custom wedding dress sublimation socks and custom wedding athletic sublimation socks. They have different sizes including no show, ankle, quarter, crew, mid-calf and knee-high.
Why Customize Socks for Wedding?
When the newlyweds who are ready to enter the wedding hall hope to have a special experience, custom wedding socks are perfect to express their good wishes, highlight the characteristics of a personalized wedding, and leave guests unforgettable memories.
Custom wedding socks are a testimony to happiness and a blessing of people. Besides, these custom wedding socks are the symbol of pure and perfect love of the newlywed with unlimited joy and wishes.At the same time, different wedding custom socks will show distinctive styles of the newlywed. Some personalized wedding socks may change the dressing style of guests, bringing you a better experience and recognition of them.
5 Funny and Meaningful Wedding Socks
Custom wedding socks are really awesome presents for the bride, groomsmen and guests, which can show how well you know about your friends. If you are shopping for custom wedding socks, here are a few styles that must add some punch to your wedding outfit.
1. Heart Socks
Wearing a pair of custom wedding socks with hearts can show your love and enthusiasm for this wedding. These colorful socks are a fun way for grooms to show their feeling and for the groomsmen to prove their wishes.
2. Booze Socks
You can design booze on the custom wedding socks to celebrate the wonderful moment. The booze socks for the wedding can be old fashioned cocktails, a distinguished Cognac, Cigar or whatever you like.
3. Superhero Socks
Superhero socks are extra-unique. Once people wear a pair of superhero socks, they may have special strength to protect the newlyweds. If you are a fan of superheroes, you cannot miss this style of socks.
4. Face Socks
Face socks are the most special socks, which can be printed on the faces of pets, newlywed, groomsmen or any face you want. This kind of face socks can be also added with names, dates and meaningful words to make the day more significant.
5. Floral Socks
If the wedding is held in spring, floral socks must be totally suitable. They are bright, beautiful and hopeful. Wearing these vibrant socks is like wearing the spring.
There are many other great custom wedding socks. If you are a food lover, it would be novel and impressive to print your favorite food on the socks. No matter what idea you have, just tell us and we will make it come true.
What's the Process for Making Custom Wedding Socks?
It is not difficult to make custom wedding socks with EverLighten. The only thing you need to do is sharing your ideas. Then, our professional group will help you design your custom wedding socks for free. Here are four primary aspects of choosing custom wedding socks for your reference.
1. Style Varieties
There is a wide variety of style for your selection including no show, ankle, quarter, crew, mid-calf and knee-high. Mid-calf and knee-high socks are most common for wedding because most groomsmen wear a formal suit at the wedding. The length of custom wedding socks can cover a gentleman's calf and prevent any skin from being exposed when his pants rise up. However, there is no strict rule to choose the style and you can customize your socks as you like.
2. Materials
There are a lot of material options such as cotton, polyester, spandex, nylon, etc. As a wedding is the most grant event in your life, you can choose premium socks made by high-end materials like bamboo, combed cotton and spandex, which are very comfortable and highly breathable.
3. Thickness
You have to take thickness into consideration because of different seasons. There are three thickness options to help you easily make a choice.
▸Regular weight socks are 40 to 45 gauge. These are ideal for all seasons especially for spring and summer as they're lighter and not too thick.
▸Thicker weight socks are 50 to 65 gauge. These are ideal for deep autumn and early winter, which may help you keep warm in colder temperatures.
▸Extra thick socks that are 70 to 85 gauge. These are ideal for deep winter which is very cold. These extra thickness socks will keep you warm and comfortable without any other clothing.
4. Package
It is so important to choose a fine package because it may give people a deep impression. You can package the custom wedding socks individually or in groups, which is called "surprise box". This means that you can place your custom socks into a box with a hand-written card – maybe some thankful sentences, a picture about your love story, some good wishes and anything you want.
The wedding is a happy and exciting moment for all the newlyweds and guests who are invited to join in. Making custom wedding socks for guests with EverLighten will make your wedding stand out.
For more info, please visit our website www.everlighten.com.