How to choose the best fabric for your custom merch
|
Mar, 09 , 22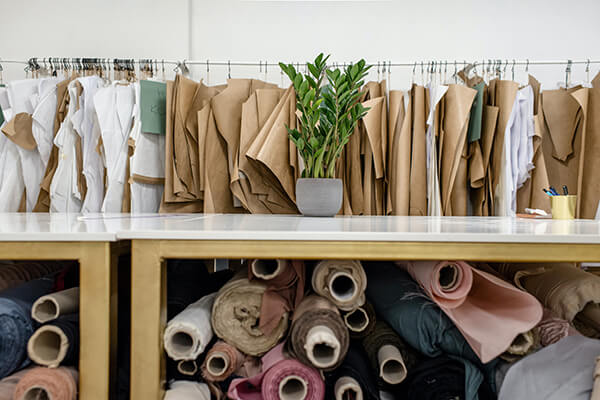 Businesses and people use custom apparel for various purposes, including gifts and promotional. Whether you are starting your online custom merch store or customizing merch for office or personal use, it's a fun process but not always easy. Among many things, decide the type of fabric you are going to use - it is also one of the most important ones that will determine the look, texture, feel, and durability of your custom merch. Consider other factors like weather and preferences before you go into customizing. 
There is no right or wrong with choosing the best fabrics for apparel. It will depend upon your needs - one which you can dye, print, embroider and stitch according to your likings. You can classify them broadly according to their natural, animal, synthetic, and semi-synthetic sources. You want to consider how the design will come out after the process is complete - sometimes, the fabric is not suitable for your particular needs. It is tempting to use cheap materials for your design but don't rush with the decision. Think about your audience, whether you are gifting, giving away, or using for promotions. In this blog, we'll be covering the main fabrics to help you choose the best.
Popular fabrics for custom apparel
You can choose various fabrics and blends to make custom apparel and promotional merch. Each fabric has its share of advantages and disadvantages. 
Cotton:
People have been using cotton for making clothing for thousands of years. - it is a natural fiber that is durable, inexpensive, strong, and easy to clean. You can also transform into other fabrics like ring-spun, cotton canvas, terry cloth, denim, cotton duck, flannel, etc. You can create various apparel like custom t-shirts, sweatshirts, hoodies, hats, socks, and more. Some advantages of using cotton are comfortable, breathable, hypoallergenic, low maintenance, and easy to decorate. Some disadvantages of using cotton for making custom apparel are: they are prone to shrinking and don't dry quickly. 
Polyester:
It is artificial, created using a thermoplastic process involving air, water and petroleum. You can melt it down and transform it into various threads with people using polyester to create apparel like T-shirts, sweatshirts, jackets, backpacks, uniforms, hats, etc. They are flexible, dry fast, have moisture-wicking properties, are highly durable, and are wrinkle-resistant. Some disadvantages of using polyester for your custom merch are that they can stick to sweaty skin, are not as breathable as cotton, and can be sensitive to high temperatures.
Wool:
It comes from sheep, goats, alpacas, camels, alpacas, llamas, and rabbits. People shear, clean, scour and spin animal coats into yarns for creating wool. Afterward, you can use it for creating your various merch, like custom socks, sweatshirts, hoodies, jackets, blankets, etc. Some benefits of using wool are insulating, wrinkle & odor resistant, and having moisture-wicking properties. Some disadvantages of using wool are that it can feel scratchy on the skin, is prone to shrink, and need special care. 
Fleece:
It is a blend of various types of fabrics mentioned above. You can choose from cotton fleece, polyester fleece, wool fleece, and other varieties. Although the manufacturing process is different for each type, they all are soft, warm, and fuzzy. They are ideal for creating custom logo sweaters, jackets, sweatshirts, and blankets. Fleece is comfortable, breathable, water repellent, hypoallergenic. They can be challenging to clean, keep odors, and pilling can be an issue.  
Sherpa and shearling

:
Shearling is wool that comes from a lamb with one shearing. Sherpa fabric gets its name from the Sherpa people of Nepal, and they make it from polyester, acrylic, or cotton, looking like shearling. People also call them "faux shearling" because of their similarity to shearing. You can use them for creating sweatshirts, hoodies, jackets, and blankets. They are soft, warm, moisture-wicking, and machine washable. However, they get dirty quickly, and you have to take extra care. 
Spandex/ lycra/ elastane:
it also known as the fabric spandex as lycra or elastane - the name comes from the anagram "expands." With their expanding qualities, they can stretch without getting torn. Various compression apparel and yoga pants use it with unique blends - up to 15%. You can create custom t-shirts, sweatshirts, compression shorts, and yoga pants using it. They are stretchy, stretch 4-way, have moisture-wicking properties, and are durable. However, heavy spandex apparel doesn't let your skin breathe and is sensitive to heat. 
Leather:
People have been using leather for tens of thousands of years for their clothes. It comes from the hides of many animals, including cows, buffaloes, pigs, sheep, goats, etc. The process involves stripping hair and flesh, salting, tanning, dyeing, and other finishing touches. However, in recent years, the use of leather has become relatively more minor because of protests and other concerns. You can use leather for creating backpacks, jackets, workwear, wallets, and belts. One of the unique uses of leather is designing custom leather patches. You can use them on hats, jackets, backpacks, and other apparel for various purposes. They are durable and timelessly stylish. However, they are pretty expensive and don't allow your skin to breathe. 
Silk:
Here is another fabric coming directly from nature - silkworm produces silk. It is one of the most luxurious and desirable fabrics since long ago. Silk is one of the softest and smoothest fabrics known to people. It is comfortable and robust but requires special care. They stain easily and are pretty expensive. You can use silk to create custom merch like t-shirts, sweatshirts, hoodies for high-valued clients and employees. 
Cashmere:
It is wool coming specifically from cashmere goats. - their origin goes back to the Himalayan region of Kashmir. They create yarn after shearing coats of animals and spinning them. It is warm and soft; you can make sweaters, jackets, and other custom merchandise. Cashmere yarn is lightweight, wrinkle-resistant, and looks elegant. However, they are not as durable as other materials, and piling is a big issue, so take extra care.
Linen:
It is a lightweight and breathable fabric perfect for creating custom merch for summers. After spinning, combing, and weaving into sheets, the material comes from plants. They are ideal for corporate logo shirts, hats, etc. There are several advantages of using linen, including breathability, comfort, durability, and low maintenance. However, they wrinkle easily and are prone to shrinking. 
Terry cloth:
We also them as French terry and cotton fabric with one smooth side while the other has loops. The soft piles are pretty comfortable and are always on the inside of the garment, making them quite popular for corporate logo sweatshirts, pullovers, robes, and towels. However, they are prone to fraying and quite uncomfortable in warmer climates. 
Nylon:
Until WWII, it was a fabric of choice for toothbrush bristles and parachutes. These are amazing for custom raincoats, company-branded jackets, corporate backpacks, etc. They are highly durable, rugged, and water-resistant, and their disadvantages include being challenging to clean and not quite breathable. 
Hemp:
It is one of the oldest fibers for yarn creation dating over 10,000 years. The plant is the fastest-growing, making it suitable for large-scale production. Using its fabric, you can create company logo hats, corporate tote bags, and custom t-shirts. Despite being sustainable, strong, hypoallergenic, breathable, and UV resistant, they are not as popular because people believe it as marijuana. They come from the Cannabis sativa plant but are not marijuana. 
Denim:
They manufacture it using a specific twill weaving method and is 100% cotton. The manufacturing process makes it sturdier than other traditional cotton garments. You can create custom denim shirts, tote bags, hats, and classic jeans. They are tough and don't shrink. However, they are challenging to put your logo on and are slightly more expensive than other yarns mentioned here. 
These are some of the most popular yarns you can choose to create custom merch. However, you will need a reliable manufacturer to provide you with high-quality custom apparel on time for your goals. EverLighten has over eighteen years of manufacturing experience creating custom merch for organizations, schools, colleges, startups, influencers, sports teams, and individuals. 
Factory-direct pricing: They have their dedicated factory to manufacture custom products and are not-middle men. They give you the best quality merch at the most competitive pricing. 
Quality in every product: They use only the highest-quality materials for creating every custom merch. Their quality inspectors check each product during manufacturing and shipping, so only the best product reaches you. 
Real people, real service: At EverLighten, they love people! Whether you have a small order or bulk order, they are 100% dedicated to helping each customer from start to finish.  
They make you look great: Focusing on customer satisfaction, they do whatever it takes to make the design match the design in your head with their in-house experts. 
Fast turnaround with on-time delivery: They complete every order quickly; customers always get their delivery on time. 
No minimum order limit: The company accepts every order without restrictions on the minimum order quantity. 
Free design help: Customers can upload their design ideas in sketches or images; experts help finish the design for free. 
Guaranteed money back: Customers can return the product with guaranteed money back if they are unsatisfied with the quality. 
Free shipping: The company delivers to every part of the world for free. 
Dedicated account manager: Each customer gets a dedicated customer executive to help with communication between different teams and solve queries. 
Real-time supply chain visibility: Customers can track their orders in real-time with an online order tracking tool.
Now that you know the most popular fabric types for apparel, it's time to create your custom merch. For more information and design, visit EverLighten.com.