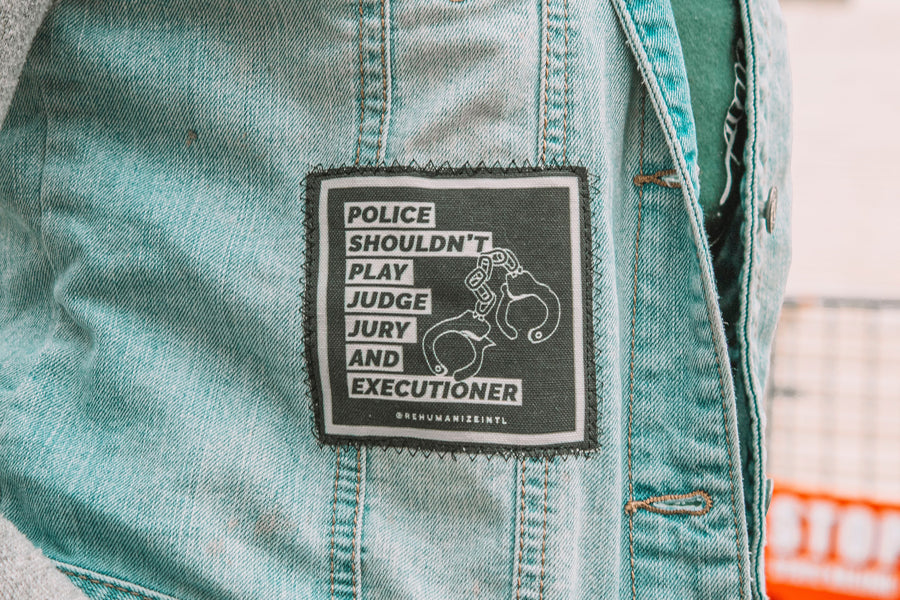 If you are looking for the easiest, most accurate, and perfect way of attaching custom leather patches to your t-shirts or caps, then you have come to the right place. Our team has done thorough research to help you put enticing custom hats with leather, custom leathers for t-shirts, custom leather patches for jackets, or custom leather patches. When anyone discusses attaching custom patches to any caps or t-shirts, it is interesting to see how many different ways are there to get your job done. In this article, we will discuss how to put custom leather patches on t-shirts or caps. Here, you will find useful techniques to put custom patches on your favorite t-shirts or caps.


How to put leather patches on t-shirts?

Regardless of whether you are a parent that has seen a tear on your child's clothes and froze on the grounds that you didn't have the foggiest idea how to deal with it, a young person or style lover that needs to look swanky with custom leather patches of your school or most loved club – you may have wanted that you know how to attach a patch.
It is important to learn how to put custom patches on clothing to make them look elegant and stylish. It is common knowledge among garment manufacturers and designers, but there are several techniques to apply a patch that is more suited than others. We think it is our duty to help you find the most efficient, trustworthy, and effective patch application techniques you can use on t-shirts and caps.
Here are the five different ways to apply custom patches to your t-shirts and caps.


Heat seal backing




Big, fully-embroidered custom leather patches have become the ultimate fashion statement right now. People use custom leather patches for jackets, custom leather for t-shirts, and

custom hats

with leather to look trendy.

Custom leather patches

may contain unique logos, inspiring slogans, and pictures of their favorite characters from a favorite film or TV show. There are infinite possibilities. The details and texture achieved with embroidery are extraordinary and influential. To maintain the quality of the design, the patch is coated in a sealant at the backside of the patch. This has twofold reasons. The first can be that the

custom patches

should not be used only to hold the patch shape but can also be used as a glue when applied to any garment with heat. It means there is no requirement for sewing lines. Heat seal backing is a slick and appropriate approach to applying patches. Yet, the disadvantage of heat seal backing is that they are not as sturdy and durable as sewing. If your garment goes through rigorous washing or rough usage, then you may need more than a heat seal to give it a longer life.



Sew it on




This is the customary technique of applying to clothing. They are more time-consuming, and you need more assets to work as well, yet it is the most grounded and strong procedure to apply your patches. Utilize differentiating shaded yarn for the sewing line to add further texture and design to your appliques. On the off chance that you need the sewing to be imperceptible, add an embroidered or over-locked edge to your patch and sew around this in the application stage for the stitches to be covered up.



Heat seal it and sew




It will be great if you apply both heat and sew to fully-embroidered patches. The heat helps the patch to keep its shape, structure, and consistency. Sewing extends the life of the patch as well as adds another novel component to your branding and marketing.



Applique embroidery sewing




By utilizing an embroidery sewing machine, you can apply your patch with a professional touch and make it seem like your patch is important for the piece of clothing. This is ideal for sports and performance wear.



Glue




Glue is popular among woven patches and temporary patches applications. You can apply glue at the back of the patch and then put it on the garment. You can place it as per the consumer's requirement. It is often used for events or as a promotional tactic. This kind of patch can be removed from the garment without causing any damage.

If you have any queries related to the patch application or the creation of the patch then you can contact EverLighten.


How to put leather on the caps?

The procedure to apply embroidered patches to your hats is simple. There are three different ways you can achieve this:
Gluing
Hot ironing
Sewing
Every technique is progressively better than the one preceding in terms of toughness and durability. Let's check each of these methods of applying leather on the caps in detail below.


Gluing

Gluing is one of the easiest ways out of the three. You can obtain glue or fabric glue from a shop or online stores and dribble a layer of glue onto the backside of custom hats with leather orcustom leather patches. Place them on yourcustom hats and hold them for 30 seconds or more.

It is enticing to use glue or adhesives to put leather on the caps as it saves a lot of time and effort. Regrettably, being fast comes at a price. When you use adhesives like glue or hot glue can weaken your hat's fabric, which will eventually rip apart. You may think of using fabric glue, but it may not work on every piece of fabric, especially slick ones. The glue may melt away after a couple of washes, so your patch may fall from your hat.

So, using glue may not be a permanent solution.



Hot ironing

Ironing on a patch is not a complex task either, but it is harder and consumes more time than using glue. When you iron on custom leather patches for jackets or custom leathers for t-shirts, the chances of the patch standing the test of time are way higher. But let me warn you that you will have to make sure that the fabric of your hat does not get damaged by heat or doesn't have elasticity.

Now, let's proceed to know how you iron custom patches on custom hats.

Firstly, make sure that your hat is placed on a flat and heat-resistant surface. Then, put your patch on the desired spot and heat the iron to its highest setting.

Make sure that you turn off the steam setting. After that, place a thin towel over the

custom leather patches

or custom patches for protection, and be careful and do not move the patch from the position you set earlier.

When the iron is hot enough, you can press it firmly on the patch for 10 to 15 seconds.

Last, remove the iron and towel to allow the patch to cool off before use.

This method is also not foolproof as the patch will come off if the hat is frequently washed. You can wash the hat using cool water but do not wash it more than necessary. If you want to wash it in the washing machine then, be sure to turn your hat inside out before you start the machine.



Sewing

Out of these three methods, sewing is the most conserving and everlasting solution to put customized patches on your hats. There are two ways to sew a patch for a hat.

Before starting sewing, you have to put your patch in a preferred position and then place pins at any part of your patch that won't get in your way while sewing. You can also use small amounts of washable adhesive to hold your patch. After settling your patch, turn your hat inside out and then choose one of the two sewing methods mentioned above.

If you choose to sew with your hands, use heavy needles as the fabric of hats is usually dense and thick. Work your way around the patch and continue until you reach that point, where you tie the thread to finish it properly. While sewing with a sewing machine, set it to a zigzag setting, which is dedicated to sewing embroidered patches. Use the narrowest zigzag possible as you have to make sure that stitches are not visible. Now, do the same as the hand-sewing method. Sew around the edges of the patch until you reach the starting point, and then your job is done.


Best way to attach patches: Mix 2 techniques

When you are not sure about which method to choose to sew your patch, glue it or iron it on. Then, the best you could do is by mixing two techniques. You could fix the patch at your desired place by ironing it on and then sewing it to your hat or t-shirt for longevity. By doing this, you will make 100% sure that your custom leather patches do not fall. You can try all of these methods for custom hats with leather, custom leather for t-shirts, or custom leather patches for jackets. We hope you find this article helpful, and in case of any assistance, you can always contact EverLighten. Do write us back if you try any of the methods mentioned above.
Conclusion

How to attach a leather patch to a hat without sewing is one of the most common questions we are often asked by customers. Attaching a leather patch with or without sewing is not a very complex task. All you need is to make sure that you do it neatly. But, unfortunately, some people fail to attach the patches to t-shirts or caps properly.
For such people, EverLighten is the solution to all their problems. We not only attach the patches to your garments, but we also design and manufacture custom patches for t-shorts and caps. You can place any order size. Our designers give due attention to every detail to give you what you need.
FAQs


How do you attach leather patches to caps?


Leather patches can be attached to caps either by sewing or by using glue. You can also use both techniques to make it more durable.
How to attach a leather patch to a hat?


You can stick a patch to a cap by using glue. You can simply apply the glue on the back side of the patch and put it on the cap and hold for a few seconds. The patch will stick to the cap.
Can you glue leather instead of sewing?


Glue leather is one of the best techniques. Sewing or clipping may leave holes in the lather, so glue is your best option.
Which is the strongest glue for leather?


Loctite Ultra Gel Control Super Glue is the strongest glue for leather. It is considered the best glue for patches on hats. It creates a flexible bond with leather and repairs your leather permanently.
Does fabric glue hold leather?


Yes, most of the good quality fabric glue will hold the leather properly.