#CustomProducts, Best Custom Socks, Brand, custom apparel, custom award medals, custom backpack, Custom Caps, custom drinkware, custom hang tags, custom hats, Custom Hoodies, custom keychains, custom koozie, custom logo socks, Custom Made Socks, Custom Medals, Custom Patch, Custom Plush toys, custom products, Custom Sock
How Giving Away Promotional Products During Holiday Season Amplify Your Brand Identity
|
Oct, 08 , 23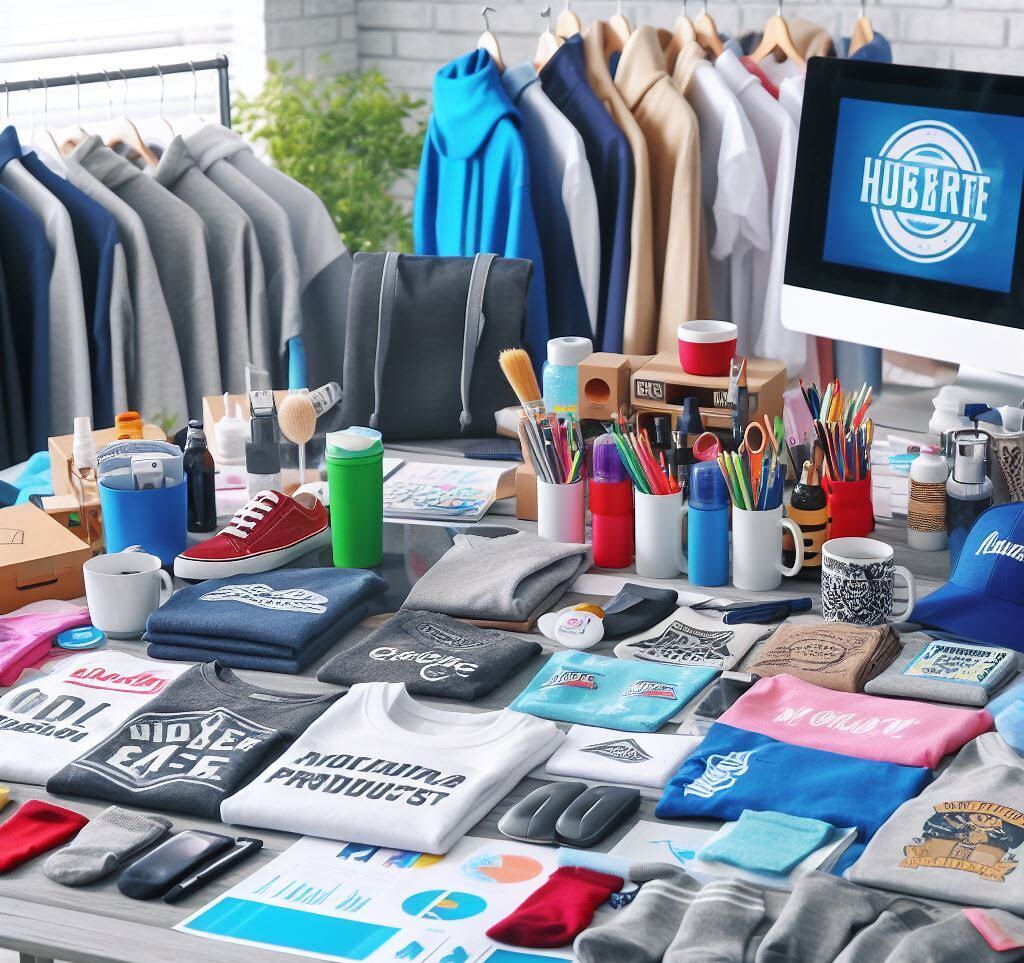 Elevate Your Brand with EverLighten's Custom Promotional Products
Did you know 89% of consumers have a more favorable opinion of a brand after receiving a promotional product? Yes, you read that correctly. Promotional products have the power to not only boost brand awareness but also enhance customer loyalty and drive sales. When it comes to harnessing the potential of these marketing tools, there's no better time than the holiday season.
As the holiday season approaches, the air becomes filled with festive cheer, and consumers look for meaningful connections with the brands they love. It is where promotional products step in. They play a pivotal role in amplifying your brand identity and leaving a lasting impression on your audience.
Consider this: 79% of consumers keep promotional products for over a year. Among them, 61% report having a more favorable opinion. Furthermore, 53% of consumers express a heightened willingness to do business with a company that generously gives promotional products.
These compelling statistics suggest that investing in promotional products is intelligent and essential for any business looking to make a lasting impact. And as we delve into the holiday season, the timing couldn't be more perfect. People are in a giving spirit and more likely to remember and engage with brands that extend thoughtful gestures during this festive time.
We will explore how giving away promotional products during the holiday season can be a game-changer for your brand identity. Join us as we unravel the magic of combining the holiday spirit with strategic brand marketing.
Understanding Brand Identity
Brand identity sets your business apart from the competition, encapsulating unique personality, values, and image associated with your brand. It is the total of all the elements forming the public perception of your company. In essence, brand identity is your brand's visual, emotional, and cultural identity, which shapes how your audience perceives and connects with your products or services.
Elements of Brand Identity
Logo

: Your logo is the visual essence of your brand. It's the symbol or mark that people instantly associate with your company. A well-designed logo is memorable, distinct, and communicates the essence of your brand.
Colors

: The color palette you choose for your brand plays a crucial role in brand identity. Colors evoke emotions and can convey the personality of your brand. For example, red may represent energy and passion, while blue might signify trust and reliability.

Values

: Your brand's core values are the principles that guide your business. They reflect what your brand stands for, its mission, and its commitment to certain ideals. Brands that authentically live by their values tend to build stronger connections with customers who share those values.

Messaging

: Consistent messaging is necessary for maintaining a brand identity. It includes the language, tone, and voice used in your marketing materials, website, and customer communication. Effective messaging should align with your brand's values and resonate with your target audience.

Typography

: The fonts and typography used in your branding materials contribute to your brand's identity. The choice of fonts can convey a sense of sophistication, playfulness, or professionalism.

Visual Style

: Beyond the logo, the overall visual style, including imagery, graphics, and design elements, creates a cohesive brand identity. Maintain consistency in visual style across all marketing channels and materials.
Emphasizing the Role of Brand Identity
Brand identity plays a pivotal role in building customer trust and loyalty.
Consistency

: They develop a sense of assurance when customers encounter your brand across various touchpoints and find consistent branding elements.

Emotional Connection

: A strong brand identity can evoke emotions and create a deeper connection with customers. When your brand aligns with their values and resonates with them, they will remain loyal.

Recognition

: A well-established brand identity makes your brand instantly recognizable. Customers choose a brand they recognize and trust over an unknown one.

Differentiation

: In a crowded marketplace, a unique brand identity helps your business stand out. It differentiates you from competitors and provides a compelling reason for customers to choose your products or services.
The Significance of the Holiday Season
The holiday season, from late November through December, has immense cultural and economic significance. This period is characterized by various festivities, traditions, and celebrations, making it a time of unity, reflection, and generosity. 
Cultural Significance:
Traditions and Togetherness

: Holidays like Thanksgiving, Christmas, Hanukkah, and New Year's Eve bring families and communities together. They offer a precious opportunity for people to reconnect, share meals, exchange gifts, and create lasting memories.

Cultural Celebrations

: Each holiday has unique traditions and customs, often rooted in cultural or religious significance. These traditions provide a sense of continuity and identity for individuals and communities.

Generosity and Giving

: The holiday season is synonymous with acts of kindness and generosity. Many people participate in charitable activities, volunteer their time, and give to those in need, reinforcing the spirit of compassion and empathy.
Economic Significance:
Increased Consumer Spending

: Consumer spending skyrockets during the holiday season, from Black Friday to Cyber Monday, and throughout December. Shoppers are on the lookout for gifts, decorations, and festive experiences, driving retail sales to peak levels.

Retail and Business Boost

: For businesses, especially those in the retail sector, the holiday season represents a significant portion of their annual revenue. Many companies rely heavily on the holiday shopping rush to turn a profit.

Job Creation

: The surge in consumer demand leads to temporary job openings in retail, logistics, and hospitality, providing employment opportunities for thousands of individuals during this period.

E-commerce Growth

: E-commerce has further amplified the holiday shopping season, making it easier for consumers to find and purchase gifts online. This trend has created new opportunities for digital businesses and entrepreneurs.
Prime Time for Audience Engagement:
So, why is the holiday season a prime time for businesses to engage with their audience?
Emotional Connection

: The holidays evoke strong emotions and nostalgia in people. Brands that tap into these emotions and offer heartwarming, relatable content can form deeper connections with their audience.

Increased Consumer Attention

: People are more attentive to marketing messages as they seek gift ideas and holiday deals. The heightened attention presents a golden opportunity for businesses to capture their audience's interest.

Gifting Opportunities

: Gift-giving creates opportunities for businesses to promote their products and services as ideal gifts. Creative marketing campaigns and thoughtful gift suggestions can drive sales and brand recognition.
Year-End Reflection

: Brands that speak to their aspirations and resolutions in their messaging are more likely to resonate with them.
Promotional Products as Brand Amplifiers
Promotional products, promo items, or giveaways are tangible items imprinted with a company's logo, branding, or message. These products are distributed for free or as part of marketing campaigns to promote a brand, raise awareness, and engage with customers. Promotional products have a rich history. People recognize them as potent marketing tools. 
Basketball Jersey

: Great for sports-related promotions and team events.

Flannel Shirts

: Ideal for creating a cozy, seasonal feel.

T-Shirts

: Universally popular and suitable for various occasions.

Hoodies

: Offers warmth and comfort, making them highly appreciated.

Face Boxers Shorts

: A fun and unique choice for personalized branding.
Casual Knit Socks

: Comfortable and versatile for everyday wear.

Athletic Socks

: Perfect for fitness-related promotions.

Fuzzy Socks

: Ideal for winter-themed or cozy branding.

Bamboo Socks

: Eco-friendly and comfortable.

Diabetic Socks

: Designed for comfort and health-conscious customers.
Baseball Caps

: Classic and versatile for various demographics.

Snapback Hats

: Trendy and adjustable for a custom fit.

Beanies

: Perfect for cold-weather promotions.
Embroidered patches

: High-quality and durable for clothing and accessories.

Leather patches

: Add a touch of sophistication to products.

Woven patches

: Ideal for intricate and detailed designs.

Printed patches

: Vivid and vibrant, suitable for various branding styles.
Koozies

: Keeps beverages cold and is great for outdoor events.

Water Bottles

: Practical and eco-friendly for hydration on the go.

Mugs

: Classic and versatile for hot drinks.

Tumblers

: Trendy and customizable for daily use.
Pens

: A classic promotional item for everyday use.

Notebooks

: Useful for note-taking and journaling.

Lanyards

: Practical for events and conferences.

Umbrellas

: Great for outdoor promotions and rainy seasons.
Plush Toys

: Ideal for family-friendly and fun branding.

Pillows

: Create cozy and memorable promotional items.
Stickers

: Versatile for branding various items.

Woven Labels

: Add a touch of elegance and sophistication to products.
Lapel Pins

: Elegant and collectible items for branding.

Medals

: Suitable for recognition and achievement awards.

Challenge Coins

: Used for commemorating events and achievements.
Soccer Ball

,

Basketballs

,

FootBall

: Sports-related promotions.

Tambourine

: Ideal for music or festival-themed events.

Yoga Mats

: Promote wellness and fitness-related products.
Bath Towel

,

Beach Towel

: Suitable for beach or travel-related promotions.

Golf Towel

: Ideal for golf enthusiasts.

Fitness Towel

: Great for wellness and sports-related branding.
Phone Case

: Protects devices while promoting your brand.

USB Flash Drives

: Functional and practical for data storage.

Mouse Pads

: Enhance the user's workspace with branding.
Grocery Bags

,

Tote Bags

: Eco-friendly and practical for shopping.

Backpacks

: Great for students and outdoor enthusiasts.
Choosing the Right Promotional Products
Selecting the right promotional products is critical for any successful marketing campaign. The choice of products should align with your brand, resonate with your target audience, and leave a lasting impression. 
Alignment with Your Brand:
Consistency

: The promotional products should reflect and reinforce your brand's identity, values, and messaging. Consistency in branding helps build a sturdy and recognizable brand image.

Brand Storytelling

: Promotional products can be a powerful storytelling tool. They should align with the narrative you want to convey about your brand, whether it's about innovation, sustainability, or customer-centricity.
Resonance with Your Target Audience:
Know Your Audience

: Understanding your target audience's demographics, interests, and preferences is crucial. Tailor your promotional products to match their lifestyle and needs.

Relevance

: The products should be relevant to your audience's daily life or interests. For example, if your target audience is fitness enthusiasts, branded water bottles or gym accessories may be well-received.

Solving a Problem

: Consider whether the promotional product addresses a problem or fulfills a need for your audience. Products that offer utility are more likely to be used and appreciated.
Customization and Personalization:
Tailored Messaging

: Customize the promotional product with a message or design that resonates with your audience. Personalized products make recipients feel valued and special.

Quality Matters

: Invest in high-quality promotional products. Cheap and poorly made items can negatively impact your brand's image. Quality reinforces the perception of your brand as reliable and trustworthy.

Unique and Memorable

: Seek out unique and memorable products that stand out. Consider limited-edition items or innovative products that leave a lasting impression.
Practicality and Longevity:
Practical Use

: Choose products that serve a purpose in your audience's daily life. Items like pens, notepads, and tote bags have enduring utility.

Longevity

: Select products with a longer shelf life. Products that people can use over an extended period provide continuous brand exposure.
Budget Considerations:
Set a Budget

: Determine a realistic budget for your promotional products. Be mindful of the cost and any associated customization or personalization expenses.

ROI Analysis

: Assess the potential return on investment (ROI). Consider how the products can contribute to your marketing goals, such as increased brand visibility or sales.
Compliance and Ethical Considerations:
Regulations

: Be aware of industry-specific regulations or compliance requirements when selecting promotional products, especially in sectors like healthcare or finance.

Sustainability

: Consider the environmental impact of the products you choose. Eco-friendly and sustainable options can resonate well with eco-conscious consumers.
Distributing Promotional Products Effectively During the Holiday Season
Distributing promotional products during the holiday season requires a well-thought-out strategy to maximize their impact. 
Online Distribution Channels:
Social Media Campaigns

: Leverage your social media platforms to run holiday-themed contests, giveaways, or sweepstakes. Participants can receive promotional products as rewards.

Email Marketing

: Send personalized holiday-themed emails to your customer database. Include exclusive offers or discounts that come with a free promotional item.

E-commerce Platforms

: If you sell products online, consider adding a "holiday gift" option at checkout, where customers can select a promotional product with their purchase.
Offline Distribution Channels:
Brick-and-Mortar Stores

: If you have physical retail locations, distribute promotional products to in-store customers during the holiday shopping season. Include them with purchases or offer them as in-store exclusives.

Events and Tradeshows

: If you attend holiday

events or tradeshows

, use them as opportunities to distribute promotional products to attendees.

Direct Mail

: Send holiday-themed direct mail packages to your target audience. Include a promotional product alongside your promotional materials.
In-Person Engagement:
Pop-Up Shops

: Set up temporary pop-up shops or booths at popular holiday events, markets, or shopping centers to engage with potential customers directly and distribute promotional products.

Street Teams

: Deploy street teams or brand ambassadors to distribute promotional products in high-traffic areas, such as downtown shopping districts or holiday parades.
Charitable and Community Initiatives:
Partnerships

: Collaborate with local charities or community organizations to distribute promotional products as holiday initiatives. It benefits the community and aligns your brand with a good cause.
Online Contests and Giveaways:
Online Contests

: Run holiday contests or quizzes where participants can win promotional products. Encourage sharing to increase your brand's online visibility.

Landing Page Promotions

: Create a dedicated landing page on your website for holiday-themed promotions. Offer a promotional product as an incentive for signing up or purchasing.
Elevate Your Promotional Products and Brand with EverLighten
As you embark on your journey to amplify your brand identity during the holiday season through promotional products, remember that the choices can leave a lasting impression on your audience. It's not just about the products themselves; it's about the creativity, thoughtfulness, and uniqueness you infuse into every item.
EverLighten is your trusted partner in creating memorable and impactful promotional products. We specialize in 100% customization, ensuring that every item aligns perfectly with your brand identity and resonates with your target audience. Our team of experts is here to offer you free design assistance, ensuring that your promotional products are visually stunning and potent in delivering your message.
No matter where your audience is, EverLighten's global shipping capabilities ensure that your promotional products reach them, spreading the holiday cheer and your brand message far and wide.
We understand that your needs don't follow a 9-to-5 schedule. Our 24*7 customer service is ready to assist you whenever you have questions or require support.
Take action today and connect with EverLighten to unlock the power of customized promotional products. Elevate your brand, engage your audience, and make this holiday season noteworthy. Contact us now!
FAQs: 
How do promotional products play a role in the holiday season?
Promotional products play a prominent role in the holiday season for some reasons. First, they are a great way to show customers you appreciate their business. Second, they can help to increase brand awareness and reach a new audience. Third, they can help promote special offers and discounts. Finally, they create a festive and memorable experience for customers.
Give away promotional products at holiday events and trade shows. 

Include promotional products in your holiday marketing campaigns. 

Send promotional products to your customers as a holiday gift. 

Offer promotional products as a reward to your

employees

for their hard work. 
How do you approach promotions this holiday season?
When planning your holiday promotions, keep the following tips in mind:
Start planning early

Target your promotions

Make your promotions timely

Measure your results
What are the benefits of holiday promotional products?
There are many benefits to using holiday promotional products, including:
Increase brand awareness. 

Build customer loyalty. 

Drive sales. 

Boost morale.
Tags:
#CustomProducts
,
Best Custom Socks
,
Brand
,
custom apparel
,
custom award medals
,
custom backpack
,
Custom Caps
,
custom drinkware
,
custom hang tags
,
custom hats
,
Custom Hoodies
,
custom keychains
,
custom koozie
,
custom logo socks
,
Custom Made Socks
,
Custom Medals
,
Custom Patch
,
Custom Plush toys
,
custom products
,
Custom Sock