#CustomProducts, Best Custom Socks, custom athletic socks, Custom Design Socks, custom dress socks, custom logo socks, Custom Made Socks, custom pet socks, custom printed socks, Custom Sock, Custom Socks, Custom Socks Bulk, Custom Socks Wholesale
Custom Socks- Effective In More Ways Than One
|
Oct, 10 , 23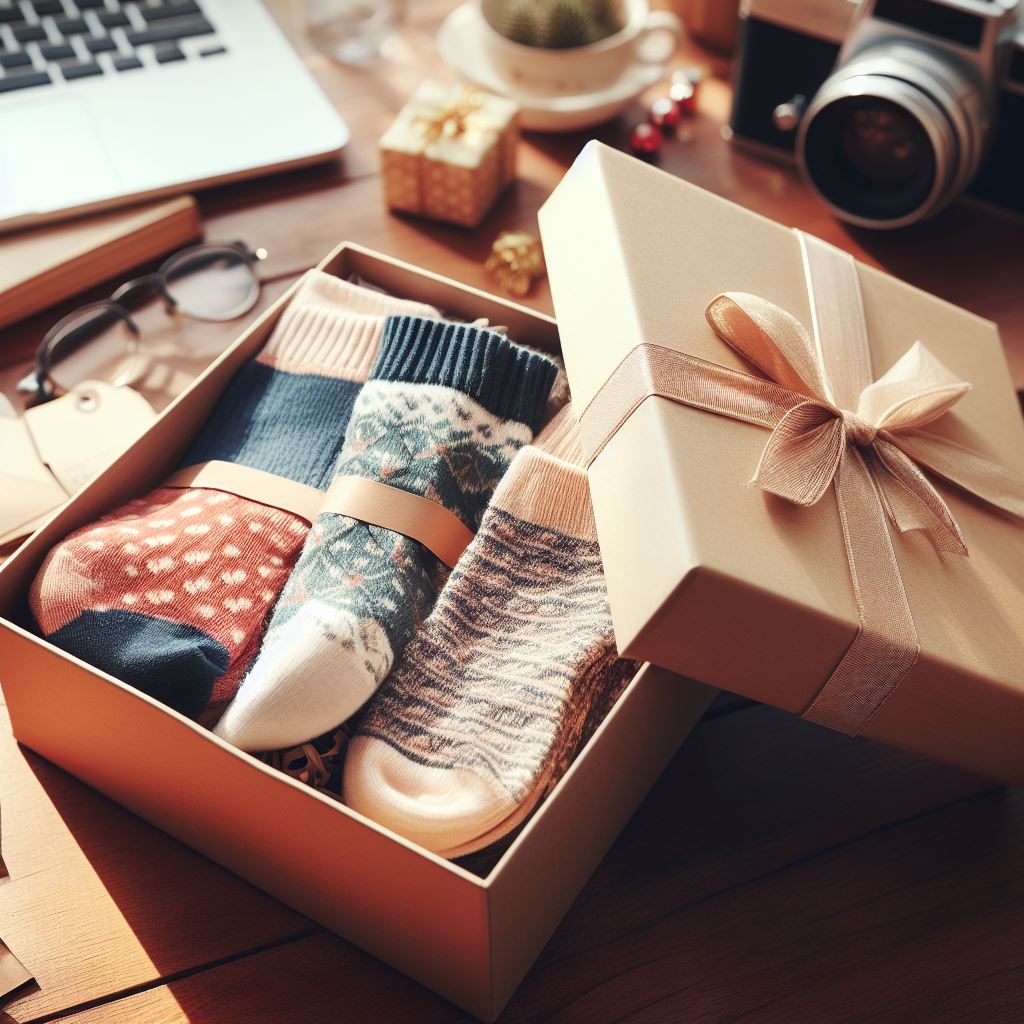 Have you ever contemplated the incredible potential hidden within a humble pair of socks? Imagine being able to wear your creativity, your brand, or your personal story right on your feet. Custom socks hold the power of transformation, turning the ordinary into something extraordinary. Socks are more than just accessories to keep your feet warm; they can be a canvas of your imagination. Custom socks transcend the boundaries of function and style, offering a unique platform for self-expression and creativity. From corporate branding to personal style statements, these versatile garments have a role to play in every aspect of our lives. Join us as we explore the myriad ways custom socks can be helpful and discover how they can make a difference in more ways than you ever imagined.
The Functionality of Custom Socks
 A. Tailored Comfort
Materials Matter
The choice of materials can make all the difference for socks. Whether you prefer the cozy embrace of merino wool or the breathability of cotton, custom socks allow you to pick the materials that suit your needs perfectly. 
Perfect Fit
Ill-fitting socks can be a daily annoyance. However, with custom socks, you can bid farewell to that discomfort. Custom socks ensure a snug and comfortable fit tailored to your unique foot shape, making your daily stride a breeze.
B. Performance Enhancement
Sports and Athletics
Custom socks aren't just about style; they can be your secret weapon on the sports field. Custom-designed sports socks can provide the support, moisture-wicking properties, and cushioning needed to elevate your performance, whether on the soccer field or the basketball court.
Work and Everyday Life
From long days at the office to demanding physical labor, your feet take a beating. Custom socks engineered for specific purposes, such as moisture control, arch support, or antimicrobial properties, can add to your daily comfort and productivity. They enhance your work and everyday life.
C. Custom Socks for Branding and Promotion
Corporate Branding
Company Logos
Your company logo is more than just a symbol; it's the face of your brand. Custom socks offer a unique canvas for showcasing your logo subtly and in an impactful way. We'll explore how custom socks can be a powerful branding tool, leaving a lasting impression on clients, partners, and employees.
Employee Uniforms
 Uniforms create a sense of unity among your employees and serve as walking billboards for your brand. Customized socks can be a stylish addition to employee uniforms, promoting a sense of belonging and fostering brand loyalty. Custom socks can elevate your corporate image from the ground up.
D. Personalized Gifts
Special Occasions
Gift-giving becomes even more meaningful when it's personalized. Custom socks make for a charming and unique gift option for special occasions such as birthdays, weddings, and anniversaries. Custom socks can add a personal touch to your celebrations and create cherished memories.
Thoughtful Presents
Custom socks can be a thoughtful and personalized gesture in a world filled with generic gifts. Whether it's a heartfelt message, a favorite pet's portrait, or an inside joke, custom socks can convey your sentiments in a fun and memorable way. Giving custom socks as presents leaves an impression.
E. The Fashion Statement
1. Expressing Personal Style
Fashion is a powerful form of self-expression, and your socks can speak volumes about your personality. Custom socks provide a unique canvas to showcase your style, whether you prefer bold, vibrant patterns or subtle, sophisticated designs. 
2. Matching Outfits
Matching outfits are not just for couples or families; they can create a sense of unity and camaraderie among friends, coworkers, or sports teams. Custom socks offer a playful and stylish way to complete your coordinated look. Matching socks can be a fun and fashionable addition to your group's attire.
3. Creative Designs
The possibilities are endless when it comes to custom sock designs. From custom artwork and intricate patterns to personalized messages and graphics, custom socks can be a canvas for creativity. 
F. Sustainability and Custom Socks
1. Sustainable Materials
In a world where sustainability is of growing importance, custom sock manufacturers are making strides in using eco-friendly materials. You can incorporate various sustainable materials into custom sock production, from organic cotton to recycled fibers. These choices can contribute to a greener future.
2. Reducing Waste
People have associated the fashion industry with excessive waste, but custom sock companies like EverLighten are adopting practices that aim to reduce their environmental footprint. Custom sock production can be more sustainable by minimizing waste through efficient production processes and responsible disposal practices.
3. Ethical Production
Ethical production practices are becoming increasingly vital in today's global marketplace. Some custom sock manufacturers prioritize fair labor practices, safe working conditions, and ethical sourcing. 
How to Get Your Custom Socks
1. Choosing a Customization Service
Not all custom sock providers are created equal. Select the proper customization service for your needs, including quality, pricing, customization options, and customer reviews.
2. Designing Your Socks
Designing your custom socks is where the fun begins. Choose colors and patterns, upload images, and add personalized text. Turn your ideas into a stunning sock design representing you or your brand. 
3. Ordering and Delivery
Once your custom sock design is ready, the steps involve placing your order and awaiting delivery. Check with the ordering process, including minimum quantities, production times, and delivery options, to get them on time. 
Conclusion
Custom socks are a versatile and impactful accessory that can enhance comfort, style, brand visibility, and environmental sustainability. From tailored comfort to personalized expressions, these versatile garments have proven their worth in more ways than one.
If you're inspired to experience the benefits firsthand, look no further than EverLighten. With EverLighten, you get the opportunity for 100% customization, allowing you to bring your unique ideas to life. Our commitment to customer satisfaction goes beyond just customization; we offer free design assistance to ensure your socks turn out exactly as you envision.
What sets EverLighten apart is its global delivery network, making it possible to receive custom socks wherever you are. Our 24/7 customer service ensures that we promptly address your inquiries and concerns for a seamless and stress-free experience.
Don't wait any longer to step up your sock game and explore the endless possibilities of custom socks. Connect with EverLighten today and experience the magic of personalized, high-quality custom socks that will leave a lasting impression.
FAQs: 
Why custom socks?
Custom socks are popular for a variety of reasons, including:
Express your individuality:

Custom socks are a great way to express your unique personality and style. You can choose colors, patterns, and designs to create socks.

Stand out from the crowd:

Custom socks are a great way to stand out. Whether at a party, a sporting event, or running errands, custom socks are a surefire way to turn heads.

Show support for a cause:

Custom socks can support a cause or charity you care about. For example, you could create custom socks with the logo of your favorite charity or a message about an issue you believe in.

Promote your brand or business:

Custom socks can promote your brand or business. You can give them to customers or employees or sell them online or in stores.

Create a sense of community:

Custom socks can create a sense of community among a group of people. For example, you could create custom socks for your sports team, workplace, or social club.
How long do custom socks take?
The amount of time it takes to make custom socks depends on many factors, such as the complexity of the design, the number of socks, and the production schedule of the sock manufacturer. However, most sock manufacturers can produce custom socks in a few weeks or less.
How much does it cost to make custom socks?
The cost of making custom socks depends on many factors, such as the quantity of socks, the complexity of the design, and the type of sock material. 
What sock material lasts the longest?
The sock material that lasts the longest is wool. Wool is a natural fiber that is durable and resistant to wear and tear. Wool socks are also moisture-wicking, which means they help to keep your feet dry and comfortable.
What is the objective of socks?
The objective of socks is to protect your feet from the elements and to provide comfort and cushioning. Socks can also help to absorb moisture and prevent blisters.
Tags:
#CustomProducts
,
Best Custom Socks
,
custom athletic socks
,
Custom Design Socks
,
custom dress socks
,
custom logo socks
,
Custom Made Socks
,
custom pet socks
,
custom printed socks
,
Custom Sock
,
Custom Socks
,
Custom Socks Bulk
,
Custom Socks Wholesale