How are the custom tote bags made?
|
May, 19 , 21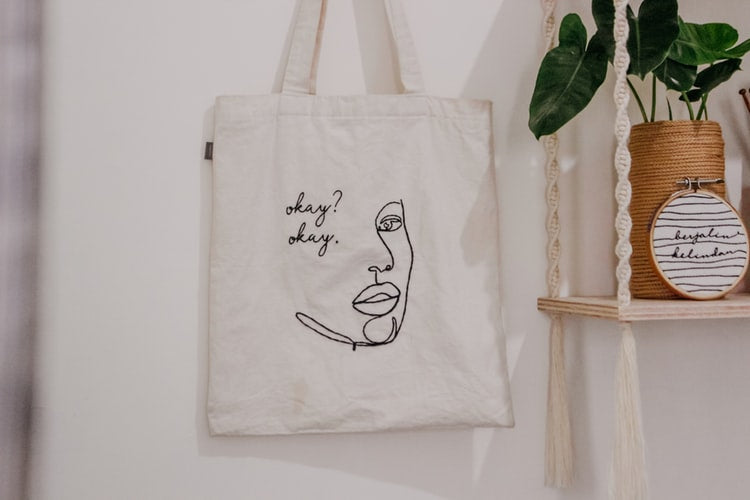 Custom tote bags are becoming a rage due to their versatility and ease of use. You can easily showcase your personality by using custom canvas tote bags or custom reusable tote bags as their fashionable designs will represent you and your likings, keeping the well-being of the environment in mind. You can use these custom tote bags for any events or trips. They are also available in different sizes, patterns, materials, and color combinations. Custom canvas tote bags can be useful on various occasions, and you will be able to learn more about them while reading this article. Now, let us understand the definition of popular custom tote bags.
What is a tote bag?
Custom tote bags are simply a large bag that allows their users to carry many items. They also have a large opening on the top. It is basically a bag of various sizes which you can use any number of times without worrying about the durability. Its principal usage is to carry groceries or other items while you travel to other cities or visit grocery stores or supermarkets. Custom canvas tote bags are more durable as they are made from fabric material woven out of cotton or linen. Artists use canvas everywhere as the base for their medium.
How to choose the right tote bag
After understanding the basic knowledge about tote bags, let us deep-dive into its unique world, as finding the ideal custom tote bags, custom canvas tote bags, or custom reusable tote bags can be a task. They are available in various materials, styles, and sizes. Picking the best option can be tricky, but if you follow these general rules, then you will be able to find the right tote bag for you.
Pick the proper material
While you choose the custom tote bags, picking the accurate material is very important as various materials have different qualities and characteristics. There is a wide range of materials available to select. Let's check out each of them. Some of them will be more durable, and others will not put a hole in your pocket.
The list of most popular materials
Canvas
Whenever you heard the work canvas, you think of painting, arts, and craft, but this canvas is different. It is the material used to make tote bags. Canvas has better durability, a robust design, and the ability to hold heavy products like books or cans.
Cotton
Cotton is a lightweight material that is easy to wash and carry around.
Jute
This material has a rural charm to it and is made from natural fiber from a jute plant. It is unique and stylish, but it may be expensive for some.
Nylon
You can associate this material with women's clothing, but they are great in custom tote bags too. They are highly durable and resistant to any damage caused by chemicals or oil.
Polyester
Polyester has the fantastic ability to adapt to any shape, size, or weight. It retains the color, making it more appealing to the eyes.
Polypropylene
This material is the most accessible plastic in the world, which fits into the smallest budget. It is also water-resistant, making it ideal to carry liquid items prone to spilling.
Polyurethane
They are also lightweight like cotton and an ideal option for small items like papers and pencils.
PVC
Polyvinyl chloride is a very tough material. They can handle anything, and therefore a custom tote bag or custom reusable tote bags made from this material is preferred by many. They also have unique see-through options available, provided by very few fabrics.
There are other options such as denim, fleece, and vinyl too. It will be difficult for you to pick just one, but you should select the one that suits your usage and lifestyle.
How strong are tote bags? 
Most materials used to make custom tote bags are durable. So, it is safe to say that you can put as many cans, food, clothes, towels, or toys as when you decide to visit the local beach. Some of the custom canvas tote bags and custom reusable tote bags are so strong that they can carry anything without tearing and falling apart.
Trendy
If you are carrying the trendy custom tote bags, then you will stand out from the crowd. When your custom tote bags have different colors and designs or a transparent carrying case, they will catch everyone's attention around you, and they will not forget having seen such attractive custom tote bags.
Sporty vs Professional
Before purchasing the tote bags, decide on their usage. Are you buying it for the gym or office? Keep that in mind while making an informed decision.
Sporty
They look simple, and you can wash them easily. It is essential for sporty bags because they are used frequently, if not every day.
Professional
Tote bags made from high-quality materials such as leather are proficient for trendier professional look. They can also have finished embroidery. You can carry such stylish bags at networking events or fancy occasions.
Think outside the box
If you are a creative soul, then you will like to have side pockets, zippers, and drawstrings in your custom tote bags. You may also want a bag that shuts with a button or shaped like a basketball or piano.
Custom tote bags, custom canvas tote bags, or custom reusable tote bags come in different sizes because different needs will require various storage capacities. You can try the following for size.
We all know that size matters. Therefore, these bags are available in medium to jumbo sizes, perfect for a gift basket idea or a replaceable suitcase for a weekend getaway.
How are totes made?
The manufacturing process of custom tote bags is objectively simple. Let us understand it by the step-by-step guide of how totes are made. Before starting, make sure that you have all the necessary and appropriate tools to begin. It includes scissors, pins, a ruler, seam ripper, fabric chalk, and a sewing machine with 1 meter of cloth.
Step 1
Start by cutting a 33" x 31" sheet from the fabric. Then, fold your piece of clothing material in half, so the size remains 16 1/2" x 15 1/2". You have to make sure that the fold is oriented at the bottom.
Step 2
In this step, you have to cut two 16" long straps from the leftover fabric. Those will be useful to make handles of the bag. You can substitute the material as per your desires. Just make sure they remain strong and sturdy. While creating the handles, make sure you try to keep the lengths of your strip handles appropriately.
Step 3
Open edges of the folded fabric square from the top and fold them down by an inch on both sides. To maintain the measurement, you can pin both sides down. After that, start sewing 0.5 mm from the edges to make sure you sustain the sturdiness by double stitching at the beginnings and ends. Remove the pins and complete the top fold stitches.
Step 4
After making and securing the top and bottom of the bag, start sewing the sides shut. Pin those sides together to keep edges even. Continue this process to sew 1 mm from the edge of the fabric.
Step 5
Give more volume to the bottom of the bag by sewing across the established corners. It will form an effective gusset. Then, open the pinched corners of the bag by utilizing the 1 mm of free space of the edges. Secure them with pins. After completing that process, sew about 3" across the corners on both bottom corners of the bag. Now, you will have two corners almost resembling dog-ears. It gives the bottom of the bag a precisely defined body.
Step 6
Now, take the straps and measure 4" from both sides, so each strap of the handle rests 4" from the closest edge. Then, line up the edges of those straps with the 1" folds sewn earlier at the top of the bag. Now you can start pinning each strap down and repeat it on each side.
Step 7
You have to take care that straps of the handles of your bag are sewn correctly, so they remain intact even when the weight is more. Start sewing around all four edges of the strap to form a square out of the thread. Through sewing, connect the corners of the squares in such a way that forms an 'X' through thread bisection. The end product should replicate the 'X' centered in the middle and keep repeating this method with the remaining three straps.
Step 8
Now, cut off loose strings to make sure all thread work is secure. After that, flip the bag inside out and transform your tote bag as per your imagination as there are endless possibilities.
Step 9
The last step is to decorate and design your custom tote bags, custom canvas tote bags, or custom reusable tote bags as per your personal preferences and likings. Give wings to your creativity and use the best materials that hold ink easily. Fabric markers or iron-on decals can work wonders for your creation. The whole process will be eliminated if you decide to go ahead with the printed fabric for the bag.