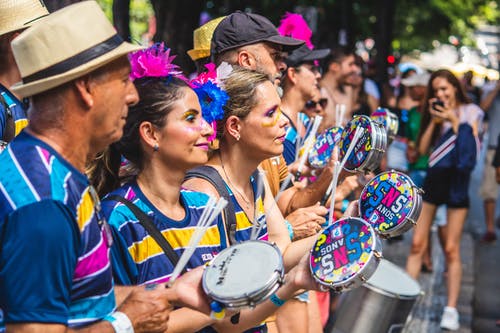 We all know people who bring music to other's lives. These musical talents deserve gifts that match their creative accomplishments. There are many music lovers in the world, who have different tastes in music, but if you are seeking out a personalized gift for a musician or a music lover, do not worry because we got you covered. From handmade crafting projects to custom tambourine to a piano, we have something for every music lover and audiophile.
Violin alarm clock
Do you know an artist who is not a morning person? If yes, then you can gift them a melodious alarm clock. There are various options available in the market, but when you see a violin, you fall in love with it. So, if you want to gift a musician an alarm clock, it can be a violin alarm clock as well, which can play unique melodies and have various functions like, song selection, demo button, clock reset, alarm set located at the back of the violin.
Record Coasters
Record coasters can be the most creative and adorable decoration and a fun gift for music lovers. These record coasters reveal your love for the music, and it also protects your table from hot and cold drinks stylishly and funnily. You can give a twist to your bar with innovative Vinyl Record coasters as well.
Sound wave art paper
The average person will look at the sound waves as if they are poorly painted mountains, but if a music lover sees it then he or she will understand the abstract painting. They will know, that cool piece-of-art is actually the sound wave of their favorite song. You can even customize it according to your liking. A custom tee with lyrics printed on it will add music to the receiver's ears.
Music playing cards
I am sure many of us enjoy playing cards with our friends and family. You can gift your music lover friend a deck of artist-themed music playing cards that will feature faces of famous pop, rock, country singers, and musicians instead of the usual king and queen faces.
Mix-retro tape cassette wallet
A music lover would definitely know about mix-tapes, whether they lived in that era or not. Mix-tapes were very popular among music lovers. If you gift a mix-retro tape cassette wallet to your friend then they will cherish it for life. No matter how funny it will look to others but music lovers will know its true worth.
Custom tambourine
Every music lover will admire having a custom tambourine. Custom tambourines can turn any ordinary event into a joyful musical glory. You can print lyrics of the receiver's favorite song on the head of the custom made tambourine. You can have brilliant colors and hues on custom printed tambourine as well. Custom tambourines add a zing to any event, and music lovers will 100% love it.
Poster of famous guitars
For a normal human being, human evolution might have mattered more, but not for music lovers; they focus on the progression of musical instruments. If you know a music fan, then you should try gifting him a poster of famous guitars held by famous rock stars. This eye-catching print will confine a special place in a music fan's heart. You can also play a game of identifying all of those guitars correctly.
Guitar spatula
Guitar spatula is a unique gift idea for music and food lovers. It is an ingenious combination to gift rock and BBQ with one tool. You can flip your favorite food with style on barbecues. You can also give spontaneous air-guitar poses while preparing delicious food. It is a great gift for music lovers and aspiring guitar players.
Wireless ear buds 
No gift is better than wireless ear buds for a music lover. They are convenient, light, and pops easily into the ears. It will be useful to listen to their favorite songs for long hours without hurting your ears.
Music lyrics paperweight
Even a paperweight can be precious when it encapsulates the lyrics of their favorite songs. It can be a stunning addition to their coffee table or their work desk.
Mini Banjos
Mini banjos are great for young music lovers. They are simple, crafty, and musical. The decorated mini banjos are playable musical instruments that can be useful while throwing parties.
Bass Drum Table
Convert an old bass drum into a side table, ideal for the performer looking to upscale their old instruments or who acknowledges distinctive modifications to their space. Hand paints a modified design to the sides of the drum to match their style.
Guitar pillow
Mould hand-woven pillows into any of their favorite musical instrument, majestic as a music-themed gift idea for adults as well as children. Blend with attractive colors as per their bedroom color scheme to make it more personalized.
Spotify Gift Card
Spotify streams music globally, and it is a favorite application for all music lovers. It has an extensive library of millions of tracks and albums which you can listen to from your phone or computer. Whether you love working out, partying, or relaxing, Spotify has tuneful playlists at your fingertips. Choose whatever you want to listen to or let Spotify surprise you.
A Bluetooth karaoke
You can gift a karaoke microphone to a music lover that has everything they would need to host a memorable karaoke night. It should also have Bluetooth to let people can connect their phones and long battery life for never-ending parties.
An online master class with a musical icon
Many films have a memorable soundtrack, and people who love music would admire knowing the process or mindset of a composer during the making of it. Online lessons on tempo, character themes, sound palettes, and more by their favorite musical maestro is a priceless gift for any music lover.
Music-themed doormat
You can gift a music-themed doormat so they can welcome guests by personalized musical expression. The music-themed personalized doormat is durable, and it will easily remove dirt, moisture, and grime from the shoes of your guests. It can be the perfect gift for anyone who is musically obsessed.
Custom tee with printed musical instruments
People like to show their personality through personalized t-shirts. So, you can gift a custom tee with a custom printed tambourine on it or any musical instrument for that matter.
Cuff links shaped like musical notes
Small cuff links shaped like musical notes can help enhance the look of any ensemble, whether they are going for any concert or work. Cuff links can be shaped like custom tambourines as well, and it will suit their musical personalities.
A Ukulele Kit for beginners
For the aspiring artist, you have to figure out how to play the ukulele. For that purpose, you can gift them a ukulele kit for beginners with free online lessons, and a tuning application.