All you need to know about custom chenille patches
|
Mar, 09 , 22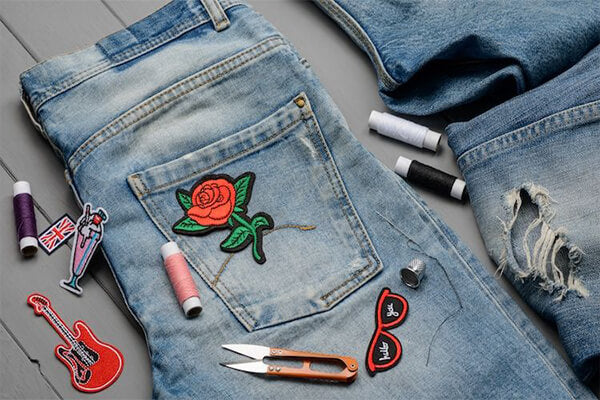 Without chenille patches, college, university, and other jackets are incomplete. People have been using chenille patches for over a long time to show their belonging to a team, their accomplishments, offering support to celebrities or social causes. They are classical and look stylish too. If you want to create custom chenille patches to give life to your old clothing or promotional purposes, you need to learn the process.
What are chenille patches? 
The word chenille comes from the French word, and it means caterpillar. The patch is created by placing two core yarns and twisting them together, giving its distinct look - like a caterpillar's head. Mostly, they are made of silk combined with other natural fibers like wool or cotton. When you require more minor details on the patches, you can combine them with different embroideries. Choosing suitable materials and backing is vital for creating high-quality custom chenille patches because they are essential for students and athletes. You are awarding them for their hard work and recognizing their accomplishments. 
Look out for these three vital points when ordering custom chenille patches: 
Plush Chenille: Your patch or letter needs to have a plush pile of chenille loops of even height- the letters' raised portion. You don't want any visible gaps between the loops; the intervals must be evenly spaced throughout your patch. 
Clean trim: You want to look out for clean, precise cut and rounded curves. 
Color: Look out for rich and vivid colors. 
How to measure letter size?
We measure a chenille patch from top to bottom and not horizontally. The size of the emblem is typically in inches, and backgrounds are not included while measuring. Six inches letters are the most typical and look good on jackets of both girls and boys.
Reasons to use
Traditionally people used these patches on lettermen jackets, but many businesses now promote the brand. You can wear these patches on jackets, hats, backpacks, sweatshirts, etc.
Durable: Custom chenille patches are highly durable and easily last many years of cleaning and drying without looking dull or changing appearance. You can use them in many different working environments like hospitality, healthcare, academics. 
Looks professional: We all have seen cheap plastic name tags on employees in many industries; they don't look good. Chenille patches look professional and sophisticated. It also offers a personal and unique touch because each patch is different from others. 
Easily distinguishable: It is a chance for your business to easily stand out from the crowd. They effectively make a great impression, and various companies benefit from it. 
Versatile: One of the most significant advantages of custom chenille patches is the ability to create them in any shape and size. You can make big for using jackets and sweatshirts while designing small for using hats. 
Cost: Since these patches last long, they are budget-friendly in the long run. The manufacturing process improves fast with the new technologies, resulting in less price. It is better to choose chenille patches because they provide better ROIs. 
Creation of custom chenille patches starts with drafting the pattern:

 
The first step starts with measuring the length and width of the patch; you also need to consider the apparel on which you are going to use them. Manufacturers use stencils for creating letters and adjusting machines' preset parameters. 
They outline the design on pattern paper or a tracing pad using a stencil. It requires two different patterns, i.e., one for the top and the bottom layers. 
Afterward, they create a textured fabric for the top layer, and a contrast felt border for the bottom layer. 
Patches are then cut, and they use marking to indicate the embroidery stitch. 
Manufacturers cut out the fabrics' top layer with a rotary cutter. They don't cut out the bottom layer because they need it for hoop attachment for embroidery later on. 
The second part of the process involves creating a letterman patch: 
Manufacturers spray a light coat of temporary adhesive to the top layer according to the fabric's weight to stabilize the chenille patch during embroidery. 
They embroider the top layer with your chosen embroidery stitch. After completing the letter's border, the manufacturer uses a tight stitch frame and cuts loose threads. 
They cut the chenille patch using a rotary cutter. 
Your patch is almost ready, and it's time to choose Backings for chenille patches

: 
Iron-On backing: They are convenient to attach, durable, and offer greater flexibility. 
Velcro backing: You can quickly put on and detach but are slightly loosely attached to the clothing. 
No backing: If you are looking for permanent stitching, use this method; these are lightweight. However, these patches are not as stiff as patches with backings. 
Adhesive backing: They are easily removable and not permanent; choose this for quick application. 
EverLighten has over eighteen years of experience creating custom chenille patches for colleges, universities, sports teams, businesses, influencers, and individuals. 
Factory-direct pricing: They have their dedicated factory to manufacture custom chenille patches and are not-middle men. They give you the best quality at the most competitive pricing. 
Quality in every product: They use only the highest-quality materials for creating patches. Their quality inspectors check each patch during manufacturing and shipping, so only the best patches reach you. 
Real people, real service: At EverLighten, they love people! Whether you have a small order or bulk order, they are 100% dedicated to helping each customer.  
No minimum order limit: The company accepts every order without restrictions on the minimum order quantity. 
They make you look great: Focusing on customer satisfaction, they do whatever it takes to make the design match the design in your head with their in-house experts. 
Fast turnaround with on-time delivery: They complete every order quickly; customers always get their delivery on time. 
For more information and designing custom chenille patches, visit EverLighten.com.